first of all id like to say hi to everyone and give a big thumbs up to this site. ive been on here for quite a while but it seems ive never posted anything before. i thought i had, ah well nevermind. for this i thought it was pointless posting in the newbie section and just get right into the thick of it.
it was about 4 years ago i made my first pred suit. it was roughly based on the P1 design and i gotta say looking back on it and looking at the quality suits on here, it was absolute rubbish. nonetheless it was a corker of a night while wearing it and i came first at a local halloween contest bagging me £50 lol.
so now its 2010 and we now have a new pred movie out. ive been gagging to do a new suit for ages so i bit the bullet and contacted lee (usurper). before my fave pred was the P2 but even though AVPR was a bit of a let down i have to say old wolfy is the baddest out of the lot. wolf suit it had to be. so as i am posting this lee should be busy painting my wolf head that ive ordered. the last update i had is that its been pulled from the mould and had a coat of prosaide.
ive bookmarked about 30 web pages to help me in my suit build so hopefully you wont see me asking too many silly questions.
apart from lees mask and possibly the bio, im going to make everyhing myself. 1st step was the duck tape dummy. oh my god that was an experience i dont want to do again! layer of clingfilm and then 3 layers of duck tape, i was boiling hot, couldnt move and then when my mate was cutting me out i got cut a fair few times lol. i then taped it back up and prceded to fill with scrunched up newspaper. i was there for hours doing this! it took aboyt 7 newspapers and 4 clothes catalogues to fill it. to be fair though it is now solid as a punchbag and weighs a ton lol.
im following the macguyvers way of suit building but without the mr i suit. how is he gonna do that i hear you say? well wait and see. hopefully it will come out very well. just hope my painting skills are up to it. (i spray cars for a living but no car looks like skin does it)
anyway heres some pics
and for those that are curious heres the old costume lol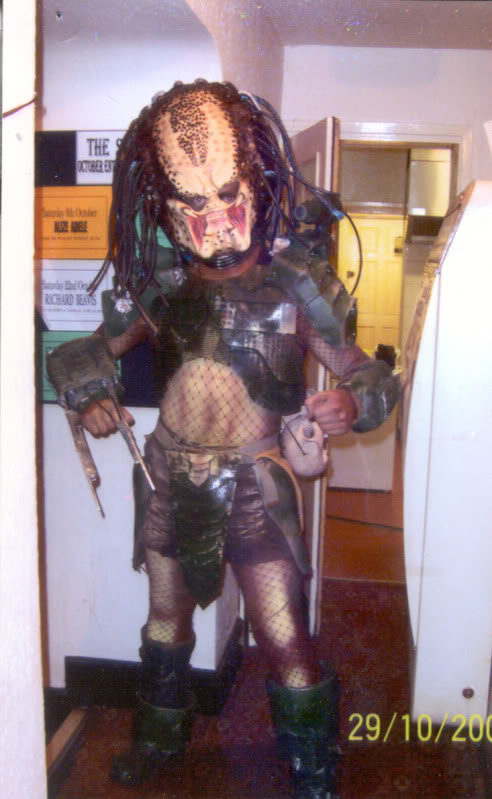 ooo and heres last years more simple costume as the reaper from blade 2
thanks for looking
jaz