Greetings!
I recently became the owner of the official Jamie Lannister sword replica. I'm very excited about it and want to use it to complete my Kingsguard armor (which you can view
here
).
The problem is, I want to be able to have it at conventions, but most cons have a very strict "no metal weapons" policy. With that in mind, I've decided to try my hand at molding/casting. Like with my Kingsguard armor, I'm new to this whole enterprise. so this will definitely be a learning process. I've never molded or cast anything before, so I plan on testing things out on smaller knives to avoid wasting material if things go horribly wrong.
This will be my WIP thread, but being an absolute beginner, I do have questions that I'd hope some of you fine people might have the time to answer. I've watched a couple videos (most notably the lightsaber hilt video on tested.com) for some starting points, but there's still a lot of holes to fill...
To start off with, there are several spots in the sword where there are gaps, like so: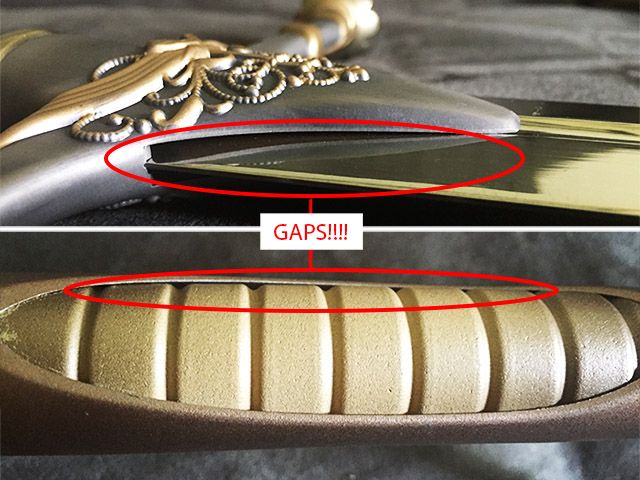 Are these gaps something that I will need to block off when I go to make a mold? If so, what's the best method for filling in gaps without running the risk of damaging the original?
A few other questions:
Should I use a clear-coat or some other spray to protect the sword? Is this something but can be removed afterwards, or at least won't affect the look/shine of the blade and paint?
I want the final prop to be hard and durable (I don't plan on fencing with it of course, but I do want it to survive cons and travel). Are there any specific casting materials that are more dependable?
The blade is rather thin, so I figure this is something that might cause me trouble. Is there anything I can do to reduce the coming headaches?
Any generic tips and tricks for molding swords?
I'm excited but pretty nervous about starting! It seems there's an overabundance of information online, that can be helpful, but is at times overwhelming and even contradictory, so I appreciate any advice anyone can give on this project!