Thanks to some great inspiration on this board (I'm looking at you, @
Peek73
and @
hmoney143
) I've decided to put together a comic-book style Captain America costume in time for the Age of Ultron opening.
I've done a few movie premieres before, they are tons of fun and definitely a different vibe than a convention. It's a blast and I've been looking forward to this costume for quite some time.
When I built the Commander Rogers/Stealth Suit I cobbled together last year, I used a "Smithsonian" helmet from Captain America: The Winter Soldier. The reason I picked this helmet over the Stealth Suit helmet was because I eventually wanted to use it as a cowl for a comic-style Cap (with some modifications, of course!) This is another quick build, luckily I am using quite a few leftover pieces from previous costumes.
The inspiration is John Cassaday's run on Captain America: The New Deal, from the Marvel Knights imprint. No ammo pouches, no military-style gear - just Cap as he was meant to be.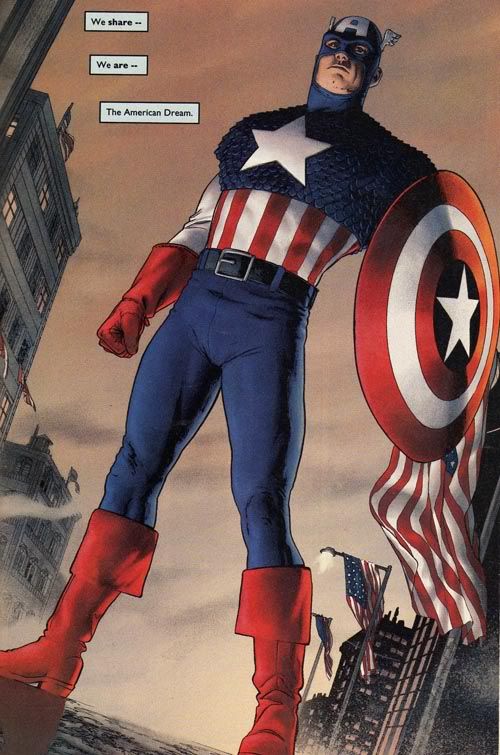 Cowl/Helmet:
-TheRocketeer's TFA Smithsonian cowl, with a few modifications. First I removed the movie-style "A" and made a template of a more comic book-inspired block letter "A" out of foam. Then I removed the "leathers" that cover the ears and the chin strap. I will be painting the cowl a royal blue (currently it's still a very dark blue from my last use).
-I'll be building three-dimensional wings out of foam that stick out from the cowl.
-The current wings are still giving me trouble. The TFA Smithsonian cowl has the wing indentations sculpted into the side. I've tried a few different methods of filling these, as I want wings that actually stand out from the cowl. So far I have used silicone and epoxy and have not been able to get it to lay down in the channels properly. I will try Bondo next.
-I sewed an "underhood" in royal blue Lycra that will bridge the gap between the upper torso scale-mail and the cowl. Ears cut out, of course!

Belt:
-Found a cheap black belt at Wal-Mart that was thick enough and had a large square buckle.
Pants:
I ordered the royal blue baseball pants that a few other Cap cosplayers seem to love. The name and model is "Alleson 605P Adult baseball pants" in case anyone ever needs it.

Torso Upper:
-Funfoam scale-mail chest-piece. With the help of @
JuJuBean
I now have a duct-tape dummy for my upper body. I am going for the "circular" look of the scales as John Cassaday drew them
-Funfoam chest star

Torso Lower:
-White compression shirt
-Red & white fabric stripes sewn together, affixed to shirt.
Gloves:
-I took apart an old pair of costume gloves and made a template, then built my own out of vinyl on the sewing machine. A bit stiff right now but hopefully they'll loosen up.
Boots:
-I had a pair of red costume boots already, I just made some cuffs for them out of vinyl.
Shield:
-The officially licensed Factory-X replica shield. There are plently of good options out there if you want a movie-style shield, but for the comic look there's really nothing quite like this. It's a full 26 inches in diameter and is absolutely perfect for this costume.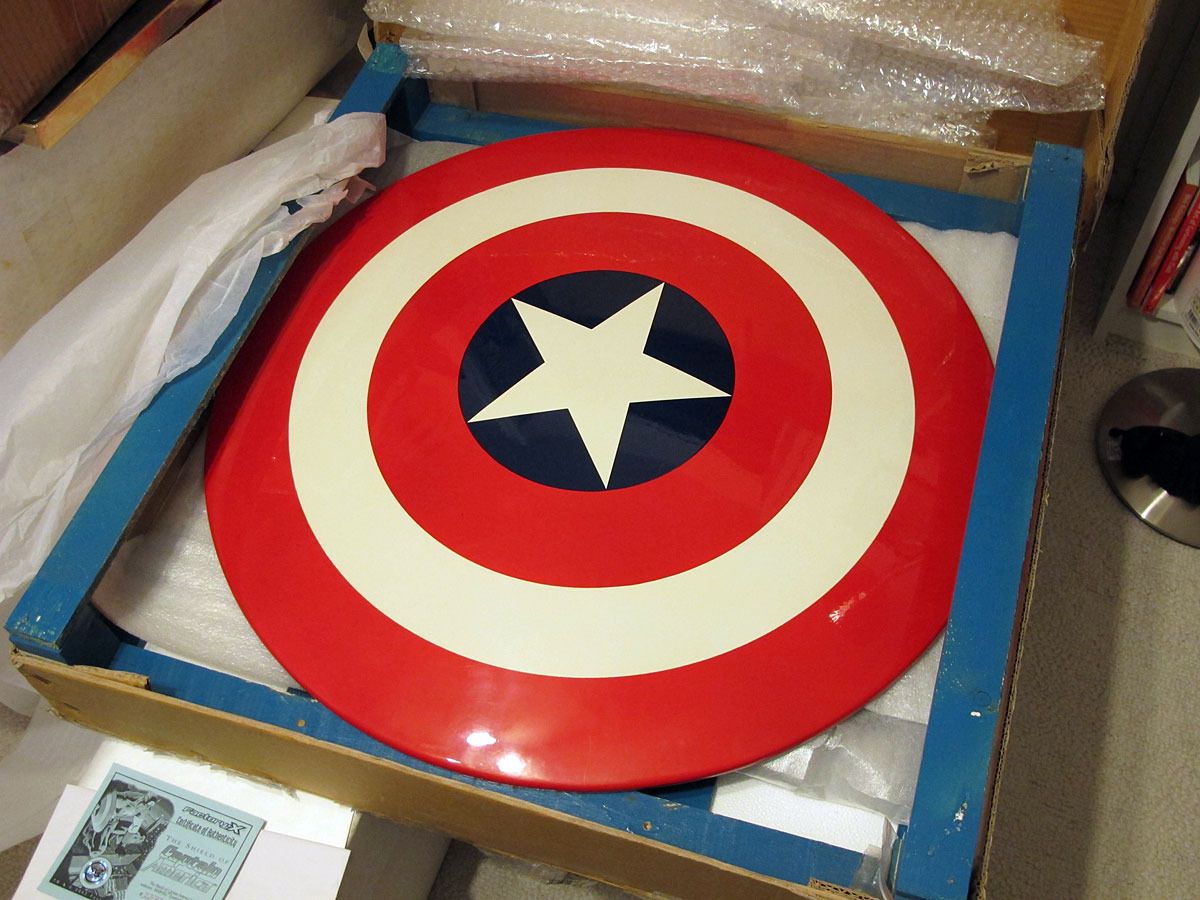 At this point, I am continuing to work on the cowl and will be starting the scale-mail chestpiece. I have a little over two weeks, should be fun!
Last edited: