Master Member
RPF PREMIUM MEMBER
RPF member DVDVampire sent me his Iron Man and War Machine helmet kits for my build and paint service.
Below you will see both kits side by side in their raw, untrimmed form as I received them: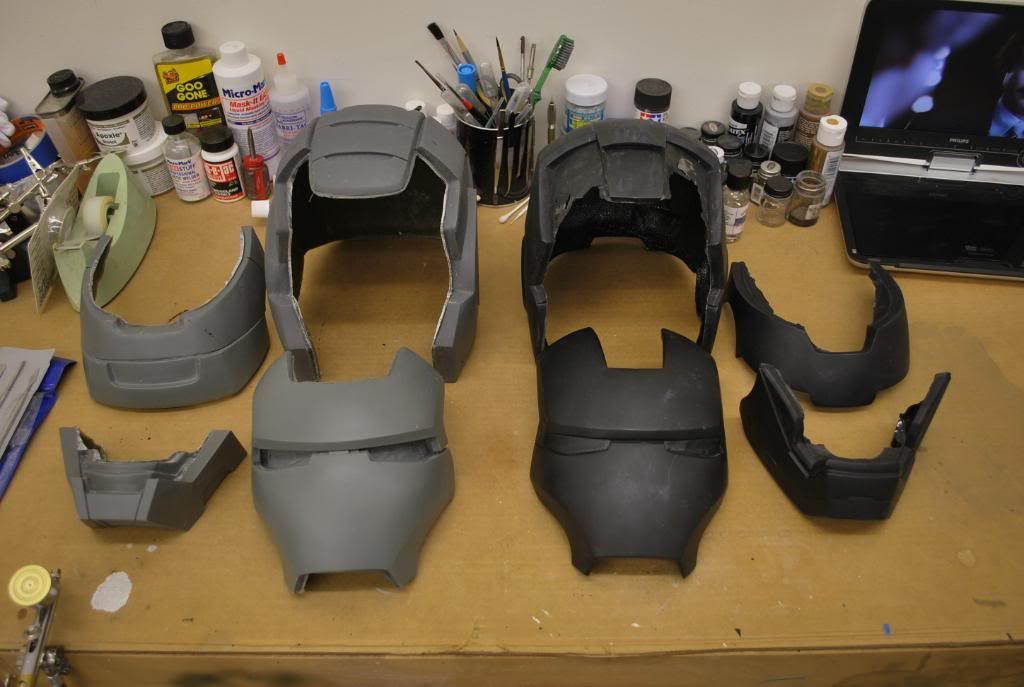 Rather than tackle both helmets at once and get a little overwhelmed, I opted to concentrate my efforts on one helmet at a time - starting with Iron Man.
I spent a good part of the day just working on the faceplate. A lot of work went into cleaning out the eyes and thinning the walls to the correct thickness and shape.
Below you will see the eye on the right has been cut out and not sanded/shaped, while the eye on the left is finished...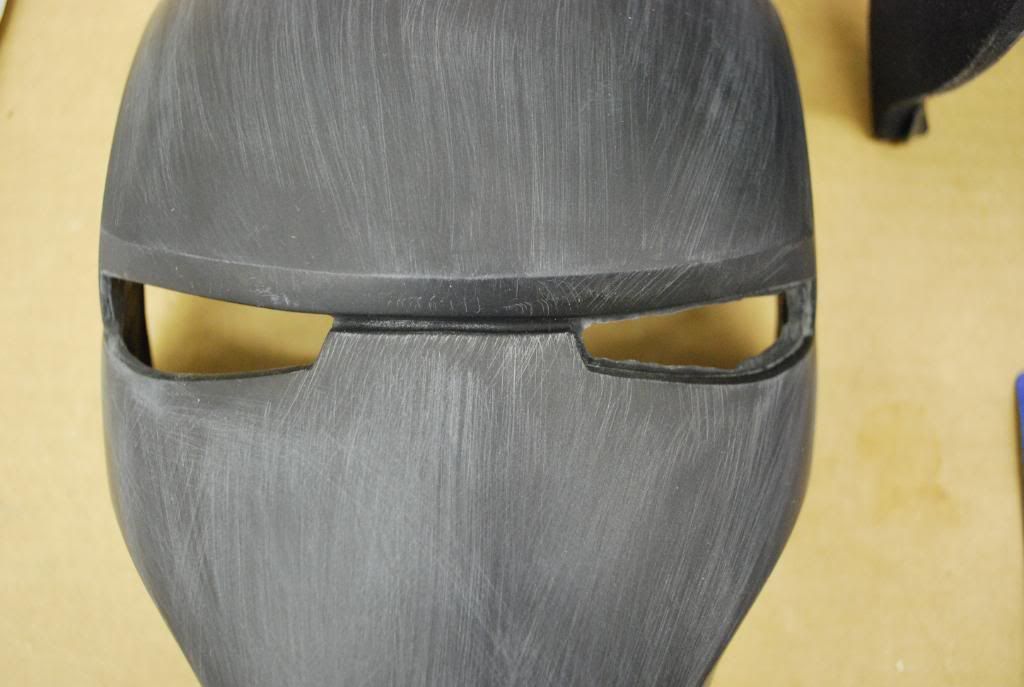 After I finished the faceplate, I took a fieldtrip to the hobby store near my workshop to pick out some paint options for the red. There was only one clear choice and that was Model Masters "Metallic Stop Light Red".
Below, you will see a paint test I did on a spare model kit part (can you guess what it is?:love). The red was airbrushed overtop a metallic chrome paint (which was a test when I was doing my Rocketeer jetpack build) which gives the translucency of the red paint more shine and metallic look. More coats and I suspect this effect will be deminished and I will still do some tests as to weather I want to use a semi-gloss or satin clearcoat to tone down the candy-apple redness of the paint.
I do intend on painting over a silver basecoat so I can do some light weathering.
Next, I had to determine how I would achieve the "brushed" metal look of the faceplate. Using some styrene, I airbrushed using Model Masters Gold and waited until it was 99% dry to the touch, then gently glided a stiff paintbrush down the surface. This is what I came up with: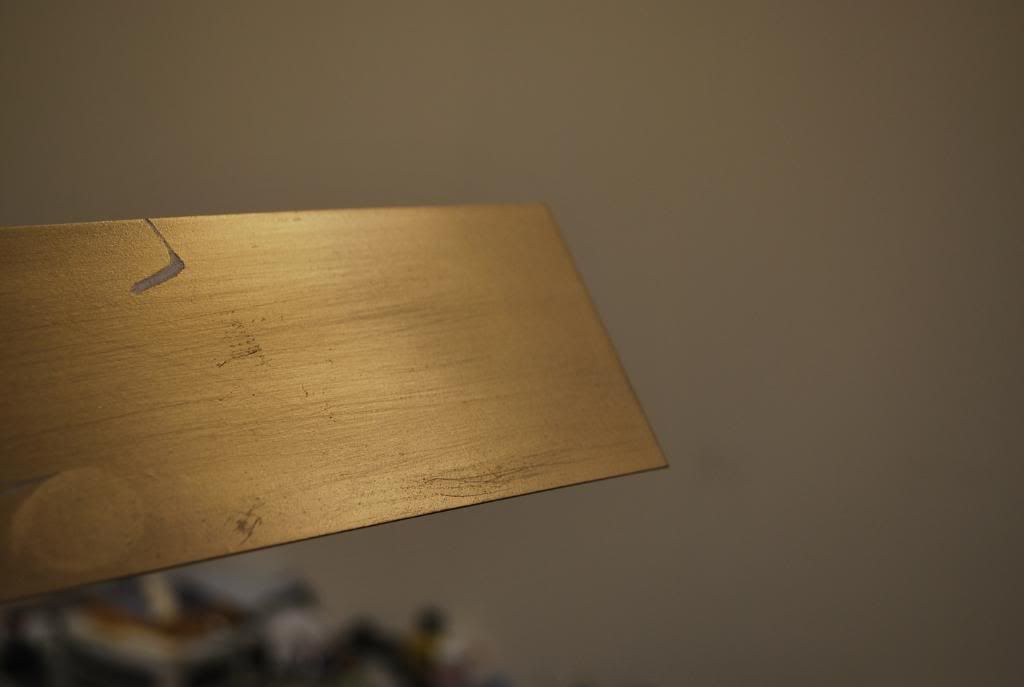 While I was fiddling with paint tests, the faceplate was hit with a few coats of primer...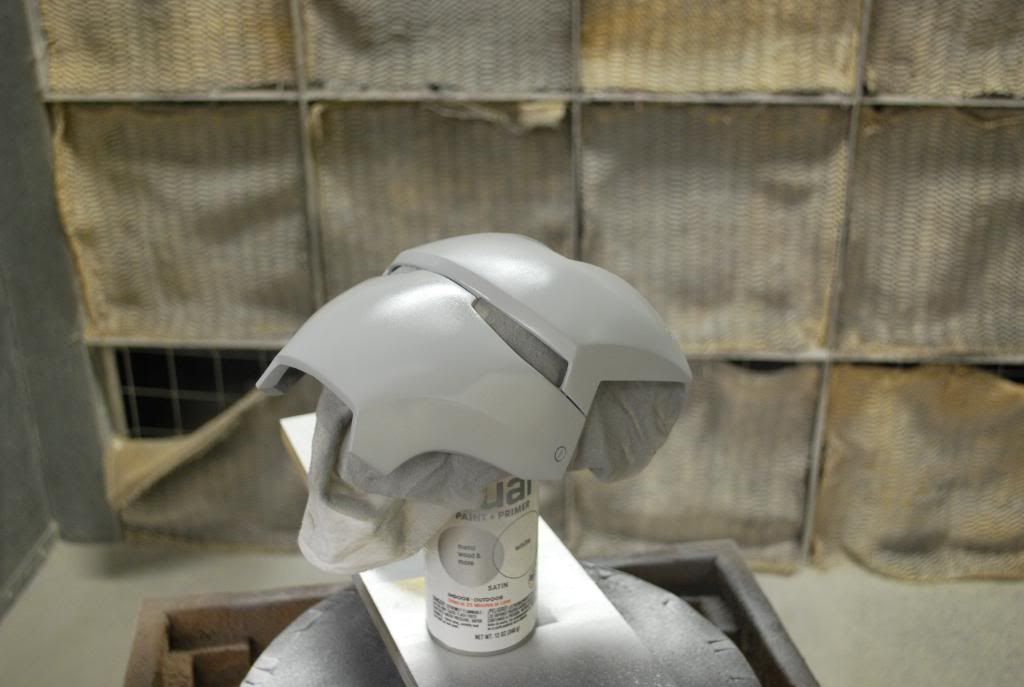 Thanks to the fast-drying primer (I use Rustoleum brand that I got from Lowes) I was able to cleanup any surface defects I found and then do some wetsanding.
The other parts of the helmet - main shell, jaw, back piece - were all trimmed, sanded to shape by hand and in a few places with the help of my trusty Dremel.
I could not resist a dry fit of the parts...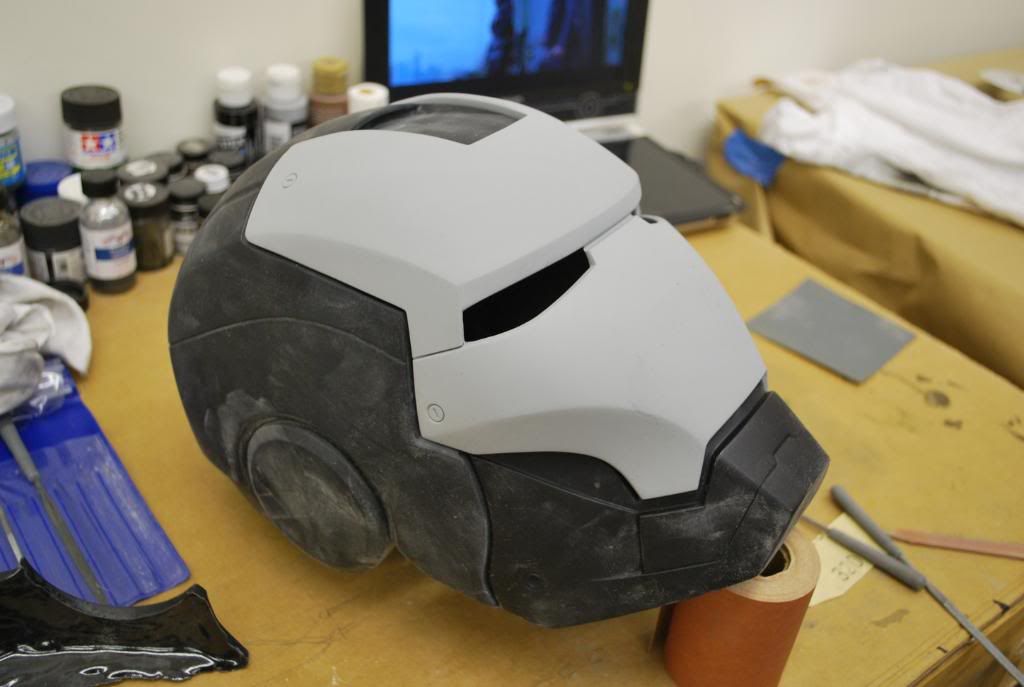 Time was running short before I was to call it a day at the shop and I knew I wanted to get a basecoat of gold down on the faceplate - so I gave a few even coats with the airbrush. Next workday at the shop, I will hit it again with another few thin coats and do the brushed metal technique I tested out on the styrene.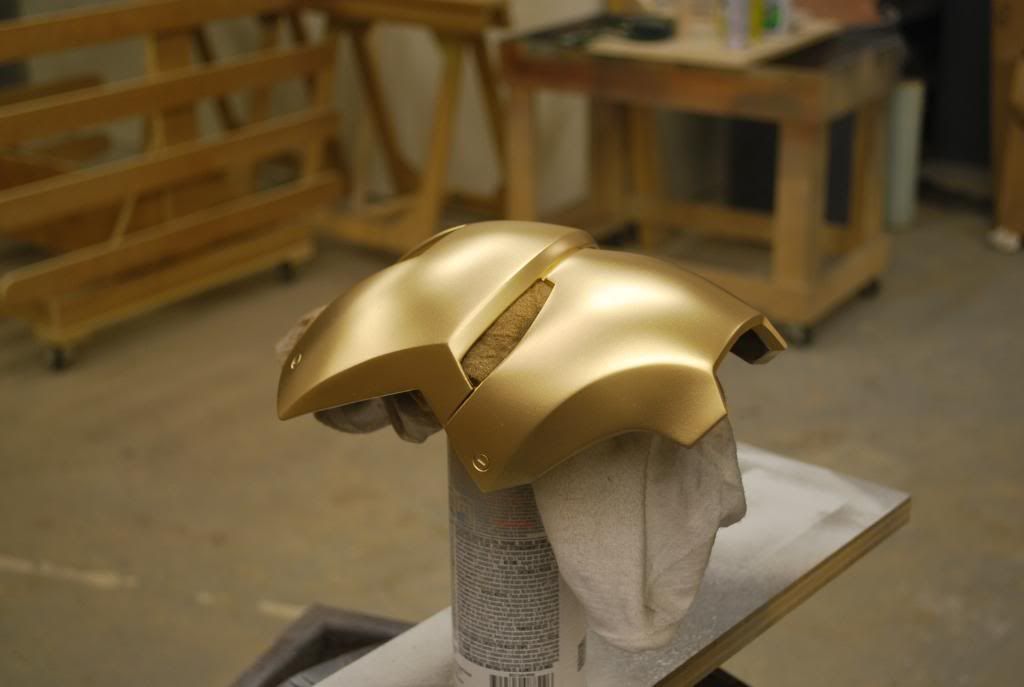 I will also do a few more tests with the Metallic Stop Light Red paint. It looks really gorgeous and I'm sure once I pick the right clearcoat for it I will have a very nice color and finish for this helmet.