I just made an account on the RPF to upload my custom Invincible cosplay files and some resources I've found to put it all together. I wasn't able to find any patterns that I liked (and I didn't really want to spend more money than I already did on the fabric), so I made my own. I decided to upload the files here because I figured that someone else might be making their own Invincible cosplay and can't find any patterns they like (or goggles). I'm uploading a printing pattern, a dye sub-style pattern (which includes the knee pad pattern, which I'll explain later), and a mask pattern I made. I made the pattern without a mask attached, so I'm very sorry if you want to make a costume with an attached mask. The patterns have been all been scaled down so I could upload them.
Here are some pictures I found on the internet that show how to assemble the pieces of these costumes (ignoring the attached mask):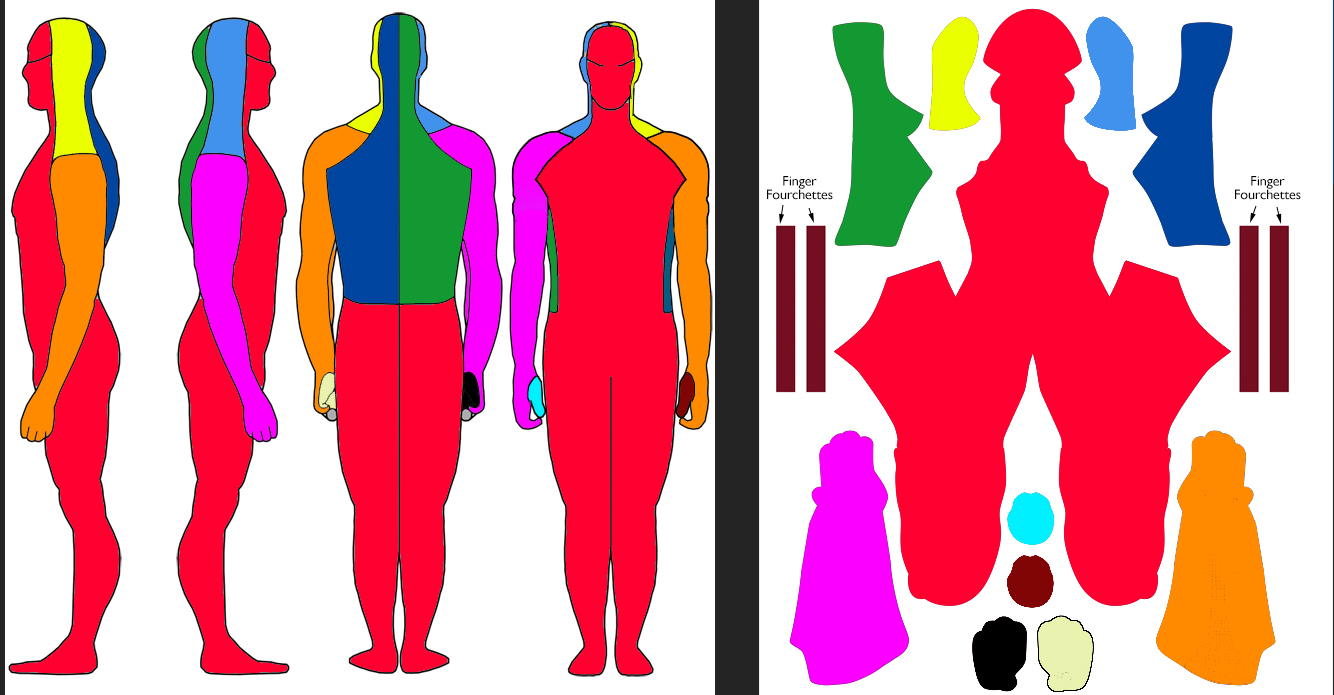 Here is a picture I found online that shows how to size the pattern in photoshop:
I'm using the dye sub-style pattern so I can make my costume by sewing colored spandex fabric together instead of of printed fabric (I'm not really sure how to explain it. I just don't like the look of printed spandex fabric. It's very late and I just want to go to bed). The reason why the kneepads are only on the dye sub-style pattern is because I'm planning to make the knee pads out of craft foam and glue fabric onto them.
I understand that finding lenses/ goggles to go with the costume is difficult, so here's a video by Johnny Michels where he explains the way he made his lenses:
I also found these goggles on amazon:
Amazon.com : OMID Swim Goggles, Comfortable Polarized Swimming Goggles, Anti-Fog Leak Proof UV Protection Crystal Clear Vision Triathlon Swim Goggles with Protective Bag for Men Women Adult Youth Teens : Sports & Outdoors
You can find a more round pair of goggles to be (small) screen/ comic accurate, but I think it ends up looking a little silly.
I'm sorry if there are any problems with the patterns or my post. I've never made one of these patterns or sewn one of these costumes, so I'll also upload the files I've found to put the costume together.
Feel free to modify my patterns, just don't sell them please