Sr Member
RPF PREMIUM MEMBER
Hi all,
I'm gearing up to offer a fully accurate Darth Vader sized and articulated mannequin to the community.
Right now I'm working with the manufacturer in sorting the details to get the custom sculpt made.
The base mannequin will be made to this set of measurements:
Height: 198cm
Neck To Floor:
69"
(~175.26 cm)
Back Neck To Hip: seated
30.5"
(~77.47 cm)
Torso Length: neck front to neck back through crotch
72"
(~182.88 cm)
Shoulders across back
19.5"
(~49.53 cm)
Chest:
45.5"
(~115.57 cm)
Upper Chest:
47"
(~119.38 cm)
Under Chest:
41.5"
(~105.41 cm)
Waist:
40"
(~101.60 cm)
Hips:
46.5"
(~118.11)
Armseye:
27"
(~68.58 cm)
Bicep:
17"
(~43.18 cm)
Elbow"
14.5"
(~36.83 cm)
Forearm:
14.5"
(~36.83 cm)
Wrist:
10.5"
(~26.67 cm)
Sleeve shoulder to wrist
27.75"
(~70.49 cm)
Shoulder To Elbow:
14.75"
(~37.47 cm)
Shoulder To Finger Tip:
35.5"
(~90.17 cm)
Underarm To Wrist:
18.5"
(~46.99 cm)
Underarm To Elbow:
6.5"
(~16.51 cm)
Inseam To Ankle:
31"
(~78.74 cm)
Inseam To Floor:
36"
(~91.44 cm)
Outseam To Ankle:
45.5"
(~115.57 cm)
Outseam To Floor:
49.25"
(~125.10 cm)
Knee To Ankle:
18.5"
(~46.99 cm)
Knee To Floor:
22.5"
(~57.15 cm)
Rise: waist front to waist back through crotch
35"
(~88.90 cm)
Thigh:
27.5"
(~69.85 cm)
The body will be a rigid fiberglass mannequin. This is to ensure that you have a good solid base to hold the weight of this costume. Like your standard mannequin they will come apart at the waist and 1 leg and both arms. This will help keep packaging from getting too large.
The feet will detach at the ankle and lock in place so that you have an easy time getting your boots on without having to drill any holes in the boots.
The head will be an egg shaped non-detailed head. This will make putting on and off the helmet much easier so you don't have to cut off the nose or chin.
The arms will be articulated like real arms. They will have a 360 rotation at the shoulder, standard elbow range of motion, 360 wrist and 3 joint fingers (2 on the thumb). They will either be fiberglass or wood, but will be sized with the ability to take on any pose the human body can take. The joints will be strong enough to hold their position without slipping over time, to include while holding a standard weight metal lightsaber.
Unfortunately I do not have any photos right now as this is still in the concept phase and the manufacturer has not begun sculpting the body yet.
In order to get these made to the custom specifications and ability, there is a considerable investment required and to those ends, I'm using the interest thread to gauge who would be interested in buying one of these.
The best I have is a mockup: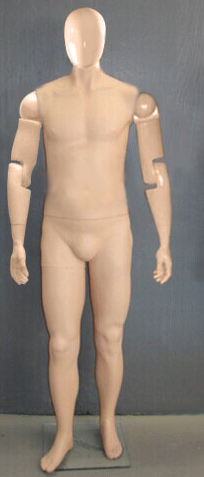 This is a pure interest thread, no funds involved, no financial commitment. My partner and I (Jim Sauter of TK Products LLC) need to understand the demand before we put down the funds to get the company started on creating these.
These will be made available in the USA through Jim and his website (voicebooster.com) and in Europe through me. Right now though, I just need your interest call and if you are USA or Europe.
This list will be posted in 3 locations (in no particular order):
The SLD, the RPF, and the FISD. The interest list on each of the 3 websites will only reflect the interest from that forum and I will collect the combined information separately.
Price looks to be 450Euros each.
INTEREST:
Heisenberg07
warrenhouck
clutch
tom1971
chalback
reel fakes
odiwan 71
ataru1971ita
Droids Inc.
Darth Niob
ramphastid
darth whitey
Last edited: