Master Member
RPF PREMIUM MEMBER
Hi guys,
after some year "on hold" we back to offer again our
Headpiece to the Staff of Ra
, along with our Cross of Coronado.
This thread is just to test the interest. In Italy we are in the
"warning zone"
for this pandemic.
Most of you already know story of our Headpiece. It was
cast directly from a original production
Headpiece (
2nd generation cast
) and resculpt in some parts (cause original loose some details). We recreated also the outer chain.
It will be entire in
metal, 24KT Gold plated with a swarovski gem
in the center. It will be aged with our technique to give you a most accurate possible headpiece.
This thread is just to test interest for it, just like the Cross' thread.
PRICE:
We want to offer it for this run at
199$ plus shipping

LIST:
1 - aldoha (COW)
SHIPPED
2 - davyVO (rpf)
FULL PAYMENT SENT
3 - MrTeabag (rpf)
SHIPPED
4 - matt1 (rpf)
SHIPPED
5 - TFrosst (rpf)
FULL PAYMENT SENT
6 - tubasthebest (COW)
SHIPPED
7 - verdesca (private)
SHIPPED
8 - Shadowx81 (rpf)
SHIPPED
9 - Marviana Jones (rpf)
SHIPPED
10 - crighton (rpf)
SHIPPED
11 - D.McDonald (email)
FULL PAYMENT SENT
12 - kurtyboy (rpf)
FULL PAYMENT SENT
13 - el toro (rpf)
FULL PAYMENT SENT
14 - wannab (rpf)
FULL PAYMENT SENT
15 - snowtrooper (rpf)
FULL PAYMENT SENT
16 - HighlanderFX (rpf)
FULL PAYMENT SENT
17 -
18 -
19 -
20 -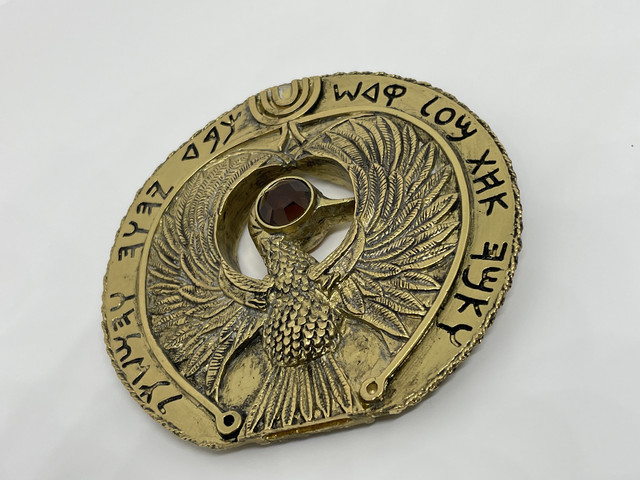 Last edited: