Hey all! I just wanted to share a bit about this little prop / costume accessory I've been working on.
It's the Nur-Ab-Sal necklace pendant, or simply the Atlantean pendant from the '92 computer game, Indiana Jones and the Fate of Atlantis.
I became obsessive about wanting to make this about a week ago. My girlfriend and I are going to Disney next month, and as fate would have it - apparently Disney does a "Not-So-Scary Halloween" party while we're there. After deliberating for a while about what costume I would like to wear while following Disney's guidelines, it finally struck me that Indiana Jones is a Disney property. After getting together most of my costume, I felt like I needed some sort of prop or something to make up for the fact that I can't carry a whip (Disney doesn't want any replica weapons, and I felt like a whip rides that line a little too close). I wanted something that would be visible but not cause a lot of discomfort for me to carry all night in the Florida heat. Then I remembered this game!
So I want to share a story about it before we get on with the pictures. My dad has since passed, but when I was a little kid - one of my favorite stories to tell about him revolves around this game. I was probably 10 years old, maybe younger and I was CONSTANTLY playing the Fate of Atlantis. I was a huge Indiana Jones fan - I used to have a brown rope that I would walk around with on my hip. Anyways at some point, we were supposed to go to my grandmother's house. I was in the middle of the game, and I was being a bratty little kid and refused to stop playing. My dad insisted we'd only be gone for an hour or two, and he'll help me play the game when we got home. That wouldn't do! I had Nazis to stop and a mystery to solve!
So my dad packed up our entire family desktop computer and desk, trucked it to my grandmother's house, and set it all up in the living room so I could be satiated for the few hours we were there that afternoon.
I have a lot of fond memories about this game and I remember my dad helping me through some of the puzzles and things throughout.
Anyway, that particular game has a lot of sentimental value to me and I thought it would be perfect if I could carry a piece of that with me while in my Indy costume. Since I haven't sculpted anything in close to five years, I thought my best bet would be to make a 3D model and get it printed. I made a model fairly quickly and got some quotes but I wasn't super happy about the pricing and figured I would need to do several prints to fine tune the model and the print settings. Instead, I bought some cheap air-dry clay, dug out all of my sculpting tools, and did my best.
I used my 3D model to print out lifesize templates of the different shapes so that I could use them as reference, which helped immensely. I know the sculpt isn't perfectly exact, but I'm fairly proud of how it turned out. After around six or eight hours, I decided it was probably as good as I can get it and poured the silicone for the mold. I'm hoping to pull the first cast tomorrow. It's just going to be resin, but maybe after our Disney trip I'll pick up some of that cold-casting metal powder and see if I can do a brass-resin cast.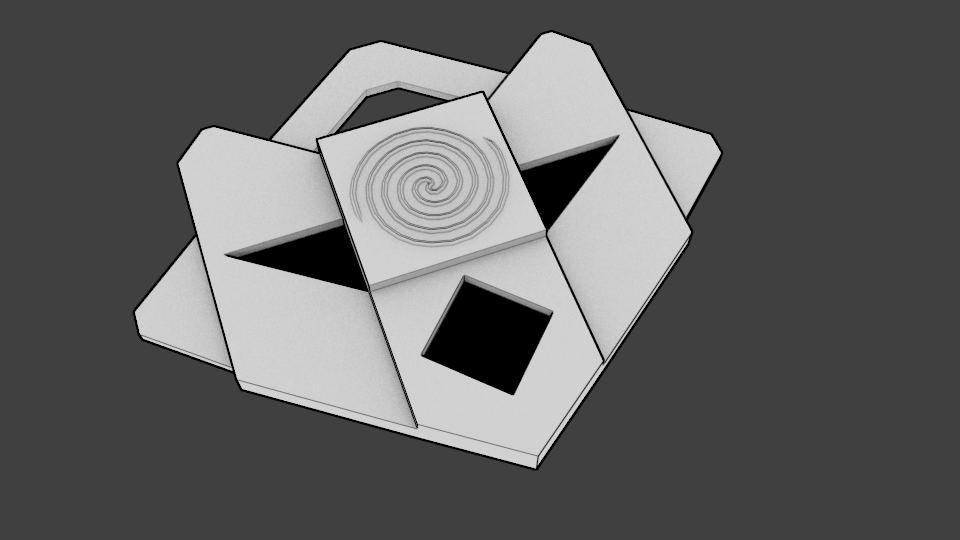 3D model made in Blender.
Photoshopped some textures onto it for a paint guide.
This is about 3 hours in, most of that time was spent just trying to get some clean lines in the super wet clay.
Added the eyes and goofed the mouth so I had to fill it up and try again.
I think this is like 5 or 6 hours in. I left it to dry a little bit so it firmed up and tried to straighten the angles and fix the symmetry a bit. I was super worried about the spiral on the forehead but it came together fairly easy - obviously it's not super clean and perfect but the impression is there and I kept telling myself "it's supposed to be from like 9,000 BC it doesn't have to be exact"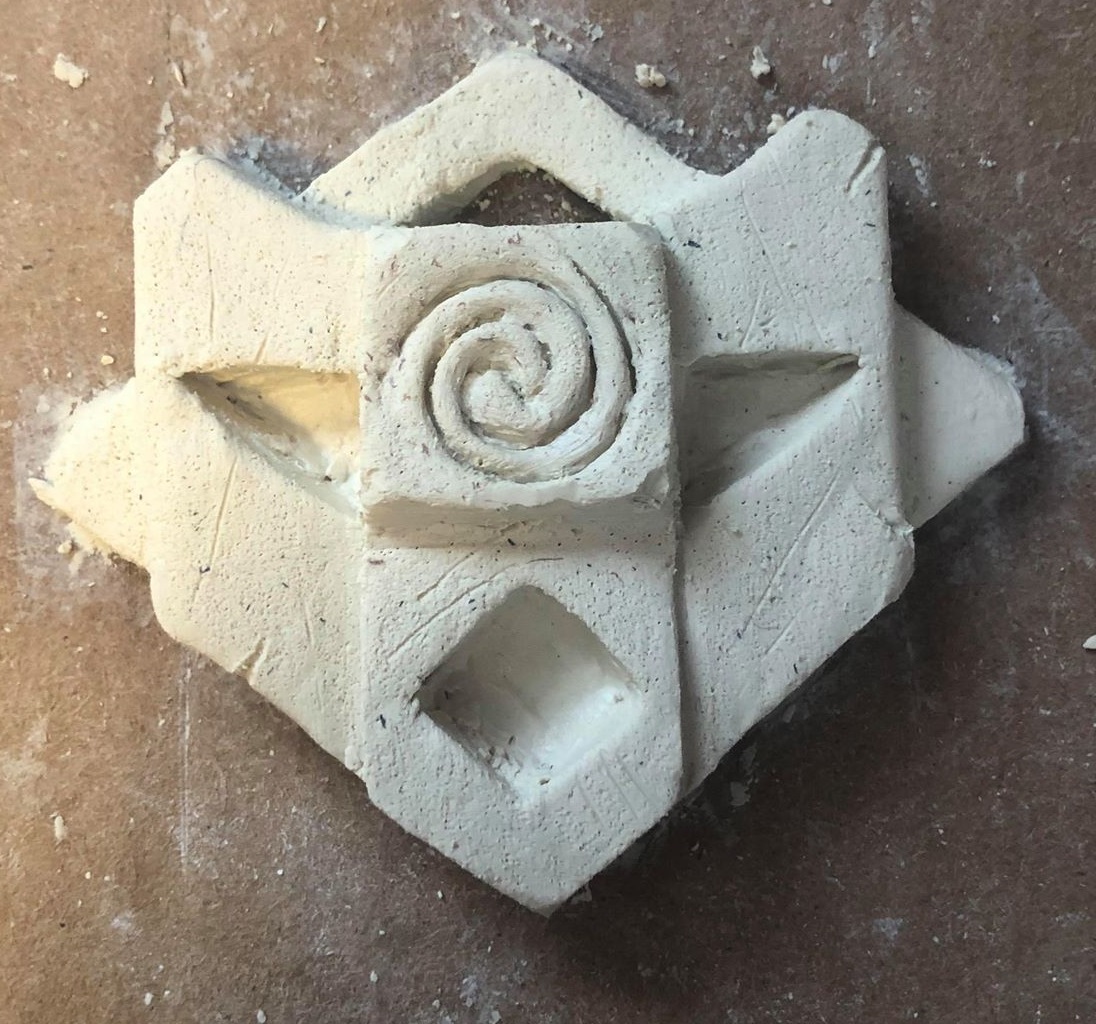 Here's the finished sculpt before molding. Added a slight texture all around and gave it some dings / scratches / chipped edges for some character and to try to draw attention away from some of the symmetry problems.
I downloaded a bunch of reference photos of real-life brass and gold artifacts. I'm hoping to start with a metallic gold base coat and then add some copper tones, a touch of black, some light gold, and finally fake that patina look with a couple shades of turquoise and white.
As for the necklace band, I couldn't really find one that I liked so I think my girlfriend and I are going to try a simple leather band necklace and use some twine or really thin leather to tie the pendant's loop onto the necklace. I think it will help the whole thing look "masculine" (in the game, only the female character wears the necklace and it had a sort of gold bar-link chain) while retaining that old artifact look combined with Indy's sort of rustic style.
I'll update this thread as I pull the first castings out and try some paint techniques.
Thanks for looking everyone!