I have been a member of the RPF for a number of years and while I may not share your enthusiasm for many of the props and costumes many of you hold "dear", because to me, they just my "day job". I do however share this passion for something else I have seen (more and more) on the RPF, which is another part of my job, Space suits.
On occasion I've tried to lend a hand to those of you building your own Apollo, Gemini, ACES suits, but sometimes I'm limited with what I share, as this is what pays our rent.
But, in honor of the 50th anniversary of the Apollo Moon landings and the just announced re-release of HBO's From the Earth to the Moon on Blu-Ray, I thought I could post some more details of the suit replicas Global Effects produces and answer some questions.
The first replicas I built were for the 1996 Family Channel movie "Apollo 11", staring Jeffrey Nordling as Neil Armstrong, Xander Berkeley as Buzz Aldrin and Jim Metzler as Mike Collins. The Ron Howard film, Apollo 13 had just come out and those were the best looking Apollo suits I had seen. I really enjoyed the film and was delighted to see someone taking the realism of space travel more seriously for once. My father worked on the Apollo program as a subcontractor for Hamilton Standard and Grumman. In fact, as a kid, I handled some of the parts that are still sitting on the moon. So, it has always been something I wished I could have been more involved with. But, when my dads business almost went under as a result of the Apollo program being canceled, I thought I should pick a career that couldn't be ended by an act of Congress. I picked motion pictures. But, back to movies spacesuits...
When the producers of the Apollo 11 film needed 3 Apollo suits, they tried to rent the ones from "Apollo 13", but there were only 3 made, and 2 of them were either part of a promotional tour or on exhibit. One suit wasn't enough. So they called Global Effects and asked us to build suits. But, they were still holding the Apollo 13 movie suits as the bench mark, and of course, they did not have the budget the Tom Hanks movie did. But my passion got the better of me, and I ended up spending around 7 times the budget (out of my pocket) to build the 3 suits. But, we built suits that were a bit more accurate and far more production friendly that the suits used on Apollo 13. In order to do this for such a low price, I told them we would build them "for rent" and when the show was over, we would get them back. (I eventually traded one of them for a Porsche 928, but that's another story)
The following year, we got a call from the costume department of a new HBO project, From Earth to the Moon. Needless to say, I had to do this project! Eventually we went in to a meeting with the best Apollo suit replicas anyone had made and figured we were "In like Flynn" as they would say.
We told production, we could offer them a great deal if we made all the spacesuits for the film and a number of the key props they needed. Everyone seemed impressed and we started making plans.
But, politics are, well, "Politics" and even though there were all sorts of problems with the suits made for Apollo 13, and our suits had solved these production issues, the producers were planning on going back to the Kansas Cosmosphere / Spaceworks, to have the suits made. I was dumbfounded. However, the costume designer was not having it, and she apparently gave the producers her "opinion", and in the end, we ended up doing the just Apollo suits. This included the Apollo One suits, as I'm not sure production realized they were basically Gemini suits with visor shields. We eventually reworked the Gemini suits built by Spaceworks, as they suffered the same issues the Apollo 13 suits did (not enough rise) We also ended up building a Mercury suit, since Cosmosphere had planned on rent the production a real mercury suit which had been on a mannequin for who knows how long, but it seems it had "welded itself" the the mannequin. So we had about 3 weeks to build a top level Mercury suit, which we had never done.
Once we had the job, it was research, research, and then some more research. I'm sure I spent a few thousand dollars on flights, hotels, rental cars and film developing. (yes, you may not remember 35mm film, one hour processing....) When we first started, the people we talked with at museums, aerospace companies and NASA were freindly, but were not very helpful. Then a fellow at Hamilton Standard pointed out why; Most of the movie people he had dealt with, asked all these questions, often not understanding the answers and in the end, went off an did whatever they wanted. So the expert would spend all of his/her personal time gathering information, only to watch the film and see nothing but "Hollywood" space travel.
Having grown up around an aerospace welding / machine shop, when I asked question, I had a pretty good idea of what they were talking about and my passion for the subject made me follow through with the details.
One such detail was the "Snoopy Caps" or Communication Carrier Assembly (CCA). When we built our first suits, we only had pictures from books and one of the Apollo 13 movie suits to look at. So we made the snoopy caps from a dark gray material, like they look in the photos. But, now I was able to see them first hand and see they were brown, and not only that but we were able to mold a real one. The reason they look dark in the photos, is of course, because the film is exposed for the white spacesuit or in-flight garment, thus the cap look very dark, and to add to this, many books have muddy low contrast photos. So when sourcing the correct brown Teflon fabric from the original source, we learned that the "variegated" color of the brown Teflon fabric, was an artifact of the manufacturing process. The yarn for weaving the fabric is made by running an organic fiber though a PTFE (Teflon) bath, then the organic fiber is burned our, turning the PTFE brown in color. But this process was not perfectly consistent, so the yarn was different shades of brown, resulting in the light / dark color of the woven fabric. The engineer at the company telling me this, added; "About five years ago, we figured out how to solve this, and now all our fabric comes out a nice even brown." I told him what we needed was this "old stuff" with the light and dark color. I thought maybe we could lighten it up a bit with some bleaching method. I asked, "How do you bleach the Teflon?" , "We put in a tank of boiling hydrochloric acid.....then add sulfuric acid until it starts turning white." OH! He passed me back to the secratary so I could order som fabric and I explained what we had really been looking for, but I guess we will just purchase some of you "new" brown Teflon fabric. She then say, "Well, I have about a 3 yard sample of that old stuff herein my drawer, do you want that, I have no use for it?" So, we do have one set of very correct, Apollo Snoopy caps. For Shuttle, we make them from the newer "even" brown Teflon. But, you get some right and others you miss. In looking at the images for FTETTM I see we somehow used blue helmet disconnects on the A7Lb suits, they should be red. We had made blue and red disconnects so production could use the blue ones for the early missions and the training shots, then use the red rings for the later missions. But they never bothered to swap them, so this is another error, but out of our control.
Most recently, we made the suits for "First Man", Geo Storm", "Space Between Us" "Lucy in the Sky", "Dark Phoenix" and the upcoming "For All Mankind" and "Ad Astra".
We are currently building a number of suits for Museums, collectors and a full size Lunar Module for the Stafford museum in Oklahoma.
Here are some shots from around the Global facility. (Sorry for the quality of some of these, I just took some shots on my phone this morning)
Research Library.
This includes a couple of thousand photos of real hardware Mercury, Gemini, Apollo, Shuttle, advanced suits, commercial space among others. Some of the artifacts are a real Mercury panel (But not from Friendship 7) some ACES buckles, an HGK-13 helmet, flown insulation from Columbia, Apollo communication cables (including Dave Scotts flown Apollo 15 Cobra Cable) Some concept art for SpaceX, Rob Lowe's Col. Sanders "Apollo" suit costume. The other side of the Library is all armour and medieval research.
This is a flight Shuttle IVA suit from the early STS missions.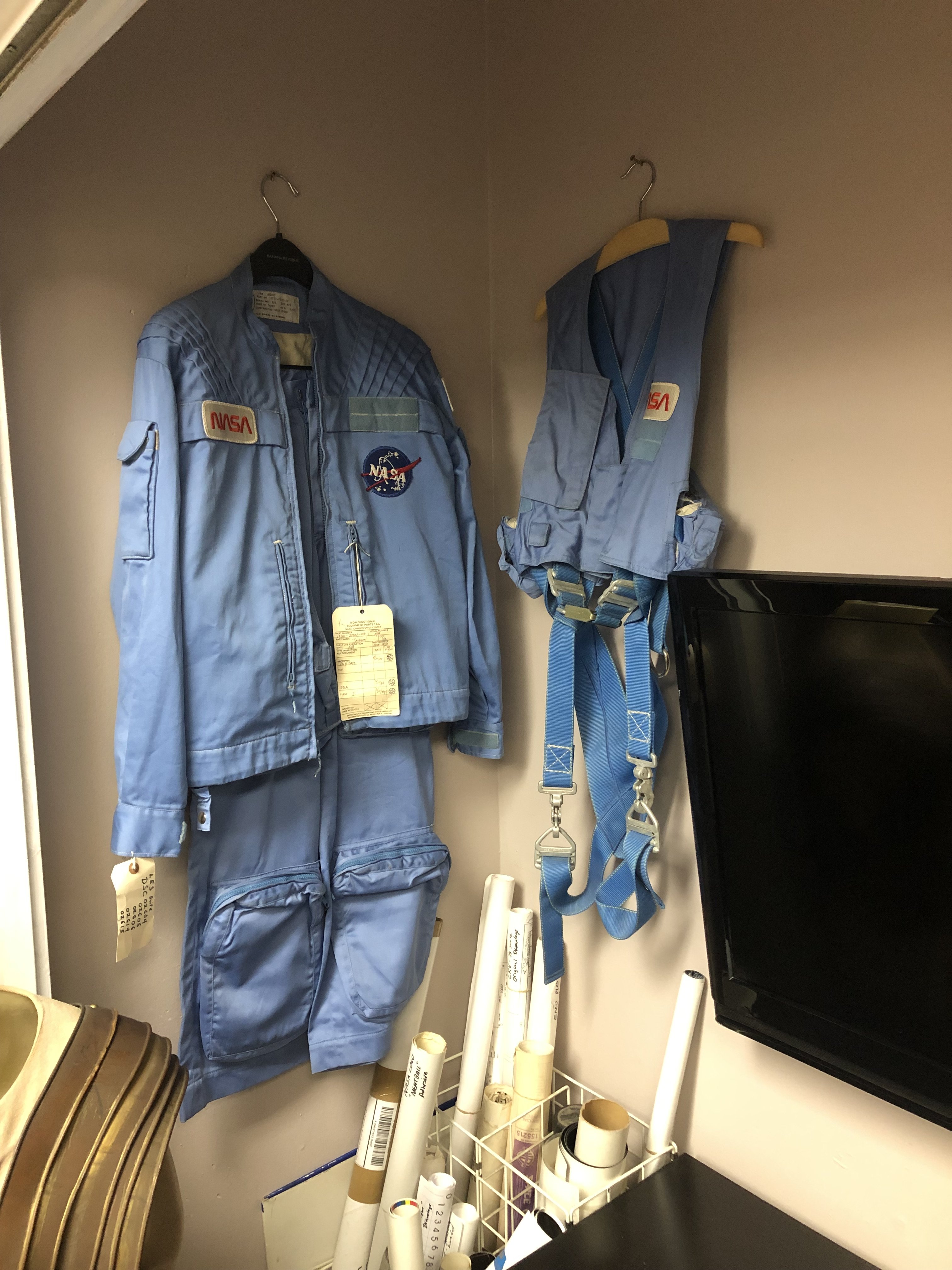 Rental Department
One of the Gemini Suits from "First Man" and our Mercury suit.
I think we ended up making / Providing 11 or 12 - Gemini / Apollo One suits for "First Man", here are some of them.
A closeup of one of the Gemini Helmet Disconnects. Although very expensive to produce, we try to use copies that function just like the original. Each helmet disconnect requires nearly 40 custom machined parts and would be interchangeable with a real disconnect, with the exception of the lip seal. Which we do not use, as it makes connecting and removing the helmet a little more difficult, and the actors have enough trouble as it is.
One of the 8 rows of costumes and props in our rental department, this row being "Real Space suits"
These are our top of the line Apollo suit replicas, mainly used on feature films. I think we have 3 complete sets in total. 2 sets of A7L (one with blue rings, 1 with red rings) and one set of A7Lb suits.
In addition we carry lower details suits to accommodate smaller productions.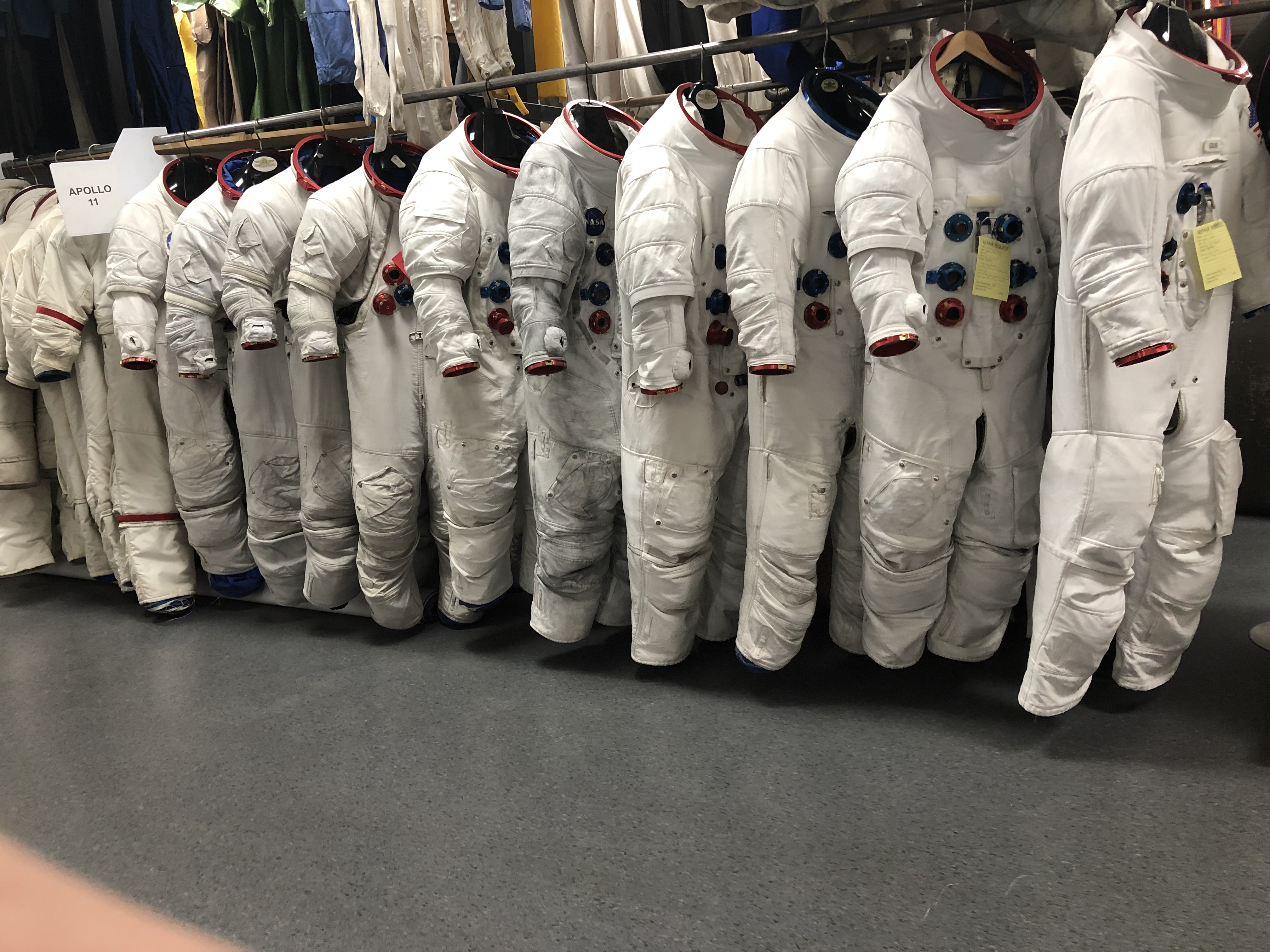 The Shuttle / EMU side of the hall. Featuring the earlier model of EMU and the latest versions.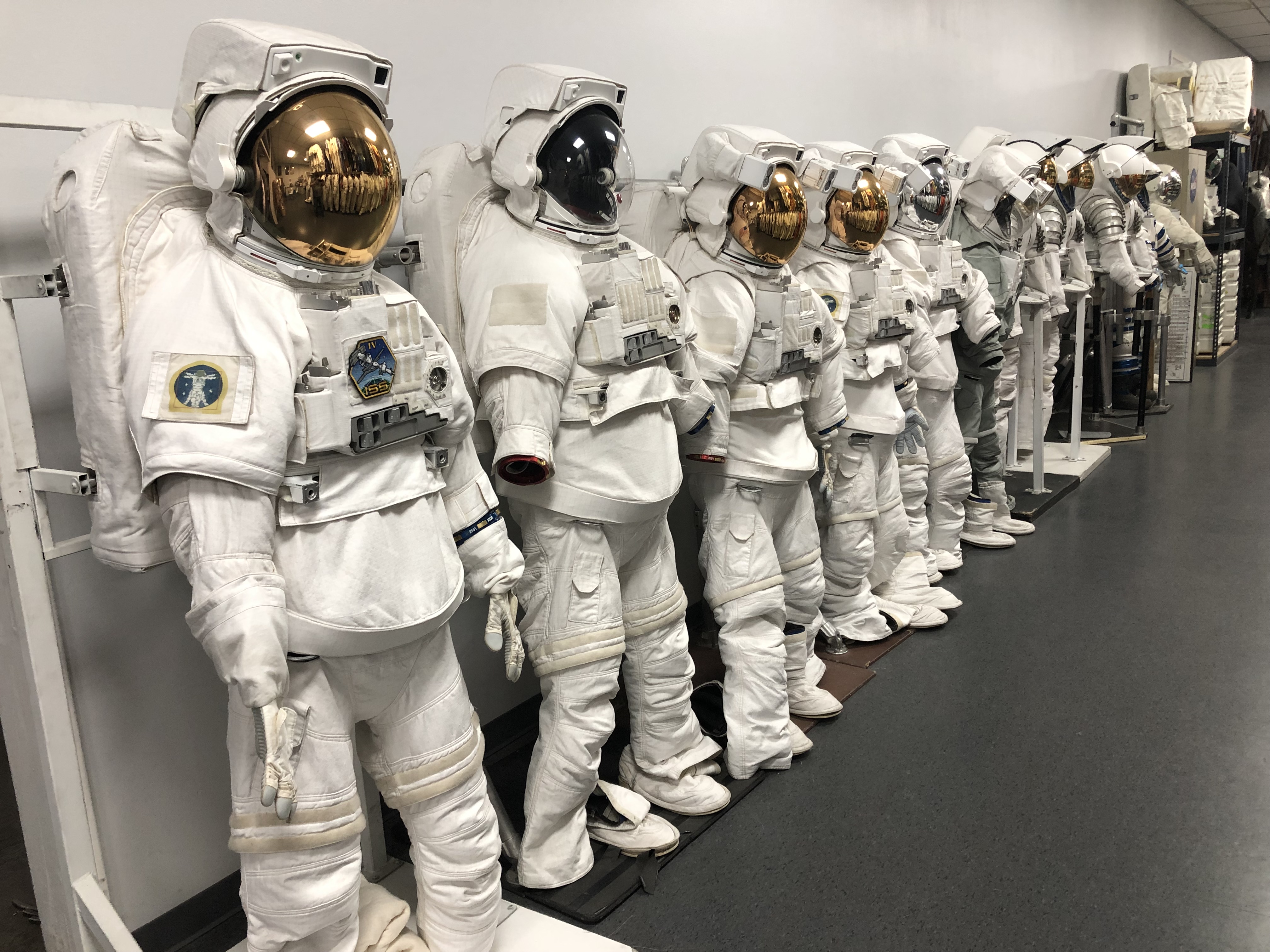 One of the helmet shelves. In the backgrond you can see a copy of Yuri Gagarin's SK-1 suit and behind that a prototype suit we designed and built for SpaceX.
The Shop
Since we make almost all of the components of these suit replicas (along with many other types of props & costumes) we need to have patterns, tooling, molds, spares and such. After 24 years, we have accumulated a fair amount.
Our maintenance and repair department. Our costumes & techs have been on every continent on the globe and since we send suits to the other side of the planet, we need to make sure everything is in to working order. To give you perspective, a real EMU has 19,000 parts. Our replica has around 1,500, so that's a lot of parts to make, so when we do make them, we make spares. This is the work area of one of our techs and each one of those drawer sets have small hardware for a particular suit or helmet.
I helped Adam Savage out with an ACES helmet bail bar latch for his ACES helmet build. This is the number of parts just for that latch.
We spin cast these from a low temp "Pewter" alloy then they are hard plated. Brass or stainless inserts are used where threads need to be strong.
The resulting latch works pretty much like the real one.
The larger spare parts are in this room. Helmet shells, visor surrounds, Snoopy Cap parts, glove palms and so on.
We make all of our visors and in order to fit in the helmet shell, along with the sun shades, curvature is extremely critical. This is a curvature gauge we made to help "grade" the visors. The Apollo LEVA (Lunar Extra-vehicular Visor Assembly) only has a bumps visor (clear) and a Sun Visor (Plated in 24k gold), so there is a bit of room. But the EMU visor assembly has a bump & sun visor, 2 side sunshade and a center sunshade, all in basically the same size shell. So those visors need to be very accurate in order not to "crash".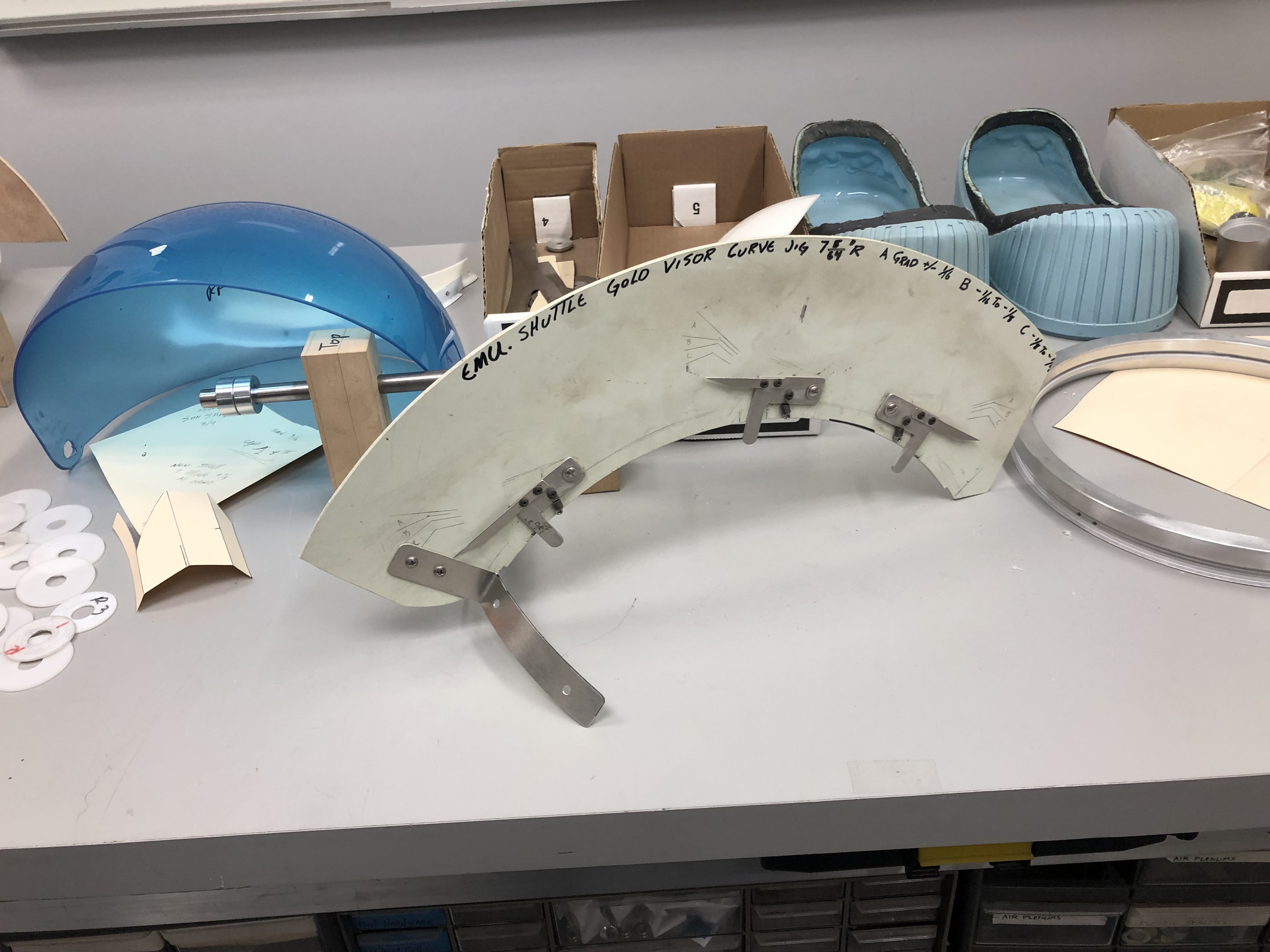 Because of this, and because we make replicas of over 30 variations of helmets, we keep a lot of visors in stock.
(This shelf is 4 rows deep)
In addition to visors, we need a lot of tooling to make all the different suit components. All this started from a small team of guys in a small shop in North Hollywood. Now we have tooling to make accurate copies of almost any suit that has been in space. An d other which have not.
The 4th cubby down has tooling for a 90% EMU we built for Natalie Portman for "Lucy in the Sky" and most recently for Anna Kendrick.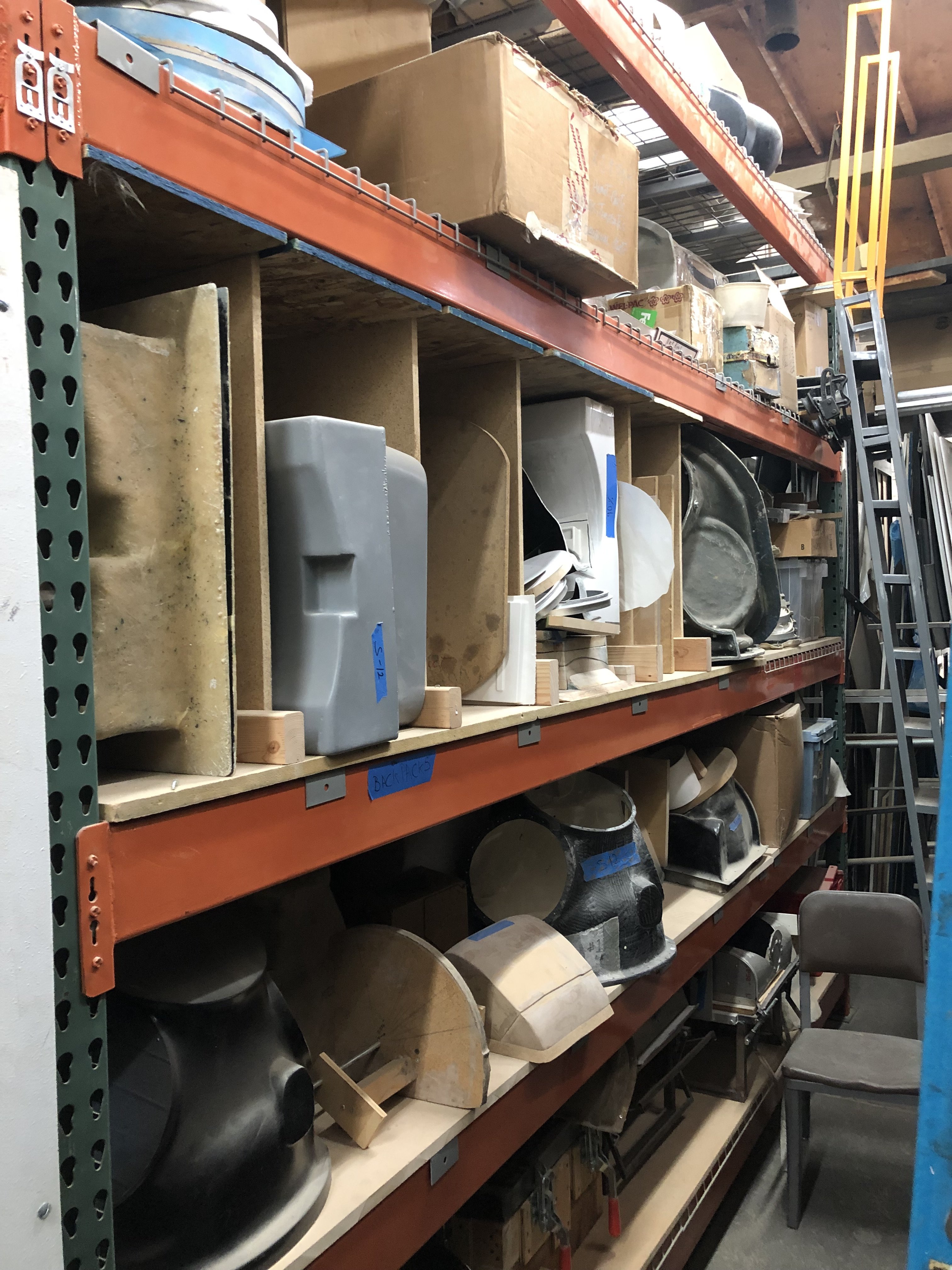 In addition, we have fiberglass and silicone molds on high altitude helmets and other flight gear.
Over the past 33 years we have accumulated a lot of tooling. These are just vacuumform tools, and ths is after our recent move when we go rid of a bunch of these.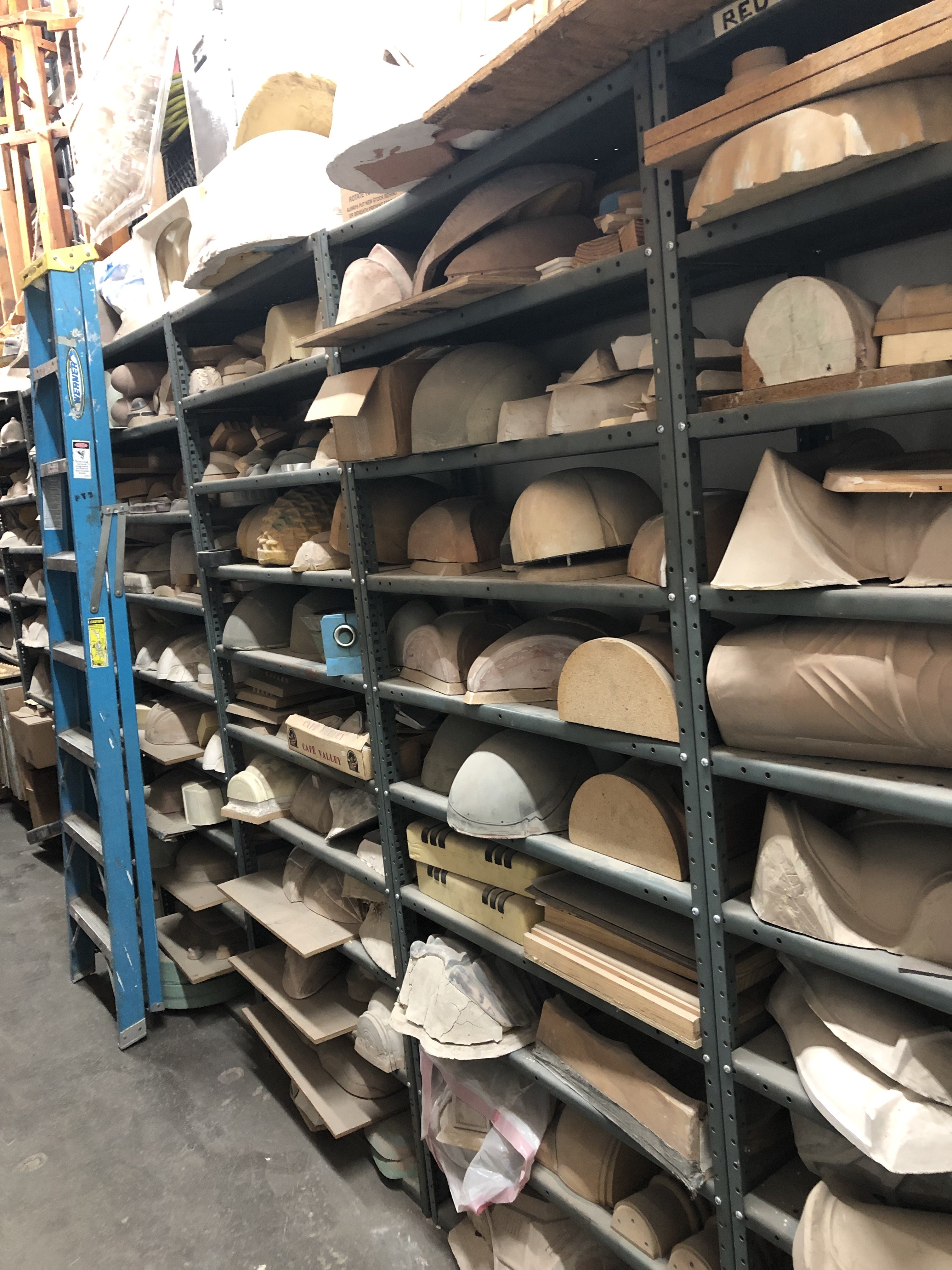 Our soft goods shop produces all of the fabric and leather bits. Whether it's a 17th century doublet, a bio hazard suit of an Apollo A7L, we can make it here. Which means, more patterns...
Here some other bits in progress or in for repairs.
Recently we ordered a large quantity of Apollo fittings CNC machined. In the past we made these in-house, but given the quantity and the cost savings, we jobbed this out. The parts are then polished and anodized the correct colors. These are just the parts for 2 suits. Unfortunately, our vendor did not put large enough radii on the edges, so for our best quality suits, these will have to be stripped, all the edges radius-ed and then re-polished and re-anodized. On the O2 fittings we opt to make those a simple "snap-ft" using a Delrin insert. We made a functional O2 fitting years ago, but they are a bit tricky to get the hang of opening, and the actors had too much difficulty. But even when we make thing work correctly, Hollywood has their own ideas; In First Man, they show the suit tech rotating Ryan Goslings helmet to "lock it", when the real Apollo helmet doesn't lock that way, and our rings work exactly like the real ones.
I hope this post is appreciated and I'll be happy to answer some questions if I can.
Oh, and here is the descent stage of the LM less it's Kapton thermal blankets.