Back in September I sold Angel (aka
angelousprime23
) a cast of the Iron Man Mk IV suit that I painstakingly worked on for 7 months to make. After he got the shipment he asked me if he could resize and recast it. I told him no, I spent a lot of time making the suit and it is not ok to recast it. In the past couple days I have found incriminating trails that lead me to believe that he did in fact recast my suit.
You can read the post by my good friend Darkside_501st that explains my concerns better:
http://www.therpf.com/f13/iron-man-suit-kit-168335/index2.html#post2609539
Here is the information I have found that leads me to think that Angel has recasted my suit. I would encourage you all to look at his posts here in the RPF and from the following links and you will be able to see from his comments what he is trying to do:
I saw his video on YouTube where he is advertising all the things he has 'made' and can 'make' for everyone. I have also found that he purchased a raw cast of a war machine helmet on eBay (go to 2nd page of feedback comments):
Iron man war machine helmet | eBay
eBay Feedback profile for mrjamesie

Here is the link where he 'sold' my suit on ebay:
replica iron man suit armour prop | eBay
You can see that it is the same person. Also note that for some reason this sale and several other sales he has made have been marked private so that nobody can see what he sold.
eBay Feedback profile for johnconnerangel02
In any case, he is also now selling War Machine helmets as you can see in his YouTube video comments:
iron man helmets for sale - YouTube
You can also see in the comments he has posted that he sells (Iron Man) suits. He made a post 2 months ago that he now has a suit as well. It would seem that this was intended to be an advertisement to indicate that he now has Iron Man suits that he is selling. Since this post was made 2 months ago, right after he bought my suit, you can see that there is no way he would have had time to make the suits he is trying to sell.
I was also told from another RPF member that the Iron Man helmet he has been selling since last year on ebay was recasted from the Museum Replica's Iron Man helmet distributed by Sideshow. You can see that his helmet looks really similar in shape and detail to that helmet. There are possibly a few differences; however, it is also possible he made slight changes using clay or some other medium before recasting the helmet.
If that is not evidence enough, I also found his Facebook pages:
http://www.facebook.com/angel.sunley/photos_stream
http://www.facebook.com/angeleffects.co.uk/photos_stream
Here is a screencap of his photostream:
And here are some comparison shots that I set up: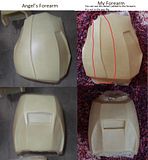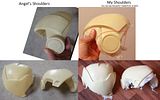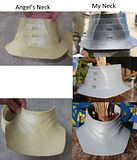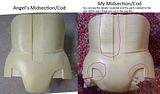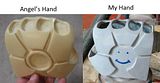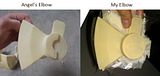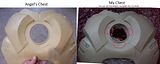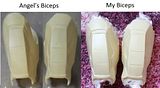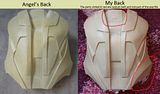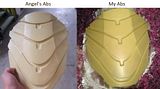 I would really appreciate some feedback and opinions from you guys and I would like this situation to get some serious attention from the RPF Mods and Staff. To myself and several others the proof is undeniable especially with the lovely pictures Angel posted of his recent casts on his Facebook page. Also, if you looked up and read his comments you can see that he is in the market to buy props and sell props. One should question that if he can make such good props why does he need to buy them and also note that he starts selling the same props he has been in the market to buy. Please comment and share your thoughts.