Welcome to my Hydralisk Cosplay Thread!!
Hydralisk at Blizzcon 2015
Showcase video at Otakuthon 2015
Q&A video
The Making of video:
For more photos, keep scrolling down!
Have a nice read!
Hey everyone!!
Today I want to present to you this year's big project: building the snake-like Zerg from the Starcraft world: The Hydralisk
The obvious challenges in this build are mobility
, soft tissues and somewhat deformed body shape which needs to be adapted a human stance
Here are some picture from the games and artworks which guided my build.
http://vignette4.wikia.nocookie.net..._Cncpt3.jpg/revision/latest?cb=20091028225625
http://www.theschap.com/wp-content/uploads/2010/08/hydralisk-sc.jpg
https://xboxoz360.files.wordpress.com/2013/04/starcraft-2-heart-of-the-swarm_oxcgn9.jpg
http://static.giantbomb.com/uploads/original/6/66388/1750513-hydralisk_ii_by_mr__jack.jpg
And of course, for those who played Starcraft 1, this unforgettable screen of one of the most iconic unit in the game =D
http://hdwallpapersfactory.com/wall...ra_desktop_1920x1080_hd-wallpaper-1224528.jpg
Alright, lets start the build
Starting off with cardboard, I free
-handed cut the large head shape (I know some of you are very meticulous and like to measure everything. Im into trials and errors and let my imagination guide my steps)
Once I get an overall structure that looks decent enough, I added more specific details like spiny scales, eye sockets and horns with pieces of foam, aluminum foil, newspaper wrapped in tape. Then I used paper-mache (mix white glue with water and dip with paper towel) to wrap everything and add texture to the head.
Let it dry then reworked the jaws shape.
I also cut out some holes in the structure because cardboard tends top be heavy I figured these area can be covered with just paper mache with undertile flooring sheet
Then moving on to the body.
This part was pretty tricky in part due to the S shape stance of the hydra. In the end, I simply decided to go for a straight stance which would be much easier to build
The idea was to divide the body into segments and somehow join them together in a relatively flexible way that would allow fluide
movement.
After a few trials. I finally settled with a design that would be not too difficult to wear and allows some mobility

.
So I divided the hydra's body into 2 different parts each designed individually:
the standing half (from torso to foot)
the tail (self-explained)
The standing part is divided into 3 sections which stack together with velcro
The sections design is nothing complicated, just a ring of foam connected to the front (or belly) plated scales, Each section is divided into 3-4 segments
Again

here it took many trials to make everything fit together and conceal the separations between the sections
Now for the tail, my utlimate goal was to create a snake like tail that can wiggle from side to side as the hydra moves.
I was very inspired by League of Legend's Cassiopeia's cosplay by Jerry Polence and decided to use a similar concept.
https://www.youtube.com/watch?v=TNWhoUoeEHg
However, i gave more freedom to my tail by adding elastic straps to my buckle joints and glue them so the buckles stay between each segments of the tails instead of being concealed inside the segment as Jerry did.
Now you may think the buckels will be in plain sight to everyone.
I thought of that and decided to add a "roof" on each segment to cover the buckle (you can see from the above pictures). This allows free movement and conceals pretty well the mechanism under.
I placed a piece of cardboard in each segment to keep its shape sturdy so it flatten out over time.
Two things I did to ease
mobility
on any type of floor.
First, I added a sheet of PVC under each segment of the tail. As you can see in the picture, I cut 2 slits and inserted the PVC sheet in between in a curved way. This first of all prevent the foam from rubbing

against the floor and protects it. Secondly, this minimizes friction during mobilization
, and helps the tail follow more smoothly my movement.
Lastly, I added another sheet of PVC under each segment which covers partly the segment behind it. This acts as a shield for uneven floor or stairs and prevent the edges of the latter segment to get stuck in a ridge or on a stair steps.
Finally, I added some spines on the sides inspired by this model of the hydra
http://pre07.deviantart.net/d218/th/pre/f/2010/308/1/7/hydralisk_render_by_bigreek-d325v02.jpg
Again, to prevent the spines from hooking in the frame of a narrow passage and eventually break off, I purposely did not glue it to the tail. Instead I used the elastic strip and glued on end inside the spine, pass the strip into a small hole in the tail and glue the other end inside. I also added a round base where the the spine can sit comfortably on. This allows for rough play and when a spine hits something, it bounces back into place. It kinda looks more alive this way too.
Alright now, we need to connect both parts of the body together. Following Jerry' steps, I designed a piece that fit with the stance part and sits nicely on top of the first segment of the tail. Basically cut strips of foam and adjust their curvature so they make like a 90 degree angle when glued together. Again, lots of free-handed adjustments, the picture says it all.
Now one part of the body which really annoyed me (actually they all did at some point during the build) was the chest piece.
If we look at the artworks and in game models, the chest connects to the bulky protruding back right under the arms.
Originally, my chest piece looked like this:
It just didn't sit right with the rest of the body and I didn't like to have how the torso piece went all the way above my shoulders. It's supposed to be bare skin between the head and the arms. Hence why I cut out the front part and kept only the back part. Then I built a torso piece out of foam which looked more like the artwork and glued it with the old cardboard piece.
I added straps between the two pieces so the whole thing can sit comfortably on my shoulders.
This is how it looks like (because explaining it is so much harder)
I was pretty pleased with this "torso without shoulders" piece.
Alright, so that's it for now! Hope you like my project so far =)
Will post the rest very soon!!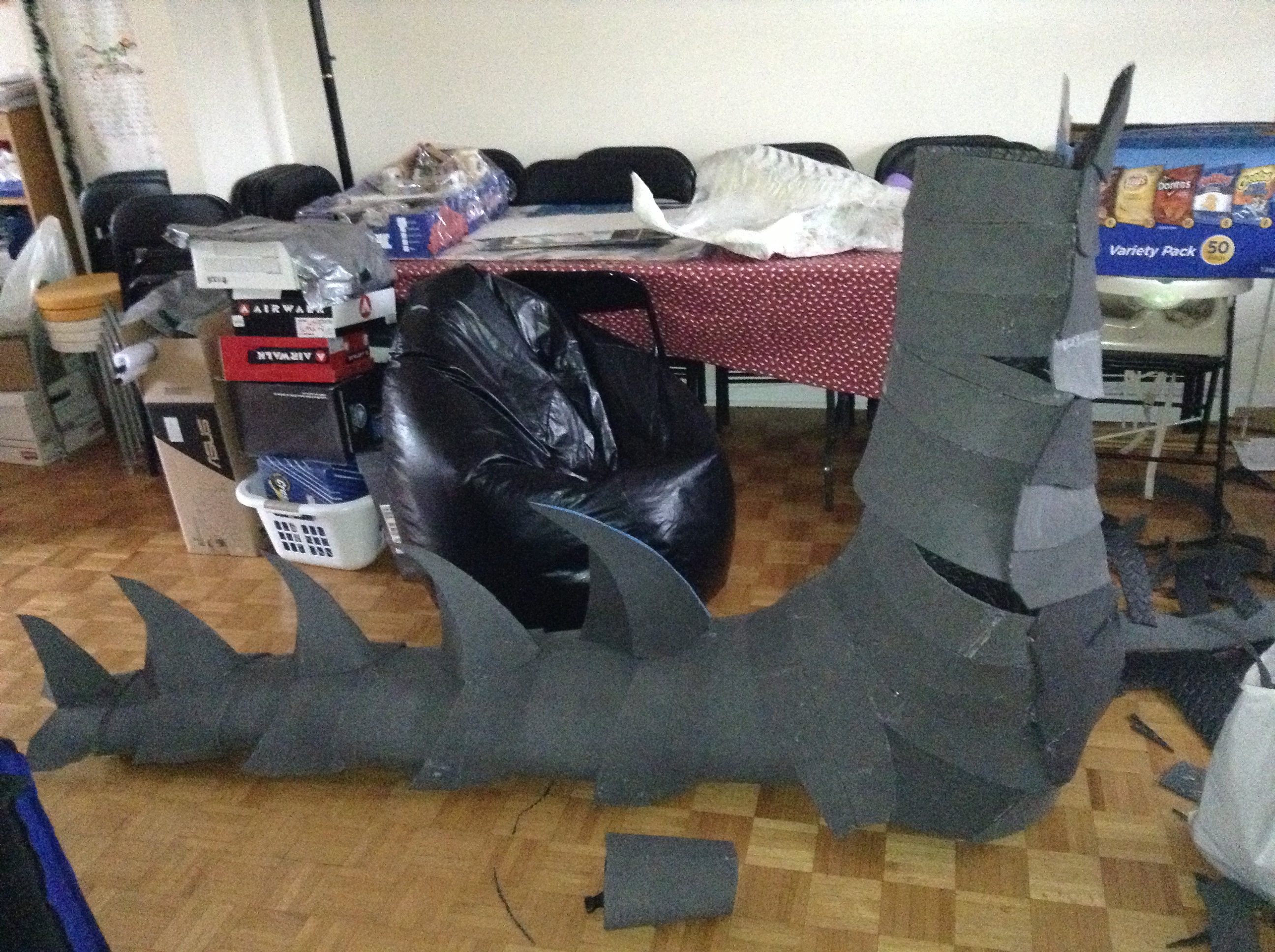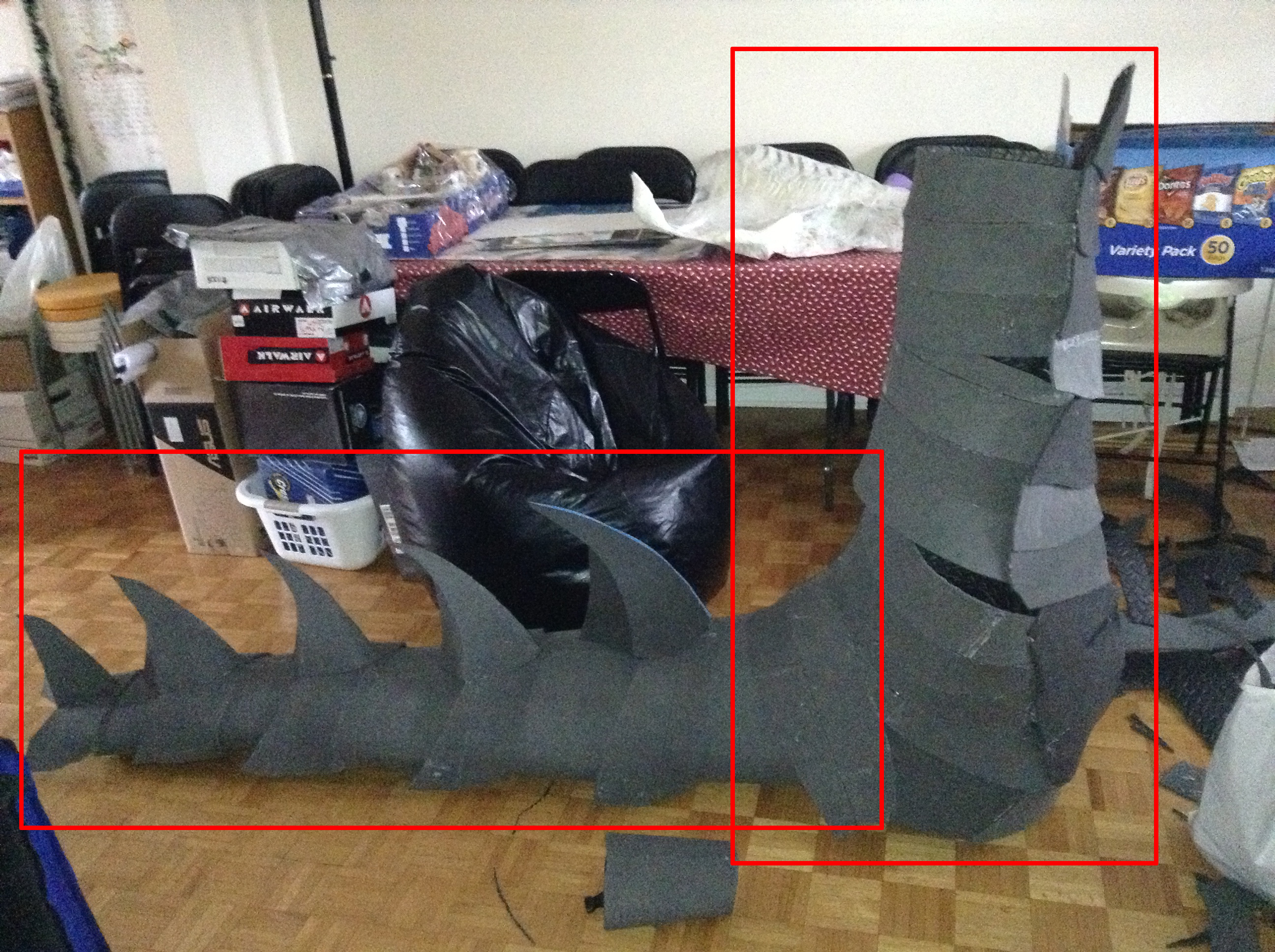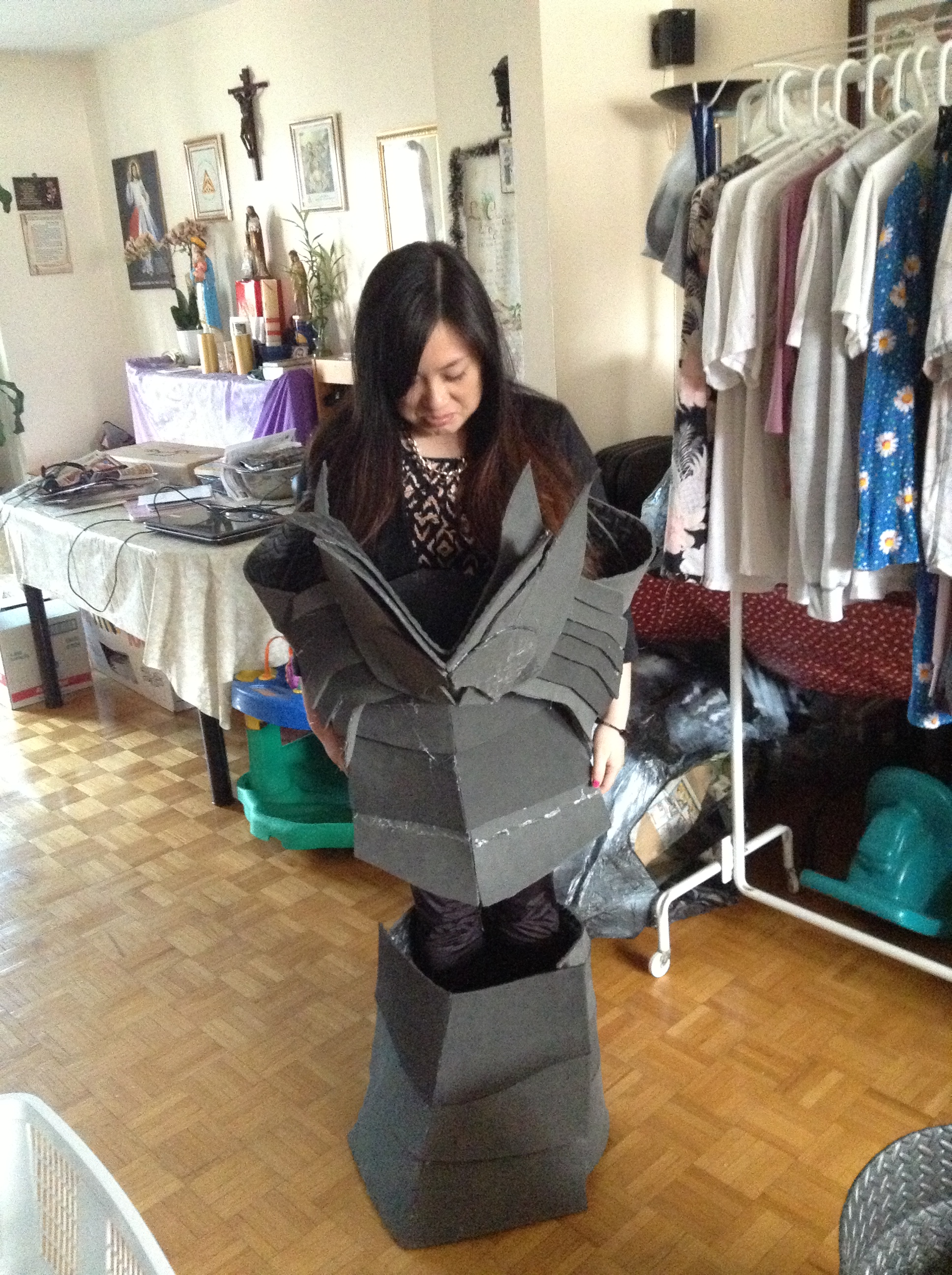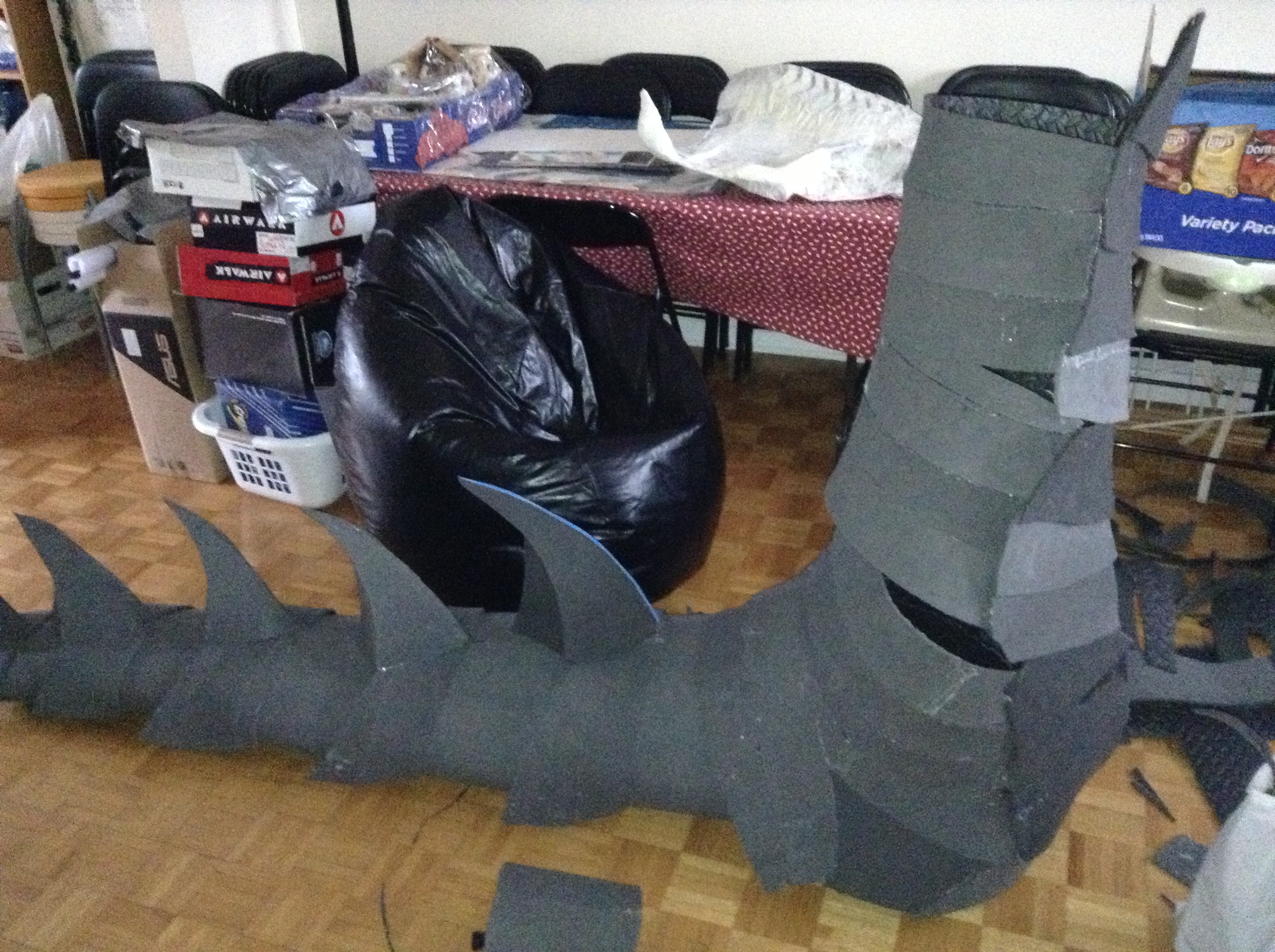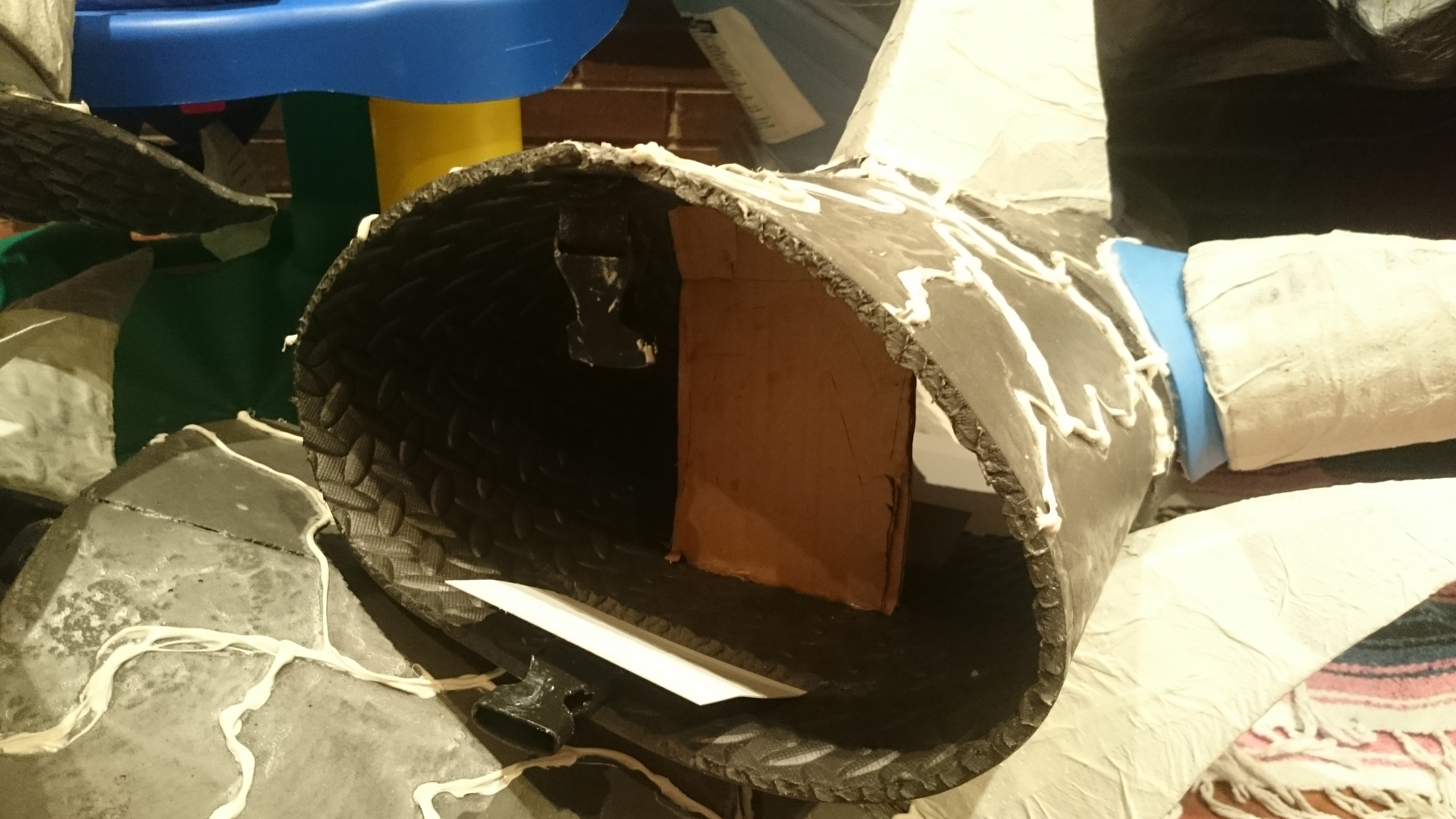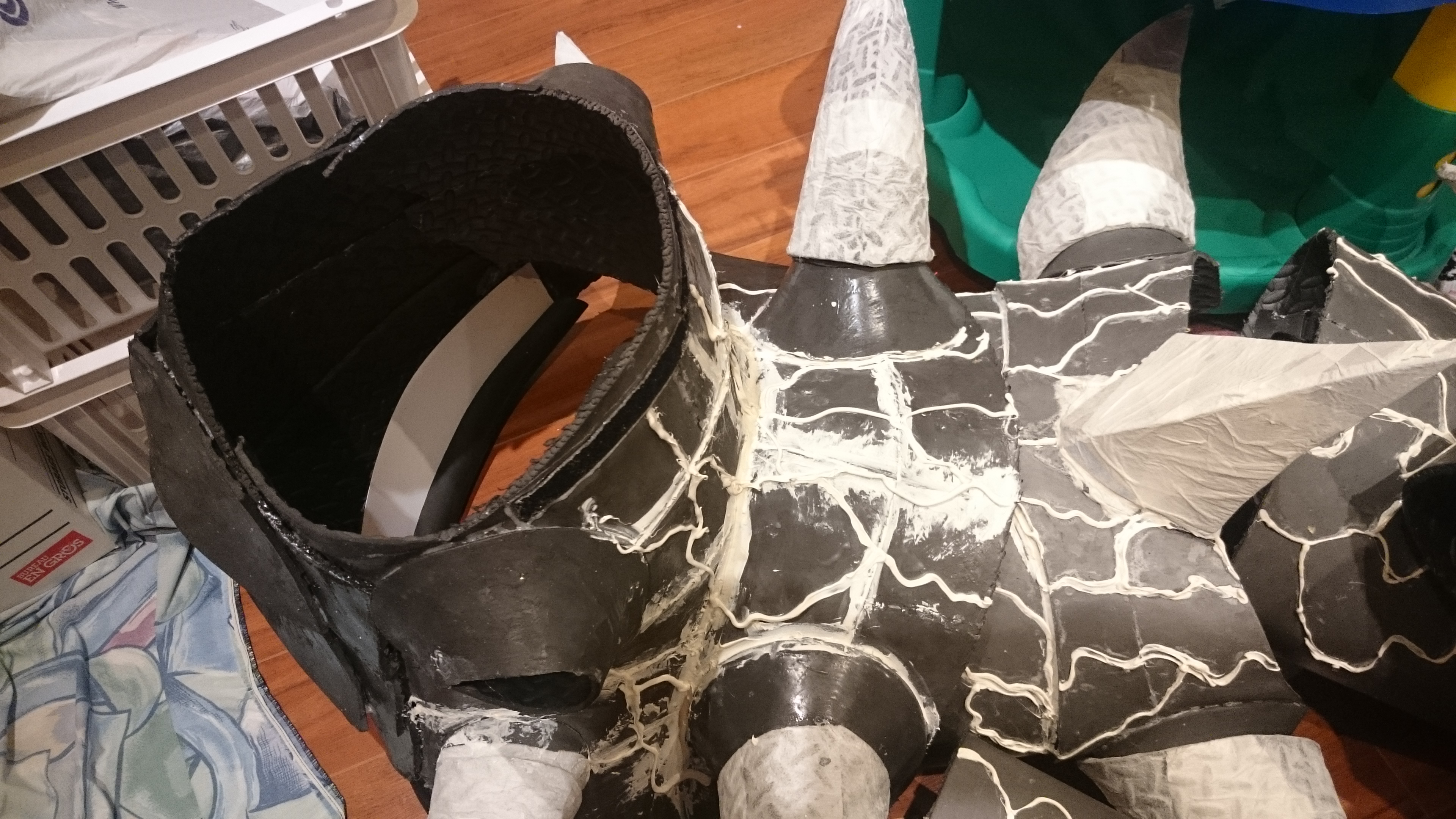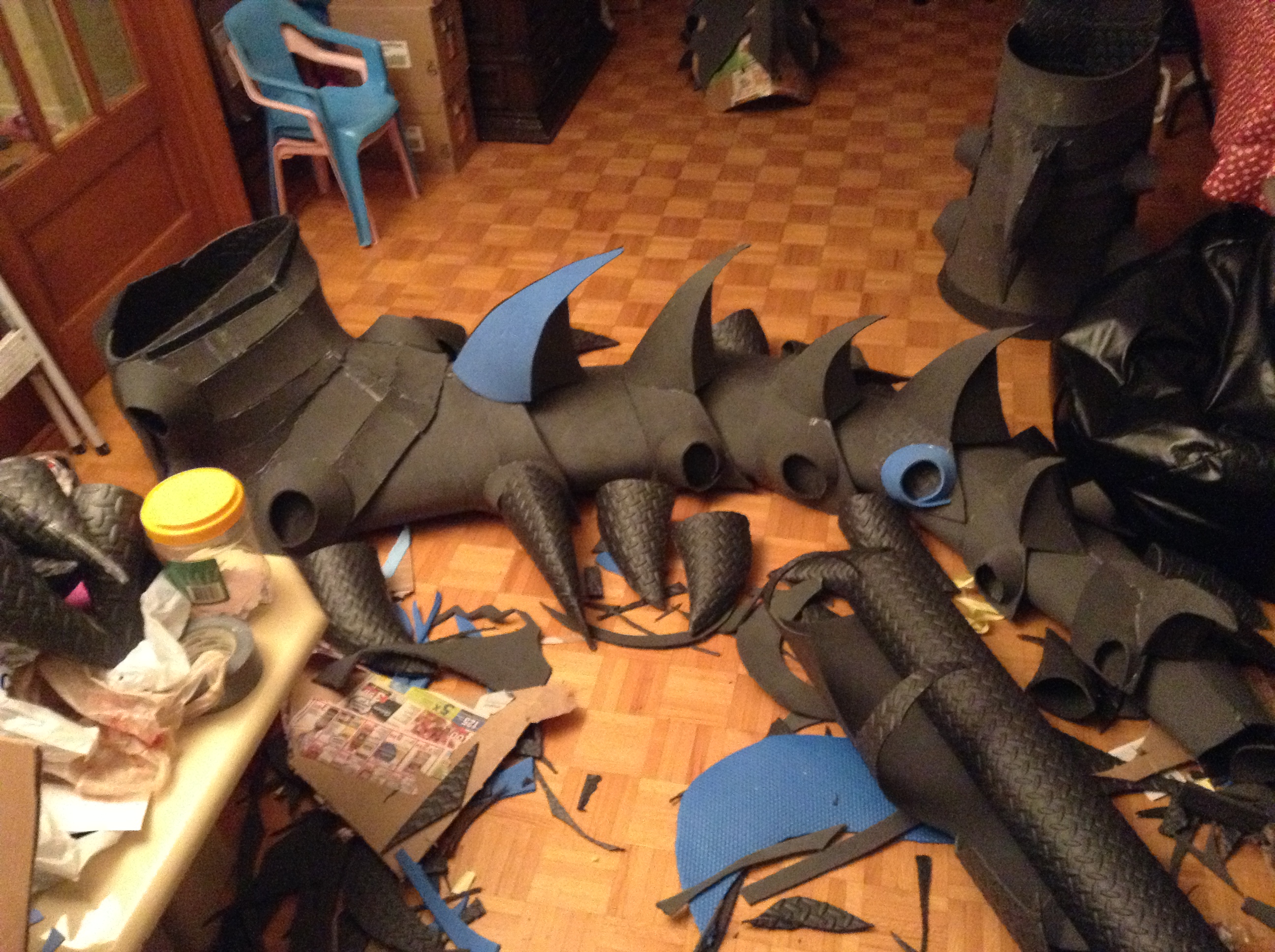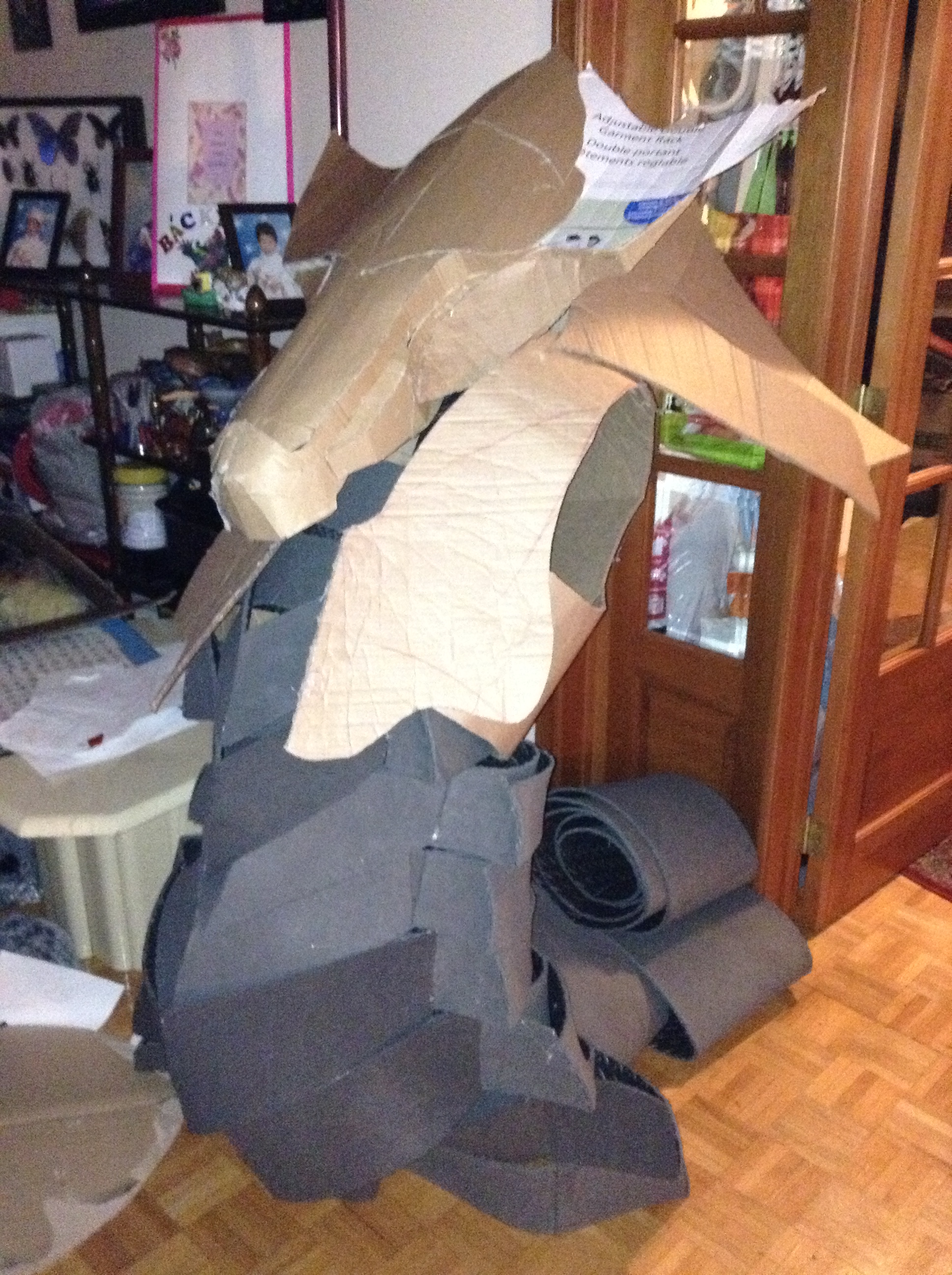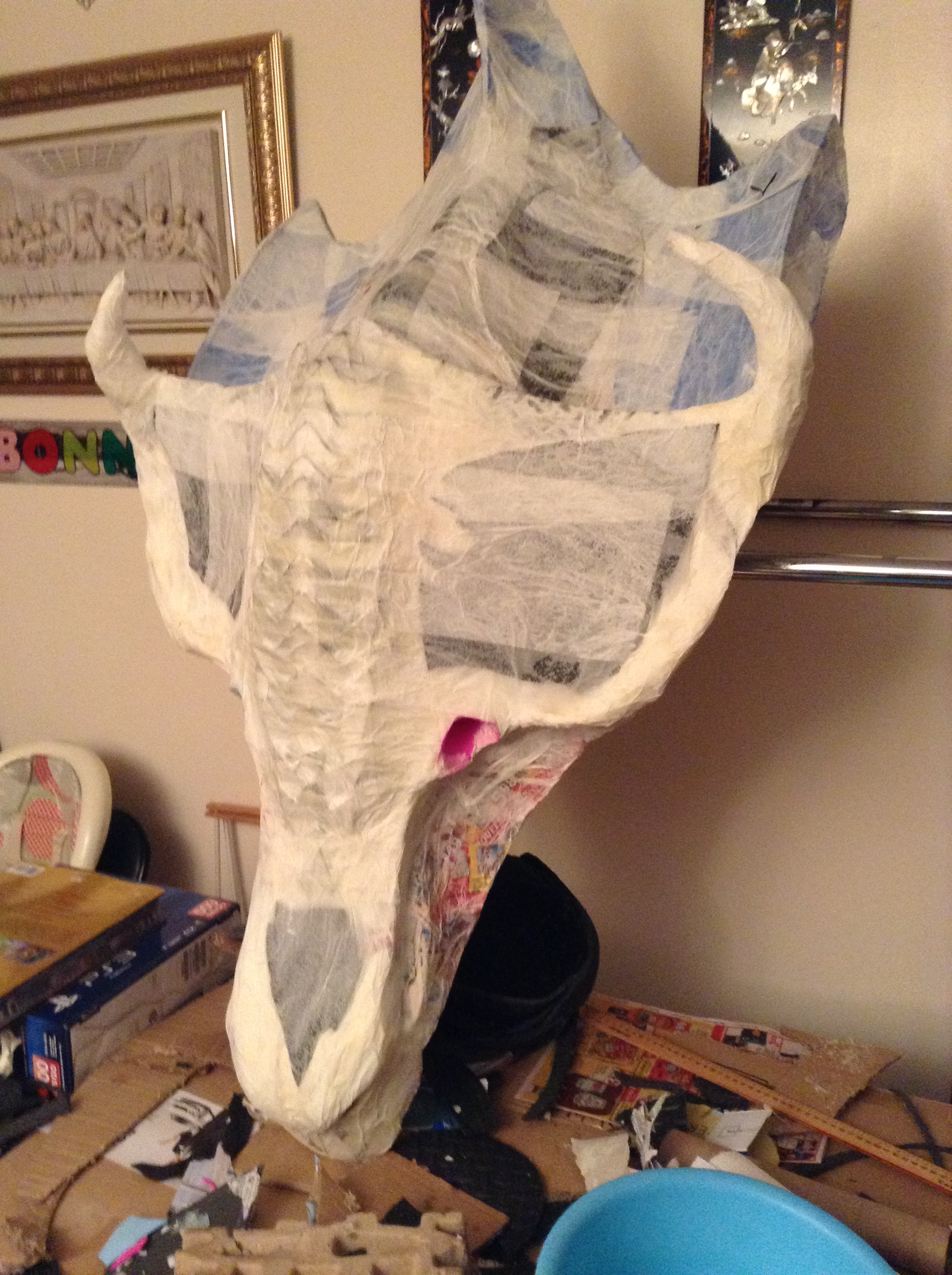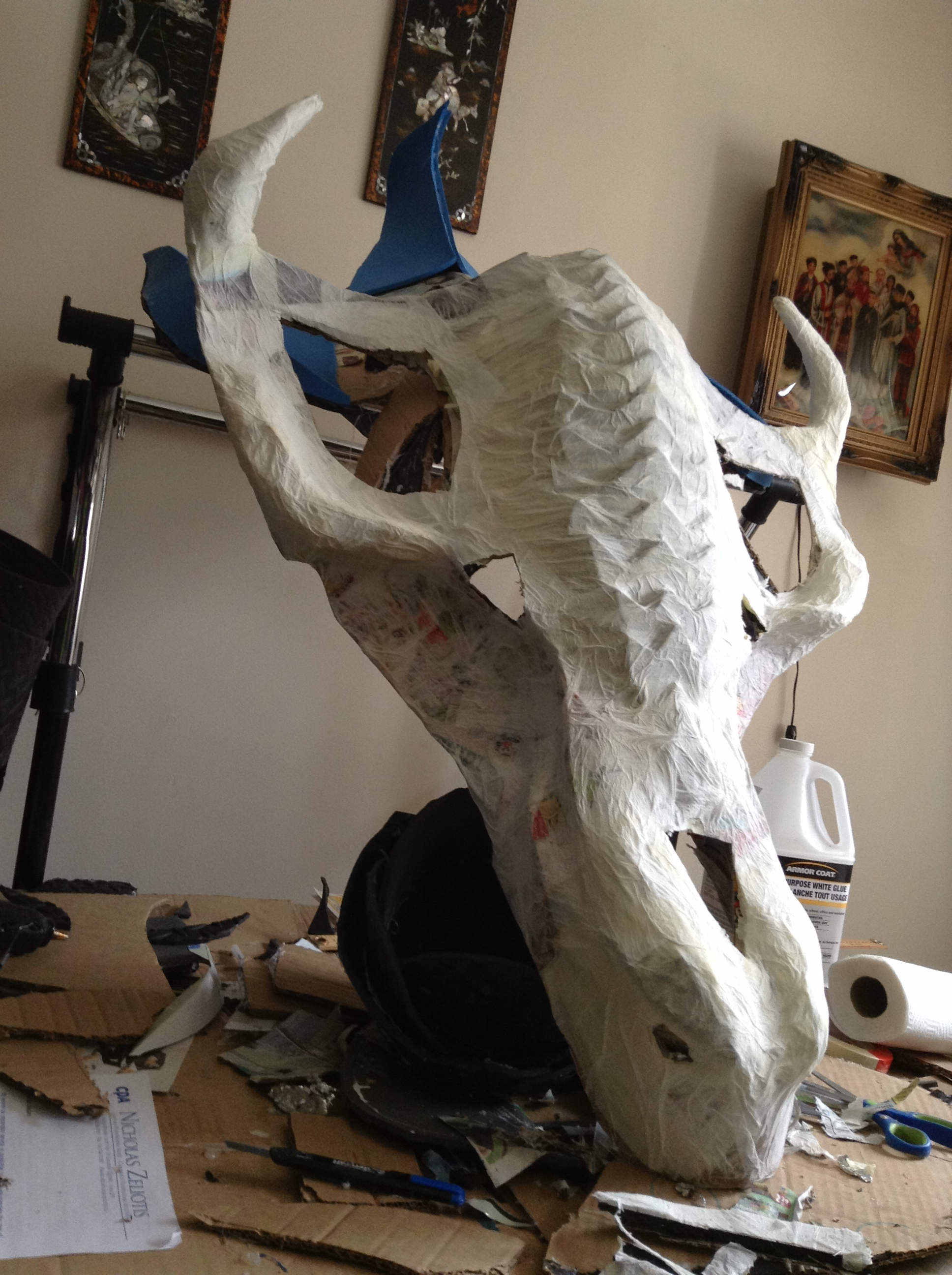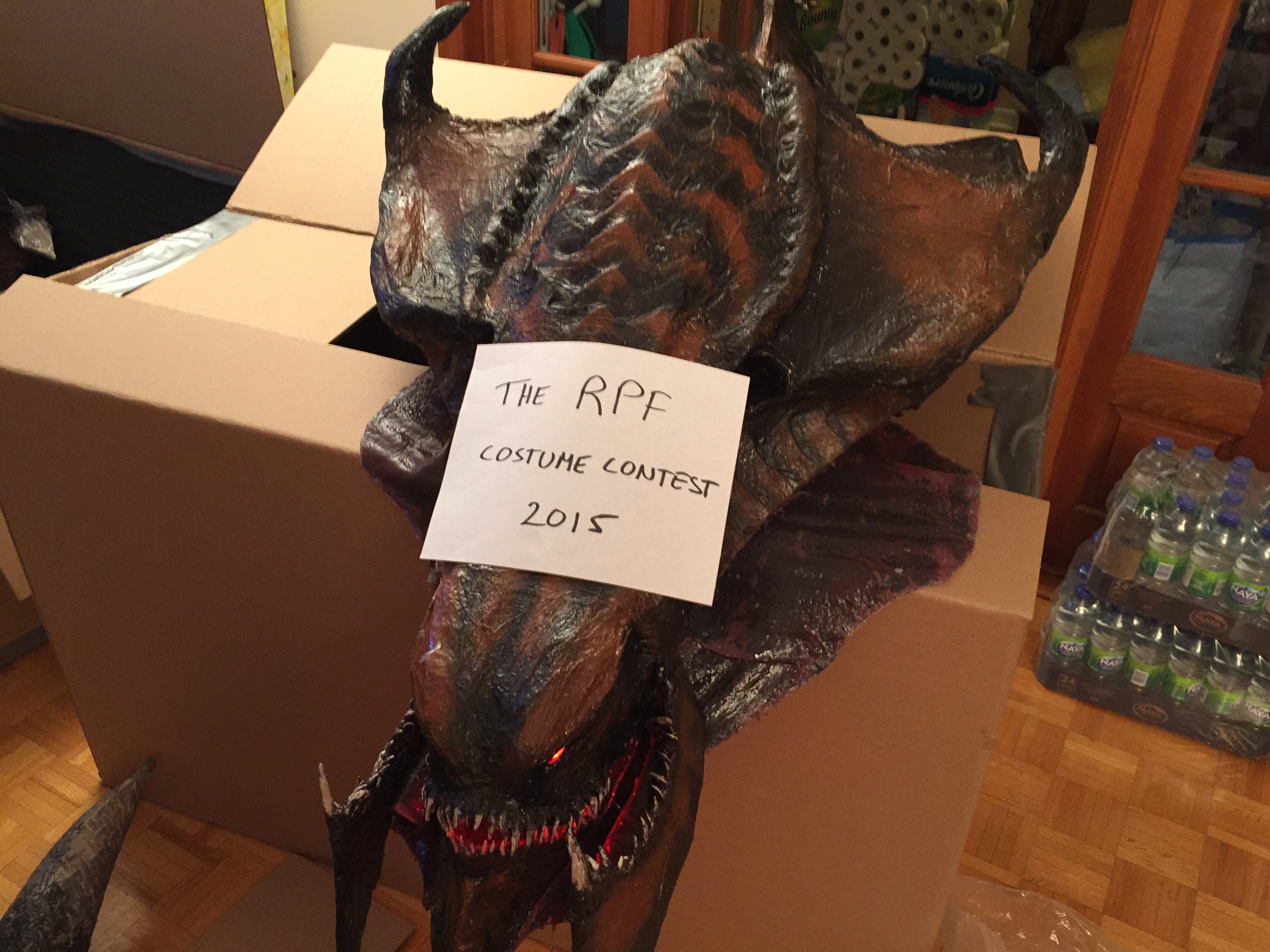 Last edited by a moderator: