Huntorial: How To Make a Bio Armature
Want to sculpt a Bio with clay, but don't know where to start? First you'll need an armature. What is an armature? It's the base and basic shape of the Bio on which you will put your clay. It should be hard and sturdy enough to support the weight of 9-10 pounds of clay that you're going to put on later. The way I make mine is to first start off with a basic wire shape of the Bio. I bought the wire at Home Depot and then just started bending it with my hands a set of pliers.
To make sure I had the right shape, I placed it inside the P1 Stunt in order to follow the same design.
I added more wires to give it more structure and support for the burlap that will go on next
The messy part is mixing plaster of paris and some burlap. Cheesecloth works too. When you dip the cloth into the plaster, there is a very short time that you can work with it before the plaster dries. So, mix up small amounts of plaster, dip the cloth in and smoosh it around so that the plaster gets soaked in, and then place the cloth on the wire frame:
Depending on how hot it is in your work area, the plaster and cloth will dry within a couple hours or so. Keep adding the cloth/plaster until you have about 3 layers.
Flip it over after it's dried and then you can put more strips of cloth around the edges of the armature.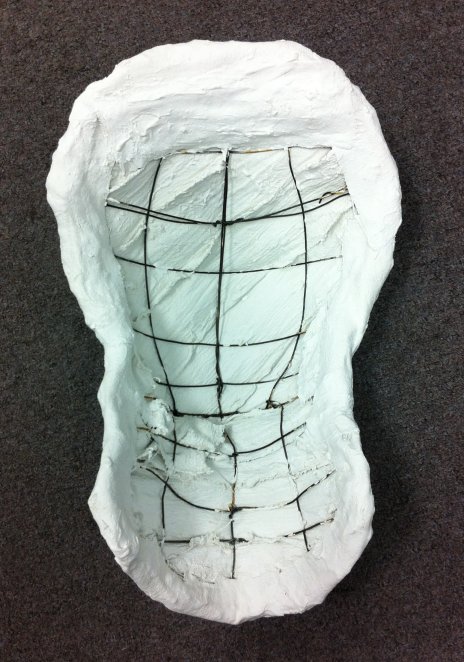 If you want to, you can even plaster the inside although it's not necessary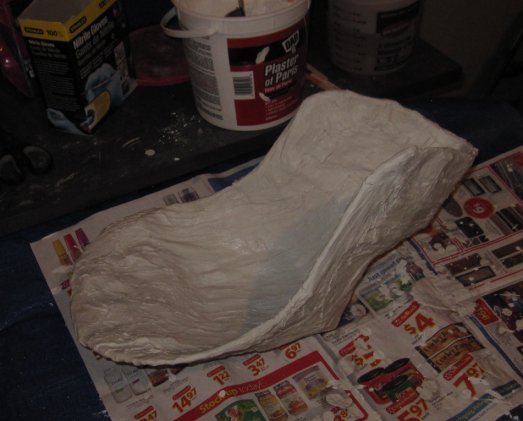 I let mine dry overnight, and then the next day I wrapped it in tinfoil and started putting the clay on in the generic shape of a Bio
That's all there is to an armature. I've seen people make armatures that are mounted to a pole, but then you risk the pole breaking and your entire armature with clay on it (because it gets heavy!) toppling over and destroying what you've worked on.
The downside to my method is that I won't have a lip that goes around the edges of the Bio when I go to mold it once the sculpt is done.