I had some extra materials so I thought I would work up a quick Bead Molding Huntorial. Maybe It will help some one out, and save your hands from a couple days of pain.
First I picked out some beads that weren't too thin in any areas. You don't want your Master Beads too thin because it will cause air bubbles in those areas when you cast them.
Next make a small box out of cardboard and glue your Master beads with about a half inch+ spacing around it.
Make sure the edges of the box are sealed up pretty much water tight. Depending on the rubber, it will leak. (I used tape). Alternatively, you could use a small piece of clay to hold the pieces in place so that the don't shift or float out of position.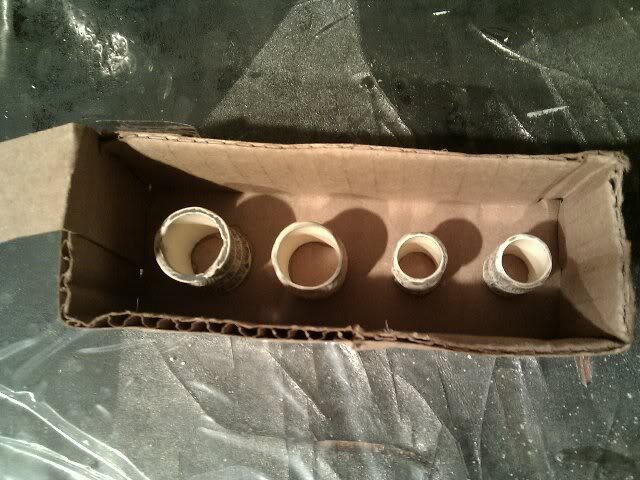 Next mix equal parts A/B of Smooth-On OOMOO 25 Silicone Rubber (Use Proper safety precautions when molding and casting)
Next, Fill the box with the Mixed OOMOO 25.. I start slowly with the center of each bead then fill around them. Make sure you cover the top of the bead with atleast 1/2 of OOMOO. It gives the center plug a good base to hold on to when you demold your casts.
After the Silicone Rubber has cured, remove the cardboard and pop out the master beads. No need for a cut seam, the beads will pop out with out it. Just give them a little pull and wiggle.
Next mix equal parts A/B of Smooth cast 300 and slowly pour them into the open rings. start with the small ones and work your way up to the larger. As the smooth on starts to set it thickens and will leave voids in the smaller beads. It's best to pour those first.
First pull from the new Bone Bead Mold. All that's left to do is some minor sanding on the ends I poured into.
Hopefully this helps out some of you guys along the way. Sorry for the cell phone pics.
-QuakeVirus
Last edited by a moderator: