Hey all. This year's Heroes and Villains at our place, and while our daughter is going to be Bubbles from the PowerPuff Girls, her mom has decided to be the villain Sedusa (from the PPG show)!
She's already finished the costume - a fantastic ensemble that for once didn't require any scratch construction! - but we need help on the hair.
Here's Sedusa and her hair. Obvious reference look to Medusa's snakes, but it's all just hair. We want to get Freckles's hair to do that!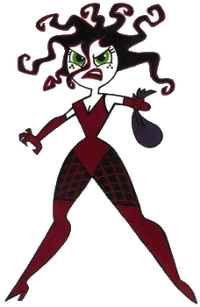 Any ideas?