I'm sure you guys have seen these before but I'm quite proud of mine.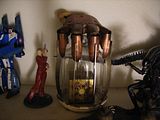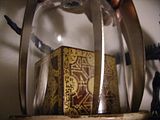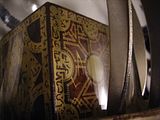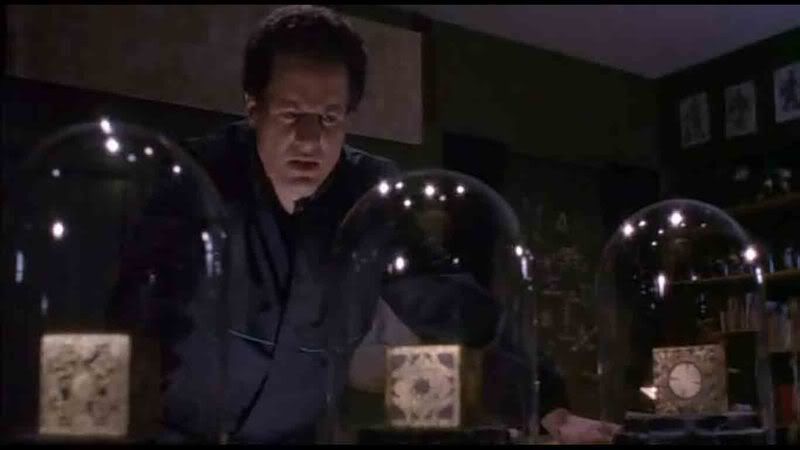 Obviously a replica, not a stage prop but I included that last photo because of the bell jar display I made for mine. Also the Freddy Glove on top is just the Rubies costumes "cheaper" metal model and not the NECA one that just came out, tho I'm hoping to pick that one up eventually.
The Cube is from
Hellraiser Puzzle Box Sales and Gallery. Lament Configuration Movable working puzzle boxes. Unique Versions of Philip LeMarchand Lament Configuration
and the expensive model made from real wood and brass. The thing is beautifully done and tho it fell apart once, the guy let me ship it back and have it fixed and it looks immaculate again. I love having this on display in my house (tho it's locked away for now due to a silly reason I can't explain) because when people come over and see it, knowing what it is, they suddenly become fixated on it. I once had a friend over who was a fan of the movies and when he saw it he was scared of it. I offered to let him hold it and he backed away all shaking his head. :lol
All picking on him aside, i've NEVER attempted to "do the motions" from the films in fear I may ACTUALLY solve the box. lol. Also I don't like to handle it for fear of it falling apart again. I strongly recommend this thing to anyone, it's just so pretty. I wish someone would make a replica of the Leviathan configuration for me to purchase.
Last edited: