I was recently forced to move my Lament Configuration box and dome due to needing the space for the Conan Horn of Dagoth and now I'm thinking about expanding the display in its new location (and maybe adding track lighting or something to light it up in the darkened room a bit).
Current Location: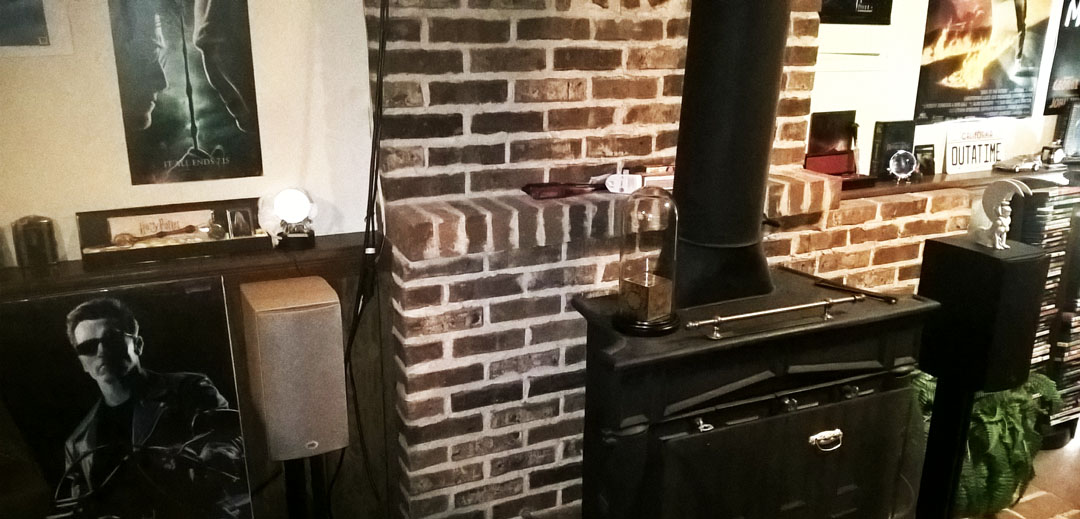 I was thinking with the space on top of the antique outboard fireplace, I could fit three cubes/domes kind of like this (brightened) scene in Hellraiser II:
Those are pretty big domes with little stepped stands within them. Has anyone seen ones like that for sale before?
I was thinking maybe of putting three different boxes in them. I've got two already. One is a flat black decal type box ($50), the one that's pictured above is the fully brass inlaid box ($199) and I was thinking about getting one of the models that has a music box in it (that you turn with the circular depression on one side) to use in a third box. Or possibly a different design (e.g. A "solved" configuration box) and/or or a 3D printed "Leviathan Configuration" (diamond shaped). Those wouldn't need the exact glass cases per se, but of course that would be cool looking. I don't think those size cases would even fit three on the fireplace, though. I might have to go for three more like the one I have already.
I'd then have some kind of remote activated overhead lighting to shine on them when the room is dark (along with the Harry Potter Crystal Ball, MIB "galaxy" globe and Conan "Heart of Ahriman" diamond that are currently activated with a single button push (RF AC remote control). I have the Indiana Jones items on a second IR remote with flickering votive candles powering them (bookshelf and Lit Crystal Skull).
Examples of Solved and Leviathan boxes: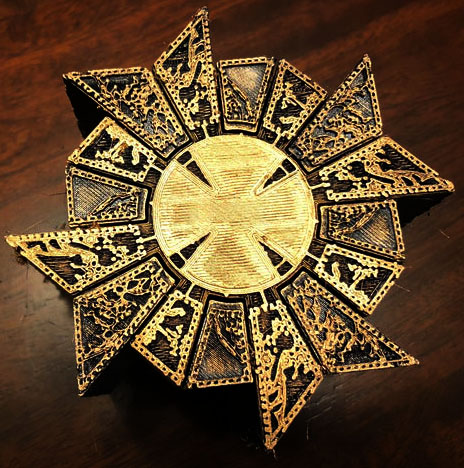 Music Box from pyramid-gallery.com:
I'm pretty limited on space in the room, but I'd be curious if anyone has any other ideas for a display in that area of the room (or a better alternative to those examples above).
Existing Brass Inlaid Mahogany Lament Box I have (closeups):