Sr Member
RPF PREMIUM MEMBER
Hi there,
I wanted a bit of a nice change of pace from my Star Wars projects, the blaster is quite complicated to handle ;-) and I was in a bit of an Hellboy mood at the moment, I got quite excited by Tip Top workshop's Samaritan kit when he made it a few weeks back and it was one of my only pleasure expenses this year, that plus the bullets from last Propstore auction and the seriously amazing metal build from Adam Savage, really got me into a nice Hellboy phase.
When I received the Samaritan kit, I started updating it with some metal parts, the most obvious move from there was to do some metal bullets for added realism and a nice bit of extra weight!
I'm opening the project run for that in a small while but wanted to show first a bit of WIP pictures on how I wen't about that whole project
so, there we go! I started with the bullet cases and bought 25mm round brass stock that I cut into pieces of approximativelly 7cm to do two bullet cases back to back. I chose to go this way to put them in the metal lathe chuck as it would be difficult to go at it another way because of the lip at the bottom of the casing.
well, here it already shows my finished prototypes, but this was the beginning of the actual run of casings:
after this first step, I chucked the pieces and turned both faces clean, then started turning down each side to 22mm, the actual diameter of the future bullets: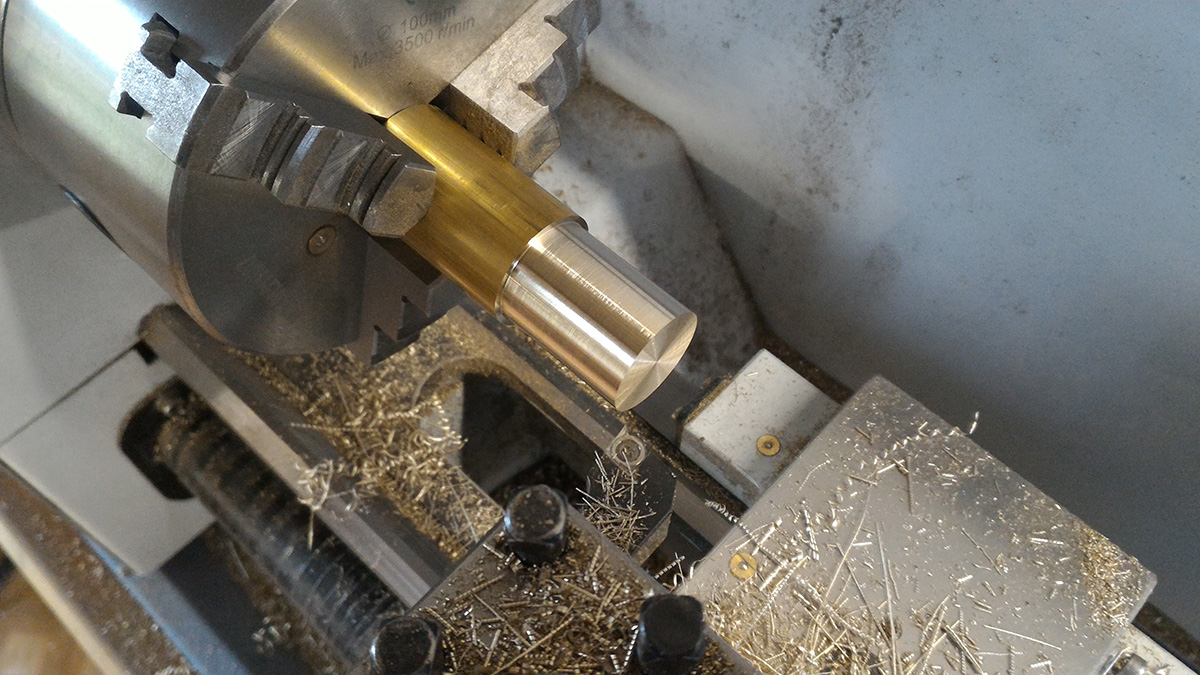 when this done, I turned down a bit more the top of the casing and did the knurling simulating the pressing marks on the casing when the bullet is fited.
still with both casings attached back to back, I started removing the material inside, for that, I start by drilling from 6mm to 13mm in diameter and 25mm in depth:
then comes a step where I remove the rest of the material with an inside turning tool tenth of a mm at a time... I have no photo of that step, just the result after this is done on all of them:
ok, now we are ready to separate the casings in two, I did a few on the lathe but it was easier to do it with the part stuck in a vice and cut with the circular saw in the end: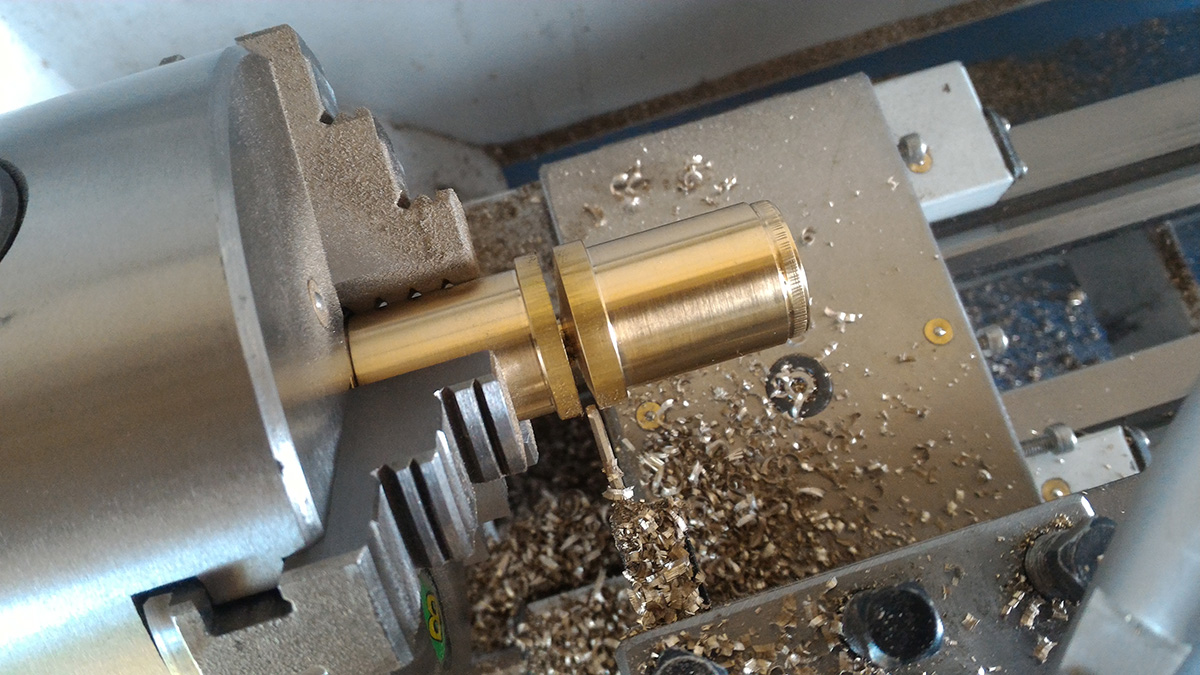 after that you get a bunch of casings with a rough cut back: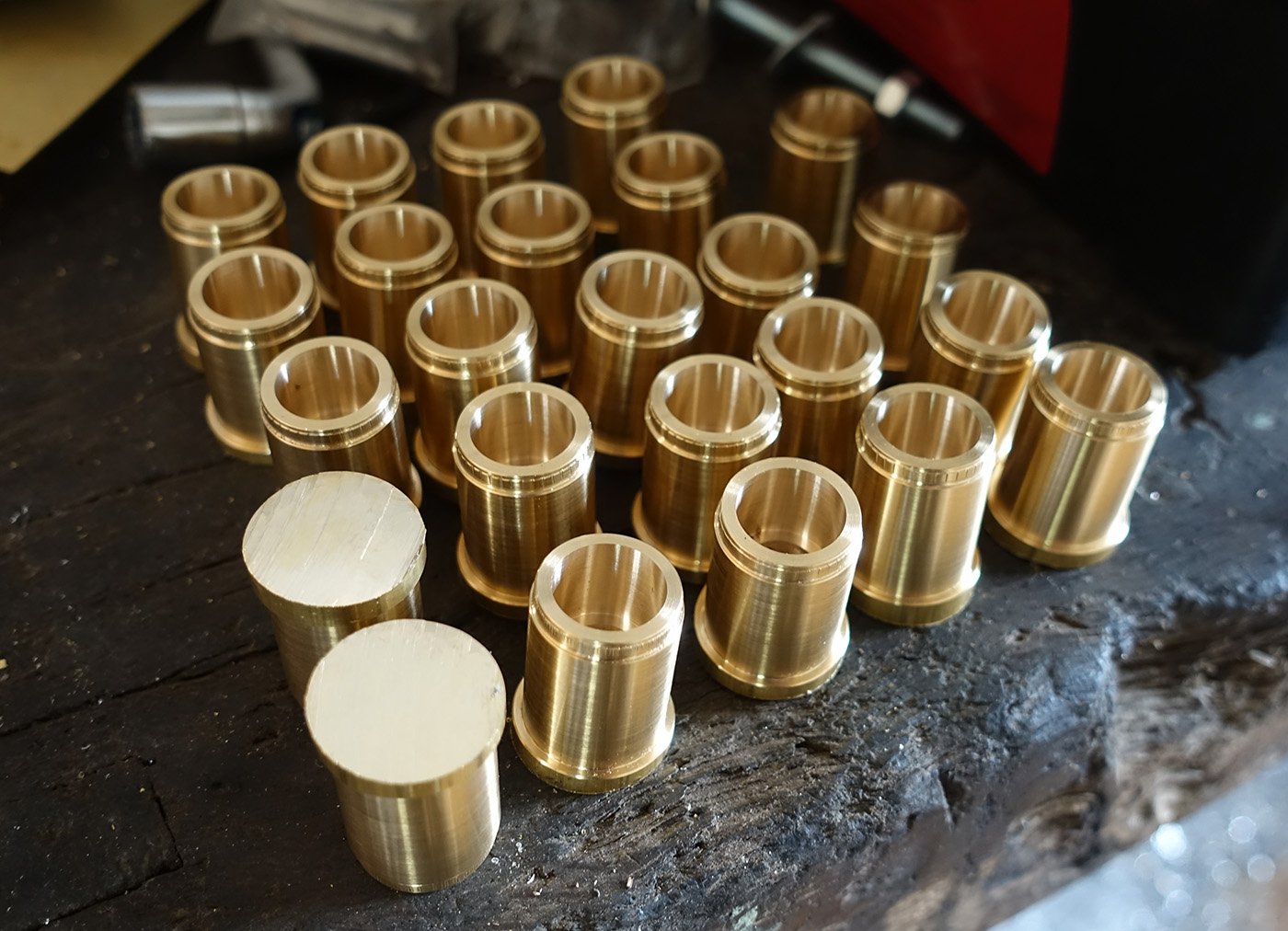 and I can now turn the faces clean on the lathe again:
ok, so this is the first big step completed! of course this was a matter of several days, it might seem fast presented like that but there was quite a few casings to do and in most cases each step took a whole day...