Sr Member
RPF PREMIUM MEMBER
The US flag patches seen on all Hawkins Police uniform shirts and jackets are not an ordinary US flag but are a modified design. Here you can see, on a screen shot from Stranger Things: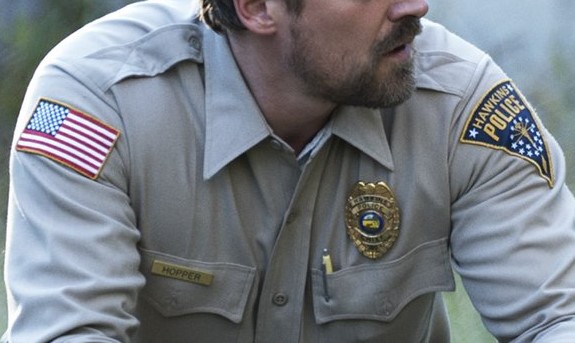 I have done a small run of replica patches.
They have plain backs (not iron-on) and have the same embroidered border as the originals. (The show patches don't have Merrow borders.)
They are 2 inches by 3.75 inches. The size was established by analysing screen shots.
I'm going to charge 11 dollars (see what I did there?) per patch free shipping within the USA.
PayPal only.
I will have to add post to the UK, EU, or other destinations outwith the USA.
I don't know the cost of that, it would be great if interested overseas people could help me with the post pricing.
The patches being small and light there would be only once postage charge regardless of the number of patches wanted.
Please PM me on the RPF if interested. Thanks!
Last edited: