Hey guys! So I really want to put together a good quality costume replica of the scorpion suit seen in the Mortal Kombat: Legacy web series. I will link the videos where you can see him. (He is the yellow one in case you did not know.)
YouTube - ‪Mortal Kombat Legacy - Scorpion vs Sub Zero‬‏
YouTube - ‪Mortal Kombat: Legacy - Ep. 7: Scorpion and Sub Zero (Part 1)‬‏
YouTube - ‪Mortal Kombat: Legacy - Ep. 8: Scorpion and Sub Zero (Part 2)‬‏
The first vid is just all his clips in costume combined... the second 2 are the full episodes featuring scorpion.
After long research I found the exact mempo used for scorpion. It was made by the people at Japanese-Armor.com . I contacted them and they actually confirmed that they sent them the mempo for the film.
Here is an image of Scorpion's mempo and the exact one they sent them for the film. Exactly the same... the guys at MK: Legacy just did the alterations to it.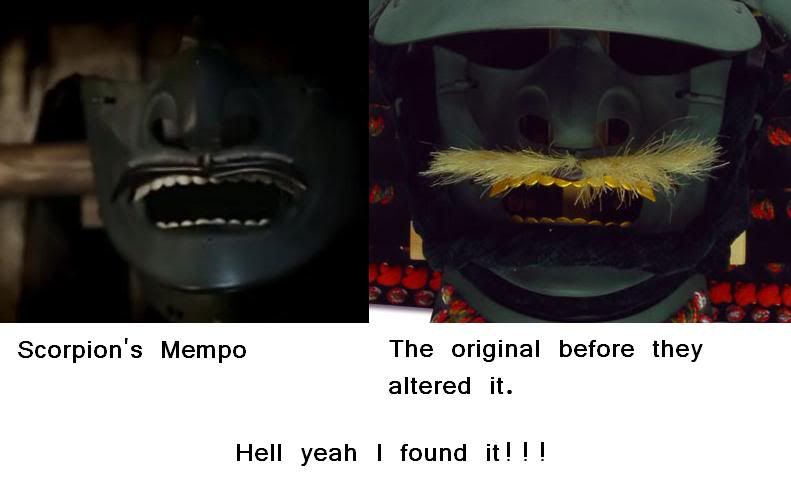 Only downfall is it is $145 +S&H for that mempo.
Anyway, I intend to try and recreate this or do my best with what I can in skill/time/budget. If anyone has any leads or possibly any ideas as to what parts are what or made of... I'd be EXTREMELY grateful!
Thanks!