UPDATE: (Nov. 11th,
2021 - 3D print & painting v1.0 complete, pg 4):

<I decided to add a current progress pic to the original post, partly so you don't have to scroll down if you don't want to, and partly because my first progress pic looks pretty bad in comparison. I know I was just starting out, but I don't want any new viewers to only look at the initial pics and think it's not worth scrolling through. Plus, this shows just how much progress I've made. Sorry if this is a bit of a "spoiler" for what's below! (still a Work In Progress)>
(Nov. 6th, 2021: 3D Print v1.0 painting complete):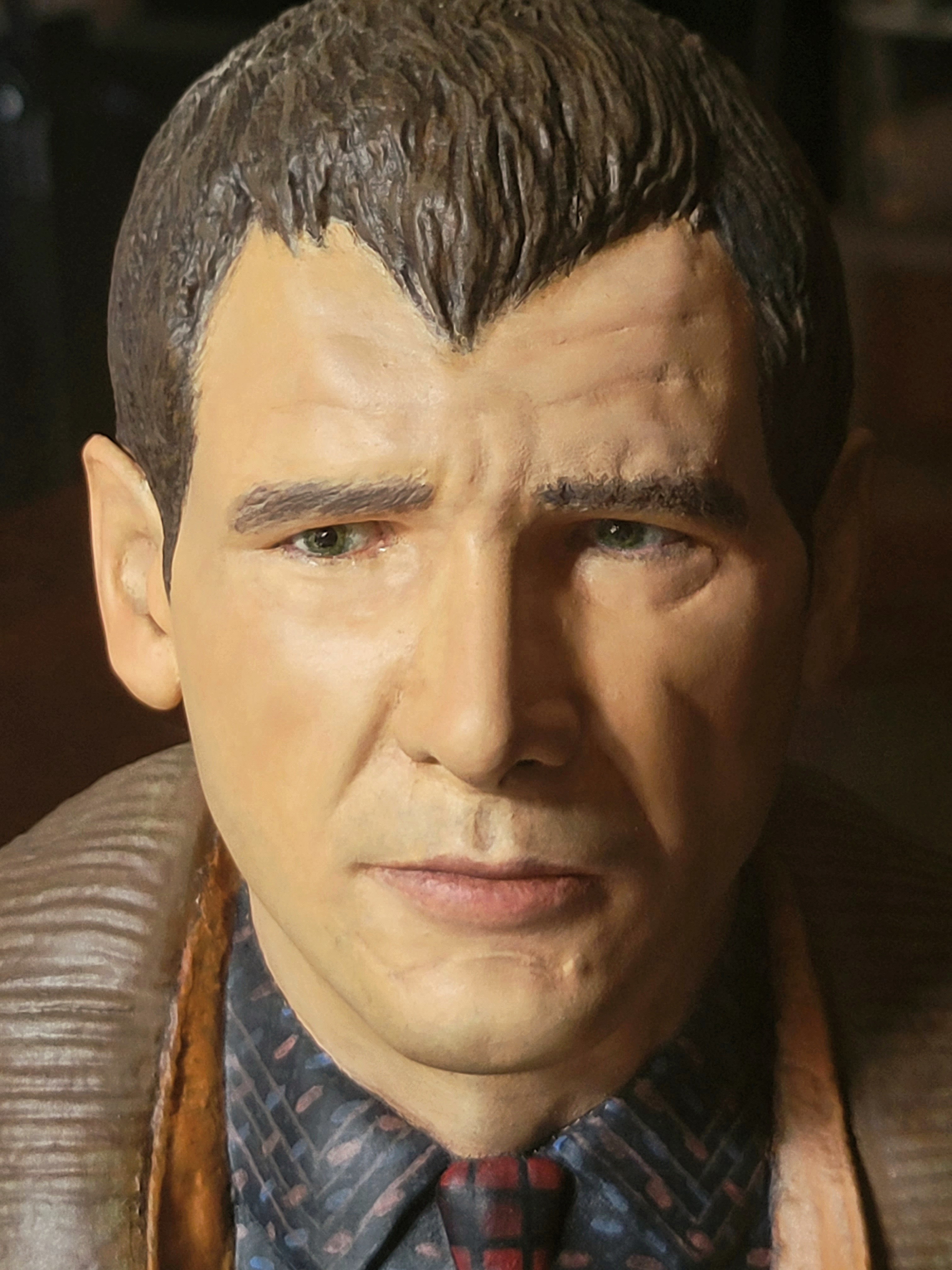 (October 28th, 2020) I've had Blender for a while, but I never really learned how to use it. I bought a 3D printer last year partly with the intention of making my own 3D models to print, but so far I've mostly printed other people's work, or some very basic things I cobbled together in Meshmixer. So I figured I should finally figure it out. I watched a bunch of tutorials, and while I still don't know most of Blender's functions, I finally had a break through in using the sculpting features.
I was recently reminded of a project that I posted years ago that I never finished - a miniature bust of Harrison Ford as Deckard from Blade Runner, sculpted from clay (I'd put a link to the project, but the pics have disappeared). I had never done much sculpting, especially not of a recognizable human, so it was somewhat of frustrating experience. Since I never finished it, I figured that I'd give it another shot, this time in digital form.
I started completely from scratch, sculpting from just a sphere. Here's where I'm at right now:
I'm pretty pleased with my progress in just a few days. Here's some progress pics. It seems like Blender's camera view for sculpting gets distorted as you zoom (like a real camera) which makes things look a bit off if you zoom too close, so I had some issues where I overcompensated for it at times. I also had some issues with the eyes - I originally sculpted them, but I eventually decided to cut them out of the mesh and replace them with spheres (you can also see I made the eye-spheres way too big at first). I keep tweaking everything, trying to get it as accurate as possible.
My plan is to get the basic sculpt as good as I can before changing the expression and adding details to make a Blade Runner specific statue. That way, I can use the basic Harrison Ford sculpt for other projects if I want to.
Last edited: