Hey everyone,
This is my first post but I wanted to share my project with all of you. Last year I took a draping and drafting class at my university and got to choose my final project. I really wanted to do something Back to the Future (because its by far my favorite movie of all time). I wanted to make Marty's jacket from Back to the Future. I was told that might be a little too ambitious to finish by the end of the semester so I settled on making Marty's cowboy shirt from Part III (Ill post that when I'm completely done) and that I would make the jacket in my own free time (which was very little because I worked two jobs every semester during college on top of being a Theatre Tech student).
To give some background on me, I was taught to sew when I was very little and have been crafting since I could use scotch tape and cardboard.
One of my biggest project interests is Marty's jacket from Back to the Future. Theres so little information about it and the story behind it is fantastic! I've been researching Marty's jacket for probably 14 years now, downloading pictures, scouring thrift sites and eBay for it, and whatever knowledge I could I would download and file on my computers. I finally said enough is enough and made it myself.
First I used my sewing knowledge and new pattern-making skills to come up with a much simpler way of making my own denim jacket.
I found a cheap denim jacket on AliExpress:
(Thats not me, this was from a review)
This was essentially the shape and pocket type that I was looking for, all I needed to do was add snaps, replace the collar and pocket flaps with blue denim, and add the shoulder yokes.
So I got to work taking apart only what I needed to, sleeves, collar, pockets, and the shoulder area (I don't have many pictures of the process)
(I ended up adding a strip of denim around the pockets to make it more accurate.)
This is the progress of half the jacket all pinned:
I added vents in the back of the jacket, snaps, a waistband, and the paisley cuff on the inside. (Ill post more pictures if people are interested and I have some time home, but unfortunately I don't have any pictures of the final product of this jacket.
I brought the finished modified jacket to my Costuming professor and they were blown away. She loved how I did everything and the way it looked and how close I got to the movie. But it didn't stop there. I knew I could do better. Using this experience as a trial run, I bought the same jacket I did previously, and completely took it apart. From there, I made a paper pattern of each piece and marked how everything went. I ordered black and faded light blue denim and more high-quality snaps.
As soon as the fabric came in, it was cut. (rookie mistake not washing the fabric before cutting. It was fine
)
Because I was so excited, (and completely burnt out from school) I didn't take pictures of the process and I'm really sorry, I know that is what people love to see. (I might make another jacket, a little bit bigger, in the future!)
This is it before I added the details: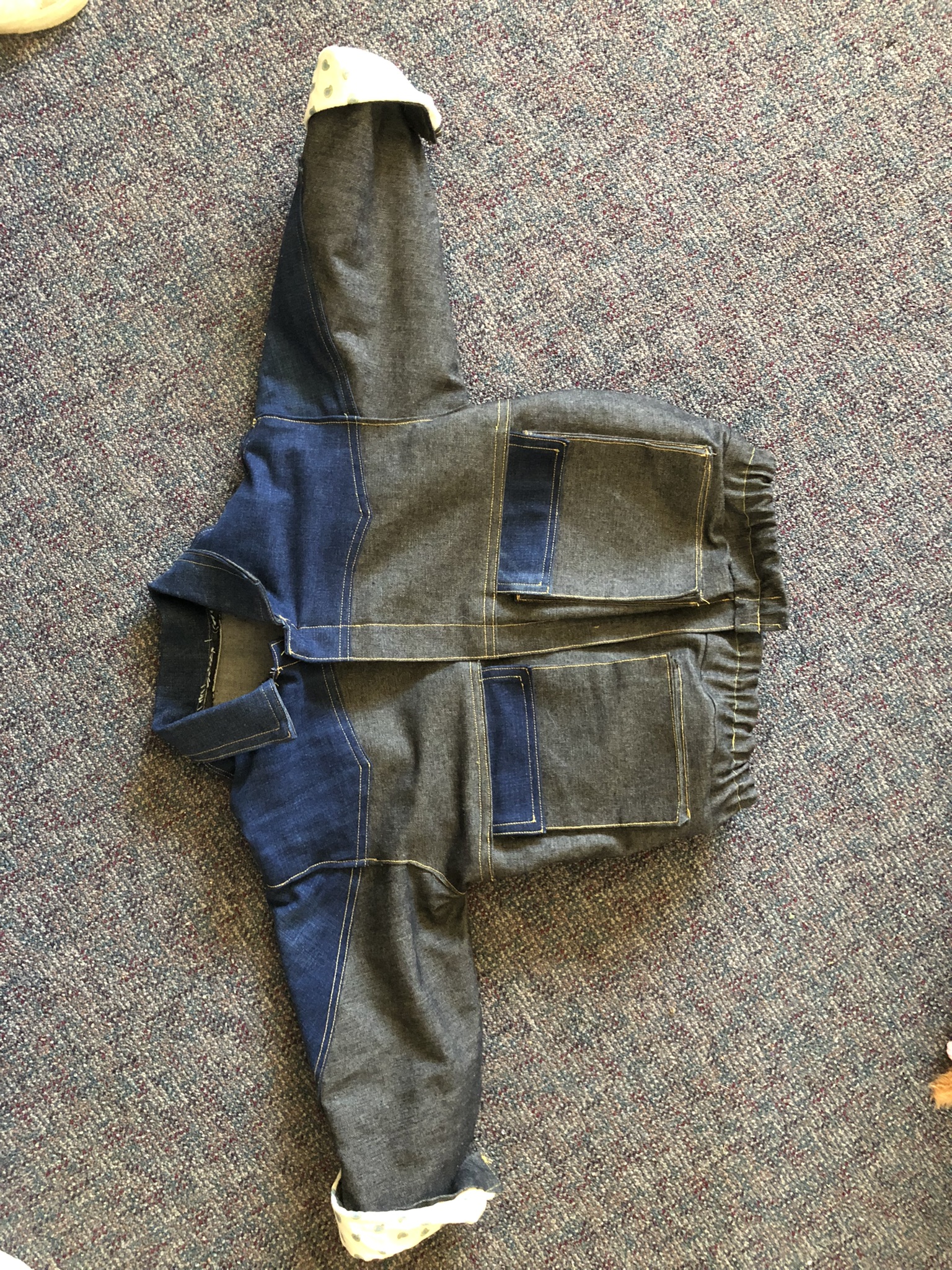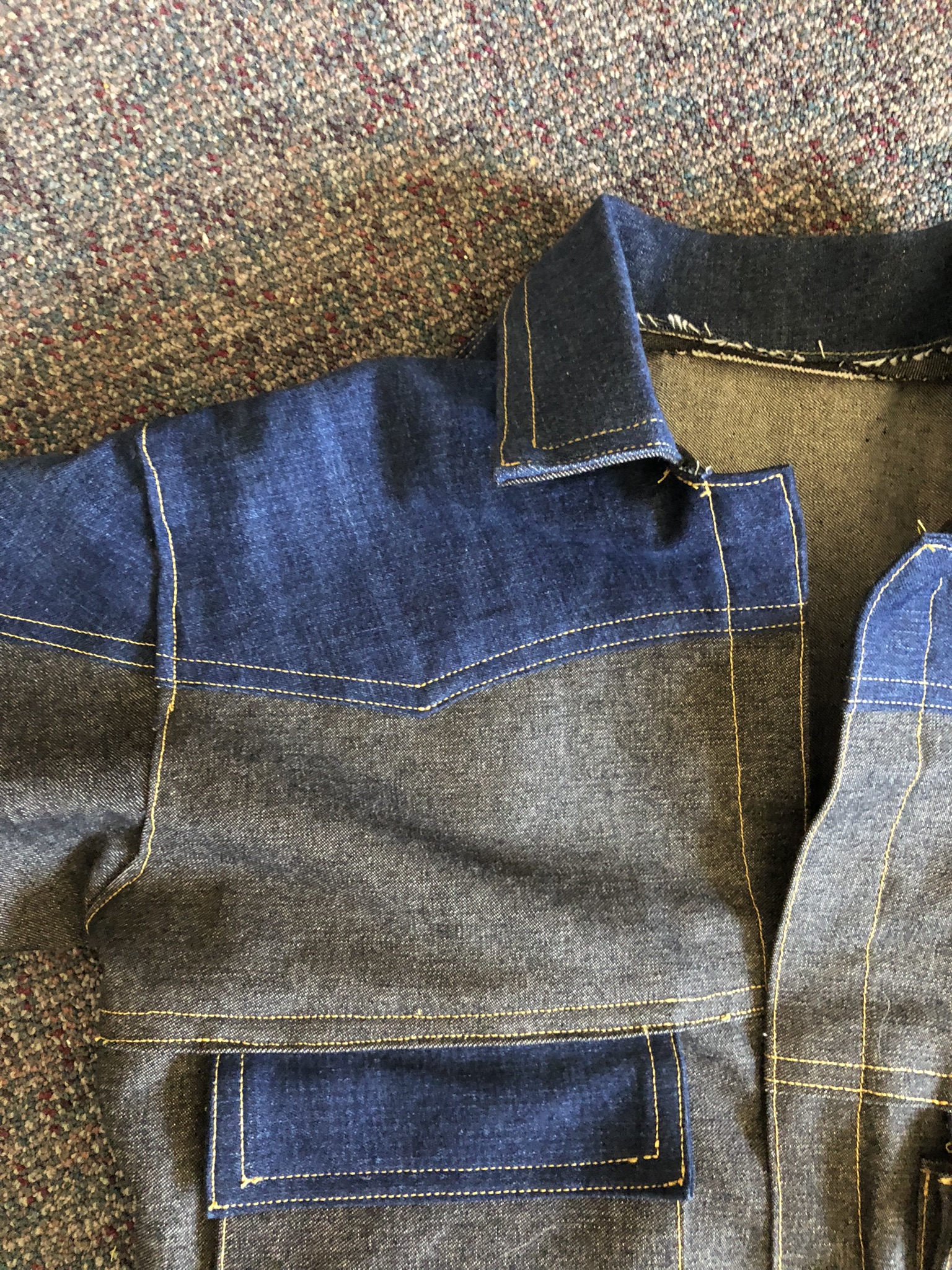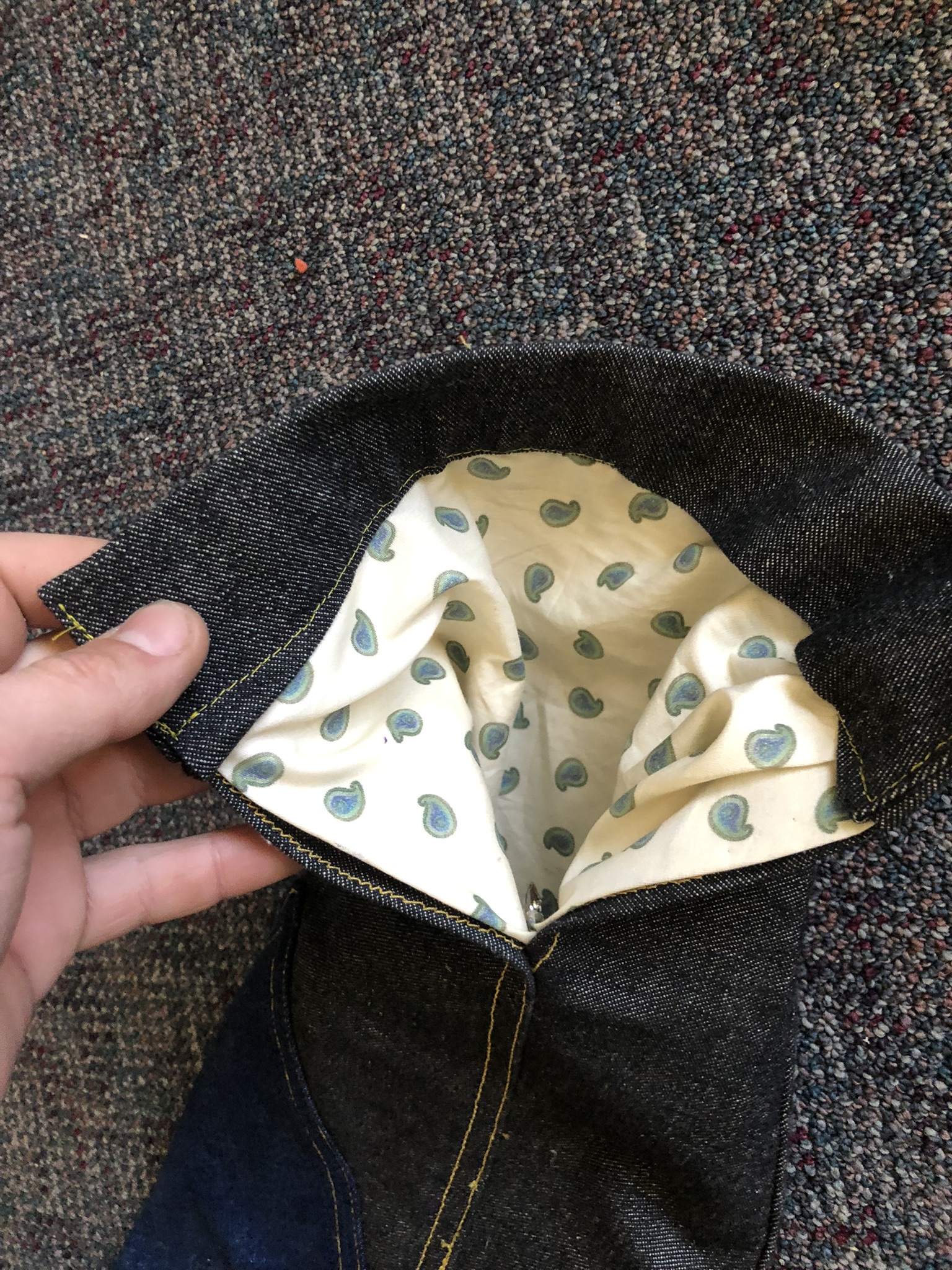 So next I added the snaps: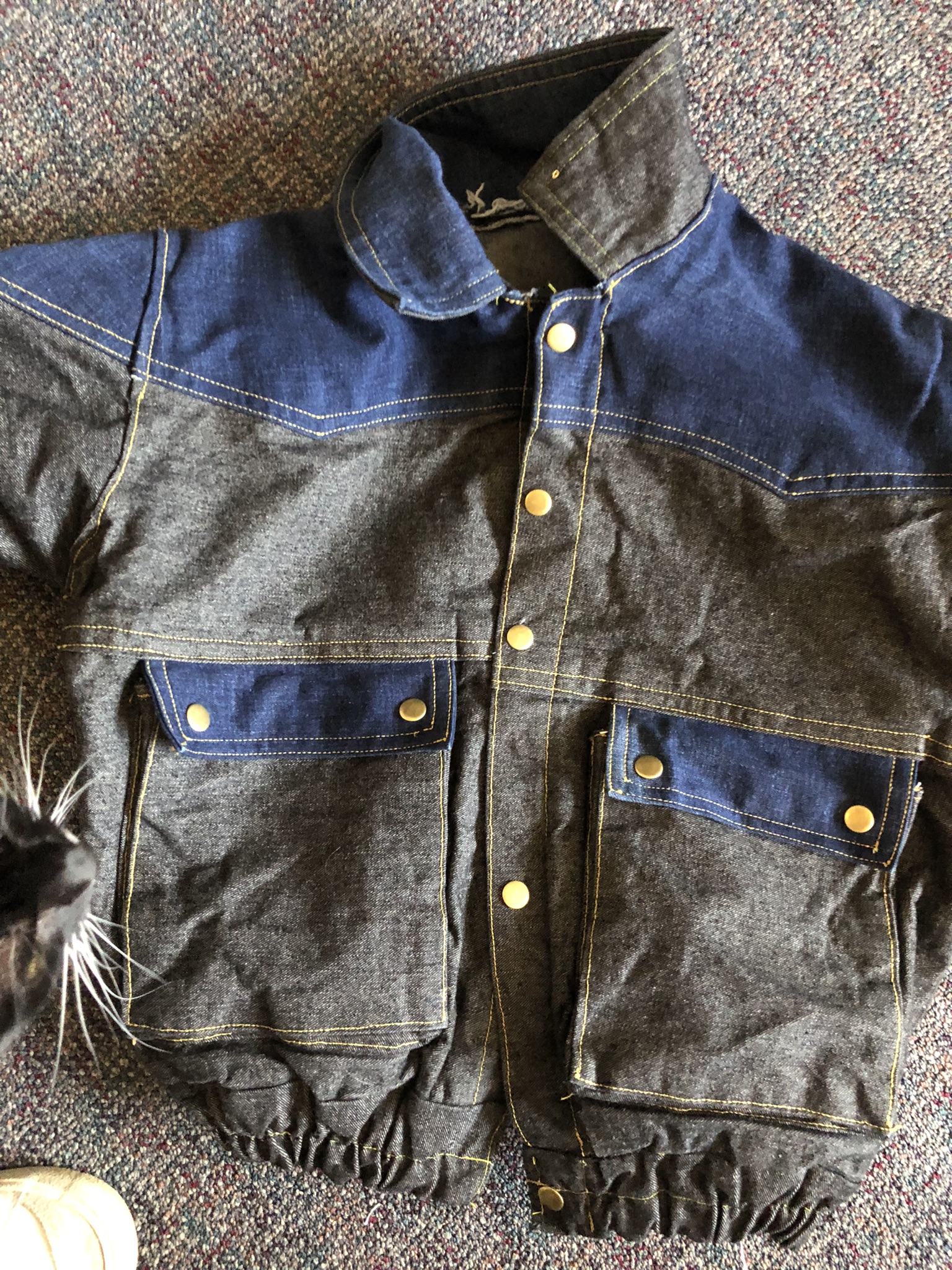 (my baby Daisy helped with a lot of the process, you can see her whiskers in that last one!)
Last but not least, I lined the inside and then soaked the jacket MULTIPLE times in lemon water with a little bit of bleach and let it sit in the sun for MULTIPLE days, the pictures in the costume shop make it look a little darker: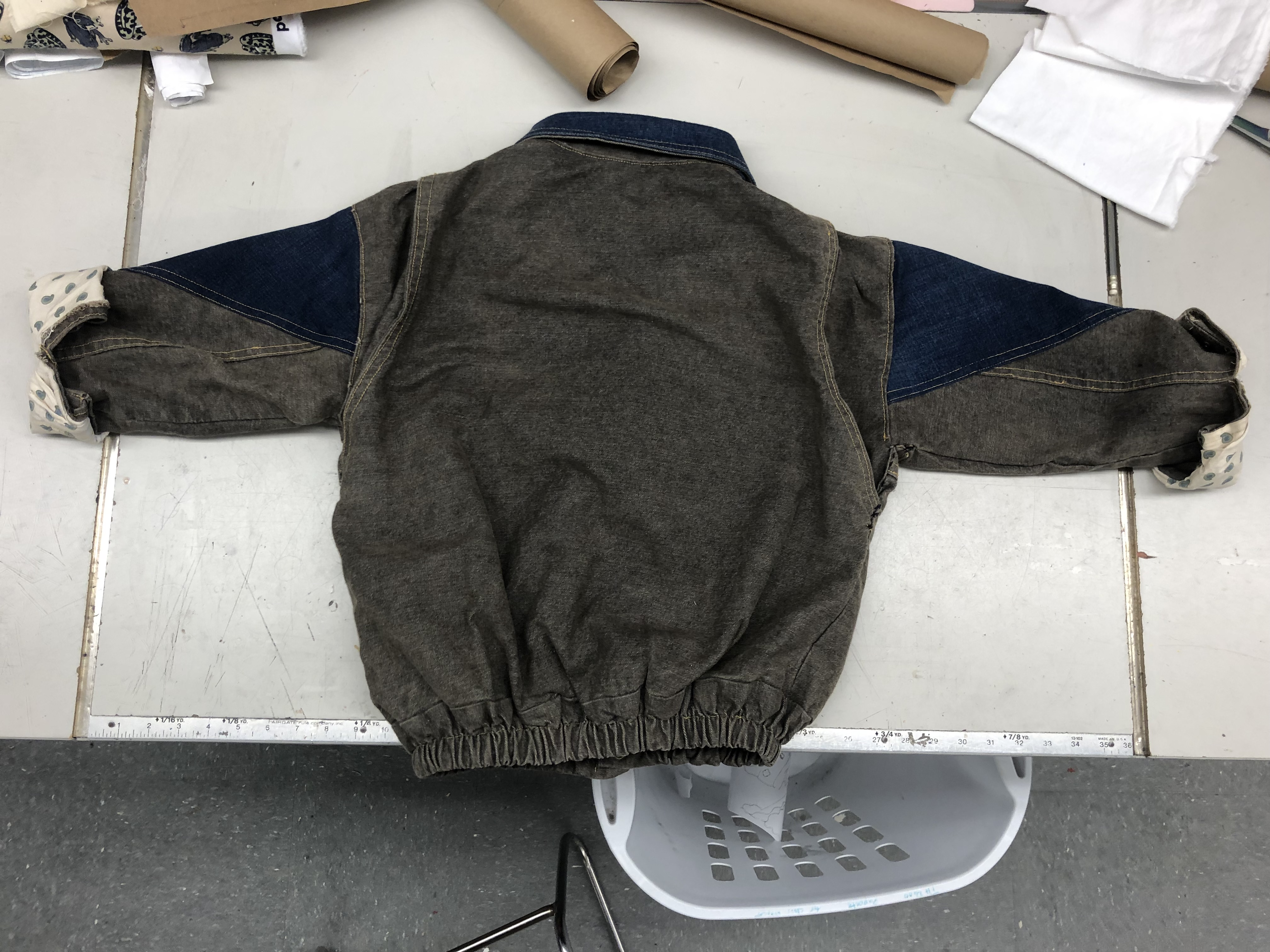 And here's some pictures of me at Boston Comic Con in 2022!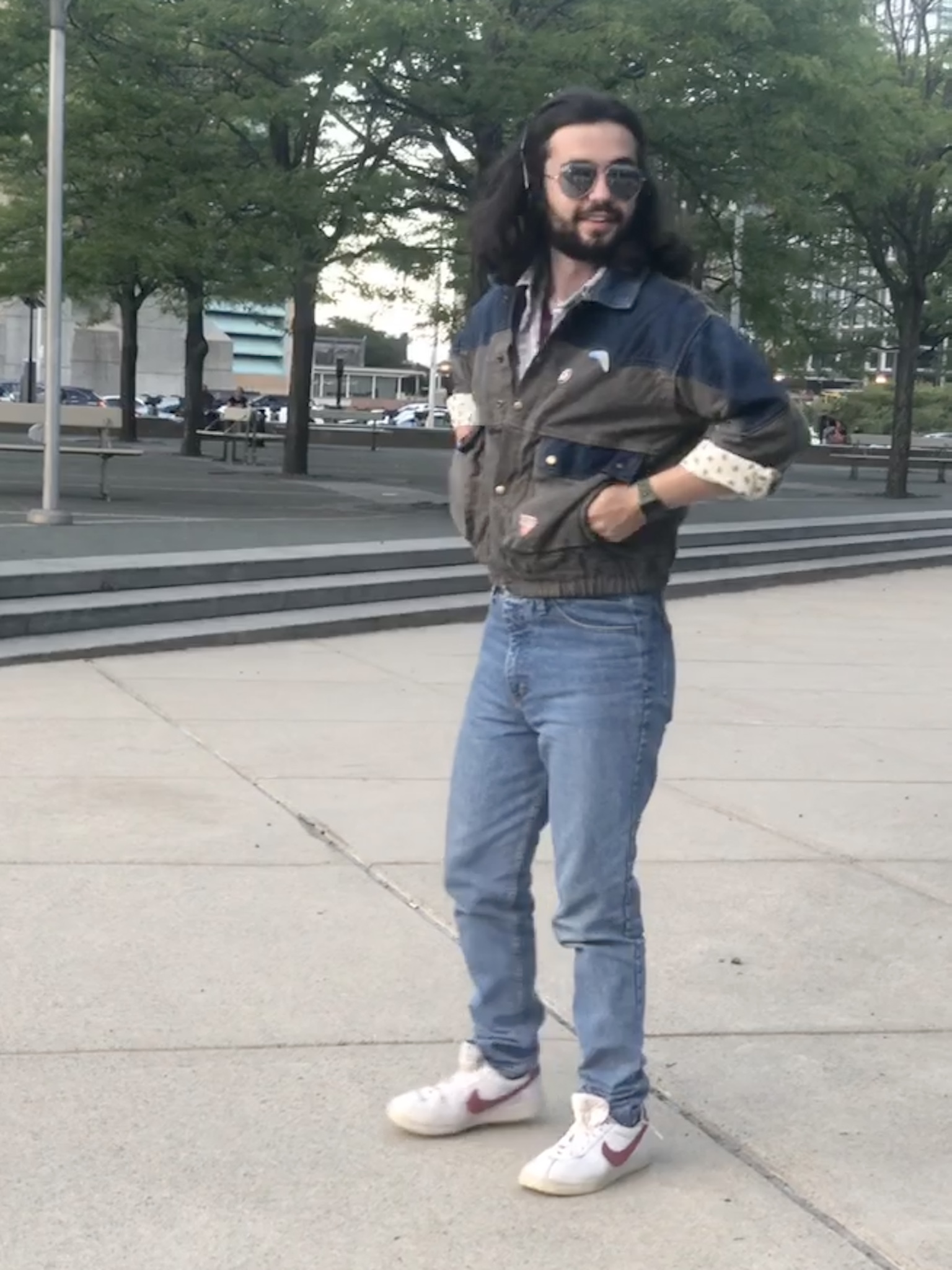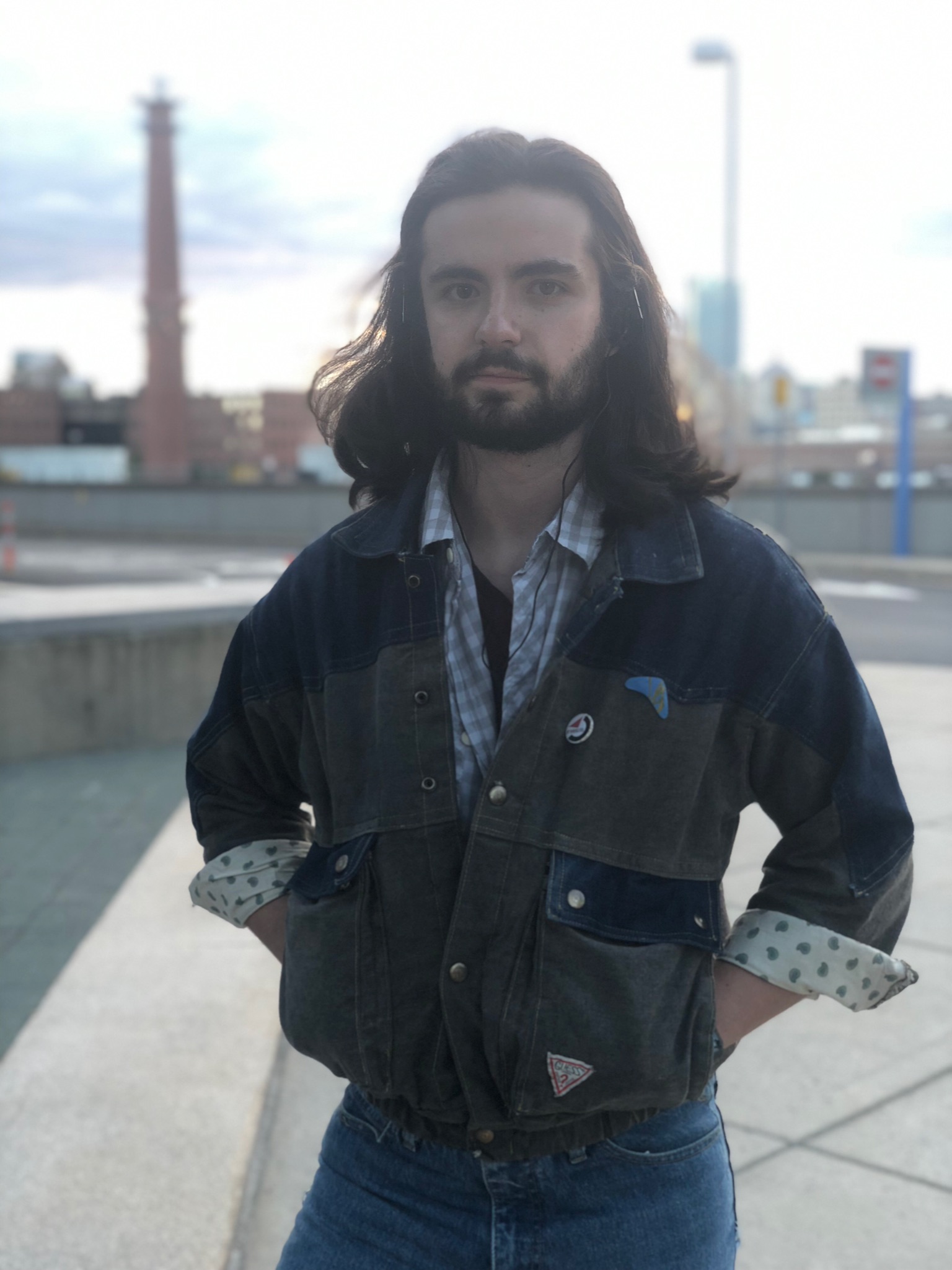 I made my final jacket in about two weeks. I did this all in a tiny student apartment on campus whenever I could. I was extremely exhausted, fuled by meds and coffee during this process and there's many things I want to improve on when I make my second one. I know its not "100%" accurate but I love how close I got and how I followed through and didn't give up during my first jacket. I did this all on my Singer Heavy Duty sewing machine (I cant belive it worked with so many layers of denim!)
Let me know if anyone has any questions or if I posted this in the wrong spot!