Halloween: Go-For-Launch
Our Halloween displays are themed either as history, Hollywood or art. This one is history. It started with a picture inside of Kennedy's new Launch Control Center (LCC) during an early Apollo launch. We morphed the timeline to cover 1966 and the Gemini 12 launch whose anniversary is a little after Halloween, and whose launch vehicle is easier to build. I didn't think anyone would notice the 'Slimline' phones from the Apollo era being in a Gemini skit but I was wrong! Within two days of going up outside in the yard I had already been called out on that mistake!
CONSOLES
Construction started with designing up or modding a collection of STL knobs and lights and 3D printing up a good sized collection. Start the print, sleep, wake up, collect... repeat. The clear printed lights were usually designed to allow for a rather long conventional Christmas light to fit inside it. The knobs were printed in whatever plastic I had extra of and painted black. All these would be glued to ½" pink or green foam (insulation) sheet what I normally make these disposable Halloween builds out of.
The lights and knobs were positioned to roughly honor the originals in photos from the LCC (source: NASA, public domain). A few gauges were mocked up from translucent plastic and pressboard and varnished. A couple actual gauges and bits were added from garage sales.
The shape of the consoles was approximated and three sized to fit in an 8' long sheet of more of the ½" foam. The resulting three consoles could be handled through doorways. A steel stud 2x4 table would be built at the right height two hold the three up. The size and high were reduced to scale to the National Aeronautics and Skeleton Administration staffers we have.
The faces of the consoles could be easily made in multiples of three or six at a time. Everything was Liquid Nailed together in a jig and secured with toothpicks mechanically holding joints until they dried. Then he consoles were primed with liberal coating of gesso which hardens them up and seems to keep rain away from the Liquid Nails Heavy Duty. Three different colors were mixed up of acrylic paints. Impressed with how the porch paint worked on the launcher (later) I painted the working shelf in it too, since whiter paint yellows badly under spar varnish.
The four CRT monitors are just holes in the console panel, with the bezel cut and pushed downward 1/8th inch to accept a fitted clear sheet of Plexiglas. This was carefully weather sealed on to keep rain out. The picture are four NASA launch pictures converted to grayscale, sized and clear laminated at a nearby FedEx office then pinned to the underside of the hole. The picture is backlit by bounce-lighting eight under-edge hidden Christmas lights off a canted white painted sheet of foam. Originally there was a rig designed and actually constructed to run off a Lego motor that would sweep a beam of light from top to bottom a couple times a second. It would mimic an old CRT as seen on TV. However the device proved very noisy and was dropped to simplifiy.
Then a tedious amount of chopped up Christmas lights were placed, portioning them between the three consoles. The left and right consoles were done first, and then whatever remained of the string was spread out as needed in the center console. Where the lights had to be placed under shallow buttons represented 'pressed' switches pieces of extra foam were used to hold them in position. After all the buttons were in place the surfaces were spar varnished for waterproofing and to help secure everything. The yellowing on the greener surfaces creates an aged look appropriate probably for a Halloween display.
Slimline phones were picked up at an antique store, a garage sale and a Goodwill store. The phone ringer lights are wedding salt shakers up-side down. The loose handset is military surplus. The button panels on the left and right console are restraint PC keyboards cut down and the paper words under each button replaced with typed up and colored NASA sounding words. I used an issue of NASA Mission Reports to find good labels. The telephone dialers are 3D printed and the slide switched on the center console are left over keyboard enter and shift keys glued in place. The rack pulls are copper refrigerator coil tubes bent to shape.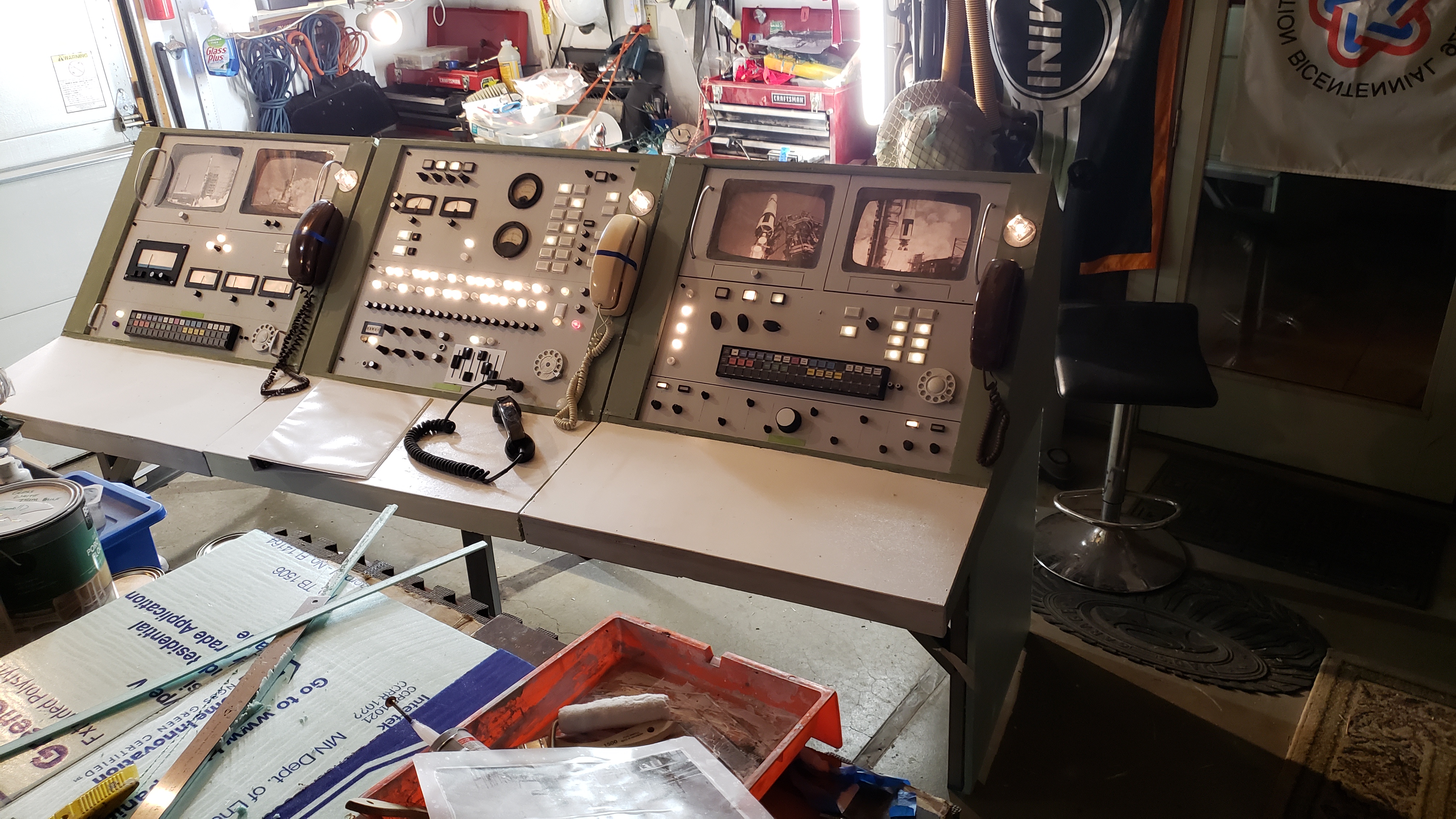 CAPSULE
The 2" foam stack was made from a diagram found on the internet [
https://geminiguide.com/Systems/default.html
] of a side view of the spacecraft that was then sectioned into 2" slices. The proper diameter disks were then cut out on a band-saw with its table tilted properly at the four major angles. The doors were carved out with a long razor then everything was sanded, gesso'd, and painted.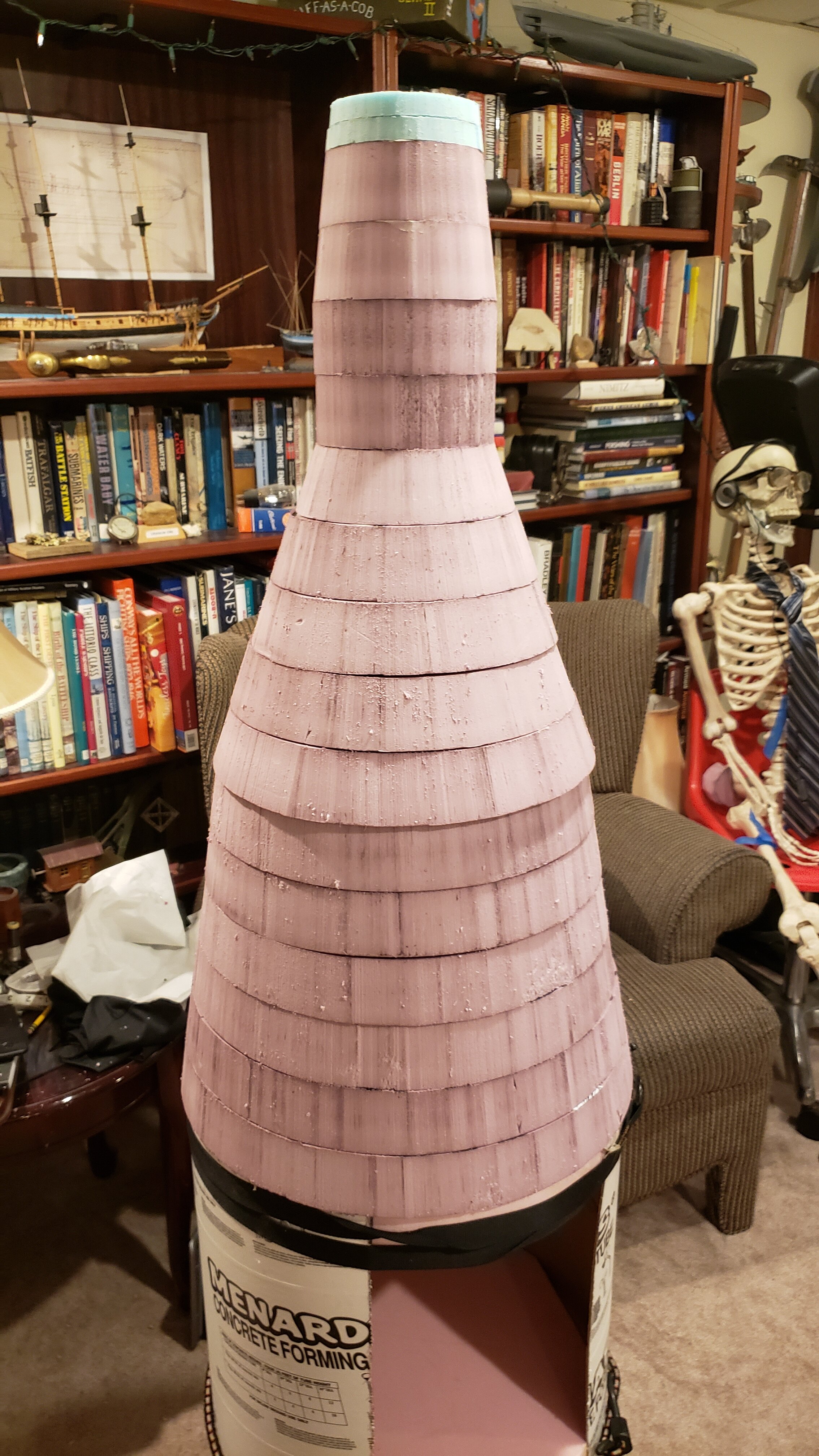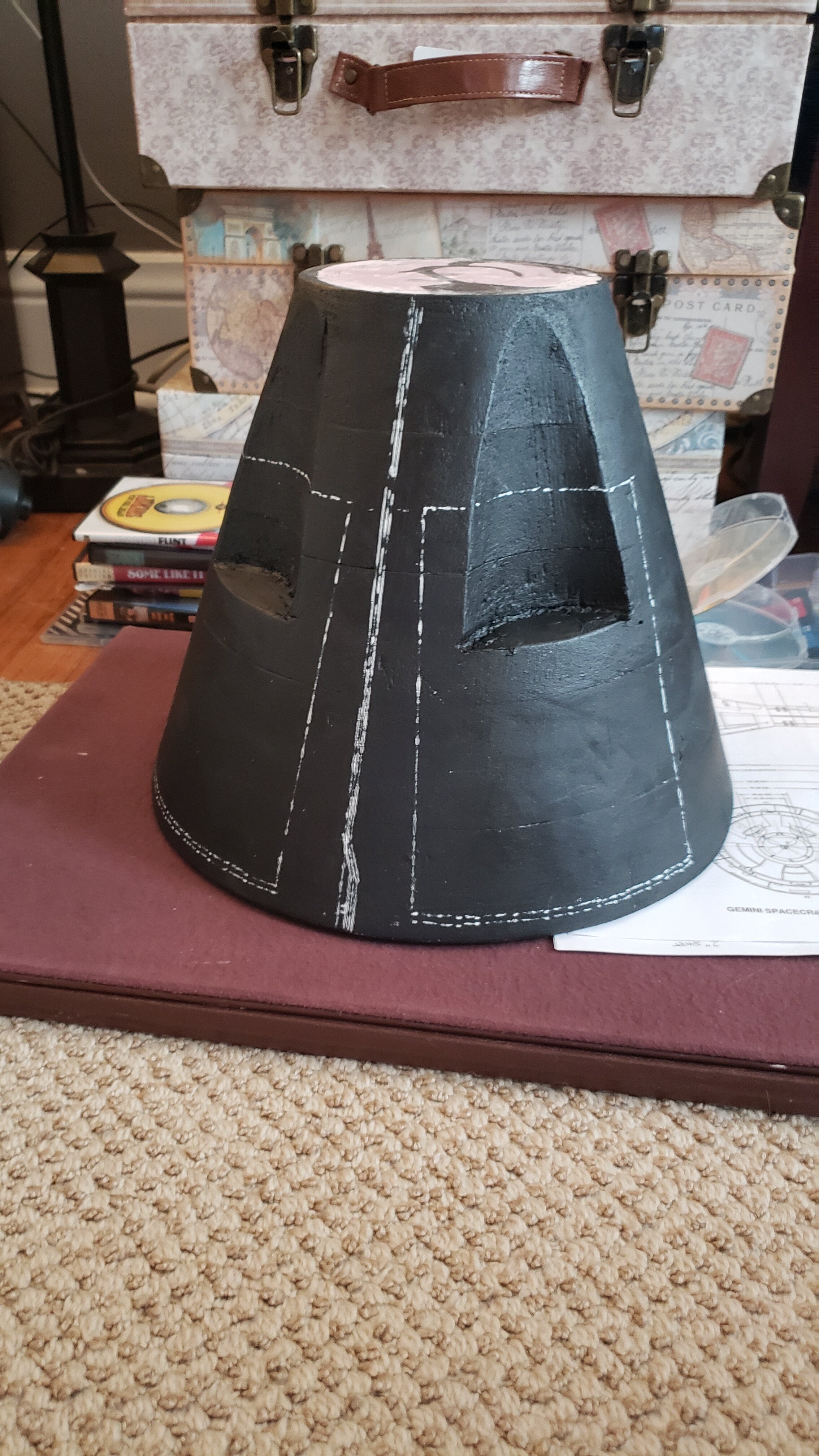 With some paint and trim tape it came to life. I have the old Revell model of this spaceship, but better detail ideas came from pictures. The retro and conduit panels are 1/8" craft foam sheet layered up as needed A little lettering and an admittedly oversized flag made from pieces of colored tape finished it up. Everything was over coated in varnish again, this time to help keep the tape in place. The two probes in the nose are just dowel stuck in a pair of holes already present in the recycled foam.
ENGINES
Printing work continued with the motors. Early in the year I got two new 3D printers stabilized and figured out. There is a Creality Ender (little brother) and a Creality CR-10 (big brother). The engine parts were scaled up about 800% from published STL code from the artist THEAMPIOXUS off Cults. The LR-87 engine mount was edited in SketchUp to fit under the prop rockets flat bottomed first stage properly. This bottom of the first stage is 16"diameter ¾" thick disk of plywood. Bigger parts like the bells were printed on the CR-10 and lots of smaller parts on the Ender.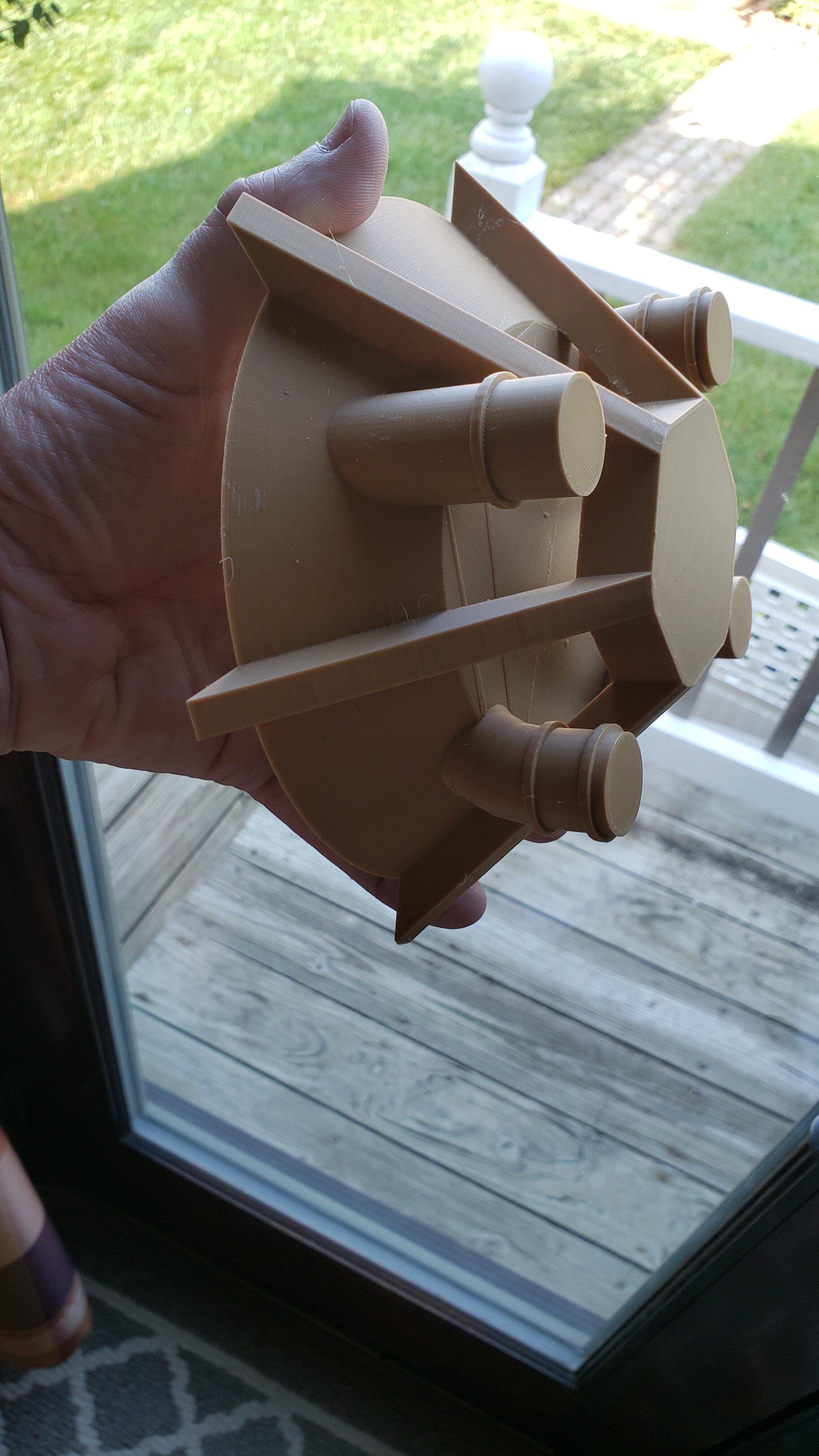 The rest of the parts also printed well, and assembly was straightforward until it came to the engine support structure. Rather than hack the code for that into two or three sub parts that would fit the printer, I just used artists sculpture block (the polyurethane wood like substance) for the mounting points and copper tubing normally used for refrigerator waterlines as the load bearing struts. The geometry was challenging but it worked out well enough and everything was super-glued and/or epoxied into place.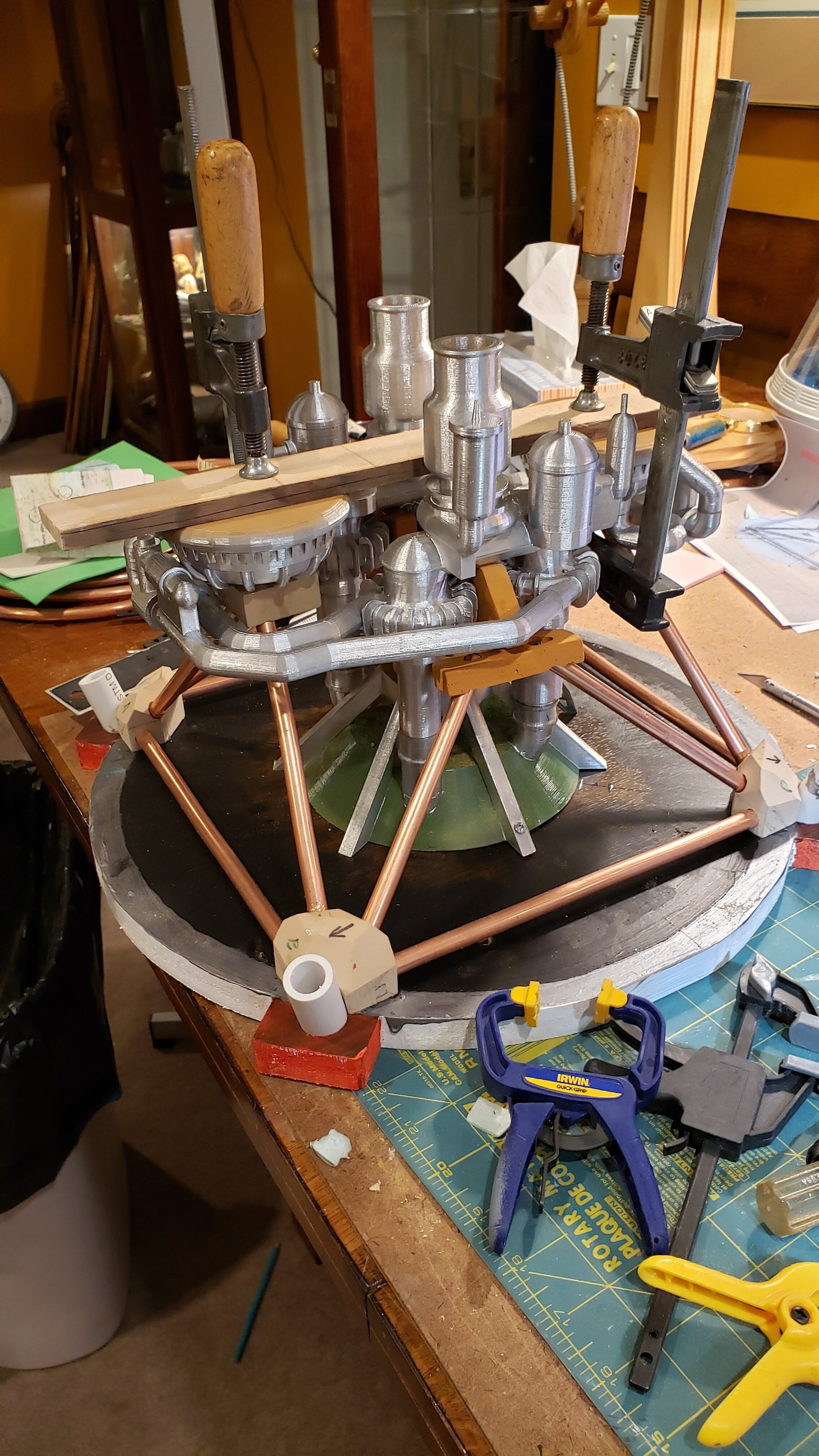 Prior to painting with a couple shades of steel through aluminum buffing metalizer and some finish details. The resulting shades were not distinct enough. And I have since heard that the bells should have been grayer rather than silver.
The launch stand supporting the body of the prop needed to be sturdy enough to withstand the 75 mph winds of another winter storm on Halloween. So the twelve legs are epoxied in and secure with a couple screws.
LAUNCH VEHICLE
The rocket is modeled after the Gemini-Titan, and I kept the dimensions as good as possible. It started with a desire to be no higher than the roof of my porch, which meant about 16 feet tall, and that converted to a 16" diameter body. 16" diameter concrete piling forms are available, but not readily, and expensive to have shipped. 12" tubes are available at home improvement stores locally and some select ones were picked out. Expanding and contracting the diameters by slicing them lengthwise works when used with 2" pink foam bulkhead disks of the right diameter. Figuring the overlapped edges of the second tube once contact cemented in place would be a robust mounting point for the launch tower umbilical's, they were glued up securely.
Dap Weldwood contact cement was used this time since Liquid Nails has proven to turn to mush when water penetrates over a rainy October month. Importantly I've also learned to thoroughly paint this cardboard inside and out in a health coat of Varathane Spar Urethane. Much of the primered body was painted in Behr porch and patio gloss white paint. Black and other outdoor Rustoleum colors were added as needed. Gray was used for the inter-stage vents to set them apart. These were applied with a roller brush.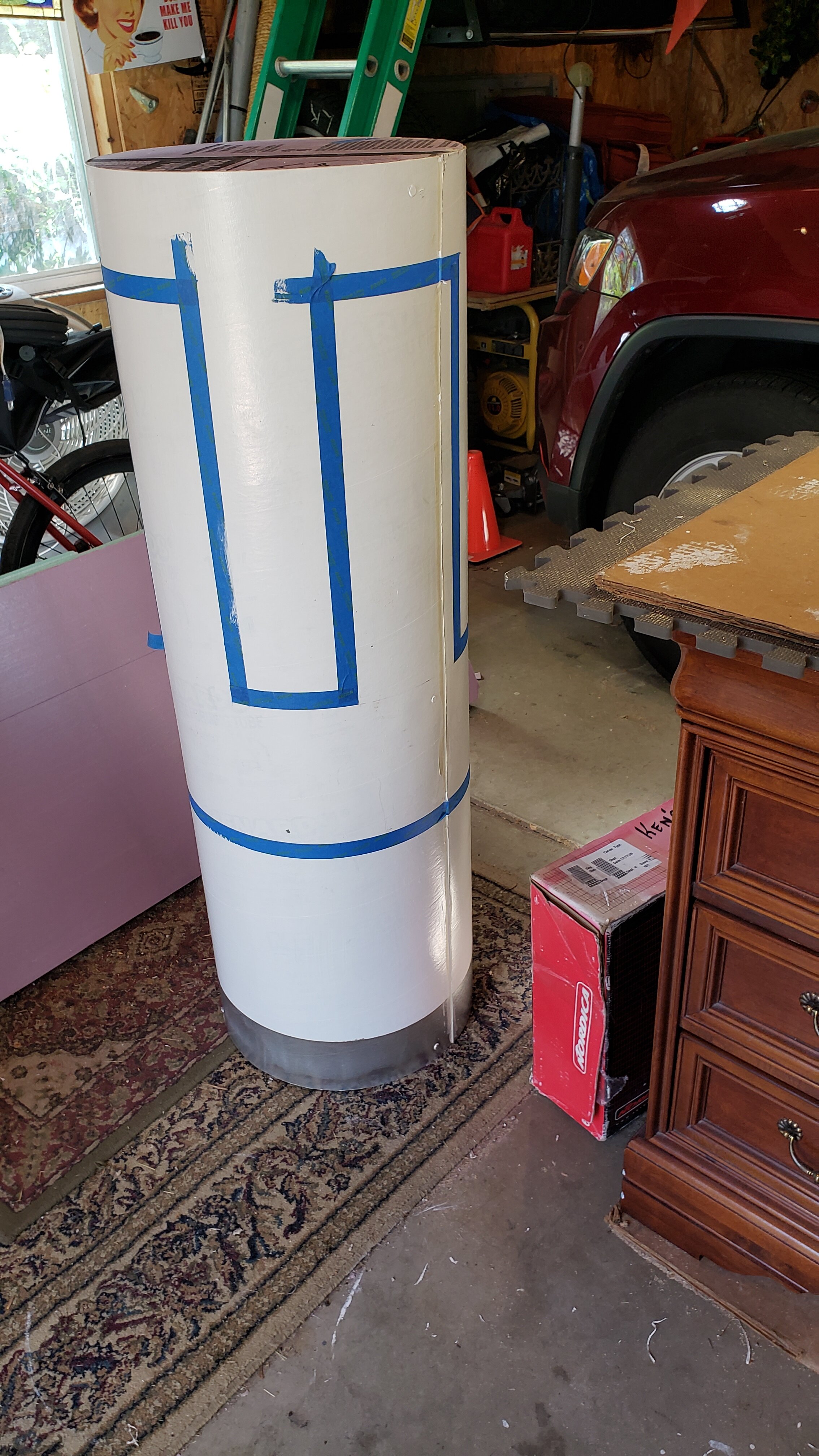 A necessary evil was silver paint and oil based Rustoleum silver was used but very little sticks to that afterward (note the pealing black rectangles painted onto the upper stage).
Not shown in this pic but visible in the outdoor pics are the wooden conduit fairings running up the sides of the rocket. I used them as structural mounting points to keep the rocket in place once at the launch tower. The fairings were ripped 2x4 wood strips milled on a router table. They are in slightly different runs than in pictures since they are covering stage joints too. I did not pit in a central spine in the launcher since it is stacked, vertical and should behave.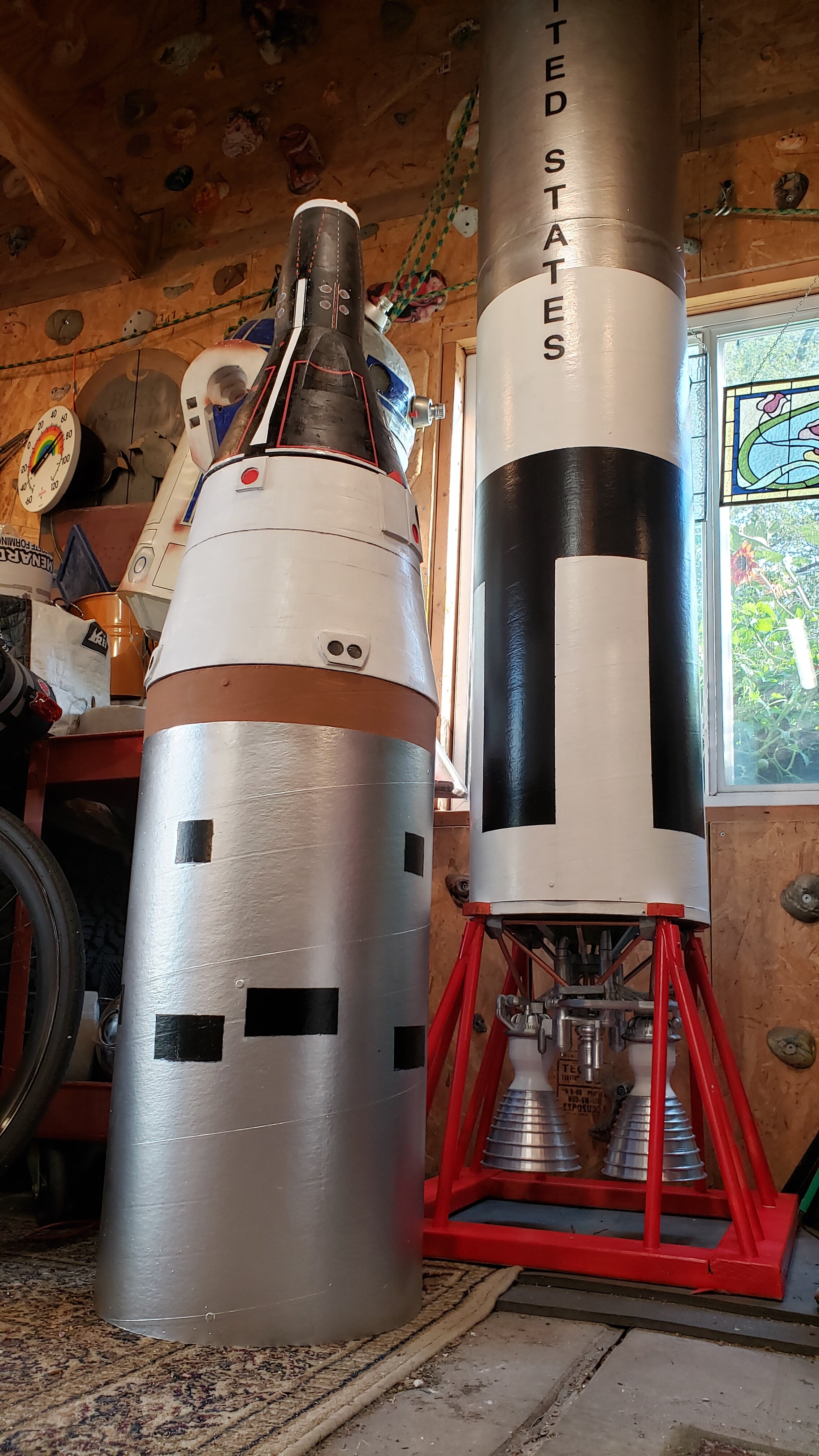 Once the 'stages', really two and a half tubes' we lined up vinyl lettering was applied, and then the rockets 'conduit' up the sides was added. I made a mistake here and should have done that in reverse order. The conduit needed at least on one side needed to run along the double-thick cardboard seam and hide it. I didn't realize at the time that the letters should have been 90 degrees off from just one seam since the seams were not on exactly opposite sides. The outdoor pics will show the lettering off centerline by quite a distance. I hoped nobody would notice. I was wrong again.
STAFF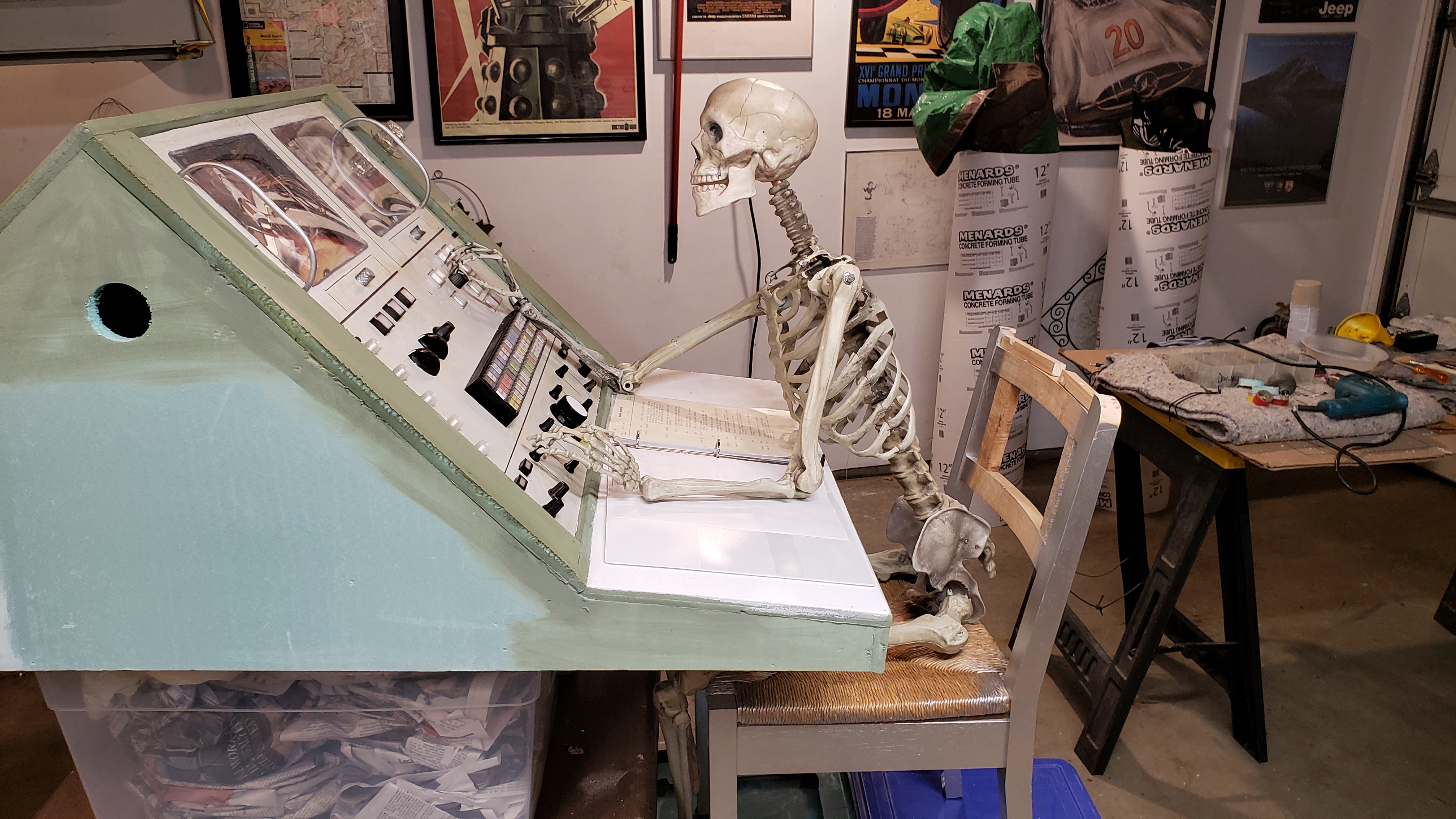 Our skeleton staffers have been cut up, bent and broken for years, and keep on coming back for more. Most all joints have been disconnected and replaced by screws and bolts in new orientations whenever needed. Mover joints have been drilled out so they can be attached in many orientations. Spines are diced and filled with bent ½" copper tubing, and necks have added 1/8"steel rod positioners to turn heads in pitch, roll and yaw angles.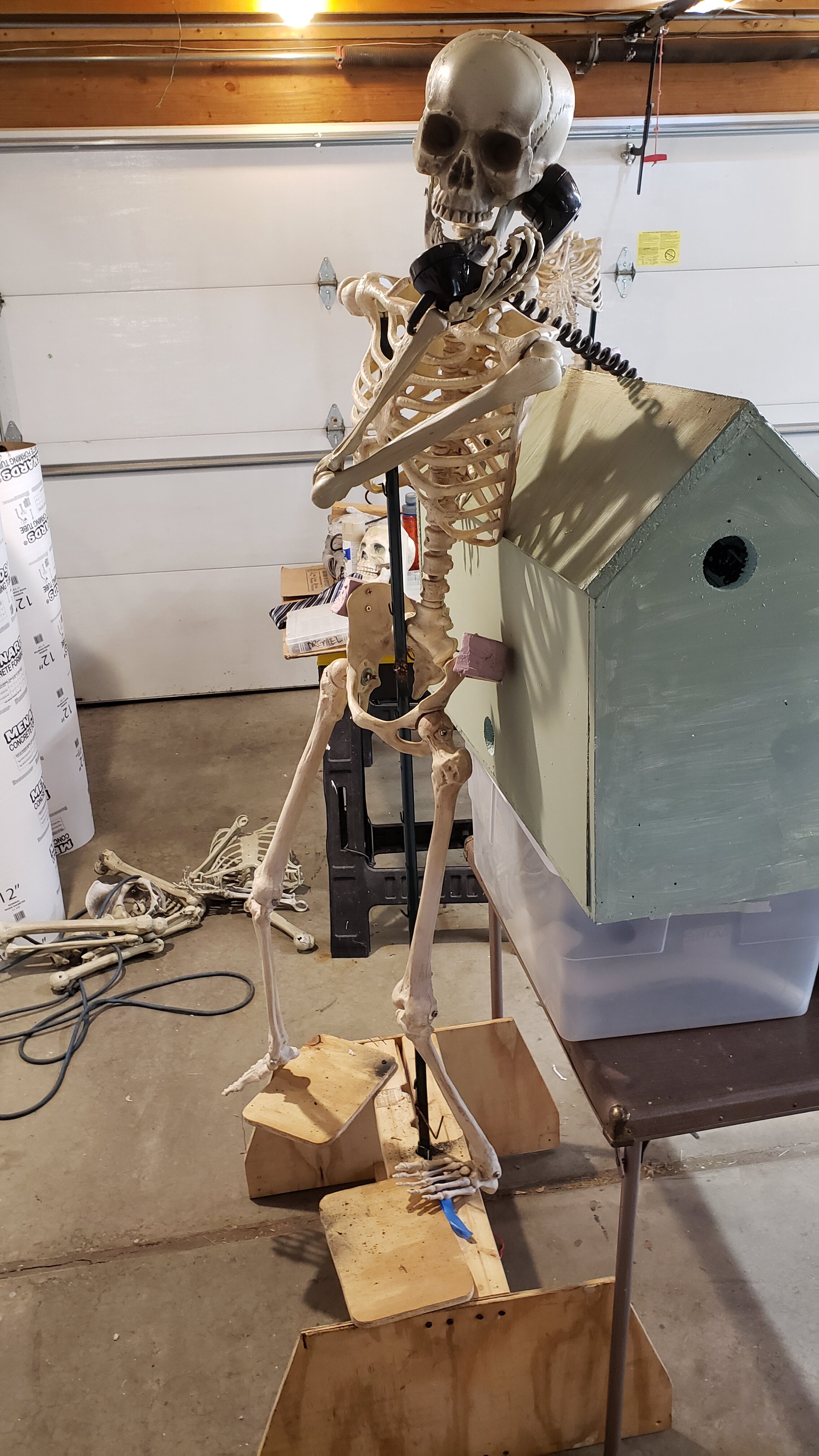 1/8" steel rod reinforces all joint bends. I like to use a green central fence post if possible for standing skeletons, as it makes a good anchor. Special stands were made to accommodate the post when working on them indoors, and only rarely catch on fire during welding. Fingers over the years acquired malleable sculpturing armature wire tendons. Bones get swapped between the guys as needed.
Articulation is a big part of the show and each of the guys is positioned to be interacting with something. All will be dressed 1960's style since they'd be from NASA, McDonnell or IBM and that means mostly white shirt and tie. And the flight director Gene has to wear a vest and we put him on the opposite side of the console for visual interest. One had to have glasses too. The ties and NASA name badges/passes will be a late add after they are positioned outside. Headsets were old hacked up gamer's headsets. The chairs we salvaged and recovered.
STAND UP
The Launch tower in its revised position was sunk into the earth a week early for stability, and the 'decks' in places connect to the porch. The vertical 2x4's are wood and the only heavy pieces. The cross members (faux decks) are light steel 2x4. If I get the urge putting little 1/7th scale fences around the decks would be cute. The support arms for the prop Titan are disguised as retracting arms for the umbilical's (cable covers).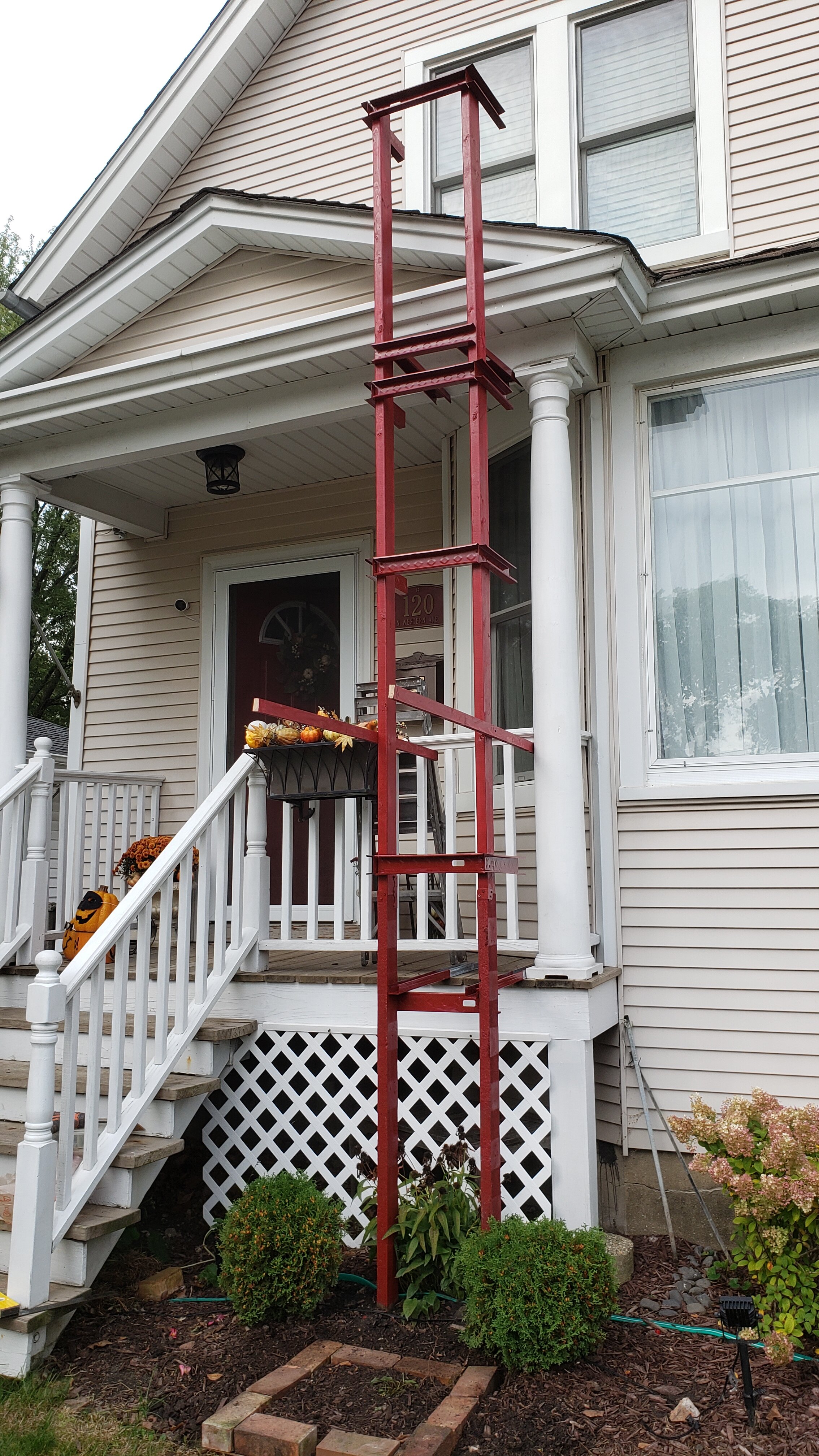 One up, of course it rained, which found every nick in the paint and seeped behind the conduit fairings. It also destroyed the first set of Gemini launch countdown pages in the notebooks we thought were weather sealed. Those were replaced and GE clear silicone kitchen and bath sealant is applied to any leaks before they turn into significant degradation of the cardboard.
Still to be added after this pic were the workers ties, vest, console nameplate [Flight Director], and additional paperwork on the desk. And if I can find one, there will be a slide rule.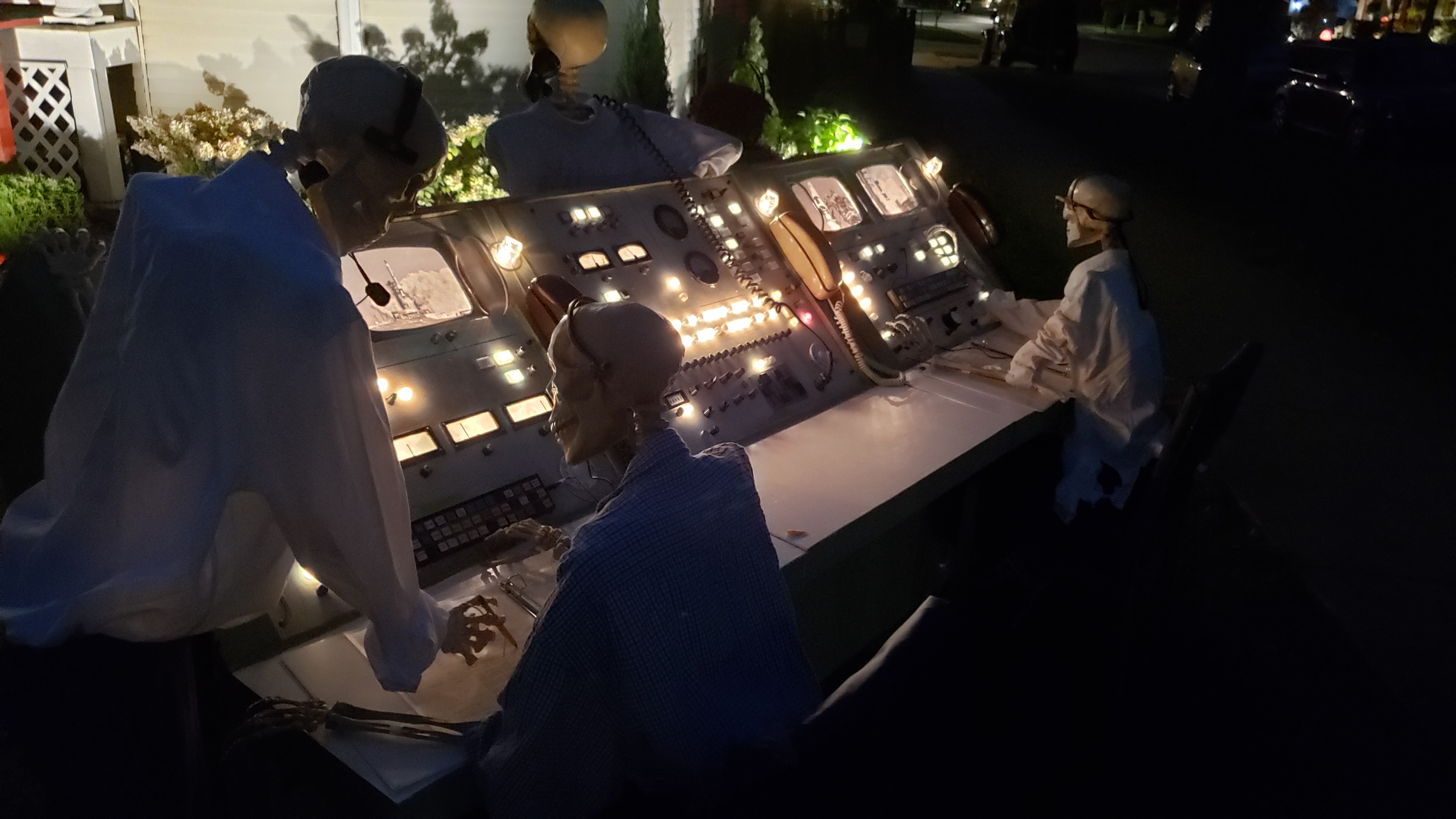 Final touches include the 1000 Watt smoke machine behind the engines controlled from inside the house and an ancient 8MM film loop of the Launch and flight projecting on the backside of the bay windows.