Halloween: CRASH ON DAGOBAH
This years Halloween build was a little more involved than the others. It ended up with two major props, and four skeleton characters, one of which ended up as basically a prop too The starting goal of this years was twofold, to get a little more involved in lights 'inside' a prop, and find a reason to use a newly acquired smoke machine. We considered a misty swamp might be the right Halloween sprit, and Scooby-Doo and Dagobah came to mind. Attention drifted to pictures of the Dagobah swamp, where the X-wing crashed there had one wing submerged which made it relatively smaller and somewhat less costly of a build. We looked at a complete X-Wing in an aircraft museum out west and noted details that could be built up in our favorite medium, pink construction foam. Then a few calculations showed that with the submerged wing the remaining fuselage would fit perfectly in our small front yard at a convenient ½ scale. The plan was set. Tracked on Microsoft Project, this would end up with over 330 tasks.
Before.
After.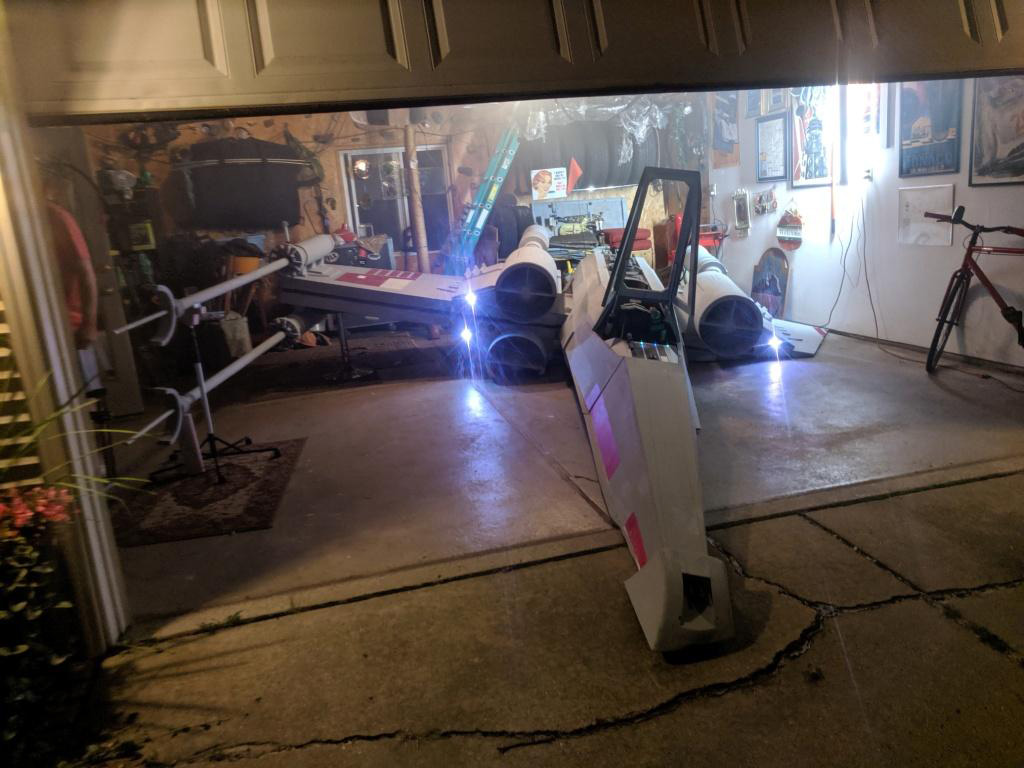 Online and physical models abound and they seem all to be different in details. I found one low poly model that I was able to rotate, pitch and section in Sketchup at a waterline for planning.
1.
Then another beautiful model by a master artist was located for sectioning and internal detail. Sketchup was the tool in pulling angles and dimensions.
2.
I was pleasantly surprised to find how often the angle 22.5 degrees or its multiple came into play in the design of the X-wing.
3.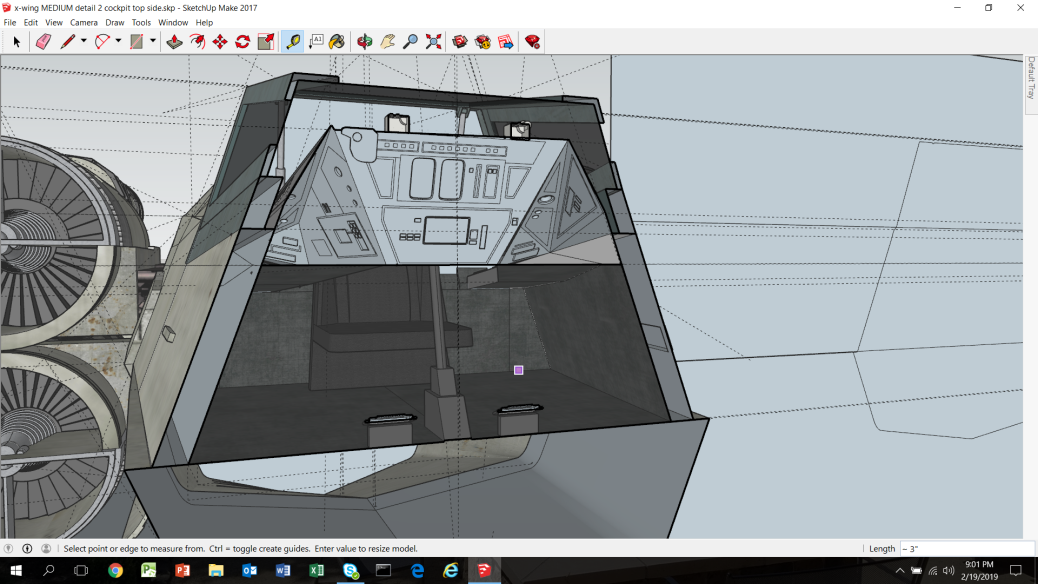 The pitch and yaw waterline was built right into the structure from the start.
4.
In our reference photos from the swamp the cockpit was open which allowed for a well-lit dashboard to be featured, and the wing landing lights would glow through the fog machines mist. We would not seat Luke in the X-Wing in this display. Instead he would be off to the side dealing with Darth, which is a bit of a twist to the story.
5.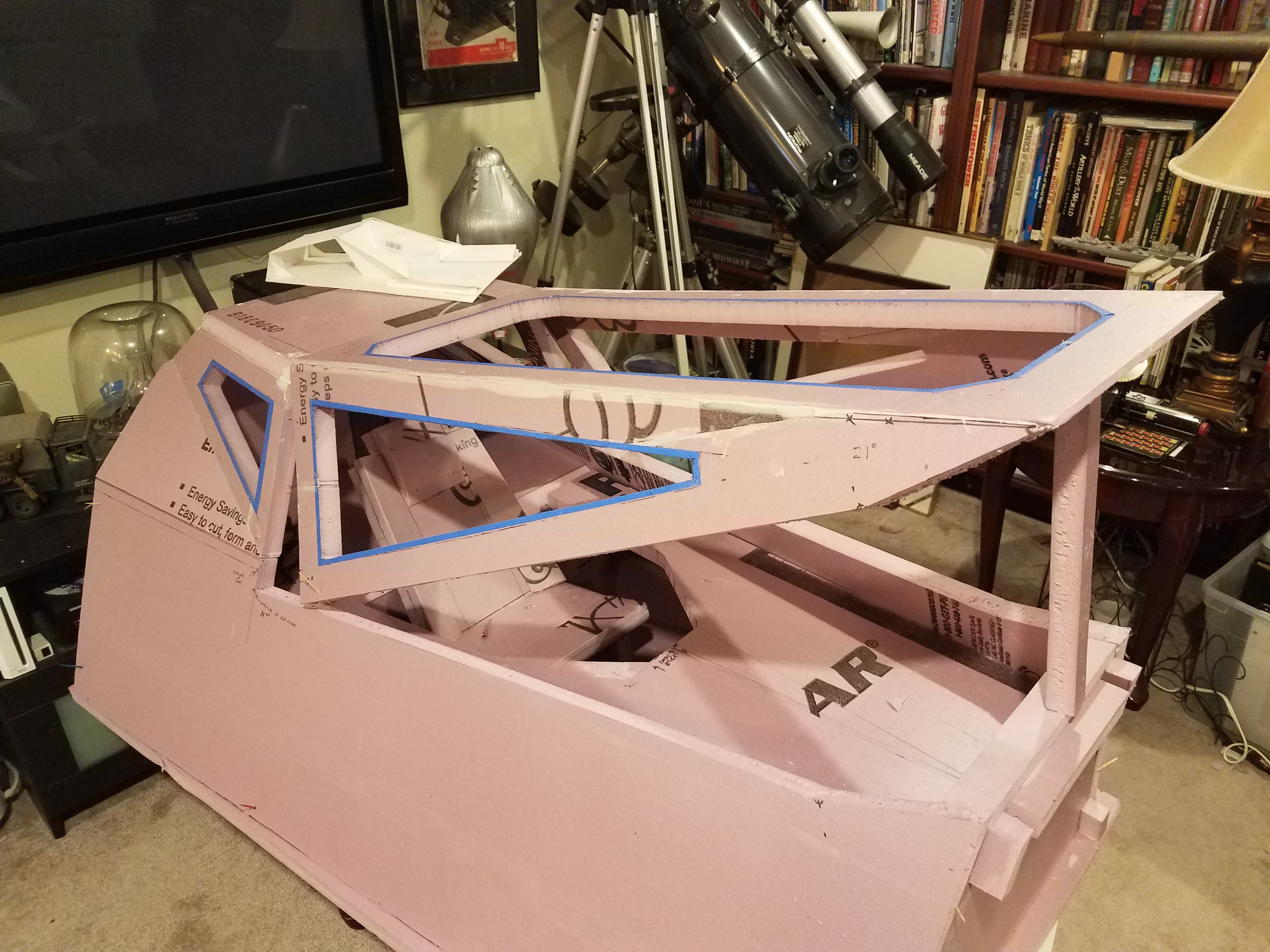 The cockpit instrument panel was liberally punctured and Christmas lights of certain colors were cemented in place. The panel is made of rather complex shapes and a sub-scale paper card mock-up had to be created first to figure out the pieces needed, which were then crafted up from ½" pink foam. The canopy pistons are just dowel rod. No Plexiglas was used in the windows as this would have made it too heavy and prone to wind damage. By nature the pink foam is weatherproof and rain did not matter as long as drain holes were made in the bottom of the cockpit tub.
6.
7.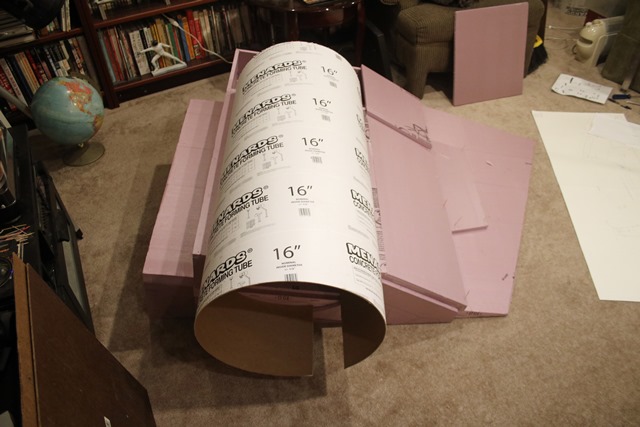 2x2 and 2x4 steel wall studs were used to support the wings and rears of the engines, since they would have to survive 40-70mph October storms. Furthermore the fuselage was made in three sections and the wings, engines and cannon were also removable so that everything would fit through doors and go up stairs. Most of this was built indoors in the winter. We took a hint from Lego and made fist-sized alignment buttons so everything would locate together properly later.
8.
The bland concrete form engine tubes were dressed up with as much ribbing as needed to make it visually interesting.
9.
10.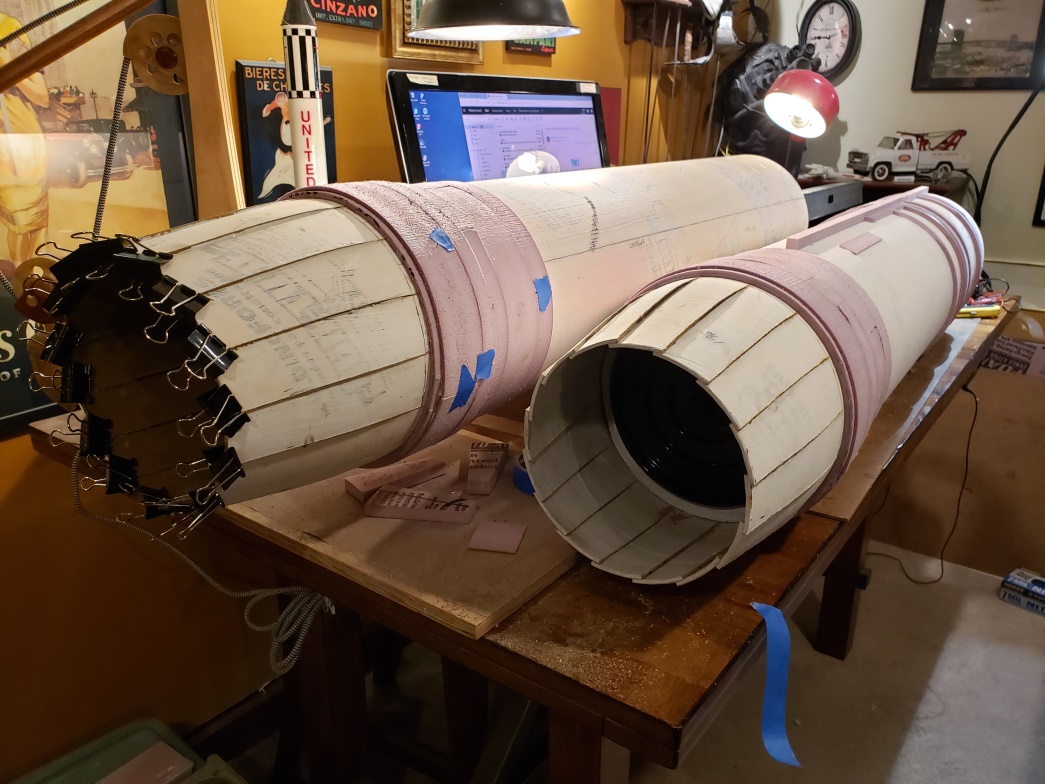 Fitment testing and wing work was finished in the garage, the only space big enough.
11.
12.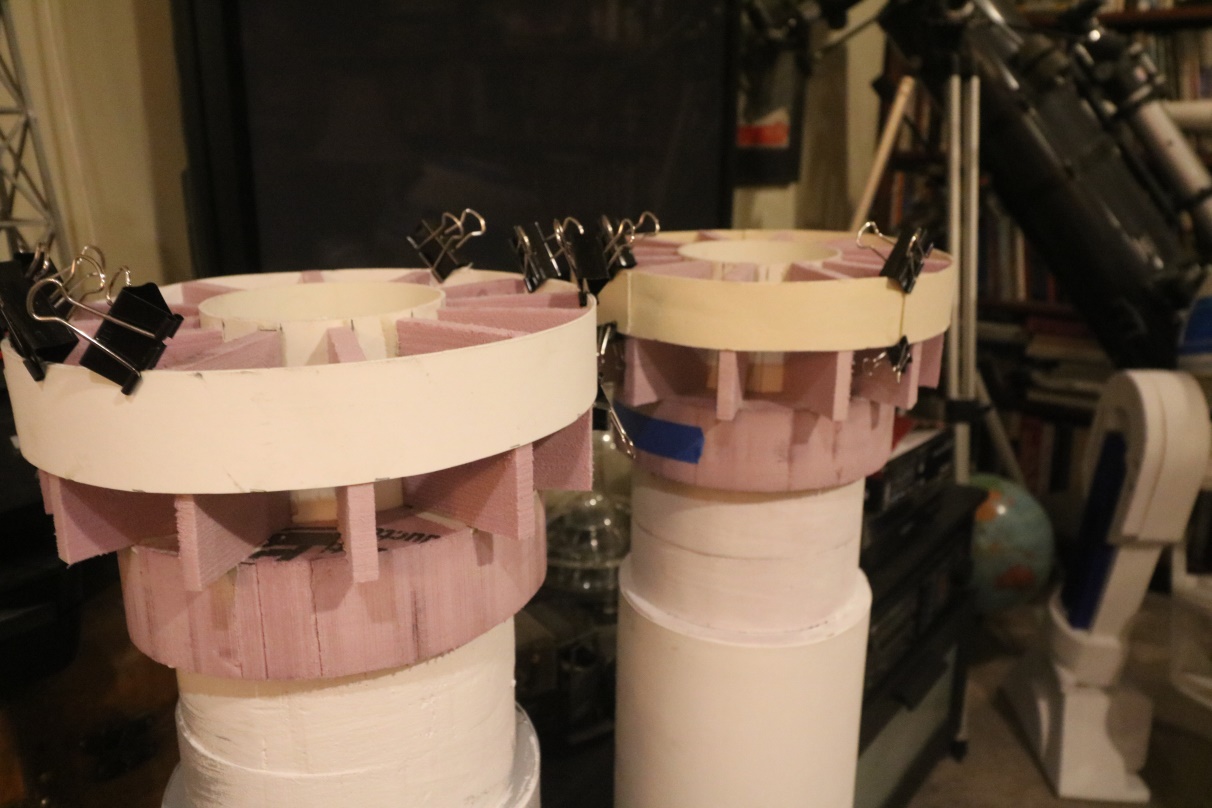 I had not realized one of the X-Wings cannon was striped like a jousting knight's lance until this research, but we would then happily include that detail when painting it later. The tail end would be very visible in our corner street property so detail was needed back there too.
12.
I tried to stay true to the distressed decoration and pattern of the X-wing in the particular movie. There was a lot of freeze-framing going in with the DVD player, which only pointed out how often the props in the movie differed from one another between scenes. Also since the cockpit was open it was dressed up with a lot of greeblies, including one BB-gun riflescope.
13.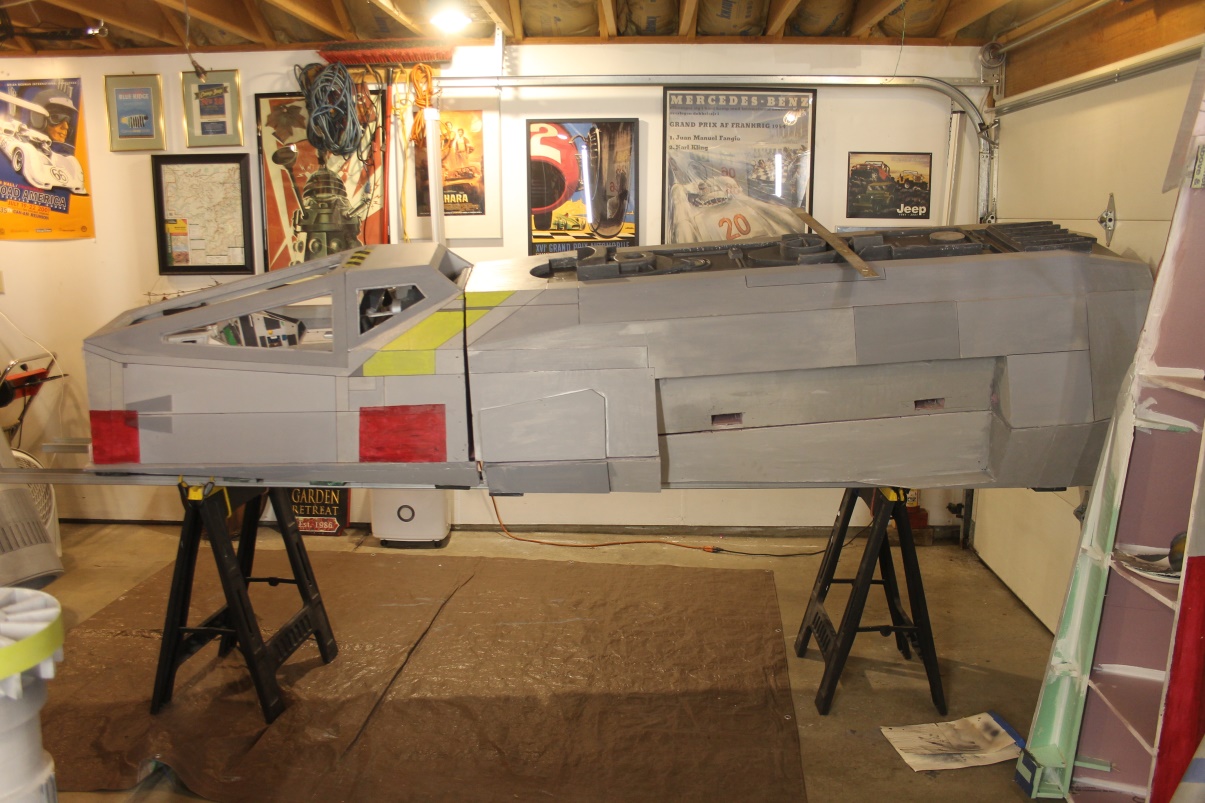 In darkness the large number of cockpit lights, changing colors, fading in and out and some blinking, stood out beautifully.
14.
We had one accident during the lights and smoke testing. Overdoing the smoke machine while testing different smoke mixtures and our lighting meant we eventually couldn't see a thing in the garage. Though our builds are kept secret to the neighborhood we opened the garage door to let out the awesome fog and laughed our way to fresh air. But this caused passing traffic to immediately come to an abrupt halt on the street. Realizing our mistake, we buttoned up the door right away.
Luke couldn't believe how nicely his ride turned out.
15.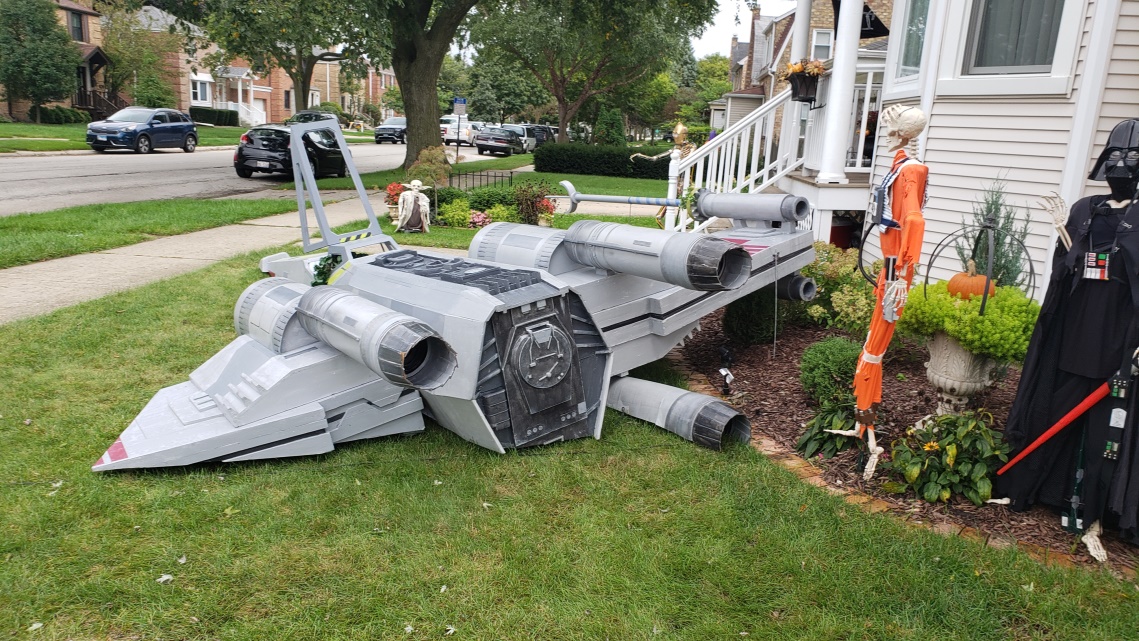 CHARACTERS:
R2, who is 1:1 scale was built out of scrap plywood and other bits, as carefully to size and shape as I could.
16.
His head was paper-mache over an over-inflated beach ball from Walmart. There is one swimsuit edition Sports Illustrated and a lot of Wall Street Journals in those layers. To survive rain and snow for 30 days this was heavily coated in marine varnish inside and out.
17.
The colored Christmas lights in the head were on a fader that slowly pulsed them, and certain colored lights were gathered together in front of tin reflectors that helped evenly light the small Plexiglas lenses in the head. The electronics were PCB's and cabling from a trashed TV found down the alley, drilled out for more Christmas lights. Body decoration is hand drawn on a drafting board. The whole body was over-coated in marine varnish too, which adds a dirty tint to the whiteness.
18.
There is zombiefied skin and rust to the guy, since this is Halloween, but visitors insisted this was just cool battle damage. The eyeballs are soda bottles.
19.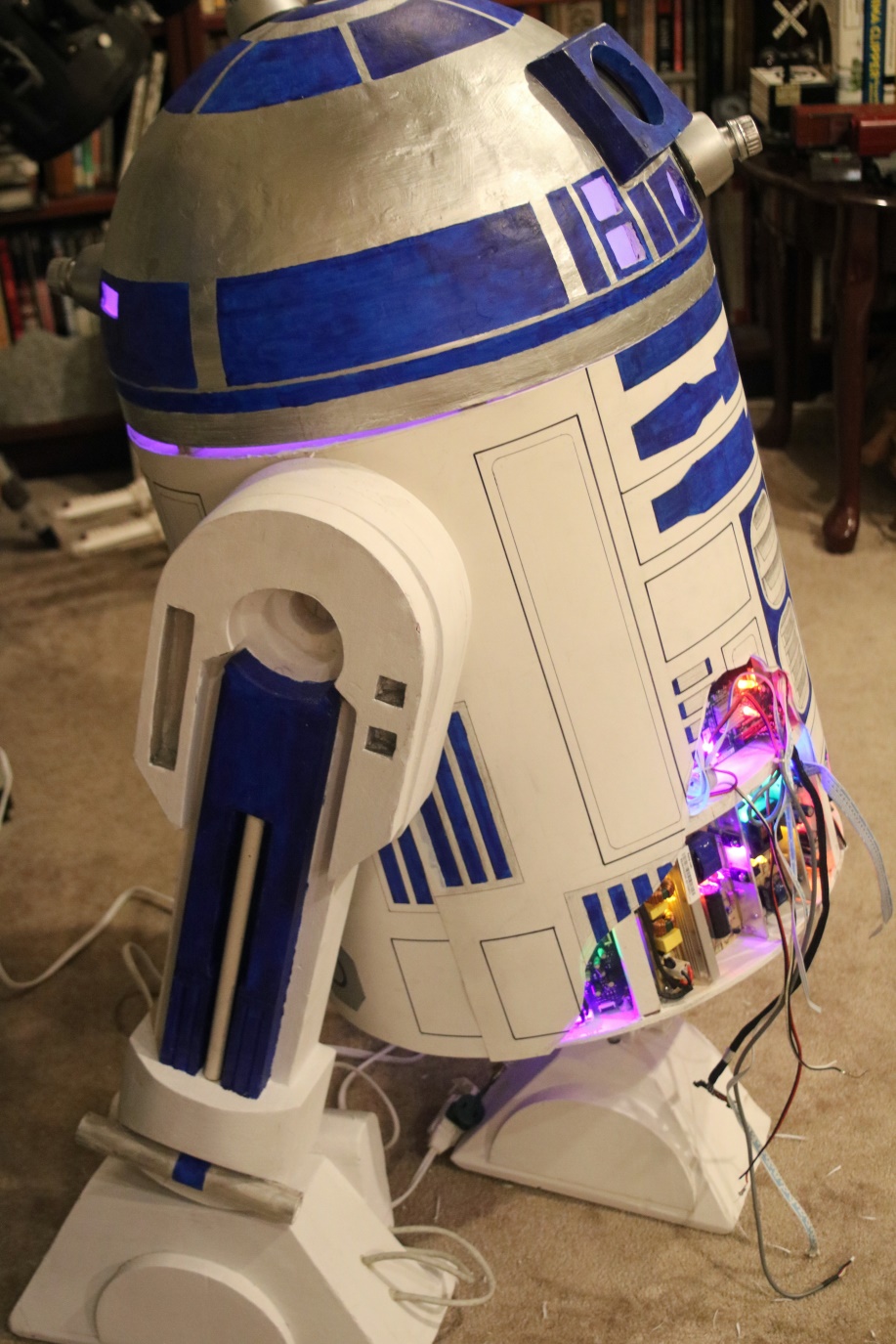 20.
Yoda is also 1:1 scale and was built from the ribcage and select bones of a damaged skeleton. Like Luke and Darth the outfit was custom tailored from old T-shirts and spare material.
21.
C3PO was made from a skeleton painted copper, with a child's mask and some tin armor added and a lot of scrap wire, cabling and flex tubing. The eyes are model railroad engine lights run off of an extra couple wires through his frame. He stands timidly next to the stairs the kids came up to get candy and he was the last startling thing they noticed in doing so.
22.
Luke and Darth were not the stars of this display, so their costumes were scratch built and Darth sported another simple child's mask. We don't do scary, so we were hoping this would bring more smiles and simplicity. They were repositioned after a few days into a fighting stance, and some plastic seaweed was draped around the spacecraft.
23.
The end result worked well. My own costume for handing out candy was Ben Kenobi, and I was armed with a working light saber (from a vendor at the local ComicCon).
24.
25.
Last edited: