While looking up some details on the HAL logo font, I just stumbled over HAL's punch card.
This is briefly seen at 1:10:26 in the movie, when Dave requests a hard copy of the AE-35 unit failure message.
I vaguely remember having seen something on those punch cards somewhere in these forums, but I am not able find it anymore.
Google finds these results:
and
Order your 2001 A Space Odyssey HAL AE-35 Data Card Set from Toynk today. Enjoy Fast Free Shipping and the Lowest Prices. Shop Now!
www.toynk.com
which both have rather detailed images: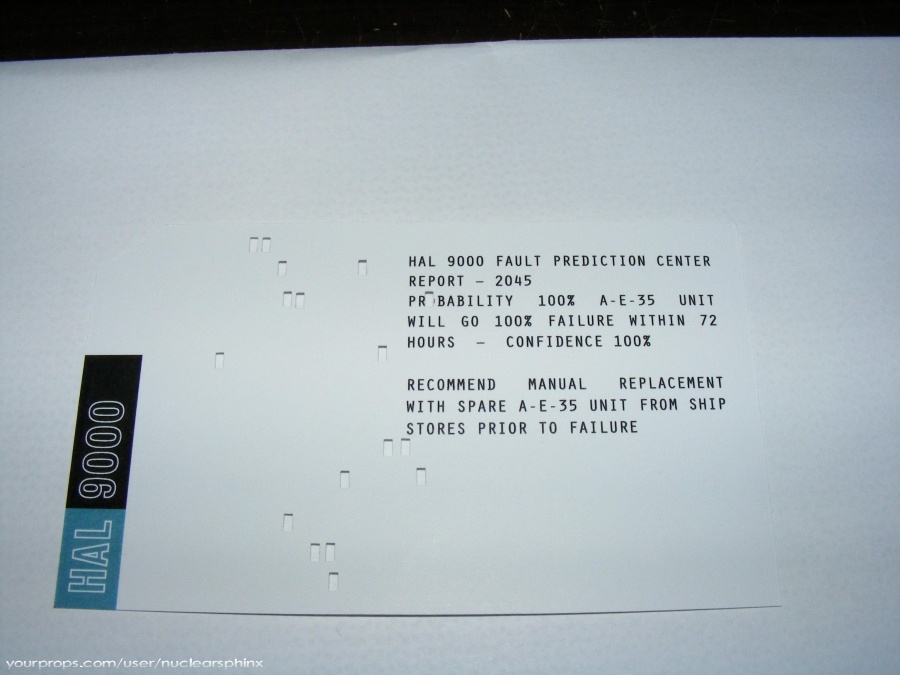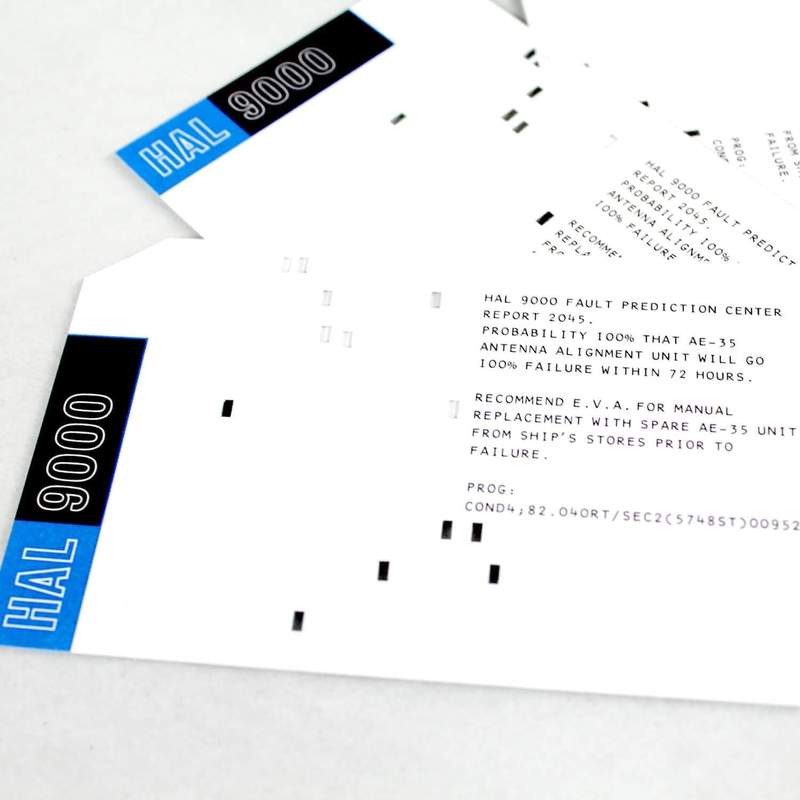 The second link mentions that the cards are approx. 3" x 5".
The first link, on yourprops.com is from user "nuclearsphinx" who used to be here, but has been banned. (... there are a few users here that have crossed my path on therpf.com in the past years that have now been banned - since these seemed to be rather reasonable folks, I'm wondering what gets you banned here...)
The two images have significant similarities:
They use the same "HAL9000" font (but a slightly different background blue), they agree on the pattern of the holes, and the texts are very close (but not identical):
* --- the "yourprops" version:
HAL 9000 FAULT PREDICTION CENTER
REPORT - 2045
PROBABILITY 100% A-E-35 UNIT
WILL GO 100% FAILURE WITHIN 72
HOURS - CONFIDENCE 100%
RECOMMEND MANUAL REPLACEMENT
WITH SPARE A-E-35 UNIT FROM SHIP
STORES PRIOR TO FAILURE
* --- and the Master Replicas version:
HAL 9000 FAULT PREDICTION CENTER
REPORT 2045
PROBABILITY 100% THAT AE-35
ANTENNA ALIGNMENT UNIT WILL GO
100% FAILURE WITHIN 72 HOURS.
RECOMMEND E.V.A. FOR MANUAL
REPLACEMENT WITH SPARE AE-35 UNIT
FROM SHIP'S STORES PRIOR TO
FAILURE.
PROG:
COND4;82.O4ORT/SEC2(5748ST)00952
I am wondering if anyone has any more information on this punch card - maybe closeups of the originals, or something else?
Last edited: