I've costumed Galadriel for over 10 years, but my favorite builds have always been armor. So when I heard they were putting Dol Guldur in the movie my hopes sprang that MAYBE I would see Galadriel in armor - sadly it was not to be so. The movie makers decided to put her barefoot in lace and silks...
However, when Daniel' Falconer's Concept Design book came out for the final Hobbit movie, in it was his first take on the costume for that scene that they did not use. And I had to make it.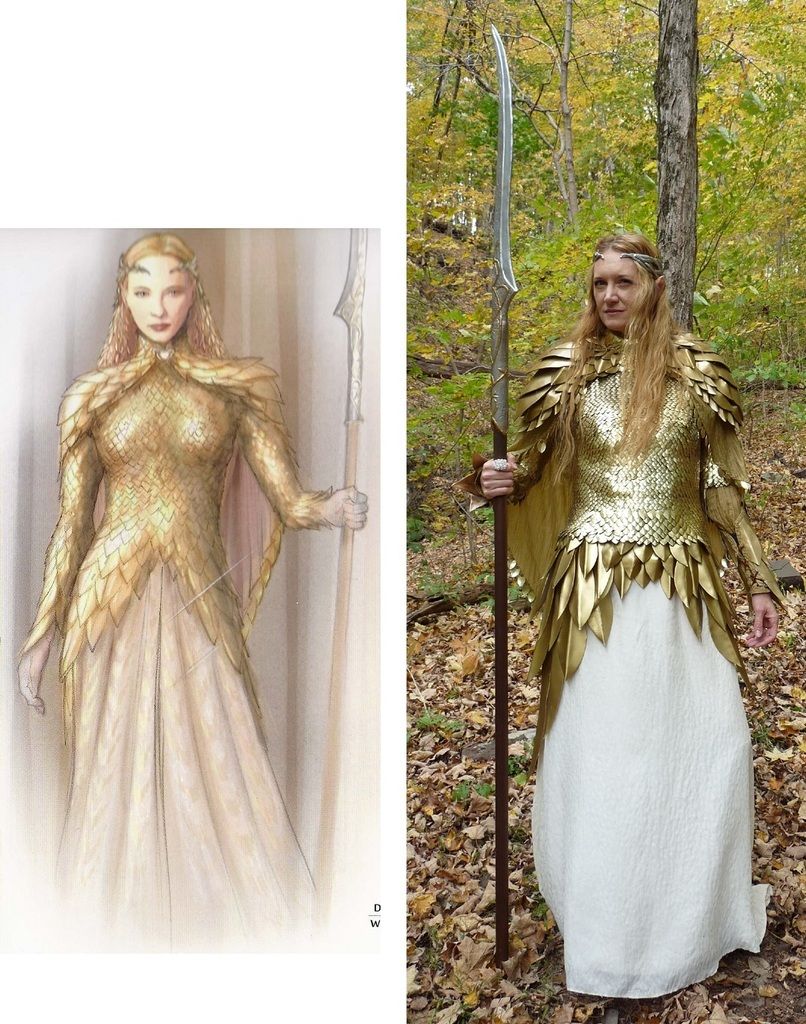 Design by Daniel Falconer - from Weta Workshop in the book "The Hobbit: Battle of the Five Armies Chronicles Art & Design" Written By Daniel Falconer Pg 48
It is gorgeous and better than I imagined it could be (not surprising, as Daniel himself designed it and I've always had an affinity for his work (Haldir and Eomer are my other two favorites that I made) - so, I was even more disappointed that it did not end up on screen.
But why sit with that disappointment? Why not MAKE it happen and bring it into existence myself. And since I am going to Dcon this year - and have the time and amazingly, the $$ to make it happen - it is a perfect storm.
So, despite the fact that maybe only a handful of people will have any clue who I am supposed to be, I went ahead and bought the metal scales from RingLord yesterday. 4500... Let's do this.
Here is my plan:
FIRST LAYER
SECOND LAYER
THIRD LAYER
HAIR PIECE
This Crown I'll make the same way I made my Galadriel Crown from the Hobbit.
Youtube Tutorial found in the #13 post of this thread:
http://www.therpf.com/f24/5-video-t...m-leather-new-one-aluminum-tape-silver-159848
As a submission for the 2015 RPF Costume Contest, here is easier access to my proof photo and gallery photo that were posted elsewhere in the thread:
Last edited: