This year was the first we felt my youngest was ready for the LOTR series and after watching all three extended versions, he was set on learning to use a bow and dressing up as Legolas.
TO HIS MOMMY'S DELIGHT!!!
Specializing in inexpensive, creative solutions, I have been making costumes for 10+ years for myself, my husband and my kids. I have my own costume tutorial website to help others:
The Realm of the Jedielfqueen
For this costume I started with a pattern I created years ago for my youngest son when he was about this size. Most of the time I don't start from scratch draping, but I take a piece of clothing that fits whoever the costume is for as my base.
That time I used felt and decided to upgrade to a closer fabric. I found a dark gray, a brown and forest green suede cloth skirts at the thrift store but ultimately used the forest green and a more expensive olive suede cloth from the fabric store.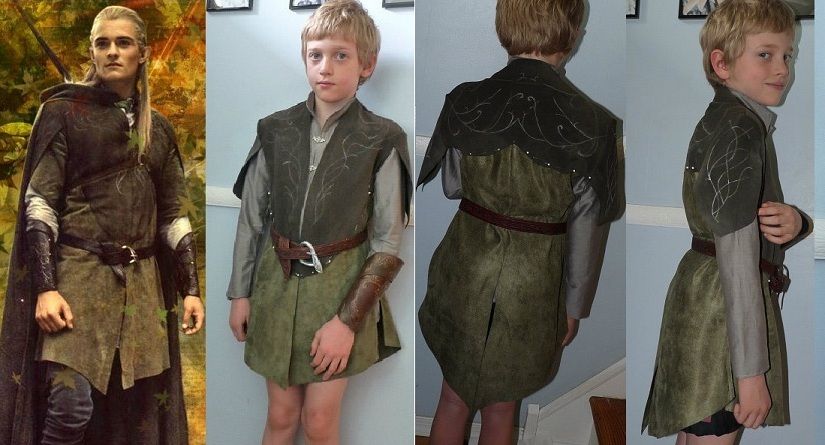 I used a silver pen to draw on the designs.
The challenge was- how do I get this soft fabric to hang as if it was heavier real suede? AND to not fray or to need a hem??
The solution solved both issues. Heat n'bond!! I basically ironed two pieces of the cloth together around the hems of the costume. In fact, it worked so well even the photo makes it hard to see there are two pieces bonded together.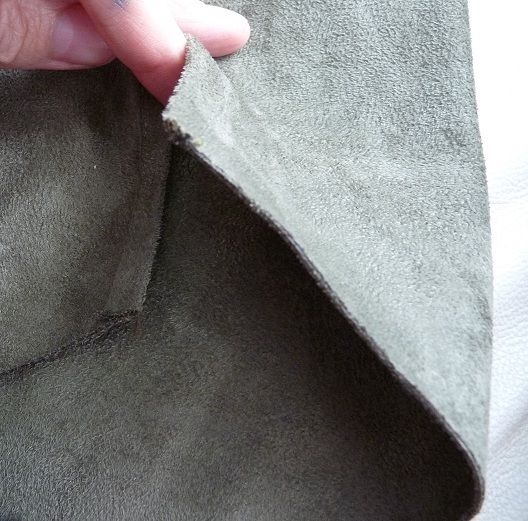 For the leather pieces I pretty much always knew I was going to use craft foam. It's a technique I've been using ever since I made my husband's Boromir bracers years and years ago.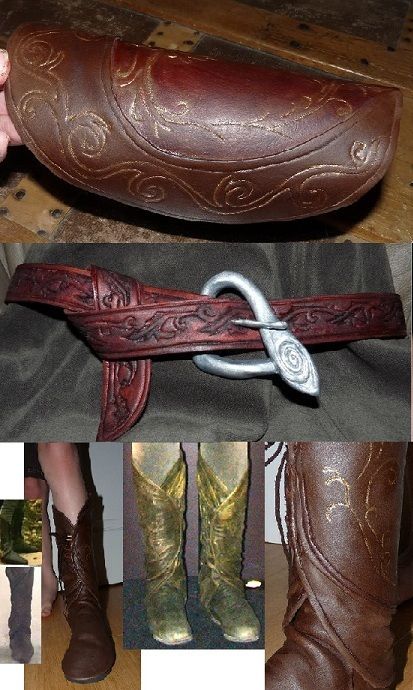 Even though I have a photo tutorial on my website already, I still get questions on how I do this, so, I figured the best way to explain it was to make a video tutorial:
How to make Craft Foam look like Leather - YouTube
The biggest challenge of all of these pieces was how to make the boots look right. I tried at first to velcro the shoe pieces on to a pair of canvas tennis shoes, but they came off constantly or flopped around, so I ended up sewing it directly to them. Much better...
The silver shirt was pretty straight forward. For the clasp I used little metal borders I found in the scrap booking section of Micheal's as the eyes for the hooks.

And finally, the hair. Neither my son nor I wanted to get him a platnum wig. Wigs are hot, the cheap ones tend not to have a very great hairline and I could never afford one of the net hair line ones... So we decided to forgo the long hair. When we went to Comic Con, he was called 'Link' constantly. Then, at the Ren Faire he got 'Robin Hood'! :unsure
Here he is with a bow he made himself.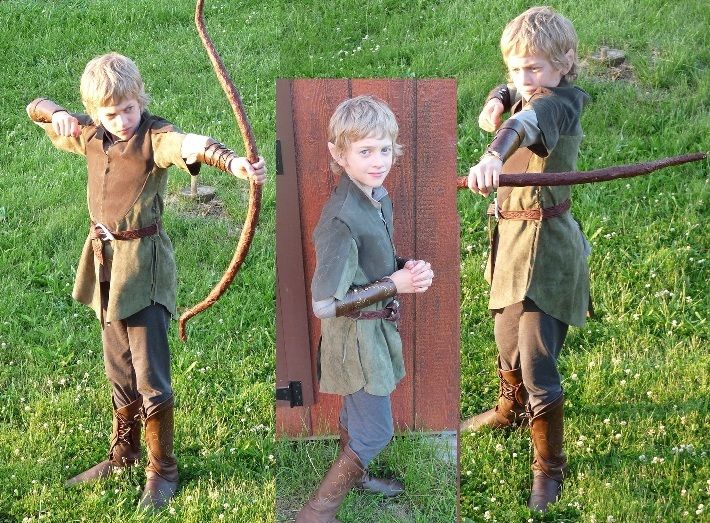 For Halloween we used extensions. I was actually going to use these for my husband at some point, but they worked out perfectly for my son.
It was my first time with extensions. They come in a single length (we got 8") strip of hair. You cut the length of strip you need and sew a clip to the ends of the strip and snap it in place.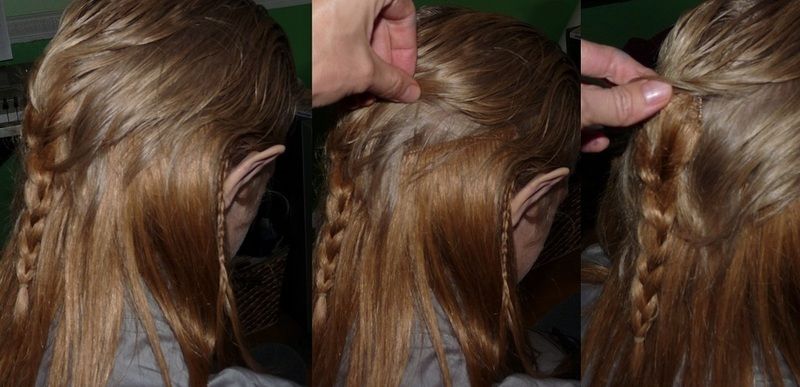 At the mall and a parade he was in, he still got confused for Robin Hood as many times as someone knew he was Legolas - BUT when someone did know who he was - most of the time they were extremely excited. *hehe*
I'm so glad we went that extra step. From various sides: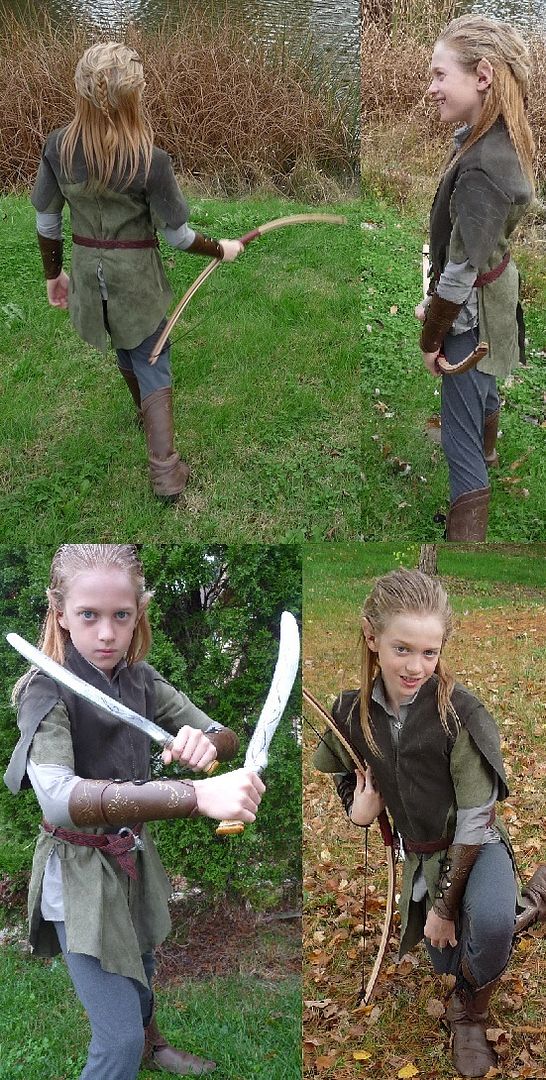 Here he is with my niece and there are more photos throughout this thread... And his bow that we bought from the Renn faire.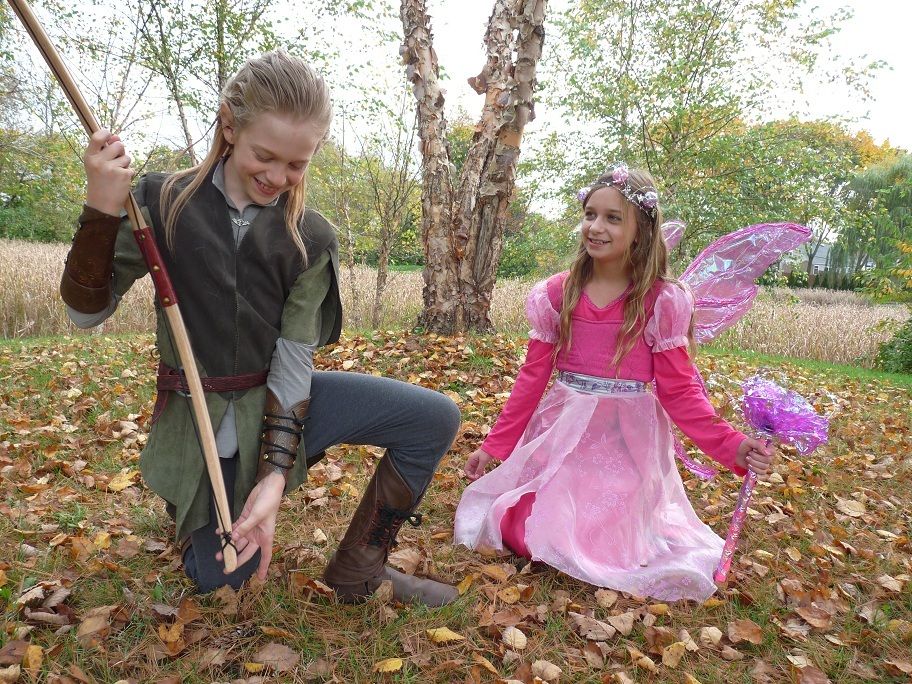 And... here is my proof photo - and a set of wood knives that we bought and painted.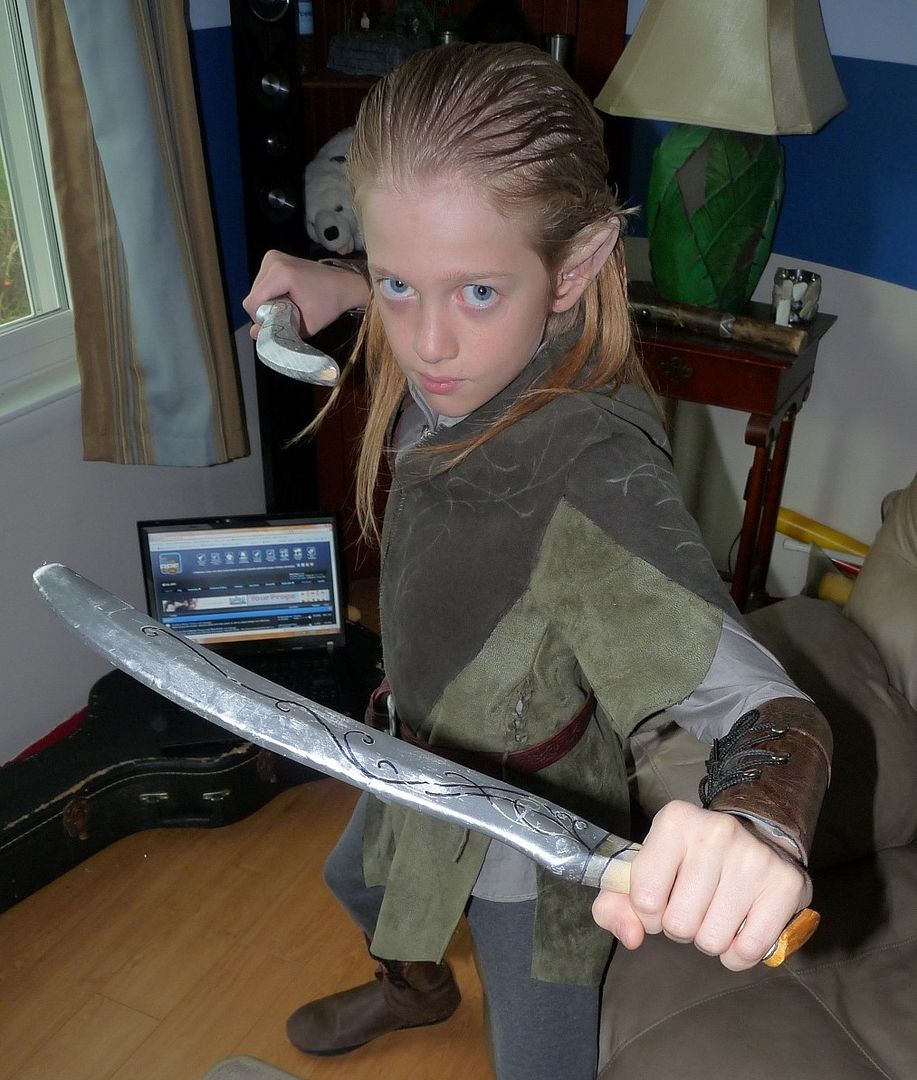 Last edited: