Master Member
RPF PREMIUM MEMBER
Hey guys,
I've patterned up Star Lord's Map Gun (correct name according to Guardians director James Gunn) for my own build and the run is now GO for an initial 10 copies.
Features:
Durable and hollow body for adding lights
Grey "button" parts separated to make painting easier
Translucent BLUE front panel and top indicator
Modeled-in screw fastenings for the battery plate and front bezel
*I also made a small hinge under the bottom grip plate for those that want to attempt a hidden on/off button. (I'll see of I can get a render up of how this was intended to work.) I can't guarantee this functionality since I haven't tried it myself yet- it was more of an experiment, so think of it as a bonus. I do think it's doable though.
Price is now $235
SHIPPED

Each kit will take a few days to do and they will likely be done in batches, so please count on up to a couple weeks before shipping.
Current run status as of May 7th. First batch has shipped
NOW ACCEPTING ORDERS.
Body test prints:
Transluscent parts test (note: final parts will be BLUE!)
Final renders: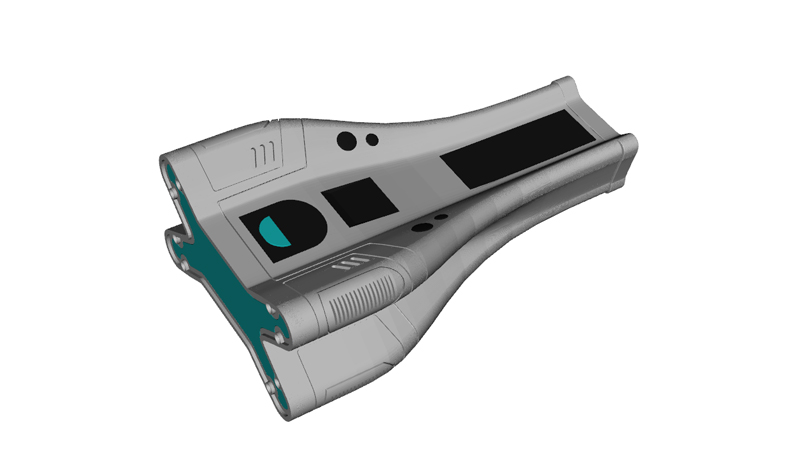 Kit breakdown (
*note: The final kit will have a separate "buttplate" and be split in two, these renders show the shorter body version.
)
Test print of the main body from March 22. Very good results but I will be making the handle-end a bit longer in the final version. I am now far enough along that this is 100% GO for printing starting the first week of April:
Orders are now being taken and made in order pf payment.
All orders as of Star Wars Day have been SHIPPED.
Please PM with any questions!
Last edited: