Well-Known Member
RPF PREMIUM MEMBER
"The ages have turned them to stone, but they will always be beautiful."
Game of Thrones Dragon Eggs.
There is something about this set of props that seems to call to us here on the RPF. There are a lot of builds, and a few different approaches so I thought I'd add mine to the mix.
The construction isn't drastically different from other builds, but I've got a couple of interesting, slightly different mediums I'm going to cast the eggs in, once the mould is ready.
On to some pics...
I started with a suitably sized plastic egg, sealed it up, then started sculpting with Sculpey.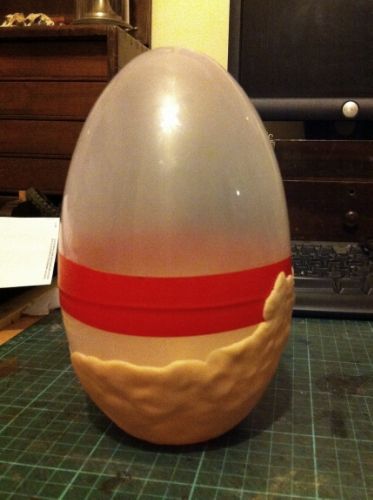 I then cut a template for the shape of the scales. This was a single template, which helped to regulate the shape, but the sizes still vary a little as they seem to on the originals.
Finished layering on the scales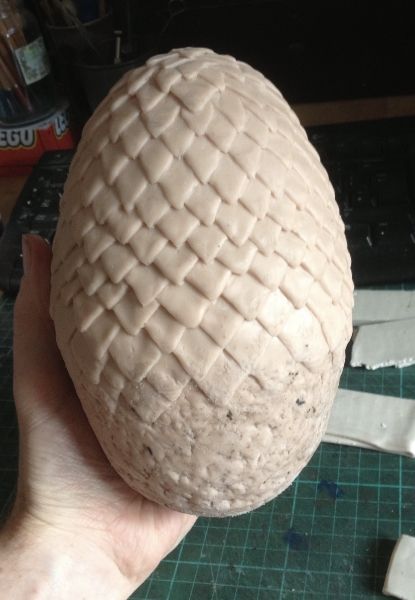 Here's a shot of the texture of the sculpted scales. At this stage, it looks far too "sculpted" It needs much more definition, and some texture.
To achieve this, I needed to bake the sculpey. So in to the oven the egg went, just for about 15mins or so, as it was very thin. Once it was cooked, I could work into the texture and edges, to make it look more like "stone". In the centre of this pic, you can see where I've started to alter the surface texture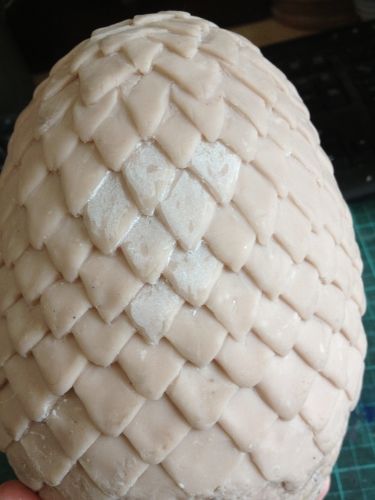 Here it is, now that the whole egg has been textured and "aged". Tt's difficult to tell in this pic, but there is much more going on on the surface, much more interesting.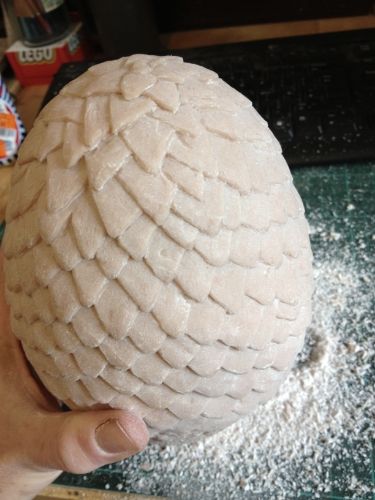 Then I coated the whole egg in a thin layer of wax, to fill in some of the scales edges, and to give a centuries old "polish" to the surface. As if these have been handled and wrapped up by hundreds of traders and smugglers over their long years.
Ready for the mould now, here's another shot of the waxed surface, nice and close.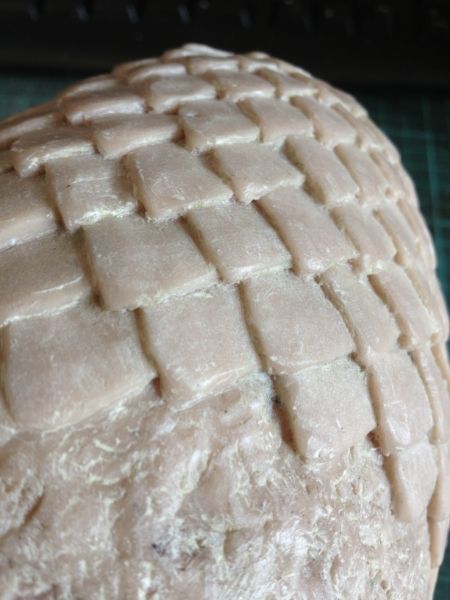 Well, thats the progress so far. The mould is underway now, and I can't wait to start testing out some exciting materials!
Thanks for looking everyone, and sorry that this is such a mammoth post!
Last edited: