Well someone beat me to it and created the perfect Galaxy Quest VoxFX. Our own super talented member "stapleton13".
Here are some pics of my recent purchase from stapelton13. I added the piano wire spring hinge and layered pebble film over the lens to recreate the look to match the lumiglas custom plasma disk created by Strattman Design for the movie prop. I have the benefit of matching it to the unused luminglas disks that I bought from the prop maker on the film. By adding this film (3 layers of cut material)
DC Fix 3460211 Sand Self-Adhesive Window Film
I was able to mimic the look of the screen used prop in the transporter room sequence.
Stapleton13's replica includes a voice activated mode that pulses the plasma disk according to your voice patterns which is awesomely cool, and an always on mode that just lets the plasma disk run randomly. And there's the off position too. This replica is really accurate. He molded a commercial plasma disk into his resin in order to fit the disk into the size of the Vox, with very little tradeoffs in the placement.
This replica is the holy grail for the Galaxy Quest fan that wants the interactive Vox as seen on screen. Funny enough, the onscreen Vox in the transporter room sequence used a Vox body with an open back and wire running through Tim Allen's fingers to a power source. The production crew didn't accomplish what our own talented member has done by creating a self-contained prop. The prop in the movie was also voice activated, but that effect did not make it past the cutting room floor.
First, here's a screen cap from the movie for reference.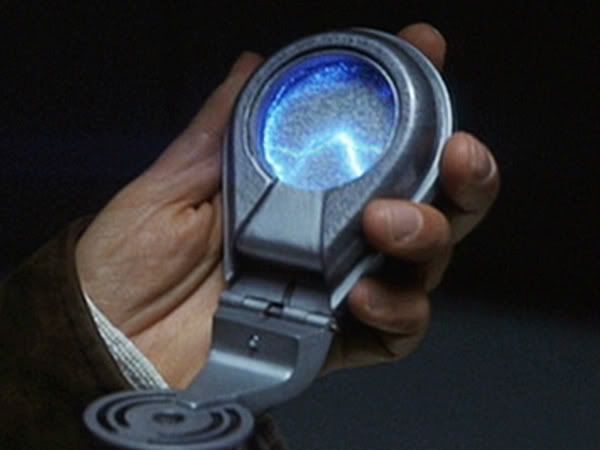 And here's my replica from Stapleton13