Self-Declaration:
Long time day dreamer, first time modeler.
I recently helped pull a V10 out and dumped it into a caddy and that was with no automotive experience beyond fuel goes here, unscrew oil filter and replace.
I have confidence now because of the above project.
They announced Fallout 4. They announced Pipboys for all (who pre-buy). They kinda hedged around its functionality. Apparently it's a big clam shell that bites onto your cell phone and then you use the touch screen to do all menu navigation.
I said many things not permitted in this forum (and still say them) about this.
I considered what I had learned from the general contractor who helped me put up a wall and run all new electrical circuits as well as the plugs that went with them. I considered the car experience. I decided it was not that far fetched to take an existing Xbox controller and with a lot of work turn it into a FULLY (armed and) OPERATIONAL Pipboy for use in game.
I am Determined.
Project concept:
By my count a Pipboy NEEDS the following:
Left and right triggers Scroll between the Stats / Items / Data menus
up and down scroll up and down the lists of the Stats / Items / Data
left and right scroll across the bottom trees (3 lighted Pipboy buttons)
A, X, Y buttons ARE needed
Maybe's:
B activates and deactivates Pipboy (menu button)
RB hot key (Mapping weapons and items to cross pad)
Right joystick for scrolling around map in fast travel mode
The generic look: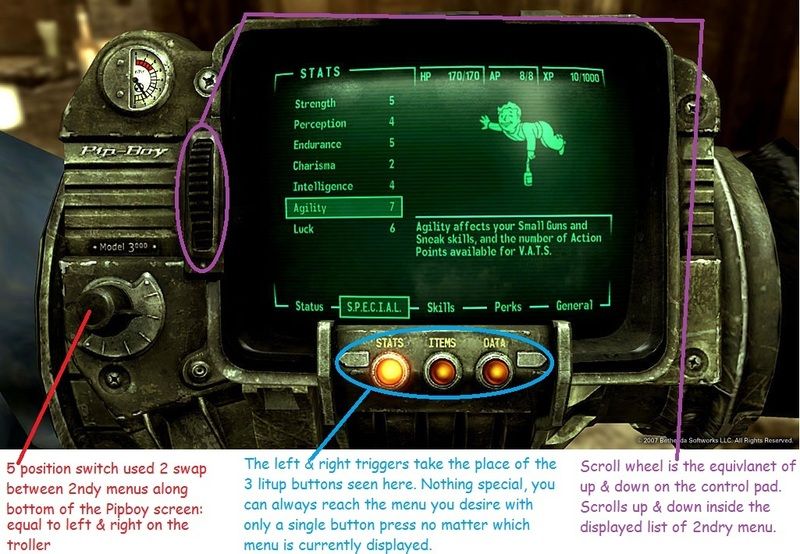 The concept is as simple as I can make it: Take two controllers, splice them together and make one look like a Pipboy.
My step-by-step plan is:
Buy two (more like four with probable errors) corded x-box controllers for use with my PC. Tear one open to get at the lovely electrical innards in true wasteland fashion. Carefully label and mark EVERYTHING so I know which wire goes to which button, etc.
Take careful measurements of my arm and the amount of room I'll need to build accommodate both my arm in the bracer and the technical doohickies and gizmos that make the controller control.
Using the above measurements plan out a bracer for my arm then build up from there and plan out overall button and switch placement. Find or construct the bracer and the bottom box that will be the core of the new Pipboy. Section off the areas that will accommodate the buttons/sticks of the XBOX controller that is being used for the Pipboy.
Mark all areas according to their use. "This area is corresponds to the left/right triggers and the 5 point switch on the Pipboy"
Gently take already labeled parts out of their original controller and fit them into place within the Pipboy box. Carefully insure they all fit correctly. Sketch out or create stencil for proper placement of all buttons and switches for the top/surface of the Pipboy.
Create the surface of the Pipboy and fit into place.
Fire up the controller and verify all buttons/triggers/sticks work as is.
Take apart Pipboy and paint the shell.
Reassemble Pipboy including painted top, fire it up again and re-chk.
Remove top of Pipboy and connect "Pipboy Troller" to actual handheld controller that will be used to PLAY Fallout 4.
This is where things get sketchy
Do I physically WIRE the controllers together so that xyab on the Pip-troller are physically wired to xyab on the Play-troller? This seems the simplest option for me since I'm not a programming wiz and wouldn't know how to make a wireless controller be read as the same input device to my PC as the Play-troller I'm using. If I go the wired route, however, how do I handle it?
Do I make a whole new cable with shrink wrap to connect the wires of each individual button from the Pip-troller to the corresponding buttons of the Play-troller? Literally making an old school electrical circuit?
Or do I try to create a splice between the two cables from each controller?
If I do go for the splice, how do I do that? Chop up another X-Box cord so I have the plugs it utilizes and simply solder the Pip-troller cord with a 1 foot cord length and at the end of it a new protection plug (think OEM plugs in a wiring harness) then add 1 new protection plug on the Play-troller cord so that the Play-troller has it's own cord but now there is a place to plug the Pip-troller into the same cord, potentially making it line up within the cord itself, and not having to go button to button (which protects from wires getting pulled out by accident).
Possible solution is that two wireless controllers CAN be made to read as the SAME controller to a PC whereas not so much with the Xbox itself. I wouldn't know how to do this but I'd prefer it, even at the cost of more rechargeable batteries. Especially since I could make the "Radiation" meter of the Pip-troller be the battery gauge. Could they be made to read as identical input at the wireless chip level on the PC? Maybe an app-like program that camouflages the two signals as one signal in between myself and the game? I'm not sure there.
Suggestions I've received so far from folks boil down to
Buy an older model display phone so that I will have the screen on the Pipboy and just leave a place to nestle that phone into the Pipboy.