Hi All, my first post (hope many more to come).
I'm Mark, 45 y.o. I'm an IT professional, I live in the "big farm" a small Island named Ireland. Tough I'm not Irish, My company relocated me.
I'm new to the modeling hobby, well not that new.. my first contact with models, I was a young boy, but one basic REVEL kit (the only one available where I used to live on that time) was absurdly expensive.. luckily my parents could afford a few... and unfortunately usually many of them was filled with fireworks/explosives and ended at the bottom of a swimming pool..:
facepalm:.. bold boy I was...
For many years I've been collecting all sort of models/metal cast, figurines and toys... mainly because of my kids whom are now are all grow-up and not interested anymore.......
so I kept all "toys" safely with me. I have 3 very large boxes filled with the "toys"/souvenirs from places I visited around the world and "things" alike... I live in a small apartment so many of them will stay boxed for a while... I'm putting each piece out slowly because only now I have some spare time to dedicate to this hobby and work on them doing some customization/lighting and stuff...
I did find this forum researching references for modeling but some how I did lost it's URL and could not find again... a few days ago watching the Tested.com I saw Frank Ippolito (I think i did spell correctly, sorry if not) wearing a cap RPF then googled and here I'm again...
Because this forum is dedicated to props/replicas I will try to be specific to that..
Please note I'm just starting so please bare with me, any help on how I could/can make it better is very well welcome.
One thing I have in mind, I do not want to replicate exact accurate copies of pieces... I try but many times I just want to make the piece looks cool even if not accurate to the original... I will leave that to the master modelers which do a very appreciated work. I just can sleep browsing on the threads here...lol..
Well, shut-up me.
I would like to share my latest movie pieces.
Starting with my Welly 1/24 scale
Back to the future 1 - DMC Delorean time machine.
Replacing the original full-filled plastic bumper with a metal mesh bumper... (After finished this car I found one mesh much finer which I could have used.. if some day I do some maintenance in this model I'll replace it)
lighting head lights and front indicator (like in the movie only one head light on each side is lit)
Lighting done and new bumper put in place.
Carving, painting, wheathering, lightning and placing the FLUX Capacitor (not movie accurate) but looks cool.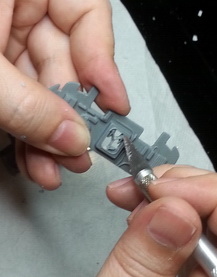 Dashboard lightning. does not looks so bright in person.
I did planed to light the clocks/timers with optic fibre filaments but I could not find to buy in Ireland... and the delivery buying from sellers on ebay UK is too risk.. I did lost 2 parcels already, still in dispute on ebay resolution centre.
Recovering the windshield... warm dish soap wash... quick white-spirit cleaning, well dried, and then a bath in Humbrol Clear... looks like new...
(apart from the wipers I had to paint black again)
Weathering and Clear (humbrol) coat all interior.
Back Lights.
Show room polish and finished model.