This is my first post and my first prop build. I've been a maker most of my life. I'm a hobby machinist so used to making mechanical parts. It is nice to make something where the dimensions are not all that critical.
The project started last September after watching Adam Savage's show and tell on the lightsaber hilt that he built back in his ILM days. After a bit of searching I found a drawing for Luke's Return of the Jedi lightsaber. I found two pieces of 2" 6061 aluminum on eBay (only $20 shipped!).
My aluminum arrived in about a week (back when the post office worked) and promptly went under my work bench. Life and some of my other projects had priority until just after Christmas. A trip to Galaxy's Edge over New Years and seeing Adam's new lightsaber build lit the fire again.
My first step was to redraw the plans full size and convert from metric. I don't necessarily have a fondness for either system I just work with the tooling I have. I also wanted to dimension it to be more in line with how I planned my build. After a couple of hours I had a new set of drawings.
I've since done a bit more research and found out that the plans I copied are slightly small compared to the original prop. It's not enough of a difference to really bother me so I decided to stay the course. At some point I may revisit the design for more accuracy with that second piece of aluminum.
After about 14 hours of machining this is what I have. I'll be happy to post some machining shots and more info if anyone is interested.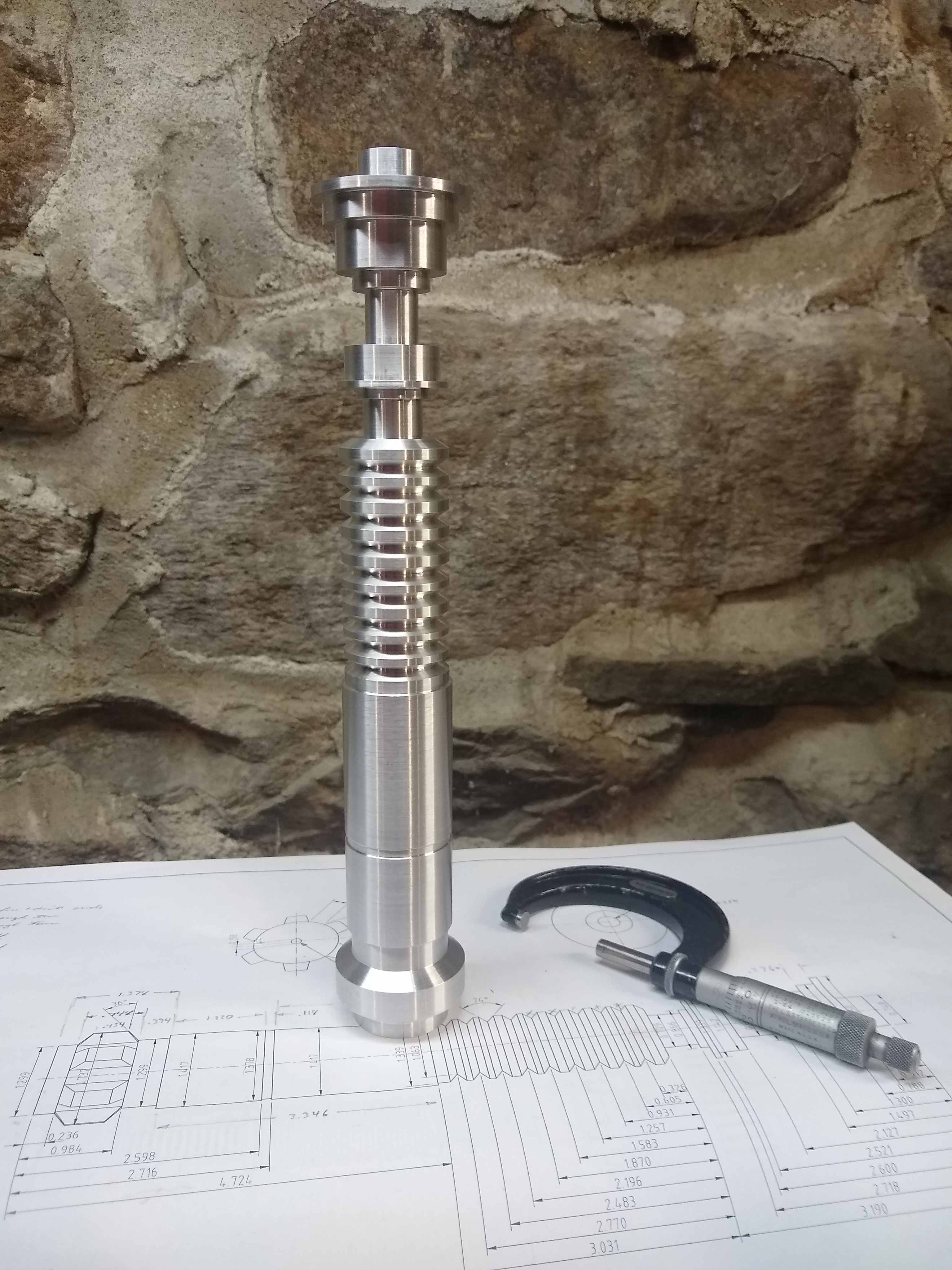 It took much longer than I had expected but overall I'm pretty happy with how it came out up to this point. I'm more used to working with steel so the 6061 was pleasure to machine for a change.
The only thing that gave a bit of trouble with was the groves. Trying to plunge in to the full depth resulted in a lot of chatter. I ended up scribing the extents of the grove then machining out the center with shallower cuts. Since a lot of the work was by eye my grooves ended up with more variation than I would have liked but they look okay.
I still need to machine the lugs. I'm not 100% sure how I'm going to do this but I've got some ideas. It will probably involve making a form tool of some kind.
The control box looks fairly strait forward but not necessarily a small amount of work. I may hold off for a little bit until I decide how deep I want to go in this build.
The D-ring shouldn't be hard to make either. I'll need to put a quick jig together to get it symmetric.
So far I'm pretty happy with how it turned out.