Well-Known Member
RPF PREMIUM MEMBER
Awesome RPF Members, a few people have asked about the processes I use to get rid of 3D print lines left by FDM printers so I thought I would share my processes and hope that others will share theirs so that we can all benefit.
Certainly, one way to finish 3D prints is sanding, lots and lots of sanding. I can't handle tons of sanding, my hands can't take it and when you start printing really complex models there is no real practical way to sand certain small detail areas. What follows is the process I have used ever since I picked up 3D printing earlier this year. It helps both with large flat areas and areas where there is a lot of detail.
Here are the items you need:
Acid Brushes (get them in bulk from Amazon, these have so many uses!)
Wide/Soft-bristled brushes, I also get these in bulk on Amazon.
ZAP Z-Poxy Finishing Resin
Sand Paper (220, 400, 800 grits)
Other resins may work, but I have found this to be my favorite as it has a few properties I really like. It is low cost, it self levels really well, has a 20 minute working time so you have plenty of time to get it down, takes all the primers I have thrown at it, does not smell, and is super easy to clean up. It goes a LONG way, I always mix too much. My very first 2 bottles I bought I used to finish my 1:24 TIE and X-Wing, my USS Sulaco, Rey's blaster, Kylos Saber, Eye of RA, a bunch of testing, and more.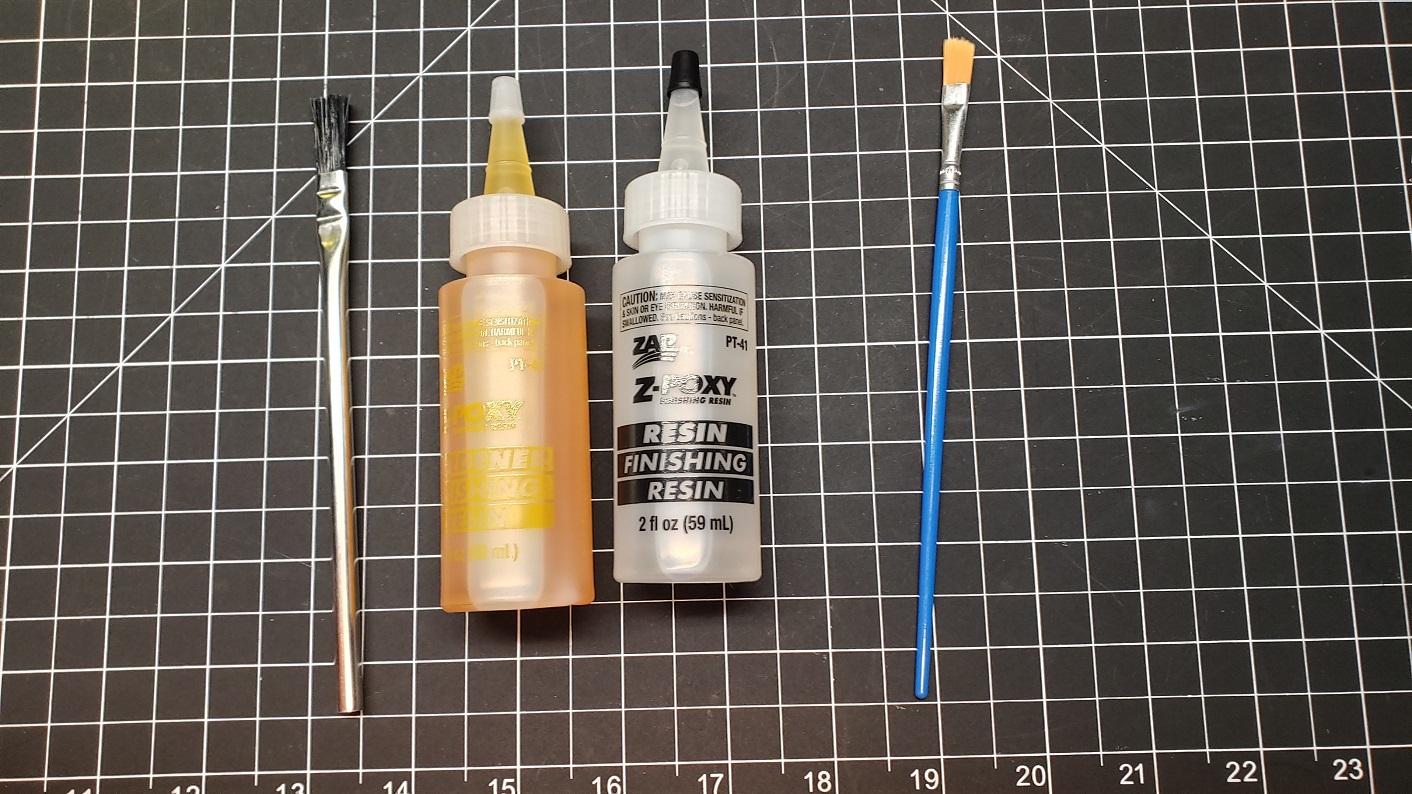 Here are some close-ups of the parts I am going to use. These are both failed prints (not oriented correctly) from my 1:24 B-Wing build. Since I am only using these as a tutorial item and then throwing them away, they will not be finished with near the attention to detail I utilize with my actual builds so keep that in mind in case you feel the need to get nit-picky
As you can see, the Prusa Mini puts out incredible prints, these were printed at .10. At this point, the only clean up I have done is to get rid of the supports, which consequently is when I realized they were not going to work for my project.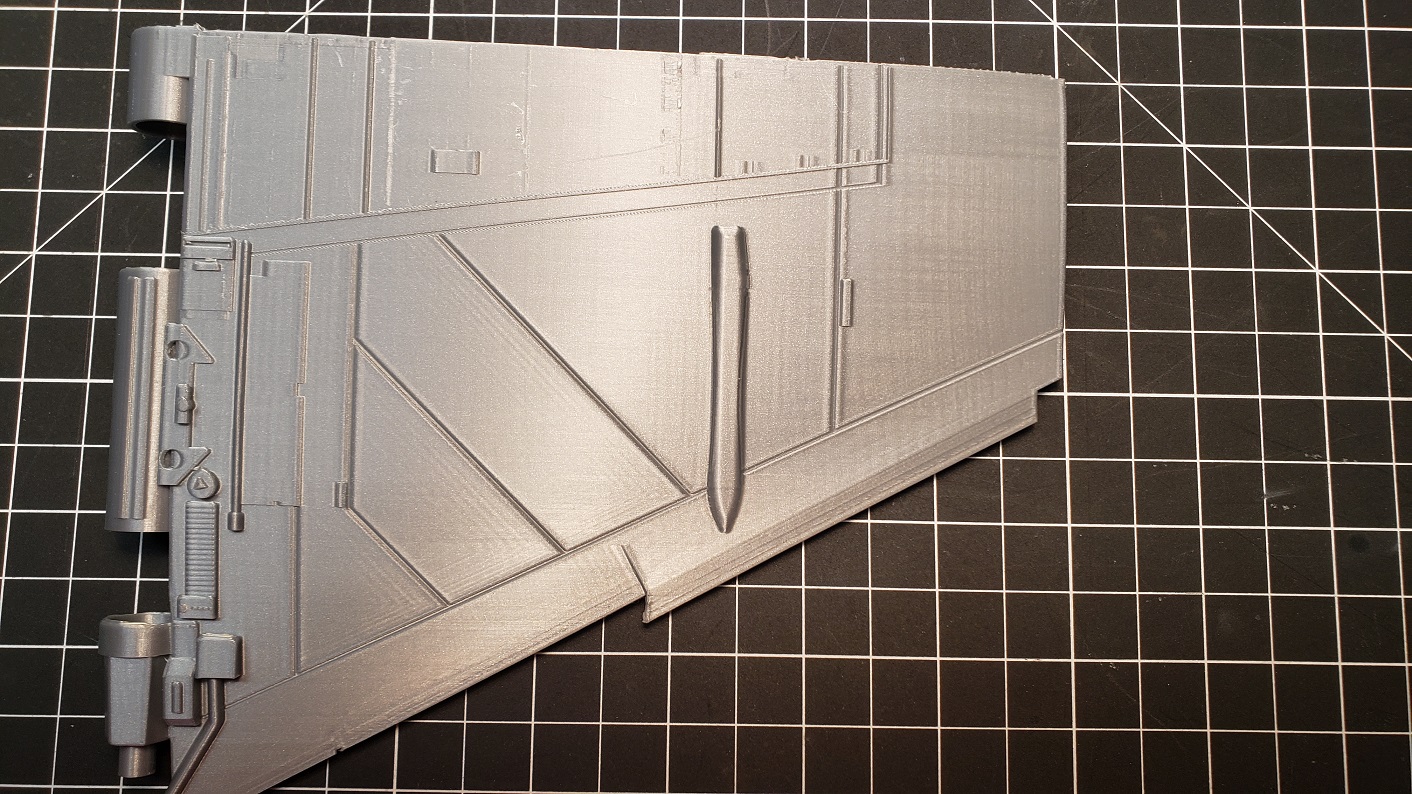 Here are some of the primers I plan to test, except the AK Fine Resin Primer, I do not like how it goes down. I also saw/received a tip from another member's build about the adhesion promoter so I am taking this opportunity to give it a test.
Step 1:
Sand with 220 grit sandpaper. This should be a very light sanding, I did not spend any more than about 3 minutes on both wings. I like to use these wipes after I am done sanding to clean everything up.
Step 2
: Mix the resin 50/50 and stir very well. If the ratios are off it will not cure correctly.
Step 3:
Apply the resin. I use the acid brush to get the resin on, you do not have to get crazy with it, you want a very light coat.
Step 4:
Level the item. This is critical, the resin is self-leveling which means you really need to ensure your part is as level as possible.
Step 5:
Use the softer brush to smooth everything out. You want to keep an eye out for any areas where it pools. If you have any pooling you simply wipe off the softer brush and go back over the part. As stated earlier, you have a lot of working time so keep an eye on it and go back over any parts that do not look level. You want to use a very soft touch with the finishing brush, you are trying to smooth out all your brush strokes.
Watch for pooling!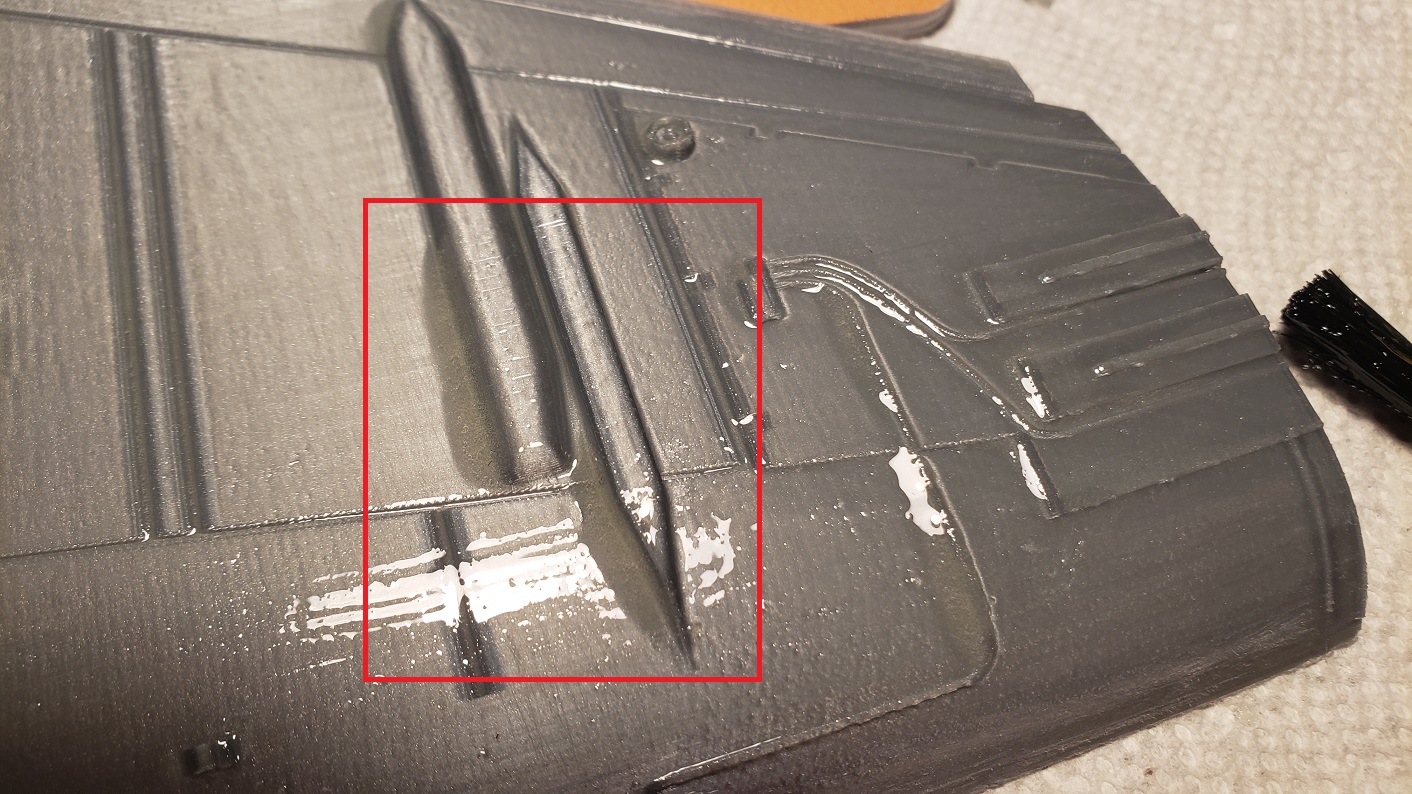 Step 6:
Enjoy your lack of print lines! You can of course still see them, the resin is clear, but trust me you can not feel them, they are gone. You can stop here and for many of my projects, I do just that. However, if you want to get it perfect then you need to continue on with a bit more work.
Below is an example of applying a primer coat at this point with no further work, it's very smooth! The very left part of the wing has been coated with the finishing resin.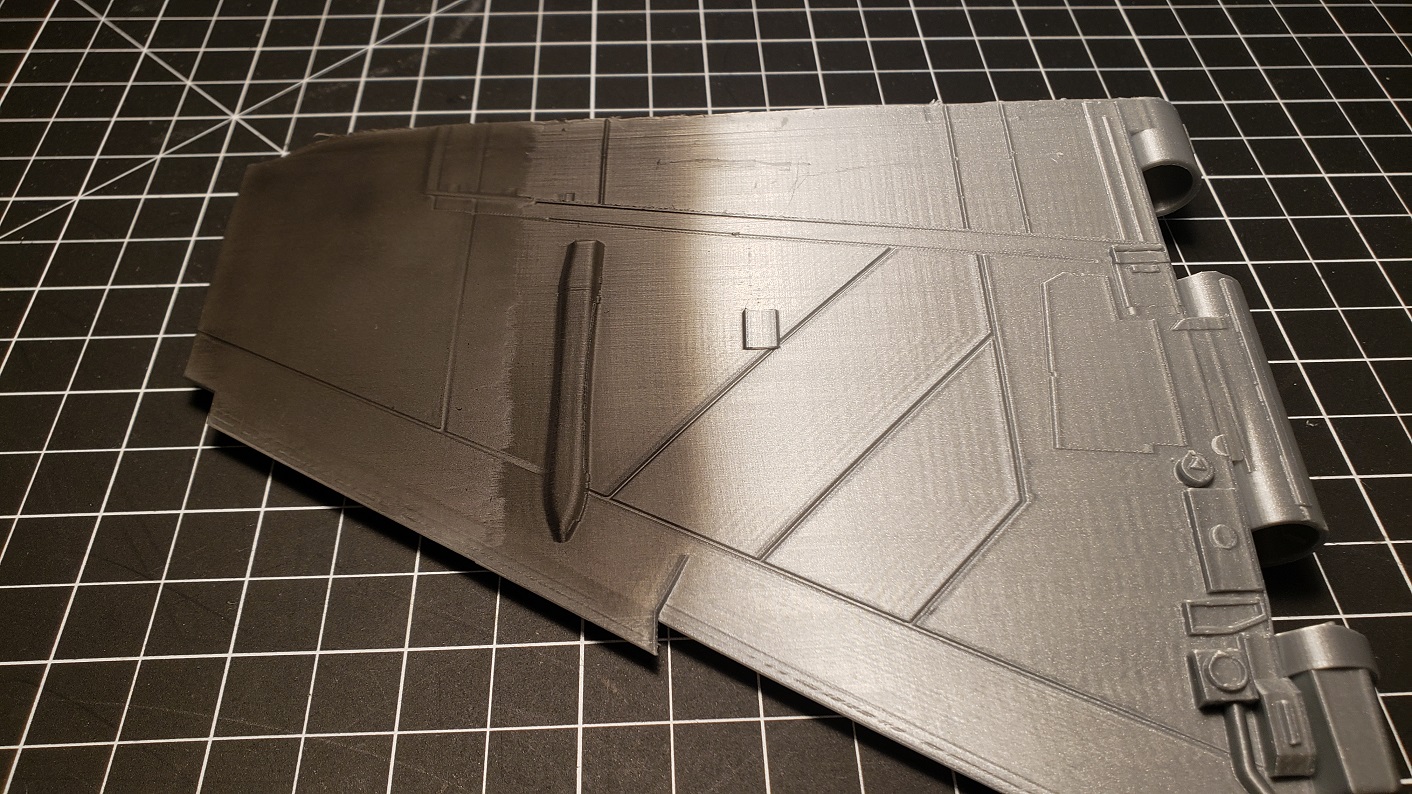 Step 7
: If you are looking to get it even smoother then you are going to need to do a bit of sanding, but not much.
I start with 400 grit and sand the resin part down a bit just to ensure it's all level. The detailed parts have already been filled in so there is no need to give them any further attention.
I will finish both sides the same, one side has resin and the other just gets a light sanding. Make sure you utilize wet sandpaper! Wet sanding is better in every way when compared to normal sandpaper. It does not create any dust, you can rinse the sandpaper so it lasts longer and does not get clogged and it just gives you a MUCH better finish. It's how cars get that mirror-like finish on them.
Step 8
: Apply your primer of choice, two very light coats.
Step 9
: After the primer fully cures, wet sand with 800 grit sandpaper, here you can see the two sides, it pretty easy to pick out the side where the resin was applied. You only need to sand for a few minutes max, it should not take much time at all.
No resin, print lines really stand out after you prime and sand:
Resin:
Step 10:
Apply a final coat of primer.
Final coat, no resin:
Final coat with Resin:
I will add some final pictures here after the primer has fully cured. I will also post a picture of the side I did with filler primer. I may paint these 'chrome' just to show how smooth the finish is if it turns out good
Hope this helps someone out there, and please post your favorite methods for finishing 3D Prints!
- Eric
Last edited: