Hey all,
I have been at work all month on a human hunter after being really inspired by the She Predator figure. I got bit by the bug, and really very quickly started to get inspired by the idea of making my own costume based on that and other ideas.
I will post my progress photos tomorrow, but here is what I have so far:
Myself and celtic yautja: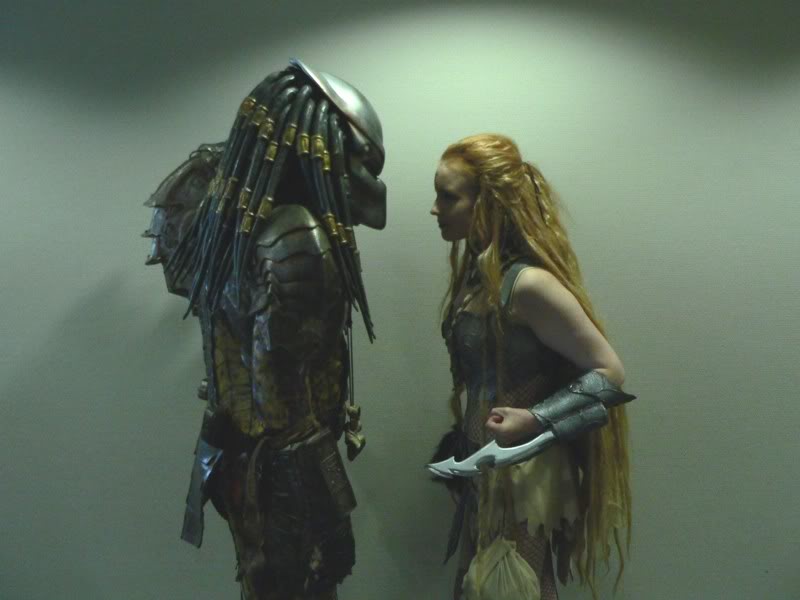 A quick rundown:
Wig:
four 40" wigs rewefted to one cap and dreaded. My own hairline incorporated while wearing it. Colour shaded near hairline to better match my own. Acrylic paint dye (not ink)
"Blooded Hunter" scar:
clear silicon coloured with oil paint shaped by brush over plastic glued with pros aide (love it!)
Neck seal:
silicon over stretch netting, invizible zip up the back with a long tag that tucks into my costume.
Necklace:
fishbones, hand made teeth (DAS colour, aged with paint) and random wooden bones.
Bikini set:
faux suede, double layer bra (wire and foam shape from a cut down bra, otherwise patterned by me) self lined knickers with modesty manels subtley aged (a bit paler than intended) with paint as per wig (same time actually)
Armour:
All made from snake textured heavy leather (seconds so the enire lot of two hides was under $30) patterned entirely by me in paper then card and finally rivetted together, metal eyelets hammered in, textured with hot glue and finally painted with acrylic spray.
Shoes:
sole and wedge from a pair of $3 shoes from our favourite cheap shoe place here in NZ and new insoles and entirely rebuilt heel and toes (same heavy leather) nailed and glued to make sandles. They even buckle to fasten. Also textured and painted to match.

Wrist blades:
sintra/forex/foamcore laminated together cut, whittled and sanded to shape. Painted in acrylic, sanded back and repainted. Enamel is easy to apply, but the acrylic just is so much more flexible.
Housing is made from a cut down silicon caulking tube (I am recycling from my Witchblade costume making) and heated to reshape and notched to fasten through slits in the vambrace. Leather glued and textured to match.
Shuriken:
three layers of forex/foamboard laminated and shaped, epoxy putty used to created raised details. I'd rather have used more foam board but I was getting to the OMG ow stage.
So everything that is in the photo was made by me, this last month. Except the shelled belt, but I made all the trophies hanging off it and did destress it with paint
You will have to forgive a lack of photos. Most turned out grainy and I am not posing as much as I'd like to be in them. But then I was in so much pain, and still am. In fact under doctor's orders to not do any hand work for a month, and that was from last Thursday
He would not really be too pleased with me going to a convention and standing around all day for three days...
I have my bio partially sculpted and the backpack half made. My cannon is yet to be even partially made into reality from my design sketch, but that's for later