Am I really doing another build right now? I think I am....I'm pretty sure I'm nuts as I have so many things going on at the moment. But that aside, I want to do the Halloween contest this year on the RPF and I know they want build threads so I figure I should go ahead and start this. Also it tends to force me to actually take my time with my costumes and not just throw them together last minute and yell surprise hahahaha!
So now that we have a daughter I've been thinking of family costumes. And well....my husband is tired of wearing costumes that require women shoes, crazy hair and intense makeup. For those not in the know he has been Sweeney Todd, Prince Nuada from Hellboy II, Mad Hatter from Tim Burtons Alice, Caster from Tron and Rumpelstiltskin from Once Upon A Time. All pretty intense costumes. So I PROMISED him no more extreme costume like those for this year.
Which is why I'm making him Lestat.
Now I know there are some out there going "Doesn't Lestat have long crazy hair?", "Doesn't he have makeup and fangs?", "Isn't he from a time period where the men pretty much wore what we now a days think of as women's shoes?".
What I have to say to those folks is that you are CLLLEEARRRLLY missing the point here. My husband is constantly mistaken for some kind of weird Tom Cruise look alike and that obviously means he has to be Lestat. Since I have deemed it so then it must be done. I'll make him Luke Skywalker next year or something.
Lestat Lounging and my Husband pretending to be Lestat pretending to be Rumpelstiltskin lounging. You see the connection? Of course you do, how could you not.

(believe it or not, loads of people have said "is that Tom Cruise dressed as Rumple?".....I dunno.)
So here are the costumes that I want to do:
For Claudia...well my daughter will be almost 1 and she is walking which helps lol. I wanted to do this when she was older but I'll just remake her a gown. For now I'm going to do one of the simpler dresses she wears that's more baby friendly. I also wanted to do one with a bonnet or make a bonnet to go with the dress so that I can attach some loose curls to the bonnet. She's to young to be wearing a wig but when she wears the bonnet for a short time I'll make it look like she has those long blond curls and then when the bonnet is off nothing is bothering her like a wig would.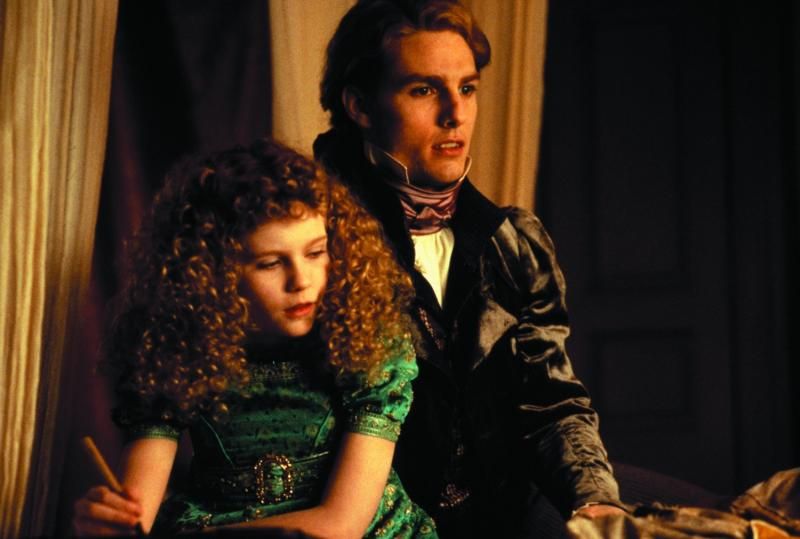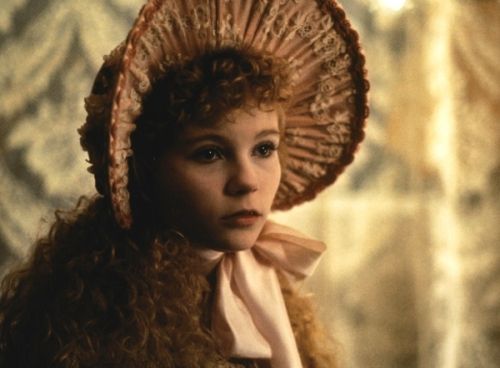 Now if anyone is asking "Who's going to be Louis?" the answer is me. Yeah I'm a girl. Pfffft. And I'm not going to be doing a "fem Louis". I'm going all out on this one guys. I'm growing out my eyebrows to bushy glory and I'm getting a wig that I can punch some sideburns into. While I look nothing like Brad Pitt it's still going to be magnificent. I promise.
So things I'm running across in my initial search is that 1) That blue velvet jacket has to be embroidered and I have no clue how to do that. I have a machine here that I'm borrowing from a friend but it has no program in it and I have to either download or buy the program for it. Even so, once I do that I don't know how to actually operate it. This will be major hurdle number 1 for sure. 2) Louis' costume is pretty straight forward except for that stupid vest material. It's clearly a rust and gold brocade but my issue is that the pattern is very unique. For the love of God he has Phoenix on his chest!! Some nice little fabric homage to Vampire rebirth right there I'm thinking. I've been looking but have yet to come up with anything like that. But I have found somewhat decent alternatives. But man I was really hoping for that bird to be on there.
I need to get the blu ray of this movie so I can get some high quality screen caps of the specific costumes I'm doing. But if anyone has any please post them here as I haven't gotten that far yet clearly! Also if anyone has any tips or tricks on what I should do for the embroidery please let me know. If I start on this now, slowly, I should be able to have it done by Halloween.
Oh and Vampire fangs. If anyone knows of some good places for Vampire fangs I'll take that info too. I have some research on most likely where I'll get them but I always love hearing personal experiences with stuff like that.
I'll start posting when I order fabric or if I need help choosing fabric that I'm looking at soon!
Most of my other posts shouldn't be this long............which is total BS as if you read any of my other threads they're all this long. Whatever, we need more literature in our life.
Last edited: