Master Member
RPF PREMIUM MEMBER
I had the opportunity a few weeks ago to see EFNY in a theater and decided I need more Snake Plissken in my life.
Life Clock One: on my wrist (damn the thing is heavy)
Mac 10 airsoft: ordered
Vintage Sub War game: found and bought
Eye patch: err... maybe I'll skip that one for now.
As mentioned, I've bought a vintage Sub War game and will be using that for my build. I've been talking a bit with my programmer buddy about what can be done with it, but if I go that route, I'll have to do this as a kit to divide up the costs because I can't justify engaging him for two weeks of work just for one unit! (If I do kits, I'll use my original game for measurements and to digitally scan, to make it absolutely accurate.)
Here's a quick mockup I did, that would be finished and refined in the event of a run.
The bracelet is a harder one to tackle. Rylo will not
ever
be revisiting his version (I asked) so this weekend I got out the old hand tools and started tinkering. The difficult part, when you don't have a mill, is the copper 'box' containing the spring/trigger mechanism. I've got a working idea of how I can do it, using copper sheeting and a3d printed 'base' to sculpt around.
Here's a quick test I did using both 0.5mm sheet and copper tape. Both are viable, but I think the sheet will be easier. I'm a bit undecided as to whether I should make it a perfect square or a rectangle. Fan versions I've seen have been symmetrical, but I wonder if the screen used isn't slightly wider than tall.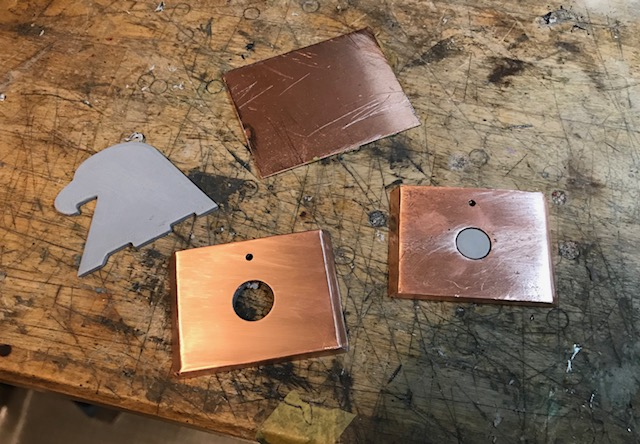 The bass eagle and copper arm band will be made out of 2-3mm sheeting. Trying to locate a small supply right now, but in this day and age, buying small quantities of metal is nigh-impossible. I'll dremel out the eagle by hand, unless I decide to do more (which I might have to due to the cost of metal) in which case I'd look into having the eagle laser or water cut.
More posts coming as I make progress. (I'll include the Mac 10 here too, since I will be modeling the scope mount and possible the scope, as well was modding the silencer!)