I was very impressed with Scott Marshall's resin Elder Predator so I contacted him about possibly doing another for me.
I have to say that it's been nothing short of a pleasure working with Scott. He's very accomodating to requests and has been in constant communication with me throughout the entire project. He's a very talented and friendly individual and I'm very happy to have made his acquaintance.
For now he's only working on the bust but I'm hoping to eventually get one of his torso's to compliment this display ... and who knows, maybe he'll do legs and I'll have a complete figure!
Here are the first set of progress pics that Scott sent to me. You'll see that he's begun working on the skin pattern and has also started working on the inner mouth: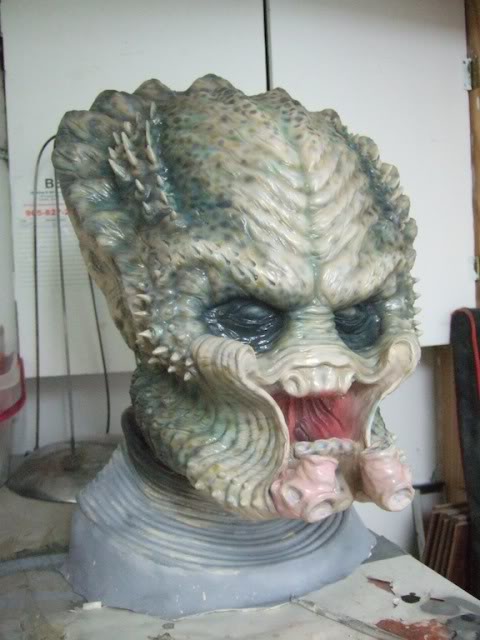 The eyes were completed for the next set of progress pics. You'll also notice that he has fleshed out and veined the inner mouth:
I asked Scott if he could throw a hint of reddish/pink along the center line of the crown - he obliged and sent the following shots:
I received these pictures today - he's begun installing the teeth. I love the cracked tusk and the smaller side tooth that juts out to the side in the last pic: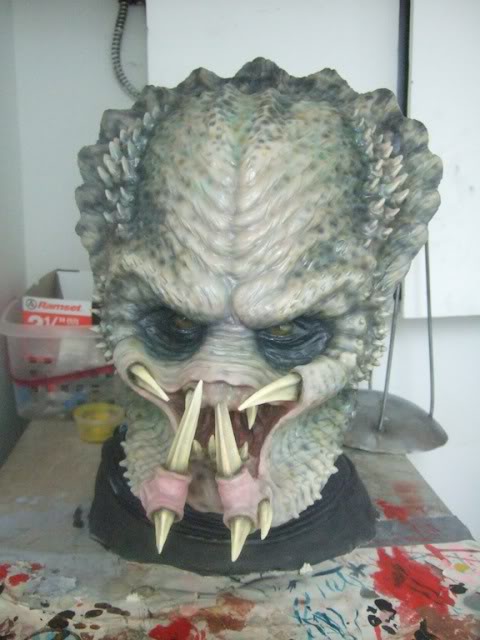 I really can't wait to see the next batch of pics. I love the fact that he's been so accomodating with pictures and tries to incorporate all of my ideas. I asked that he trick out the dredds with extra beads so I'm really looking forward to that part of the project when he gets to it.
Hope you guys like this little walk-through on the project. I can post more pics on Scott's behalf if you guys are interested.
-Si