I have 3 spots on my current run for my E11 resin and metal kits. You can pick the ANH, ESB or ESB promo style blaster kits.
I am currently casting this run and the wait time from payment until shipping is approximately 2 weeks.
These kits were cast from an authentic deactivated sterling parts set, an M38 Scope, and a Hengstler Counter.
The detail on these is really sharp and it's all cast in Black Onyx Resin, so when the paint weathers unintentionally you don't end up with nasty cream colored resin under. Then you can just dry brush on some silver if you like to make it look like real weathering.
Some modifications have been made to the clip housing as shown in the photos below to add some details in the lettering, but it's not really seen since it will be under the power cylinders.
All the holes on the pipe and all of the screws required to mount the parts onto the pipe are included! There are some parts that need to be glued onto the pipe, so you will need to provide your own glue to attach the parts. Superglue, CA glue, 2 part epoxy, all of these heavy duty multipurpose glues will work.
The parts shown have been cleaned up, sanded and are ready for paint,
the parts in the kits will need additional cleanup and light sanding before they are ready for paint
. You can do all of this with your basic multitool and 140+ grit sandpaper.
Here are a few photos of a kit that I finished.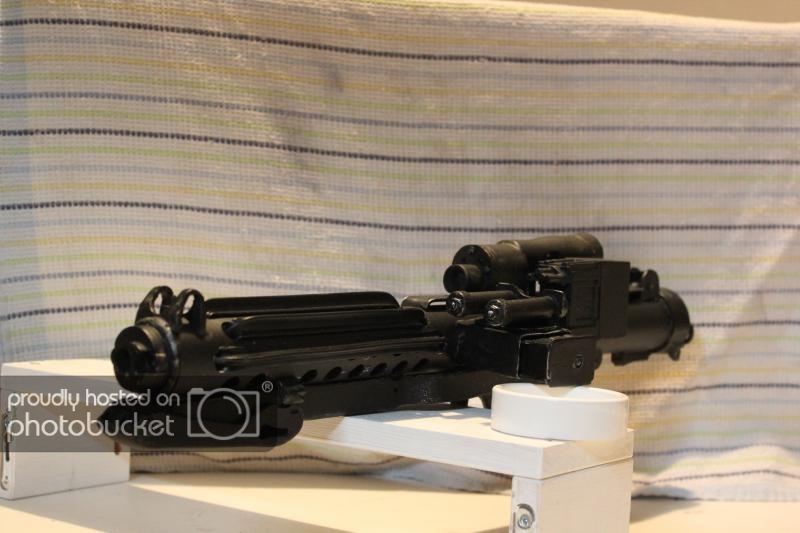 Parts are in Germany and I will ship worldwide,
Shipping to..
Worldwide: $23 ($50 tracked, insured, masking sleeve for the drilled tube)
Germany: $6 ($14 tracked, insured, masking sleeve for the drilled tube)
Europe: $13 ($25 tracked, insured, masking sleeve for the drilled tube)
Pricing:
ANH/ESB Promo kit with 38OD CNC machined Aluminium pipe and all screws to attach parts: $185
ESB Standard kit with 38OD CNC machined Aluminium pipe and all screws to attach parts: $175
Don't want T-Tracks included? Subtract $15
Last edited by a moderator: