I posted quite a bit in the Jaws thread about how I think the A clapperboard coming up for auction at HA is fake. I've been looking at other items in that auction, and I also have serious doubts about the Godfather clapperboard. I feel like there may be a bad apple forging items.
This is the photo from the HA auction:
World's Largest Collectibles Auctioneer
This is the photo from a Julien's auction when a Godfather frame sold back in June 2008: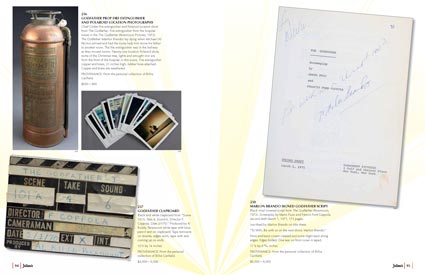 As reported in past articles, Julien's held their "Entertainment Sale Hollywood Memorabilia" auction at Planet Hollywood in Las Vegas on June 21 (LINK). One of the items featured…
www.originalprop.com
Of note, there are concerns about the authenticity of the clapperboard that sold back in 2008. Interestingly, the issues mentioned in that article are "fixed" in this board. The article above has the following direct quotes:
- " It is also an unusual coincidence that the cinematographer on the clapperboard does not read Gordon Willis but appears to show "T PRIESTL", with Tom Priestley Jr. being the credited as Camera Operator on a film that Mr. Canfield shows credits on as a set decorator."
- "One of the items featured prominently in their marketing raised some questions on the Movie Prop Forum, with Rick Spector of Stairway to the Stars questioning the date on the clapboard (or clapperboard) attributed to use in The Godfather, as well as the "I" in the film title."
Interestingly, all of these issues are fixed on this clapperboard! However, the handwriting between the two boards seems almost the same.
Also, how come both boards are both Scene 101 "A" and Take "4", yet the boards are both different styles.
It's not as obvious as in the Jaws clapperboard, but the damage in some of the letters seems to match up. Again, how can two completely different clapperboards have damage in the same locations?
I've posted a photo of the two clapperboards overlapped. Feel free to judge for yourself, but there are a LOT of red flags here. I am again very highly suspicious that this is fake. This makes me question other items in that auction now too.
Last edited: