Sr Member
RPF PREMIUM MEMBER
If you are lucky enough to own one of
Trooper_trent
's amazing
Floating Jedi Training Remotes
, then you know that it deserves some protection. After all it is not easy to dust off a spinning ball. The slightest bump can send the remote crashing into the base.
Why put a spherical device into a square plastic box? Instead put it under a cool sci-fi looking solid glass dome instead!
-----------------------
About the stand:
I have worked hard on the design of this stand. I 3D modeled the entire thing and then prototyped four times. All with the goal of making it easy for you folks to put together. The base is made from thin layers of plywood and is very solid. I used screw-on rubber feet so they will never fall off or creep away. An internal lip ensures the glass won't fall off without requiring the base to be wider than the glass. The tapered design helps keep the base hidden and enhances the display of the remote. The included brushed aluminum label is permanently laser etched, and has a cool silver/black Star Wars look. The base has vents to allow heat to escape from the electronics. A special cutout on one side allows the cord to connect to the base.
-----------------------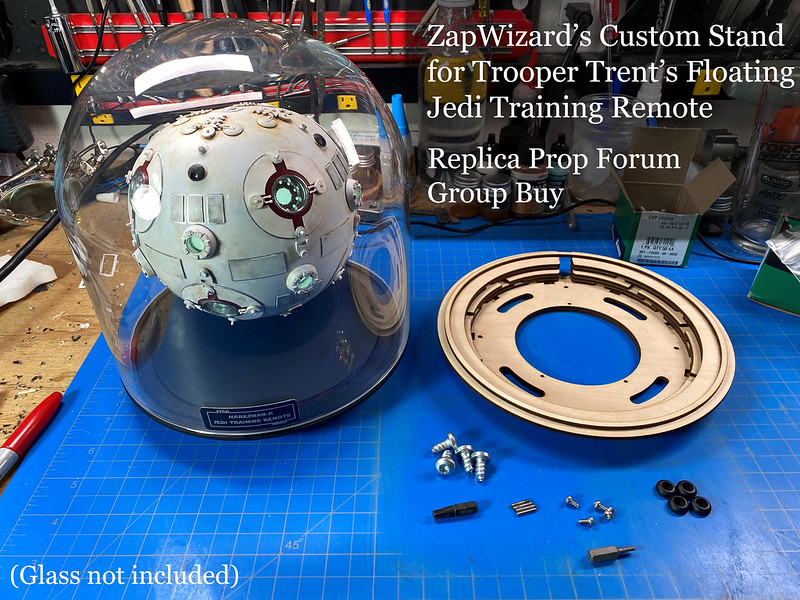 Fourth run of 15 units open!
Notes on the 4th run:
Available only as a do it yourself kit. See the video above for instructions.
I won't be producing the run, or collecting payment until all the slots are filled.
No need to pre-pay. Payment will be requested once all 15 slots are filled.
How much does it cost (US shipping included):


$40 for a unassembled kit



Items you need to source yourself:
Glass display dome cloche (again this it not included with the kit!)

The glass dome normally costs $46 to $49 on Amazon. Order the 8x8 dome, without the base. Amazon P/N: B006XIQILS
The glass domes are hand-blown glass. I have ordered three of them so far. All of them were of great quality. The only variance was the position of the thicker portion of glass at the top of the dome, and a few micro-bubbles. The glass is 1/8" (3.2mm) thick.

Trooper Trent's Jedi Training Remote and magnetic base
Shipping cost if outside the U.S. (See later in thread)
Super-glue. I recommend using Gorilla Brand Super Glue. The bottle has a blue cap.
Spray Paint. I recommend using a flat black paint.
What you are getting from me:
1 bag of laser cut plywood wood parts. Each part is numbered to ease with organizing them for assembly.
4 Self-tapping screws to hold the magnetic base to the stand.
4 Rubber feet with screws to ensure the feet never fall off.
Torx bits for attaching the screws.
Binder clips to help with gluing the large ring.
4 steel alignment pins to aid assembly.
Shipping via USPS flat rate medium box inside the U.S. (See shipping details below).
Sorry, The labels are no longer an option as it requires a minimum run of 150 parts.
Dimensions:
If placing the remote on a shelf ensure you have enough space overhead to remove the glass. As Trooper_trent recommends: Powering the remote on an uninterruptible power supply (UPS) is a good idea.
Diameter: 8 inches (20.3cm)
Height including glass: 9 inches (23cm)
Minimum height required to remove the glass. This requires tilting the glass while lifting: 12 inches (30.5cm)
Minimum height require to remove glass straight up: 16 inches (40.6cm)
-----------------------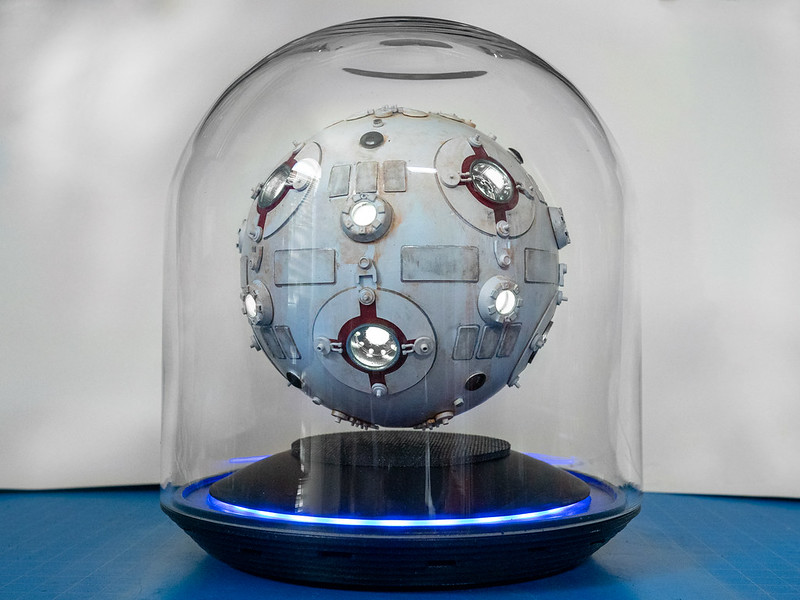 Shipping:
I will be shipping these via a USPS flat rate (medium box). If you are outside the US; I will calculate actual shipping cost via either USPS or UPS. I don't control these costs so please take that into account when ordering. Note: I won't fudge any customs paperwork on your behalf. The box will ship from 78620, Texas, USA. You should be able to estimate your costs based on that information and the flat rate box size. If you are outside the USA: Please PM me with your shipping address so I can calculate the shipping cost. If you order more than one kit: Subtract $13.80 from your total, as I can ship multiple units in the same box.
Payment and time frame:
Payment will be accepted via
Paypal
. Please list as "goods and services" on Paypal. This gives me your address, as well as allowing me to send you a tracking number for the shipment. Please mention your RPF handle as comment. No payment needed until all twelve slots are filled.
----------------------
Signups:
First run:
#1 Trooper_trent. -Label 4, You get the one I built in the video for free!. Thanks for making this awesome prop design!
#2 & #3 2x
PhantomPickle
-Paid, Labels 2 & 4, Shipped
#4 & #5 2x
the Pawn
-Paid, Labels 2 & 4, Shipped
#6 1x
Mpops89[/USER -Paid, Label 2, Shipped
#7 1x VicForce -Paid, Label 2, Shipped
#8 1x [USER=158397]Saranac
- Paid, Label 2, Shipped
#9 1x JediJohn182, Label 1 -Paid, Shipped
#10 1x Studio Kitbash, Label 2 _Paid, Shipped
#11 & #12
Airasys
, 1 Pre-assembled, 1 Kit. Labels 2 & 4 -Paid, Shipped
#13
enaswede
, Label 3 -Paid, Shipped
#14
ventuoguy
- Paid (need to know what label), Shipped
#15
Pfockerchief
Paid -Label 2, Shipped
#17 therooster - Paid, Label 4 (sorry labels were already etched), Shipped
#17 fonzie22 - Paid, Label 4, Shipped
#18 mrwax - Paid, Label 4, Shipped
#19 eanwood - Paid, Label 4, Shipped
#20 markpoon - Paid, Label 4, Shipped
#21 Punisher96 - Paid, Label 4, Shipped
Second run of ten units
#22 jamiemp -Paid, Shipped
#23 shull24 -Paid, Shipped
#24 kitjunky -Paid, Shipped
#25 jedimax -Paid, Shipped
#26 DarthWilder, Paid, Shipped
#27 SloppyGhost, Paid, Shipped
#28 NoSloppy, Paid, Shipped
#29 uglyguitarguy, Paid, Shipped
#30 goldcylon, Paid, Shipped
#31 Leonidas280, Paid, Shipped
#32 pnag, Paid, Shipped
Third run of twelve units
#33 djcbooks81 -Paid, Shipped
#34 djcbooks81 -Paid, Shipped
#35 FLOORINGJEDI -Paid, Shipped
#36 shenphong -Paid, Shipped
#37 enterprise0216 -Paid, Shipped
#38 MarcoCazares -Paid, Shipped
#39 kjkelley -Paid, Shipped
#40 CalamitysChild -Paid, Shipped
#41 sjensen -Paid, Shipped
#42 Bookman -Paid, Shipped
#43 veetee58 -Paid, Shipped
#44 gadgethayes -Paid, Shipped
Interested in a fourth run of fifteen units.
(Do it yourself kits only)
#45 GCardenas -Paid, Shipped
#46 MacCyber -Paid, Shipped
#47 Argon52 -Paid, Shipped
#48 ecojedi83 -Paid, Shipped
#49 wesley -Paid, Shipped
#50 shaggy13 -Paid, Shipped
#51 Dekard -Paid, Shipped
#52 & #53 Zaph -Paid, Shipped
#54 markoram -Paid, Shipped
#55 djedi -Paid, Shipped
#56 juvatwad -Paid, Shipped
#57 chalback -Paid, Shipped
#58 glottis -Paid, Shipped
#59 Helixios -Paid, Shipped
#60 Jediwannabe, - Paid, Shipped
Last edited: