Hi, I've been looking at the Field Marshal DH-17 Blaster and I thought about how I could mix and match pieces from his various kits to make a pretty accurate replica of the blaster as it appeared in The Empire Strikes Back and fortunately thanks to his extensive array of blaster kits several of the greeblies and such are accounted for, however there are a few that aren't available there and I haven't been able to fully identify which is why I'm asking for help.
Thank you to Darth Lars who posted many good photos of the props many years ago, I've used some to show the parts I'm looking for, I hope you don't mind.
First greeblies are the 5 round parts, they look a bit like regular metal bolts.
Next is this thingy, there is one on each side of the Blaster, I think I've seen this one on other props before but I cant quite place it.

Next up is this part, I believe it may be the same part on the back of the blaster but it looks slightly larger, this may simply be due to perspective though.
Next is this, its a relatively simple piece, looks like it shouldn't be too hard to replicate if it cant be found.
Lastly for now are the Scope Mounts, they are fixed to blocks which are attached to the rod below it, similar ones are still available but I can't find the exact type used on this one if they are still available, the ones online mostly have angled topes while the ones on the prop have round tops.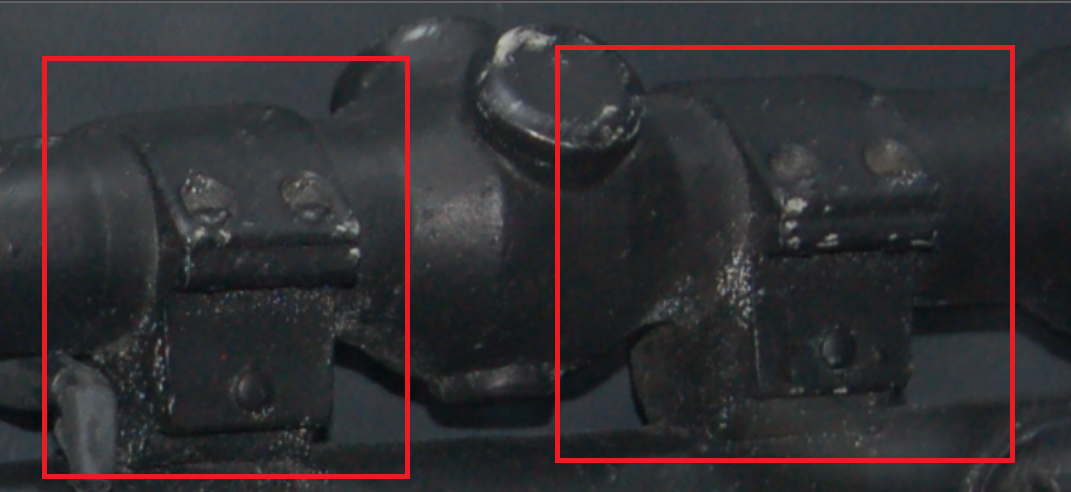 Any help would be appreciated.