In between the SciFi milestones "2001: A Space Odyssey" (1968) and "Star Wars" (1977), was the often overlooked gem: "Silent Running" (1972). Directed by Douglas Trumbull (who worked on the special effects for Kubrick's "2001: A Space Odyssey" and later for those on "Star Trek: The Motion Picture"), it introduced the SciFi world to the three iconic drones: Drone #01 (Dewey), Drone #02 (Huey), and Drone #03 (Louie).
After a long time, recently I watched "Silent Running" again, and decided that Dewey would make a nice companion for my home. And, of course, I want one in real life size. However, although they don't look too big, it turns out that these drones are not that small either. So, I decided to build it in 2/3rd of the original size. This is still large enough to make it feel "life-size" while it occupies significantly less space.
As usual, when planning a new built, I checking for resources and previous work. And I found this wonderful article on how they made the original drones:
1971 - "Silent Running" Drones - Doug Trumbull, Don Trumbull, Paul Kraus & James Dow (American) - cyberneticzoo.com
Then, there are also plenty of previous builts. I found quite a lot here at therpf.com:
... and some on other webpages
Here is a video of a built with a beautiful construction of Dewey's arm :
Finally, I found the page
Silent Running Drone Info
which has the dimensions. I used this as a starting point, scaled these by a factor 0.66, and rounded them to nice fractions.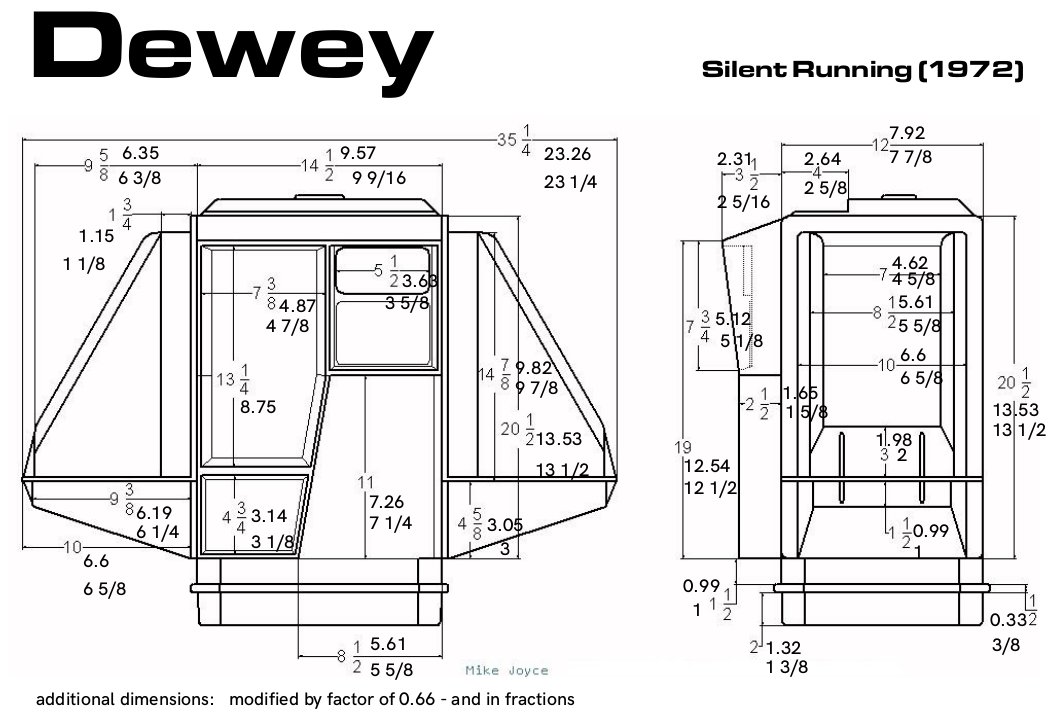 Based on this, the total size of my Dewey will be approximately 23 1/4" (w) 19" (h) 11 1/2 (d).
I will build Dewey from 3/16" plywood cut with a laser cutter. Only a handful of pieces will be cut by hand. I still have no idea how to build the arm, and I will leave that for later.
The next step was to create the files for the laser cutter. Here are two examples, one for the center piece of the body,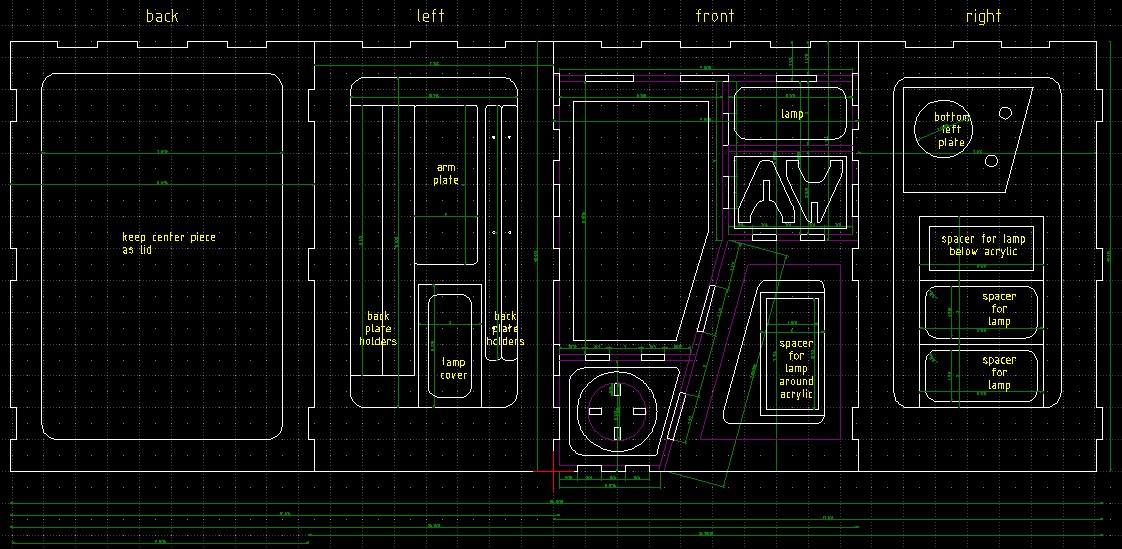 and one for Dewey's right side.
Further details are also posted on my build blog:
-
Part I: Getting Started
-
Part II: Main Body and Sides
-
Part III: Adding Details
-
Part IV: Legs and Feet and Toes
-
Part V: Painting and Assembly
-
Part VI: Arm and Electronics
Last edited: