I've started on a new costume project for 2012. Adam Jensen from Deus Ex and his Augmented Arms.
Thought I'd share a bit of the development progress and process.
Game Reference: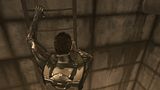 Starting with the game model I'm in the process of preping all the content. I'm planning to sew most the elements above the elbow. Looking into using carbon fiber look vinyl, with batting or foam stiched into it.
The forearm is going to 3D printed after the model cleaned up and sculpted.
I'm planning on having the little pucks light up red. I can't tell if they glow in the game or not but I though this would be cool.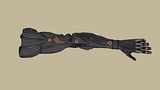 Splitting the arm into multiple pieces...
The arm is really sculpted in the game by the Normal Map. With out resculpting the game model looks flat and boring...
So First step. Rebuild the topology of the model from triangles to quads. there is no easy button for this, needs to be done manually to rationalize good edge flow and eliminate as many triangle polys as possible.
From there I'm taking the Quad elements, sculpting them with Mudbox.
Bring the sculpted parts back into 3ds max and use the shell modifier to shell them to create the .stl parts.