[originally started mid 2018, finished during covid lockdown circa may 2020, and recently posted on the RPF facebook page]
regarding this project, I had that fun quote from Monthy Python "Holy Grail" :
- "Camelot !!!! "
- "it's only a model"
www.youtube.com/watch?v=m3dZl3yfGpc
("it's only a model" applies to a lot of things in my house, as we have small estate, little room and "smaller versions of everything compared to the USA". I tend to laugh about it)
To access the home cinema room, I've always wanted to "announce" the topic a bit. In the first stage of renovation of the house, I had a Amelie Poulain poster, a clap and a few painted items but it didn't feel that good. The aggravating part was the stairs themselves, it was just painted concrete and didn't look good, took dust and all. I only improved the walls with glass fiber mat (aka the quick and dirty way to give a clean pass to any doctor's office in France, works in hospital too and is the demonstration of Pascal's second theorem, paint coats on crap = clean).
In parallel with the pool project (and bathroom of war II) I first started by tiling the stair case, that took a while, started at the same time as the pool in april (this year 2018) and ended mid may (ish). I calculated that with the terrace included I have tiled about 245 m2 in the house and people tend to think I like it like self flogging. I don't ! I got better at it over time but each time I have to, I feel the large amount of time consumed :laser: and it's hard to deal with when you want to do more interesting stuff, like your saber sound board next gen...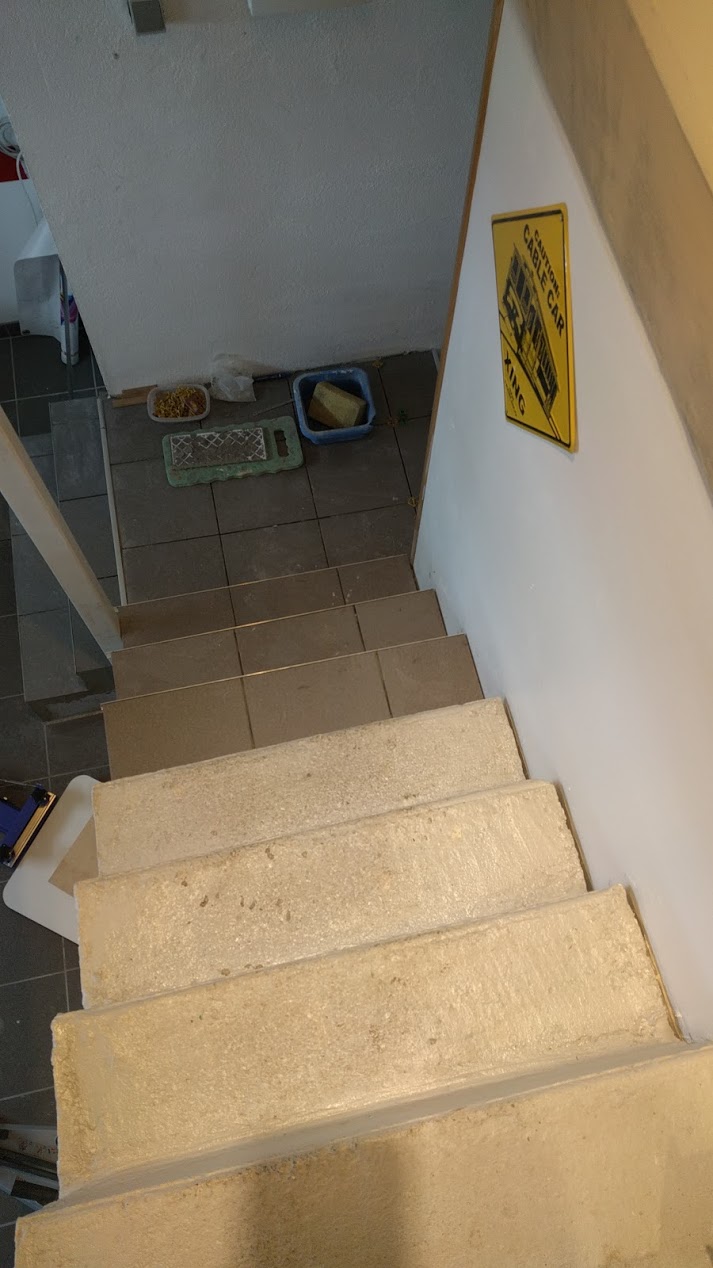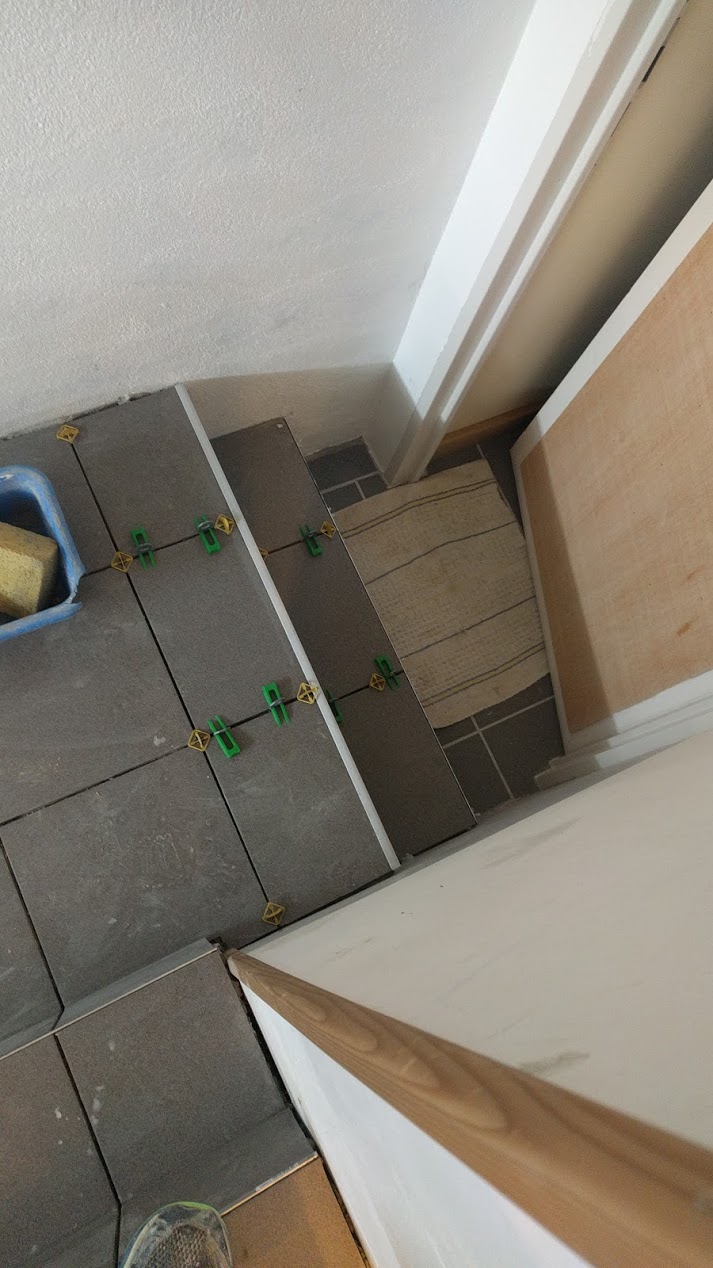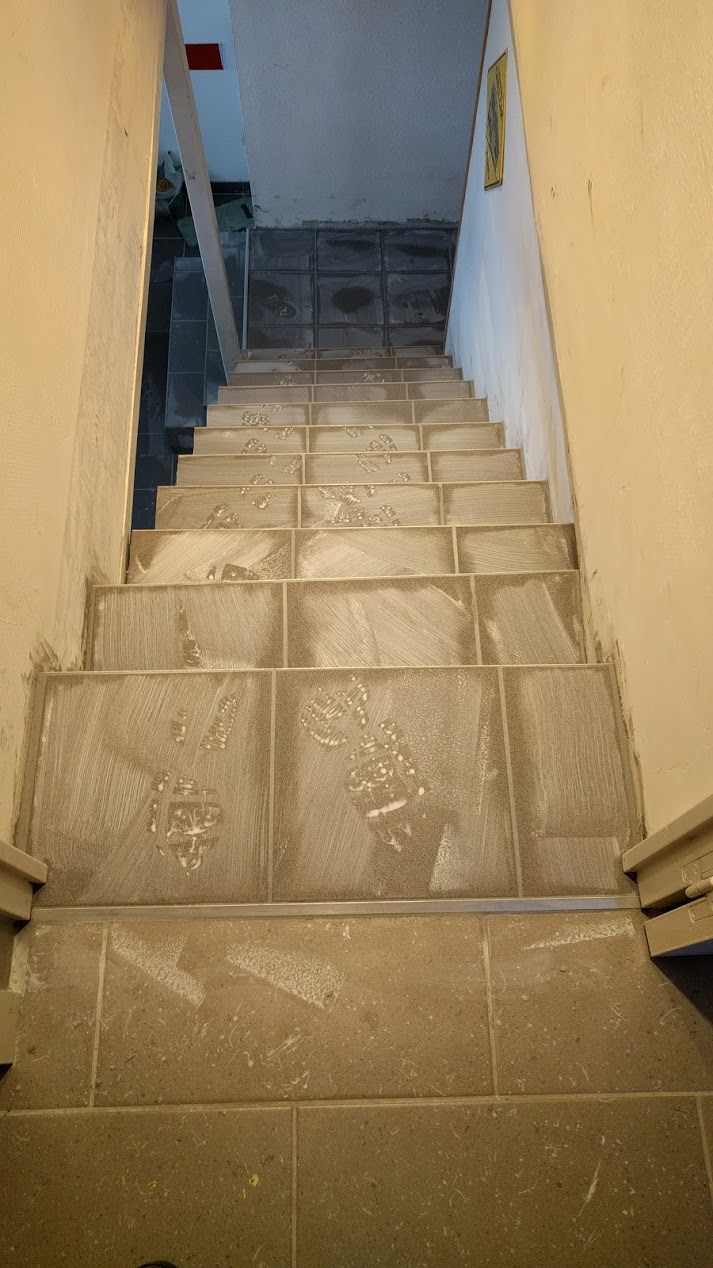 I finally got there after 4 weeks of works (not full time, obviously, even if I'm a slow guy). I think I started in late april and finished just for my birthday in early june.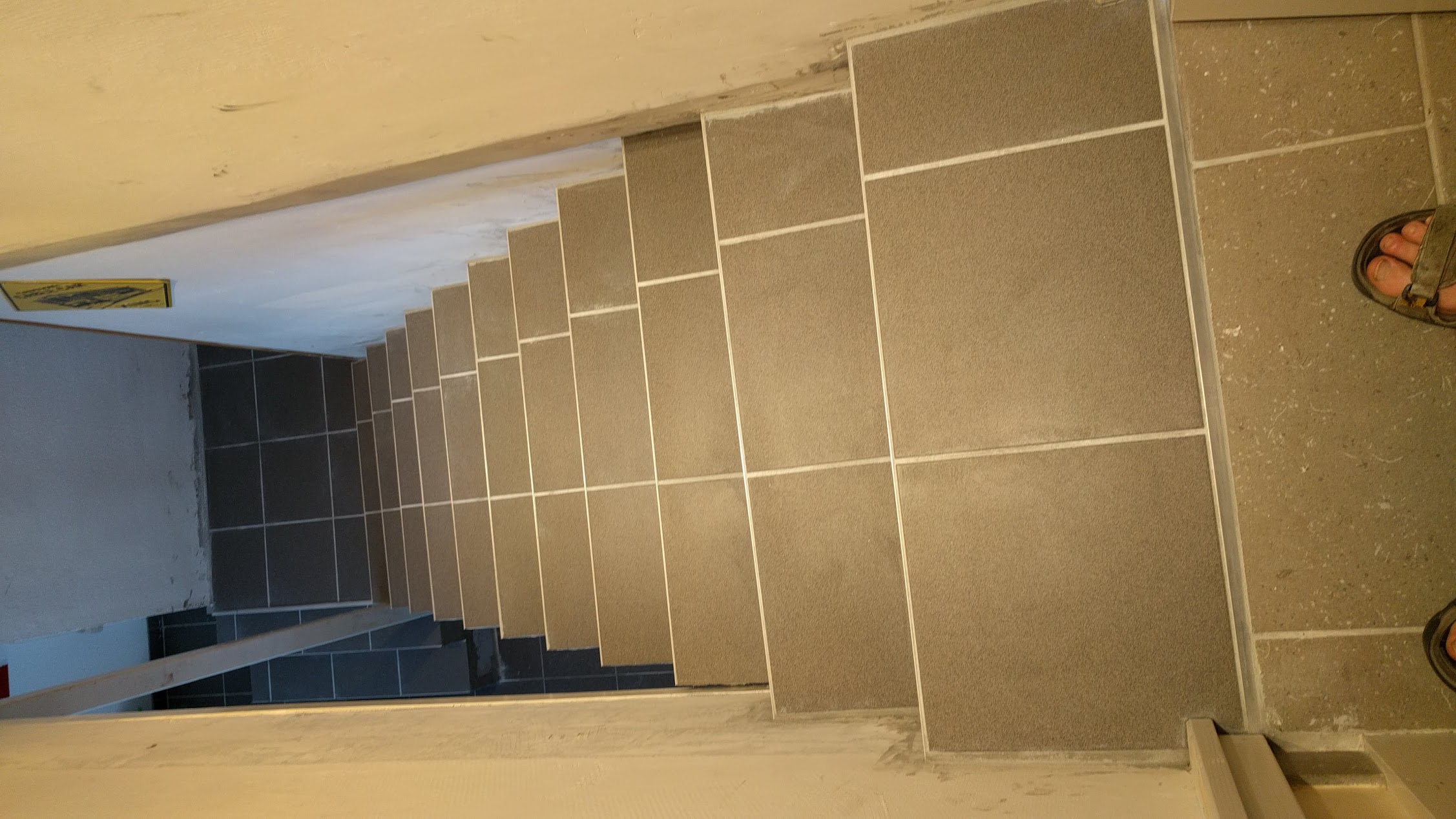 Then the wall project was to make a replica of the death star corridor and create a subtle sci-fi ambiance like this (but just a short fraction of it, hence the "model" joke)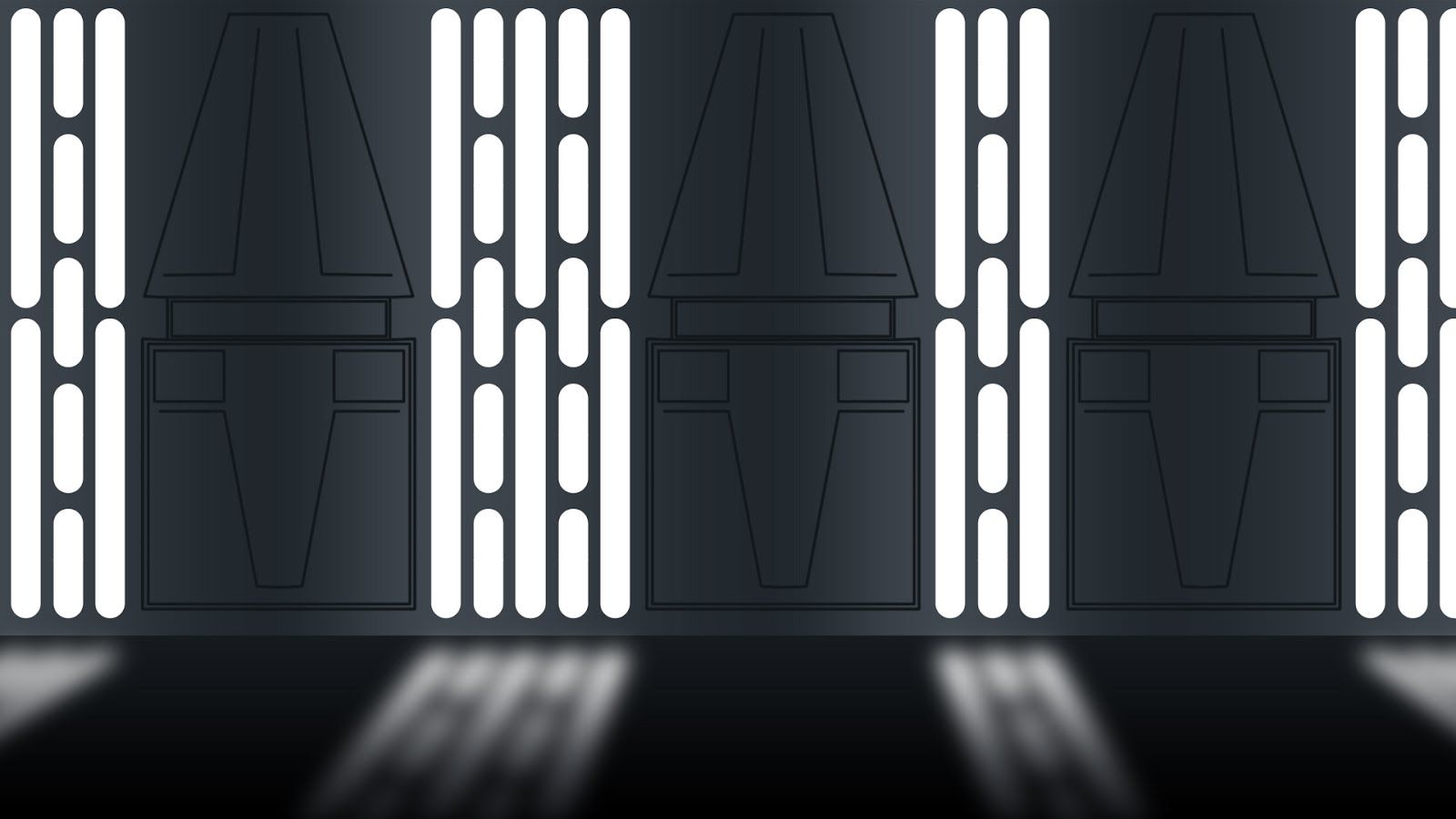 I started gathering information about those walls, found some base measurements and scale the SW complete blueprints book that was released recently, then decided to get a set of 1:12 space walls from galactic trade post (GTP toys) which are awesome BTW and they actually lead to another project for the home cinema room, which is my dreadful fate, idea lead to another project, project leads to dark side :excellent2:
the walls should be 106 cm wide, I decided to shrink this to 1m, which brought the GTP scale to 11.2 instead of 12. I scanned the toys to get a 1:1 print and started measuring.
The idea is to have a lit side on the right of the staircase, with the oval / lit cuts and the air vents on the left side. The challenge is that the staircase is already narrow, and I didn't want to add to much thickness on the walls. I decided to use sintra sheets on the left side to make the A/C panels. I'm making only the maintenance panel and the oxygen return system as seen here
thefwoosh.com/index.php/2015/12/gtp-toys-space-wall-or-not-star-wars-death-star-panels-review/
the oxygen intake needs a recessed cavity that I can't make in the wall, so I'm going with detailing that stick out only (for most of it).
based on VV and Elegant Weapons booth building experience, I added some mylar on the wall to improve light diffusion and I started framing.
finally, I cut a bit of sintra yesterday to start making the shape of a maintenance panel.
it's very basic looking for now, I yet have to find the right glue for the sintra on the wall because the spray glue I've used so far isn't that good. The TESA can I had gave good results but the next brand X doesn't stick well, I'm afraid it's fabric glue I used to keep tshirts in place on a silkscreen carousel or something but I can't remember which is which. Once I have the right glue, it will speed up as it's just plastic cutting and it's quite recreational.
for the right side, I can't use sintra, it's not stiff enough in 3mm. I have to go purchase some 3mm MDF then prepare all the cuts with the router (it won't go in EW's laser, not wide enough and I don't have a wood CNC that big). The MDF back will be covered with a diffusion film (frosted style) I got on aliexpress taped on acrylic backing (2mm) so that you don't touch the film, plus it's too soft / thin. This way the oval "windows" can be touched without wrinkling the film behind. I also have to install the led strips and route power wires.