Sr Member
RPF PREMIUM MEMBER
Hello there!
It's finally time to open that much anticipated (small) run!
I'll probably write a bit less than I usually do (which is probably a good thing), because it's getting a bit late and I don't want my European customers to be disadvantaged by my delay
I tried to go as far as possible in the accuracy and details of the kit. The details and measurements are based on references of the real found parts as well as stills from the movie. I decided to take a different road from the previous offering there was of those dome lights to try to reproduce the overall shape of the object as well as the very particular look of the bezel going "around" the plastic dome, and not the dome just sitting on top of a thick bezel. The original bezel are made of thin sheet metal and I feel I managed to reproduce that look very nicelly with the way I chose to assemble both parts
here is a small comp :
So, as usual with my props, no sub-contracting to China, no subcontracting at all actually, everything is handmade with a lot of passion, time and care by me in the south of France
All the bezels are hand turned from aluminium, then sanded on the lathe for a nice smooth surface, and finally each receiving the "Wonderpolish" one by one, that is of course the carefull polishing by my wife
Wonder Knight
that managed to help on this project thankfully!
The domes are done pretty much the same way, they are resin printed with anycubic plant based resin.
There was an actual day of testing for each colour
until I was perfectly happy with the result and the colour seemed deep and natural enough and of course, as close as possible to both the movie and the real life part references. Each dome is then sanded one by one on the lathe and finally polished by my wife on the polish wheel with several fine compounds. Everything is then fitted by me one by one, with the lights added and tested in the case of the light up version.
Small detail, you'll notice that I call the yellow lights "amber", those yellow lights were the most difficult colour to achieve and I really didn't want to have a fluo yellow like I had previously seen. I call them amber for the reason that they are called that way on those very cool vintage arcades that helped me a lot fine tune the colours :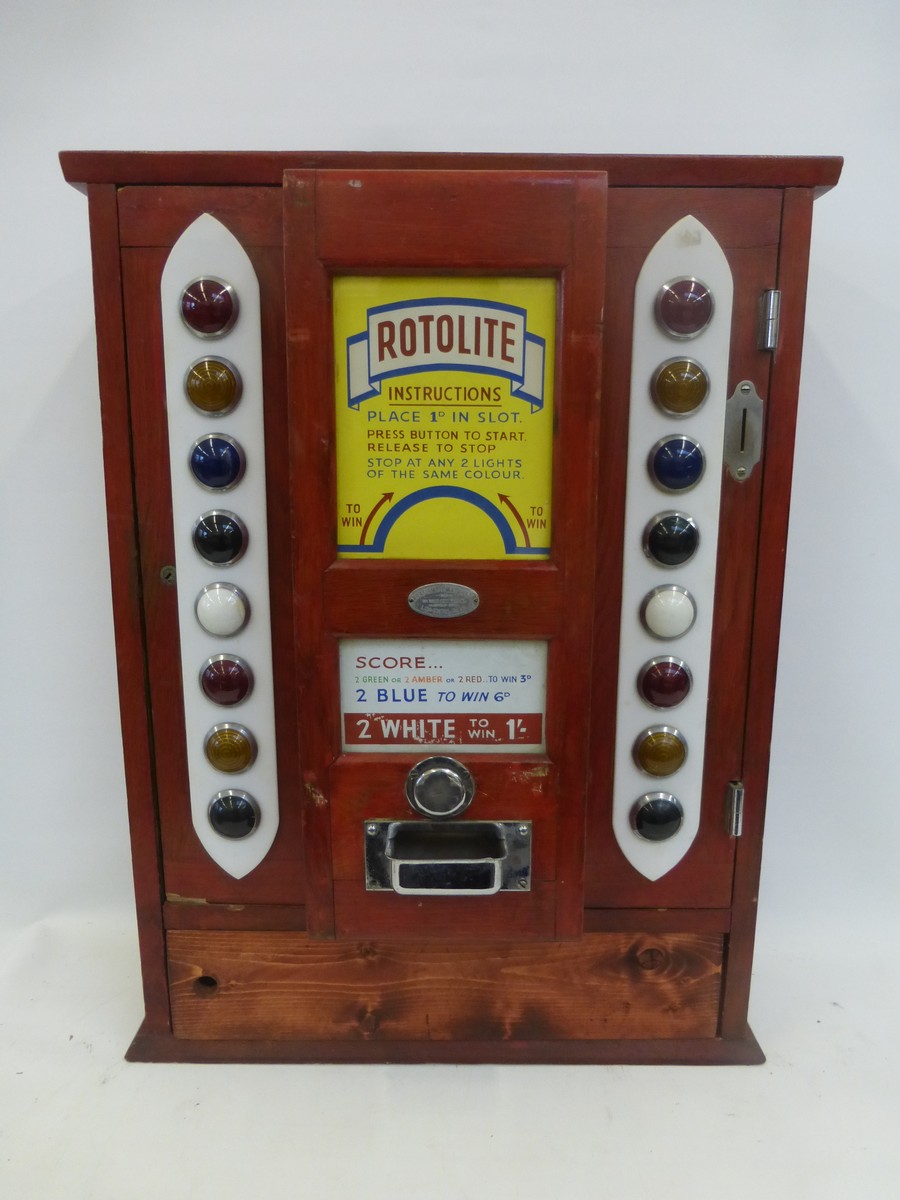 By the way, I love those arcades and I'm really loving the idea to possibly offer replicated wood front panels or inspired smaller panels with lights on them for the collectors that would like to display those in their collection to show from what the lights possibly came from in the movie, don't hesitate to tell me if this is something you would like to see
This was a very hard project and obviously nothing is ever perfect, and those being handmade, I feel they have that very natural, realistic vintage look to them. I'm really happy with the result however and I hope you'll like them!
I'm offering two options:
1 - normal version with no led : 33.5€ + shipping
2 - light up version with a 8mm bezel and nut in the back : 36.5€ + shipping
Same as for my Blade Runner badges and hellboy bullets, There is a
10% discount when you buy 4 or more lamps
As it would seem that all the cameras in Star Wars have 4 lights, I'm guessing this is what will happen for most orders anyways
shipping is not included in the prices. Shipping cost worldwide should start at 6.3€ for one or two lights and 10.6€ for 3 to 7 lights
Make sure to create your account on the website and enter your address,
shipping costs shown by default are for France if you are not connected.
Do not think you need to take the more expensive option if available, it is not necessary, both options are tracked and the more expensive option is there for the bigger packages.
I hope the price doesn't seem too expensive, I tried to match as much as possible to previous offering and worked really hard to achieve that, I can honestly tell you that this barelly pays for the material and time invested in the project and I am genuinely exausted after almost finishing a hundred of them
The normal version: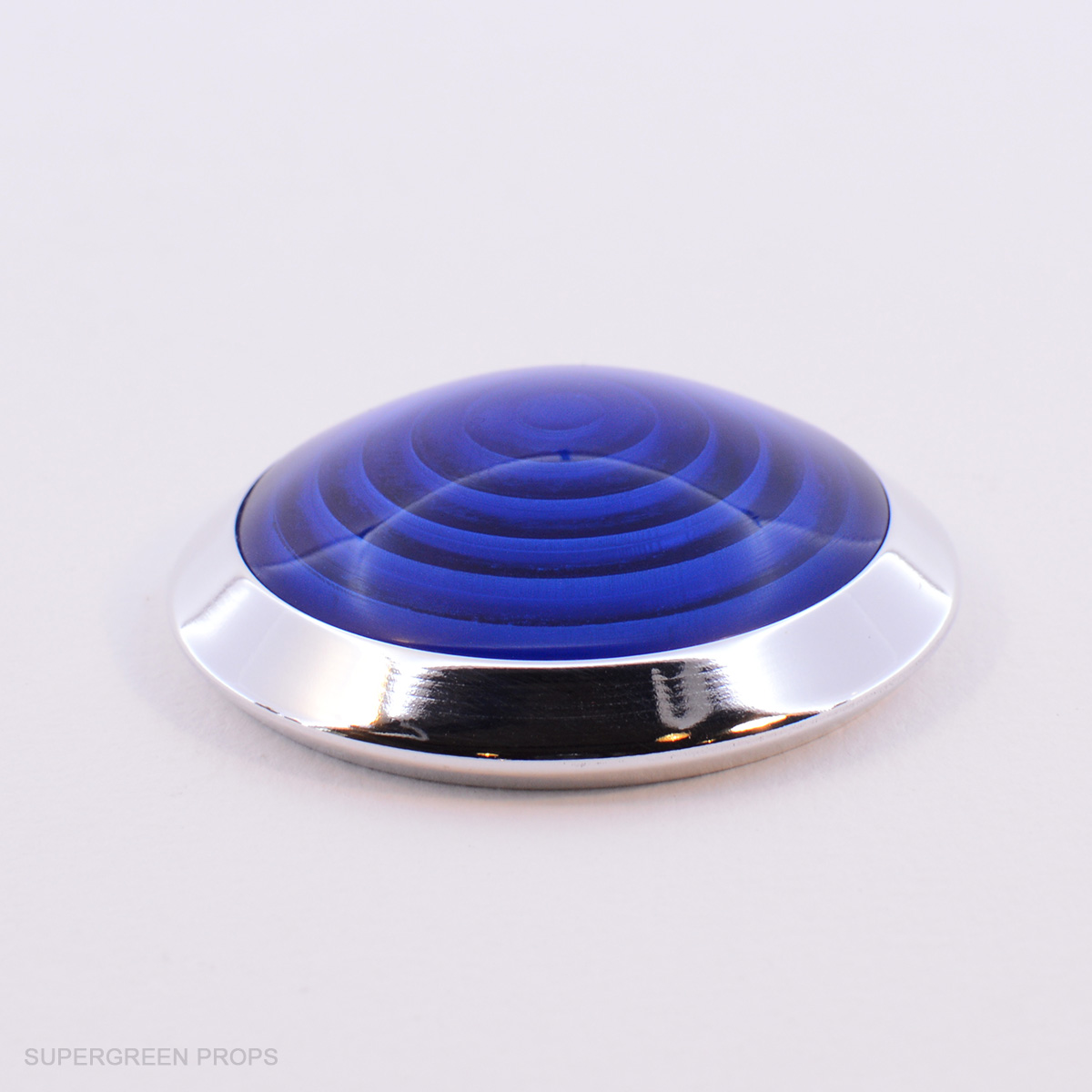 This version has no hole in the back, and offers a very reflective surface on the inside. In some light conditions, it almost looks like the domes are lit!
Those can be simply double taped to your objects or glued
the light up version:
this version comes with a pre-wired led attached to it with a 8mm bezel. This means you need to do a 8mm hole on the object you want to attach it to. after the hole is done, you can simply use the nut from the bezel to secure your dome to your object. just hold the wires or bezels with two fingers while you thread the nut, pretty easy to do! The wires are 20cm long, hopefully long enough for what you have in mind.
The leds are intended for a power supply of max DC12V 20mA but their luminosity is good with weaker power too. The positive wire is black. The leds are obviously not made by me and no warranty is given regarding their life span or anything else. However, each led was tested during assembly
Just to make sure it's crystal clear, be aware that there is a 8mm led bezel coming out of the back side of the dome light, it needs a hole to be attached
If you want something flat, and don't want a hole to be made in your objects, take the normal version instead
I tried to take photos of the led lit up, but it's not easy to represent accurately what the lights look like in person on a photo, but here they are: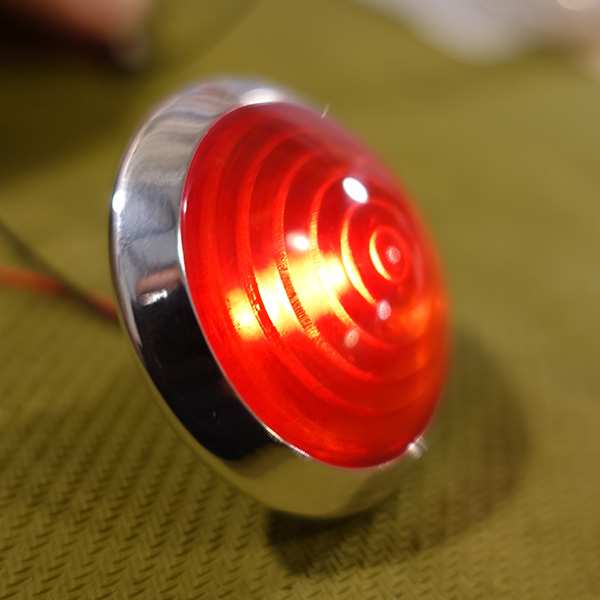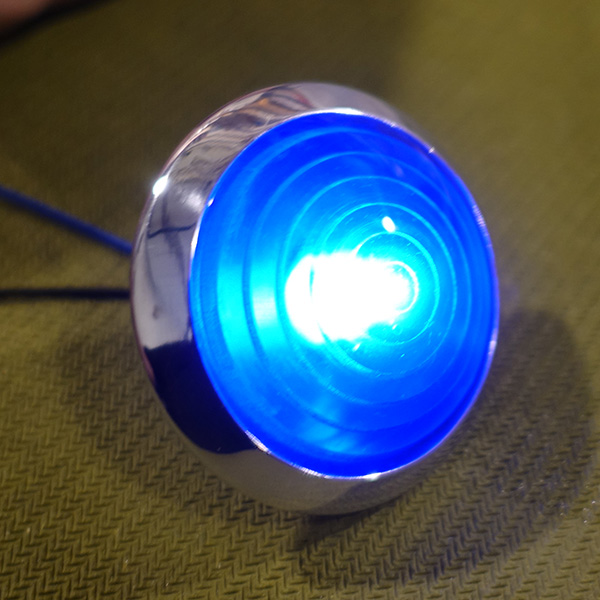 How to service the lights:
The lights come completely assembled. In case you need to open them, just know that they are not glued, just lightly pressure fit together. The normal lights can be tricky to open up and there is no real reason to do so, but in case you need, I recommend using a piece of strong tape on the dome light, then pull gently until it hopefully comes out of the bezel. For the light up version, you can do the same if the light is assembled to an object, or you can remove the nut from the bezel and push gently on the led bezel to put pressure on the plastic dome, it should come out relatively easily that way. Be carefull if you need to do that, you never know what can happen and it would be a pity to damage the plastic dome.
In the unlickly event you need to change the led on the light up version, I had to be a bit creative with the bezels to have the best diffusion of light and the best lighting result and the leds are put from the front of the bezel, so they are not removable from the back, you'll need to remove the plastic dome as explained above to service the led.
About the numbers for that run:
As usual, the run is pretty limited as I don't have big means to produce large number. This run will be opening with 40 FX lights and 30 normal lights. I'm currently working on 30 additional lights that will be available in just a few days, so don't stress too much if you miss out on the first days. I really hope there will be enough for everyone, I'm not used to my run selling out fast so far, so we will see how this one goes
No stress, I'll do my best to please everyone of course!
Where to buy:
As usual, everything I sell can only be purchassed on my website, supergreenprops.com:
Supergreen props, high quality movie inspired props for the collectors
supergreenprops.com
I am obligated by the law to edit an invoice with all my sales, this goes exclusively through my website. It is easy for you, the website is perfectly secured and the payments completely handled by paypal. You just need to register, enter your shipping address, it will calculate shipping automatically and you can pay with paypal. You'll then receive confirmations by mail for every step of the order and an invoice.
All right! I hope that I didn't forget anything. Please don't hesitate to reach out to me for any question, i'll be happy to answer them or have a small chat with you as usual
I hope I didn't mess up anything with the website too, no rush though, if you get into trouble, get in touch with me and be patient about it, I encountered small issues before but managed to fix all of them so far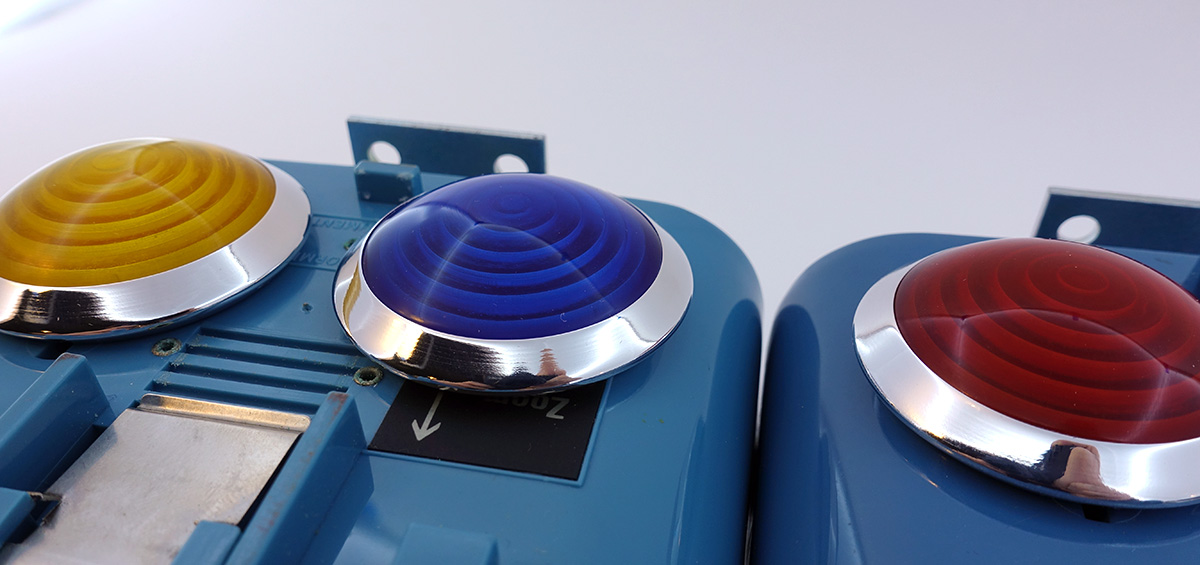 Last edited: