Master Member
RPF PREMIUM MEMBER
Hello there!
This is the project run thread for my Luke ROTJ V2/Obi Wan ANH Motorised Stunt run. The run is now underway and sign up is closed.
It has been a long, and thoroughly enjoyable process, with many twists, turns and revelations along the way. If you're interested, I highly recommend you visit the
Research and Development Thread
where the development process was documented and discussed.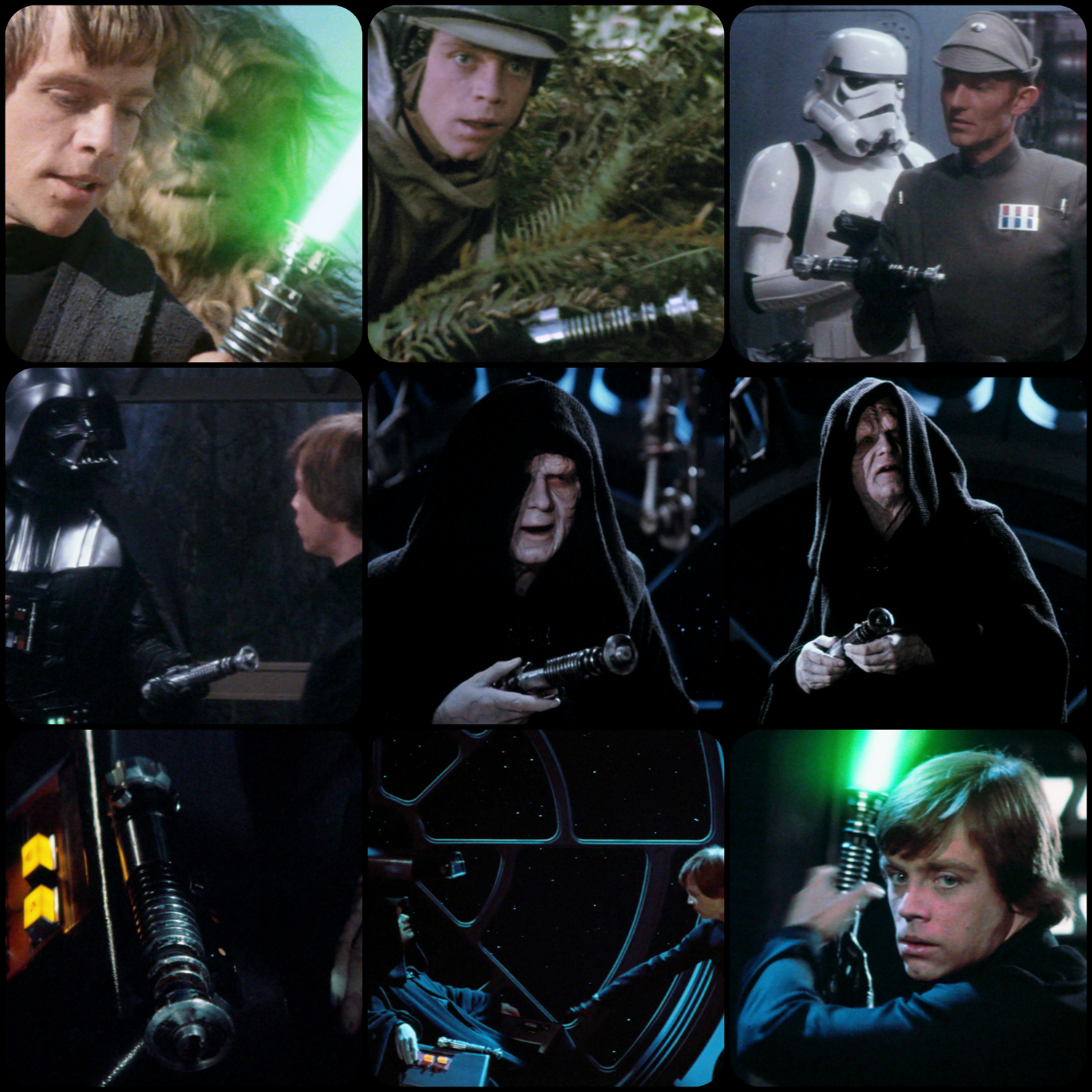 The dimensions and internal structure of the original prop have been painstakingly documented using both 2D and 3D photogrammetry techniques. As has the current paintwork and the damage to the pommel and emitter.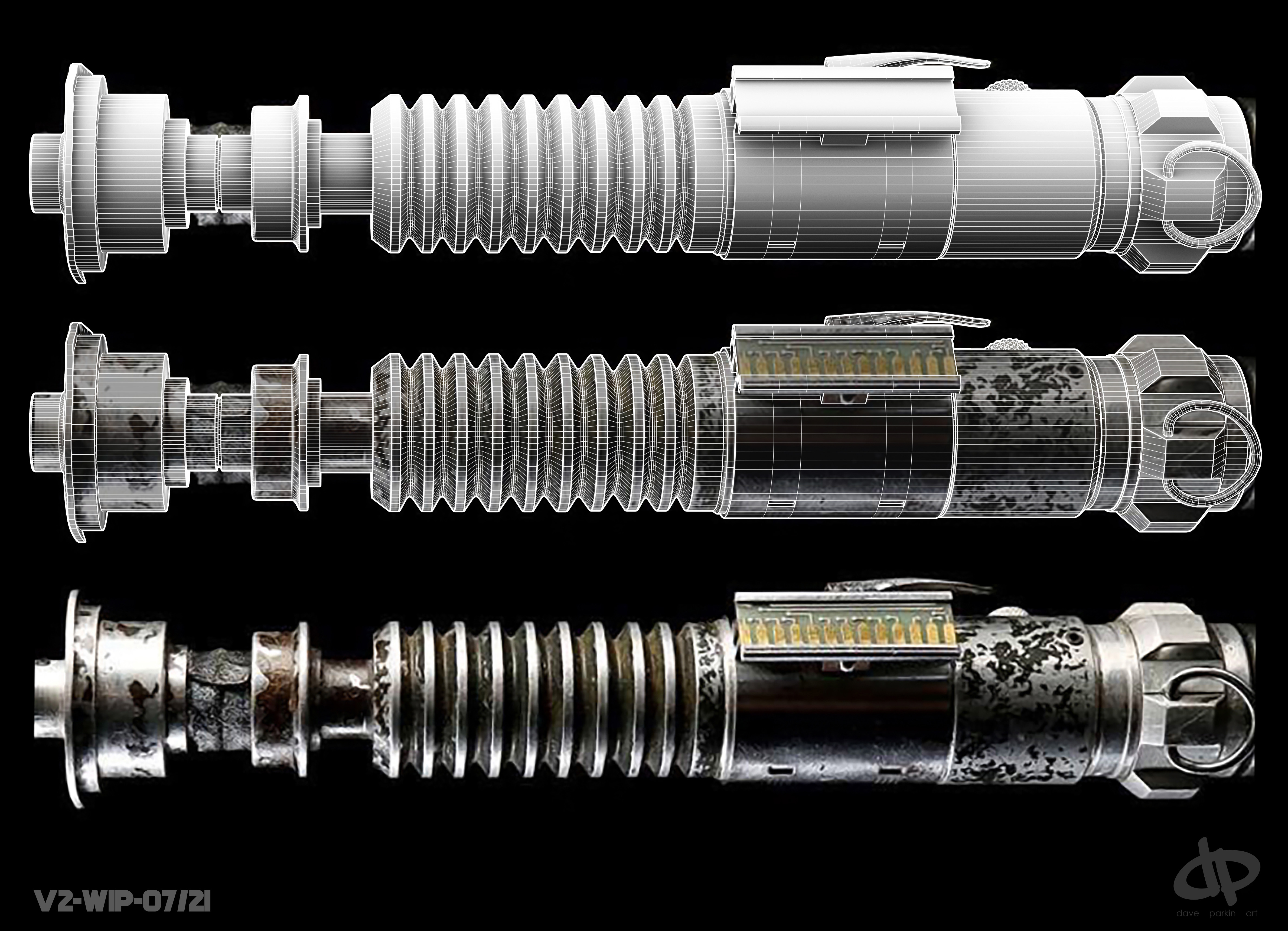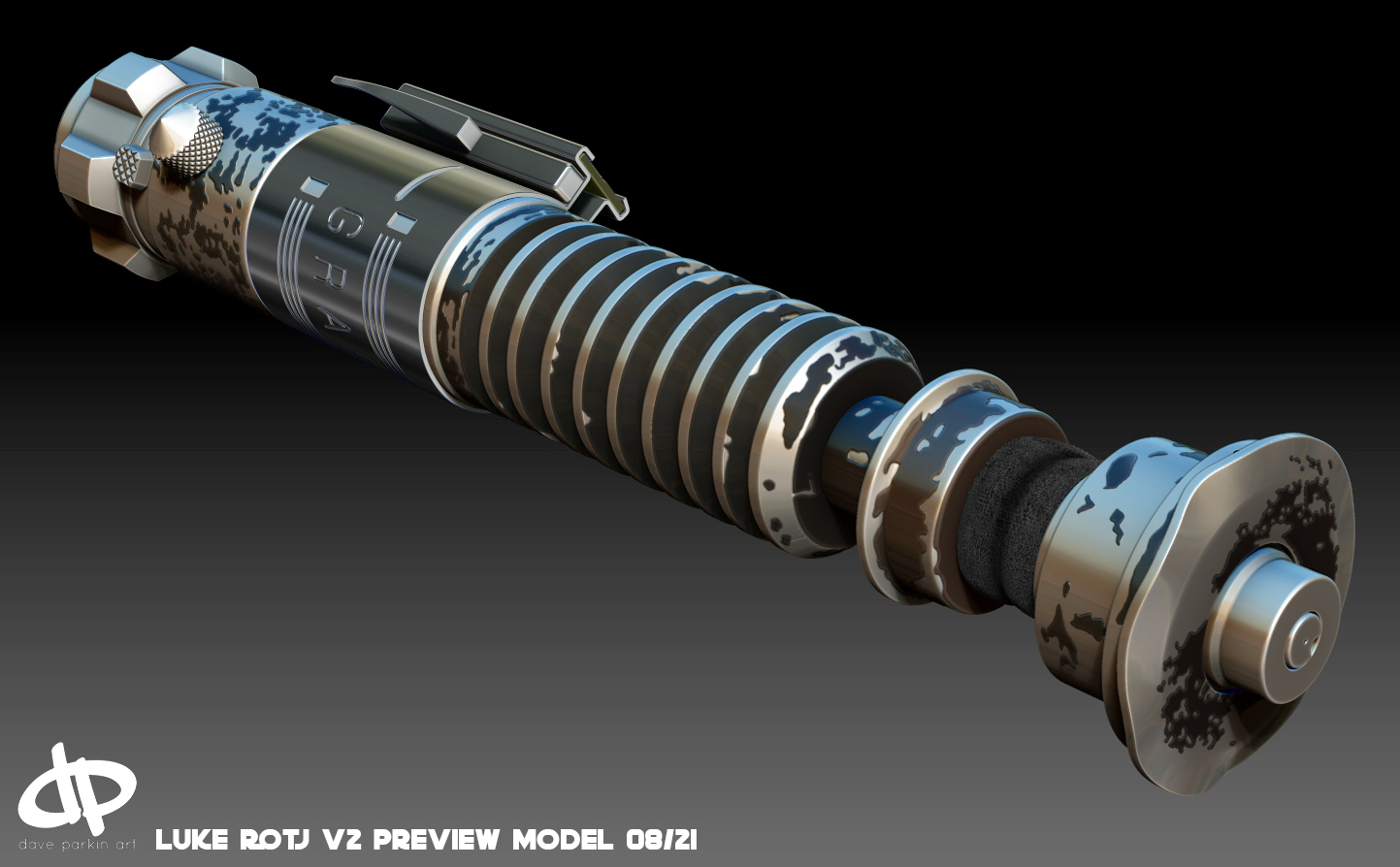 This is a replica of the original prop and, as such, has not been designed with FX instillation in mind. It is not a "static" prop however. It has been designed to accommodate a motor and spinning blade mechanism, with the internal structure and construction matching the original prop as closely as can be interpreted from the available references and information.
Because there are so many parts to this kit, some of which people may already have, and people's needs are likely to be very different depending on the configuration they want, I offered a base DIY kit along with a list of additional extras that could be added. This was to simplify things when it came to ordering and avoid the need to subtract parts that people already had.
The base DIY Kit includes the body/Emitter section, pommel and nipple, as well as the central rod/bearings/fixings: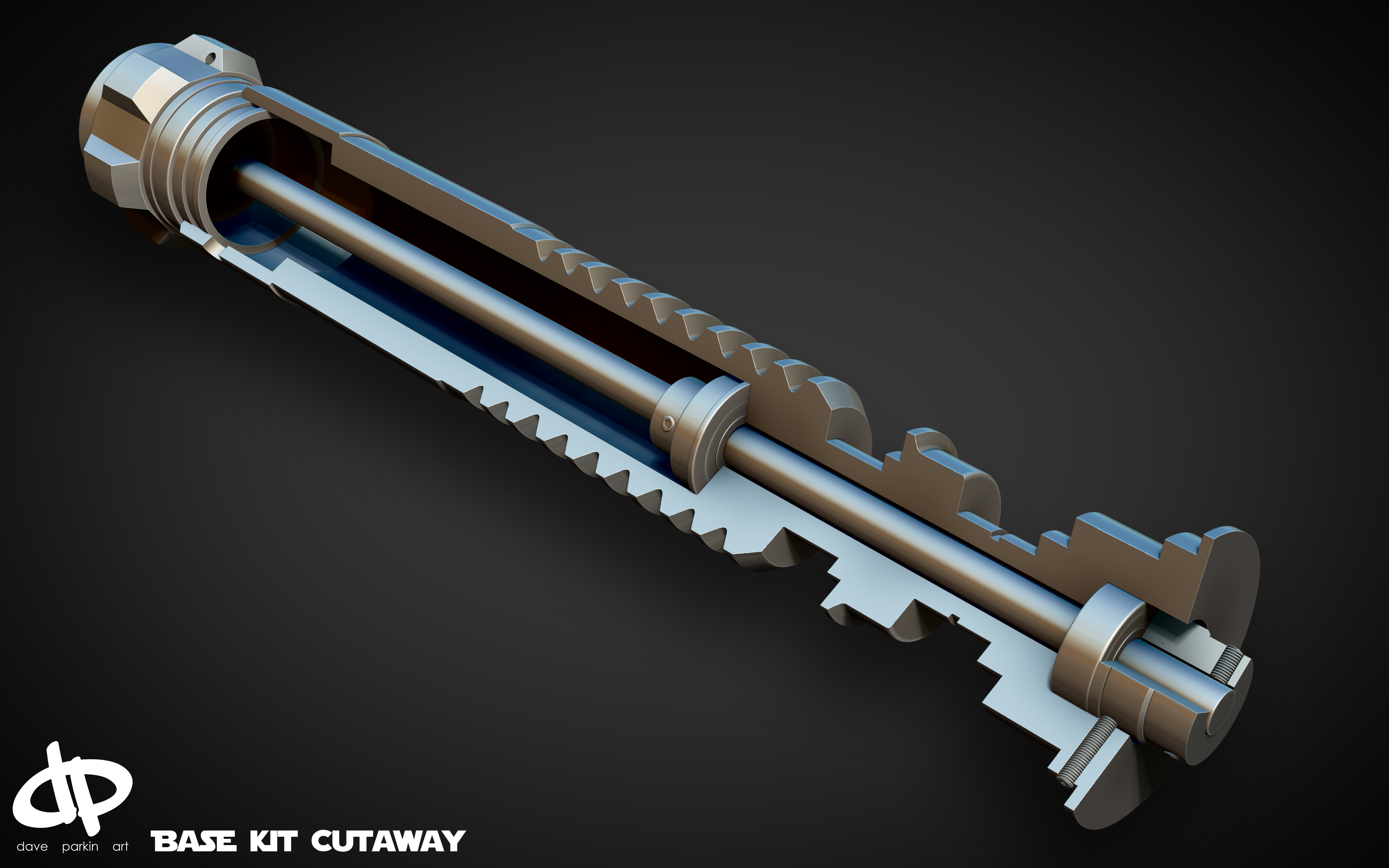 All the parts have been made available to make either the ANH motorised stunt prop (as used by Sir Alec Guinness), or the "belt Hanger" (as used by Mark Hamill) during the filming of ROTJ.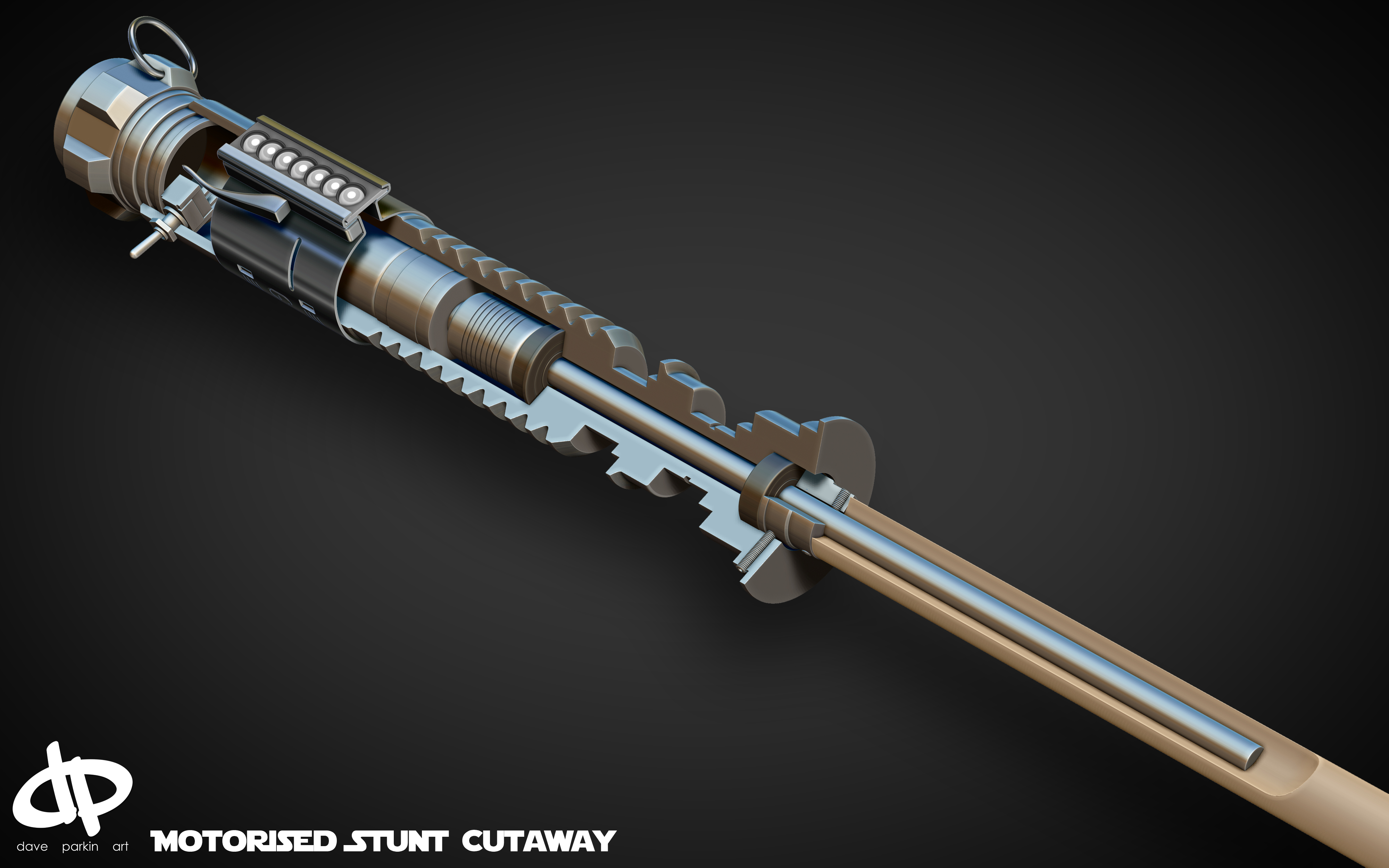 I have offered additional damage commissions on both the emitter and the pommel for those wishing to recreate the prop as it exists today:
For those who wish to apply the damage to the pommel themselves, a vinyl stencil/guide will be supplied with the standard pommel.
A full paint stencil kit has also been made available for those who wish to accurately paint the RotJ version of the prop. There are other fantastic V2 stencils available that *could* potentially work with the kit if you prefer.

A switch/motor/battery kit was also offered, as well as a reflective blade for those who wished to create the ANH version of the prop.
slothfurnace
has very kindly offered a discount on his "Vintage Finish" boards as part of this run! Thanks, Brad!
I'm
VERY
happy to say that the clamp will be a Roman Props Satin Clamp. Roman has offered to supply this at a discounted price as part of the run too! Thanks so much
Romans Empire
! Very much appreciated!
roygilsing
at WannaWanga also approached me about using his excellent V2 lever, so that is included in the list of extras along with some other great WannaWanga parts. Thanks, Roy!
I currently have two boots worth of Grade A vintage "mystery chunks" (Royal Hunter Wellington Boot Stud). Once these are gone, Roys replica chunk will be used, which is a PERFECT replica. I am always on the look out for more vintage studs, but it's rare to come across them in this condition:
There is also a replica knurled cone knob from a Reference Hydraulic Transcription Turntable on the list that has been painstakingly recreated from a real vintage thumbscrew. This was done with the help of
mgenovese312
, who was kind enough to send scaled reference photos. Thanks, Mike!
The parts for this run have all now been ordered, so the quantities are all set. I order a handful of extra base kits though, so please let me know if you'd like to claim one of those. A couple have already been taken, so I don't expect them to be available for long.
I've said it before, but I'll say it a gain (and again, and again) A huge
THANK YOU
to everyone who has taken part in the run and placed their trust in me. These runs couldn't happen without you, and I am eternally grateful!
As always, if you have any questions, feel free to drop me a DM and I'll get back to you ASAP.
MTFBWY-A,
Dave
Here is the current status of the parts for the run (I'll try to keep this as up to date as possible for those tasking part in the run):
CNCd Parts - Arrived

Internal Rods - Arrived

Bearings - Arrived

Grub Screws/Fixings - Arrived

Clamps - Arrived

Clamp Cards - Arrived

WannaWanga Parts - Ordered/Paid/In production

Motors - Arrived

Couplings - Arrived

Switches - Arrived

Battery Packs - Arrived

Belt Clips -Arrived

Connectors - Arrived

Blades - Ordered/In

Production (awaiting invoice)

Reflective Tape - Arrived

Vinyl - Arrived
Interest List:



DIY Kits (As machined) - Shipping immediately:
Boba Flint

PrinceZip - SENT

Marv

Master jinn - SENT

Jorged123

Gino (FB)

Trinn

Cphaeng

APOLLO IND

djedi

Goodie2325 - SENT

jonis - SENT

starbuc

Darth Elevator

BritWalker

Ilya888 - SENT

Shane Craig (FB)

Kawika (FB) - SENT

JPL427 - SENT

APOLLO IND #2 - SENT
DIY KITS (With Emitter/Pommel Damage) – Shipping a few days after parts arrive:
DannyP91

Loneken

The 48th Ronin

Patlegrand

Halliwax

Brodie53

Mr Mold Maker

juvatwad

mrwax

CWOODREPLICAS

NagorbArt

Morgan (FB) - Invoiced

Hylo133

Marco (FB)

mburkit

Diego86

TheUnchosenOne

Mech10

Mgenovese321

Dewy

Obiflex

Execute66

Masefield

zachman8910

James Kemp (FB)

BeggarsCanyon - Invoiced

acyang

el toro

Skywalker94

Jallott

v3123

Zenkai

NCC1027

Ventuoguy
Commissions Batch one – Shipping within one month of parts arriving:
| | |
| --- | --- |
| Motorised Stunt Commissions: | ROTJ V2 Commissions: |
| nailuj | Scruffylooking |
| NickCline | livetoberadical |
| cdyoung | Foe Hammer |
| Darth Napster | teecrooz |
| rockbottom | CJPx01 |
| dse2187 | Srycantthnkof1 |
| ivuchan | ONE PIECE |
| ggriffaw | JoeG |
| Skoota73 | LukeV2 |
| Kraig Kenobi | Eruonen |
Commissions Batch two – Shipping within two months of parts arriving:
| | |
| --- | --- |
| Motorised Stunt Commissions: | ROTJ V2 Commissions: |
| ChrisRode | memphisjedi |
| Duncan Schaefer (FB) | cdyoung |
| Kumar (FB) | Darth Napster |
| propfactory | enrico |
| darthwhitey | AnthonyD2199 |
| JetSetWilly | RebelSpy007 |
| CrueGuyRob | naurthsgem |
| | ivuchan |
| | LukeBespin1975 |
| | ggriffaw |
Commissions Batch Three – Shipping within three months of parts arriving:
| | |
| --- | --- |
| ROTJ V2 Commissions: | |
| JoeSheep | Natesamlord |
| Brett Banner | propfactory |
| nemesis1974 | Mark Conway (FB) |
| Filandrius | darthwhitey |
| Sithslayer | CrankyScorpion |
| Kraig Kenobi | KYRACK |
| Noble Rich (FB) - Invoiced | ChrisRode |
| Bobasfett | |
Last edited: