Sr Member
RPF PREMIUM MEMBER
Hello everyone,
I have been learning a lot from all you folks on the RPF and a few other sites like the 405th. I just wanted to say thank you to everyone on here for sharing your builds and information openly and freely. So to show my appreciation I feel that I have learned enough to contribute back a little. This is my first thread detailing one of my builds.
I started planning and putting this project together for Halloween about 3 months ago. This is the first time I have ever done anything like this. I want to build a complete suit and thought this would be a good test. I have been a member of the 501st Legion for a while and have put together a few soft costumes. I have an Anakin Ep III, Will Turner AWE, my Captain Mal is almost done, my Dread Pirate Roberts is almost done, and I have a couple of vampire costumes but I have never attempted anything like this till now.
So the scene in Iron Man where Tony Stark is testing his prototype repulsor was kind of the inspiration for my costume: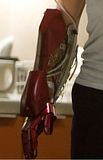 I went with a more finished look with the completed gauntlet instead of all the parts showing (oh my goodness).
This project started out from 110lb cardstock. I used Dancin_Fool's forearm unfolded by DF Darkness, Dancin_Fool's handplate unfolded by STEALTH, and Zabana's hand files. Thanks you guys for sharing these awesome files! I wont bore you all with how to make pepakura... there are plenty of resources out there... I know cause I learned from them. However, if anyone has any questions then feel free to ask them or to PM me.
I built the pieces, hardened them with resin, fiberglassed the inside and covered the outside in Bondo. Then came a lot of sanding, more Bondo, more sanding, more bondo, more... well you get the idea. By this time Halloween is right around the corner and I am feeling the heat to get this done. I didn't spend quite as much time in the smoothing and shaping stage as I would have like to but I think they came out pretty good. Then came the paining... with only a week till Halloween I didn't have much time for this stage and unfortunately it was raining pretty much all week. I had to paint it... I think it could have turned out a little cleaner with the right weather, but alas, it was not meant to be... this time.
I found that one of the more challenging parts of building a costume like this is fitting everything together and getting it to work properly. Some areas on this build that reflect that are fitting the upper and lower forearm pieces together, attaching the back hand piece and the palm to each other, sticking the handplate to the back hand piece, and the most challenging was stringing the finger pieces together.
I used velcro on the forearm and a small hinge and pin system on the palm/back hand. I had some trouble putting the handplate and the back hand together. I was originally going to try a spring loaded hinge (a good suggestion by Surreal Studios) but it didn't work for me. I ended up going a much simpler route and used a hinge at the top of the handplate and an elastic band toward the bottom which very easily wrapped under the back of the back-hand piece. In the movie they cast the finger pieces which made them thicker so they were able to drill holes in them and string them together with wire. With the pepakura pieces being much thinner I had to think of something else. I came across these small diameter brass tubes at Ace Hardware and snagged them. Fishing wire is a perfect fit. So I cut small lengths of the tubes to fit inside the finger pieces and epoxied them in then I ran fishing line through the tubes with a knot at the tip and base of the finger. Then I sewed the fishing lines to the glove I made. This turned out to be a really good solution.
I also made a little circuit using simple components that flashes the repulsor light on and the fades it out slowly. Here are some pics from the build... I didn't take as many as I would have liked to... I worked straight through the finishing stage due to the time crunch and I didn't stop to sleep, eat, or take pictures, lol.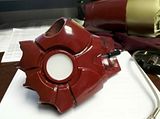 Now for the arc reactor... I made this out of many different things. First the outer cylinder is made from PVC pipe and shaped to the contour of my chest. I designed and acid-etched the PCB from a copper clad board then soldered 21 5050 SMD LEDs and 21 resistors to the PCB. For the center piece I used a LED G4 automotive replacement 'bulb' which is actually a disc about 30mm wide with 12 more 5050 SMD LEDs. I used the same G4 disc on the repulsor light. I sculpted the light ring and the coils then made molds and casts of the pieces. I used a clear polyester resin for the light ring which I tinted to the 'coke bottle green' color you see in the movie arc reactors. The other parts were made from abs plastic and brass bits n' bobs. I had to cut a few corners to have this ready for Halloween so the metal disc on top of the coils doesn't have the carved details yet and I didn't get a chance to add gold paint to the coils yet. I plan on going back to finish this costume properly soon... I cant stand leaving something like this alone... it has to be done right. I guess that's my CDO at work (that's OCD in alphabetical order BTW). Anyways, here are some pics of the arc reactor as of now.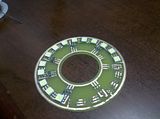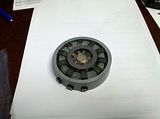 I entered a local costume contest and took home first place and won a little plastic trophy and a $100 cash prize!
More WIP pics
Let me know what you all think... keep in mind that this is my first build of this caliber and my first attempt at several things like making a pcb and molding and casting pieces. So be gentle but if you think you have something to say that I can learn from then I am more than willing to listen.
Also, a few of my local friends in the 501st like my arc reactor and want me to make them one too. I have plans for a lower profile, self contained design (minus the 3.5 audio jacks). If any of you would be interested let me know.
Here's a short video: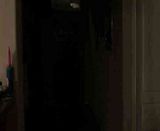 Final result: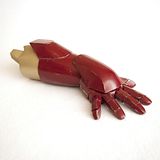 Last edited: