Sr Member
RPF PREMIUM MEMBER
Hey RPF'ers,
I'm tackling my first full fledged costume from scratch. A Skeksis from Dark Crystal!
CURRENT STATUS PIC OF THE BUILD:

(I apologize for the messy 4 year old's corner of the house that the pics were taken, but he's helping me on this one :wacko )
I started with a ALICE frame and fastened PEX pipe to it for a basic structure of the back and then cut and fastened a layer of foam over that to even out all the sharp edges.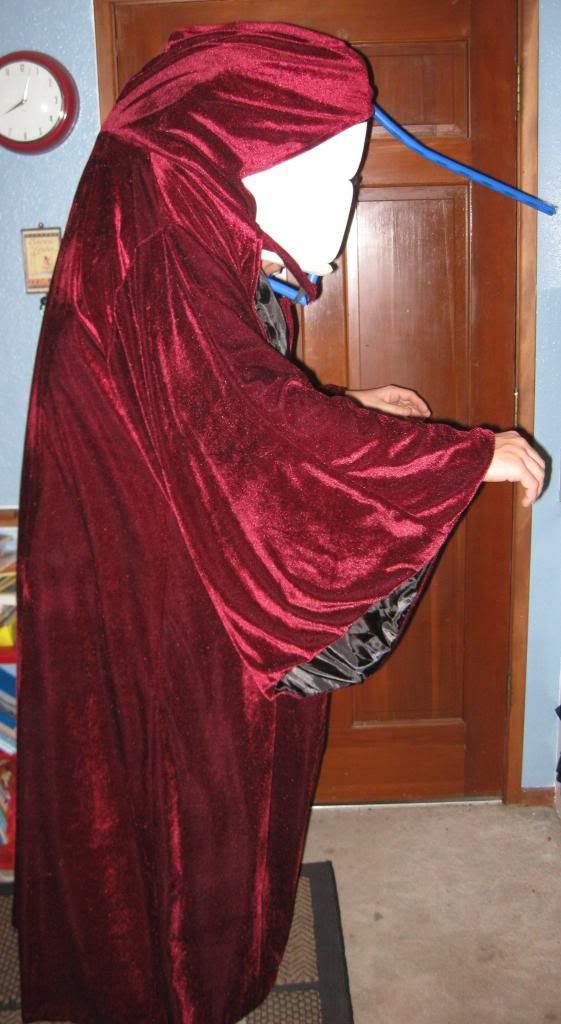 I have an XL crimson velvet cloak for the base of the clothing which works out quite well for the upper back section. Next I need to build the collar section which I was thinking of using a kind of ring shaped foam piece and sewing black fabric over that and then stitching layers of large black scalloped lace to it converging to the neck. on the front section under the head I'll have a see through section of mesh.
I'll also be using the lace to line up the sleeves a foot to cover over my forearms and I'll be using some monster gloves painted to match the head.
The head I plan on making out of a kind of wire mesh like chicken wire and attaching foam to that and carving the detail out and then brushing layers of latex over that.
Should be exciting!! :devil
Last edited: