Parts / Materials:
- Vintage Heiland shroud, purchased from forumite
propmainiac
way back in 2016
- Vintage SOL 3 cell flash tube, purchased from eBay
- Reproduction Graflex clamp, purchased from Roman Props (love this thing)
- Vintage Bubble Strip, pulled from an old calculator (not an Exactra, and I can't recall the exact model unfortunately)
- Aluminum C-Channel, purchased from Home Depot
- M4 0.07 x 10 Screws, purchased from Lowe's
Inspiration:
I initially thought I wanted to do a Vader ESB build, but I ended up wanting to go the custom route.
Parts were slowly acquired - $20 here, $15 there - that kind of thing.
I eyeballed the proportions to make it Vader-like, but went with the Graflex clamp instead of the MPP style.
I was inspired by
Scott D
to fashion my own grips from aluminum stock, and I really like how they turned out.
The end result is something like the OT sabers.
I like to think this is something built by a student of Yoda, before the dark times...
Build Photos:
First, I cut the flash tube at the mid-point of where I wanted the clamp to rest.
The flash itself was pretty scratched up when I bought it, so I have not been careful with it during this build.
These are all the un-assembled parts after the tube was cut:
Next, I measured, drilled, and filed the slots for the clamp tabs to ride in: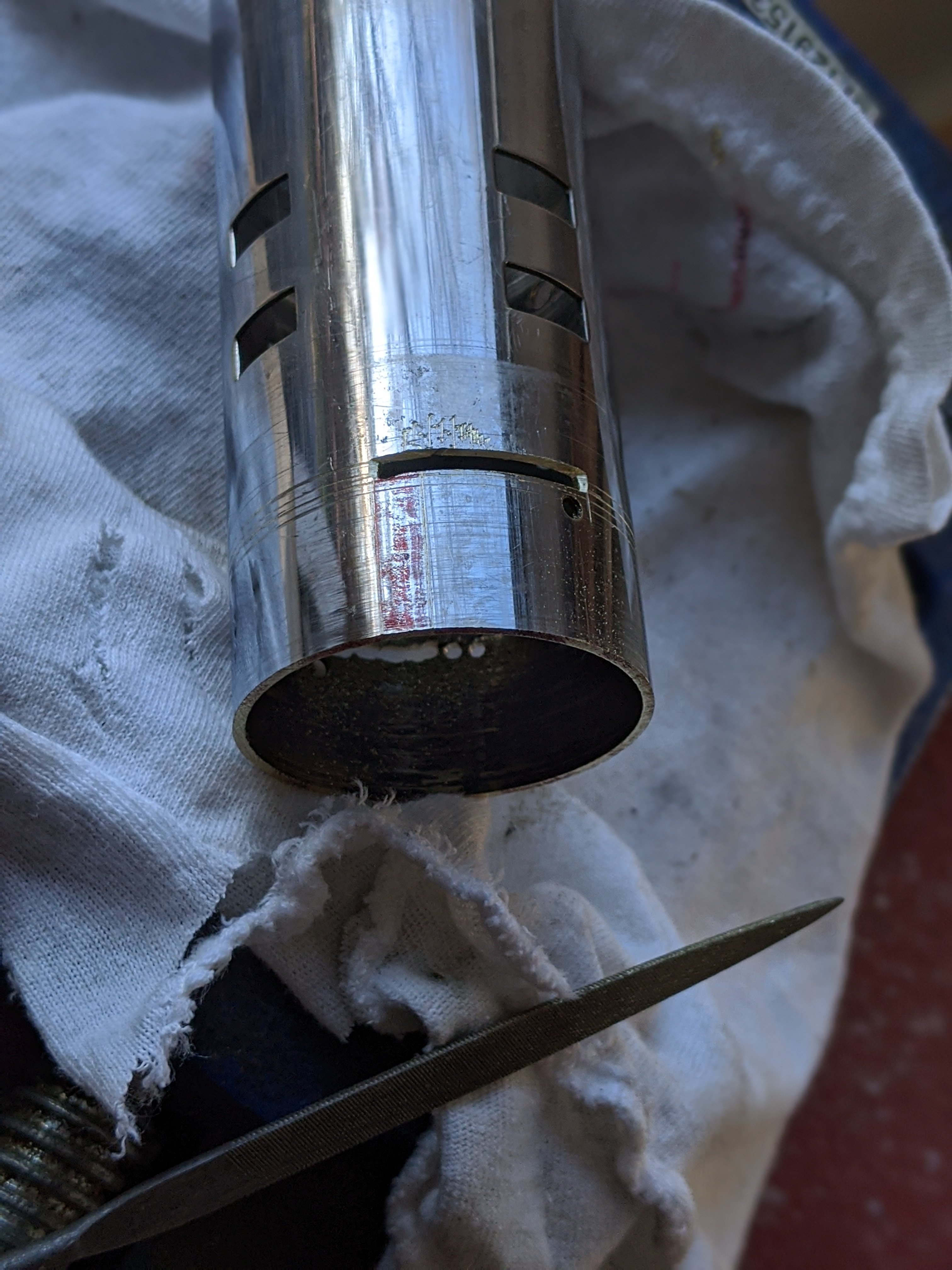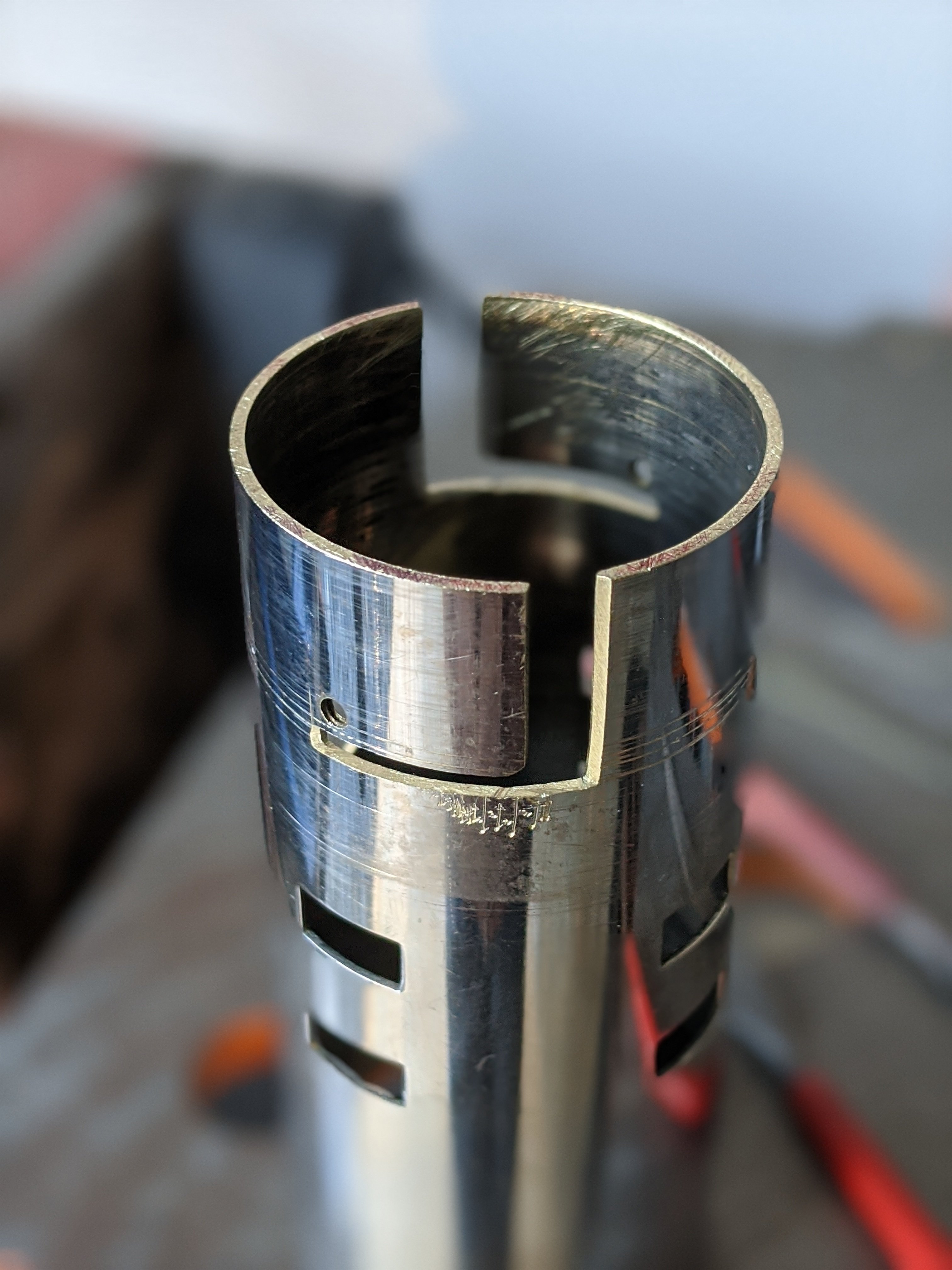 Here are all the main body parts at that stage:
Next, I set to cutting off the shoulders on the bubble strip, so it could ride comfortably in the clamp: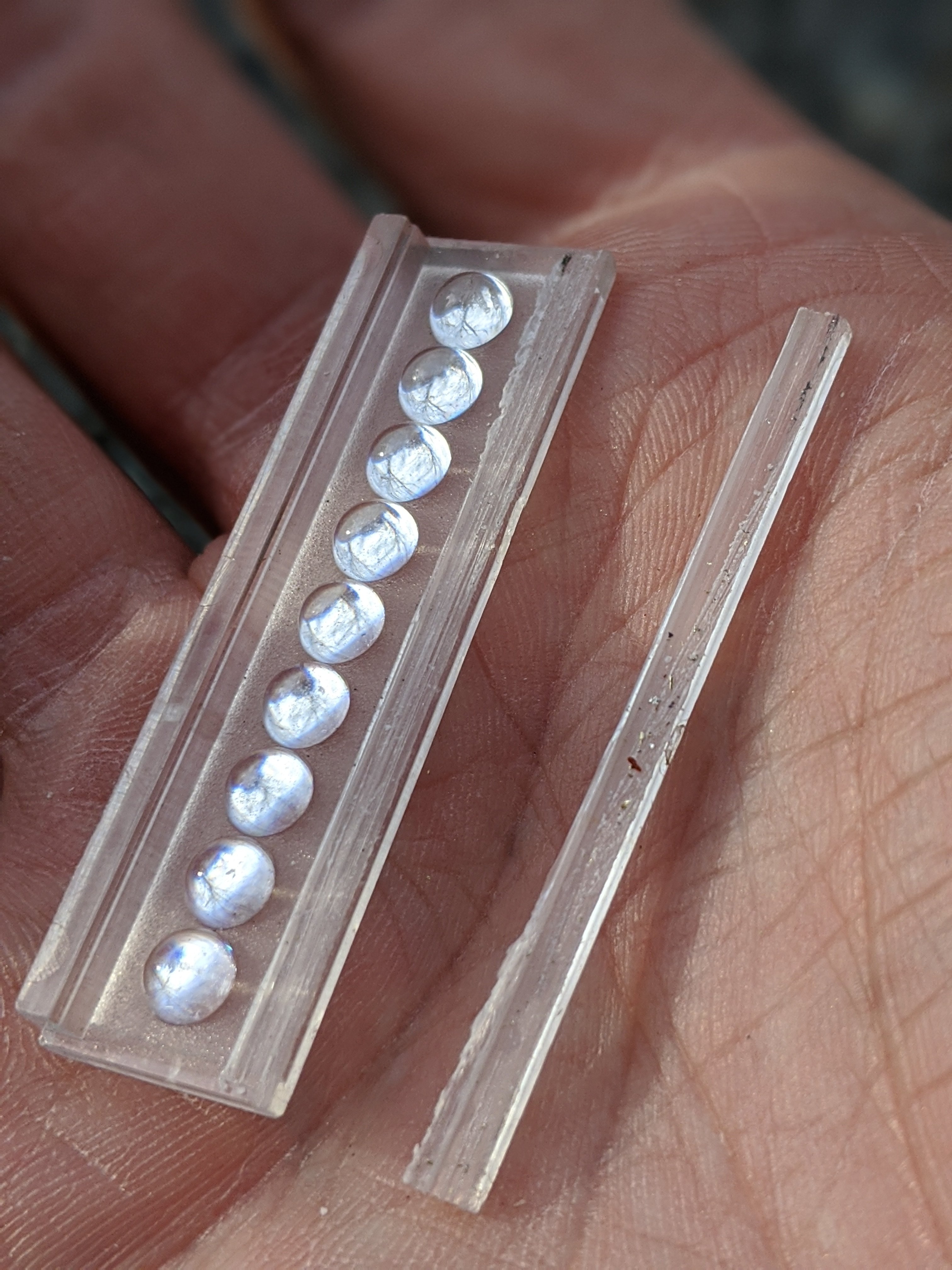 After some sanding / filing, here is the card (I only nicked one of the bubbles, and I have since trimmed my nails....):
Here is everything assembled at that stage:
Then it came time to tackle the grips.
I didn't take any photos of making the grips themselves, but it was just a matter of measuring, cutting with a hacksaw, filing, sanding, measuring some more, and drilling pilot holes to get them to this stage:
I decided I wanted black grips on this, and had the idea of hitting them with some rubber coating spray, to make them more grippy.
This was applied in way too cold a temperature haha.
Here are the rubberized grips, pre-aging: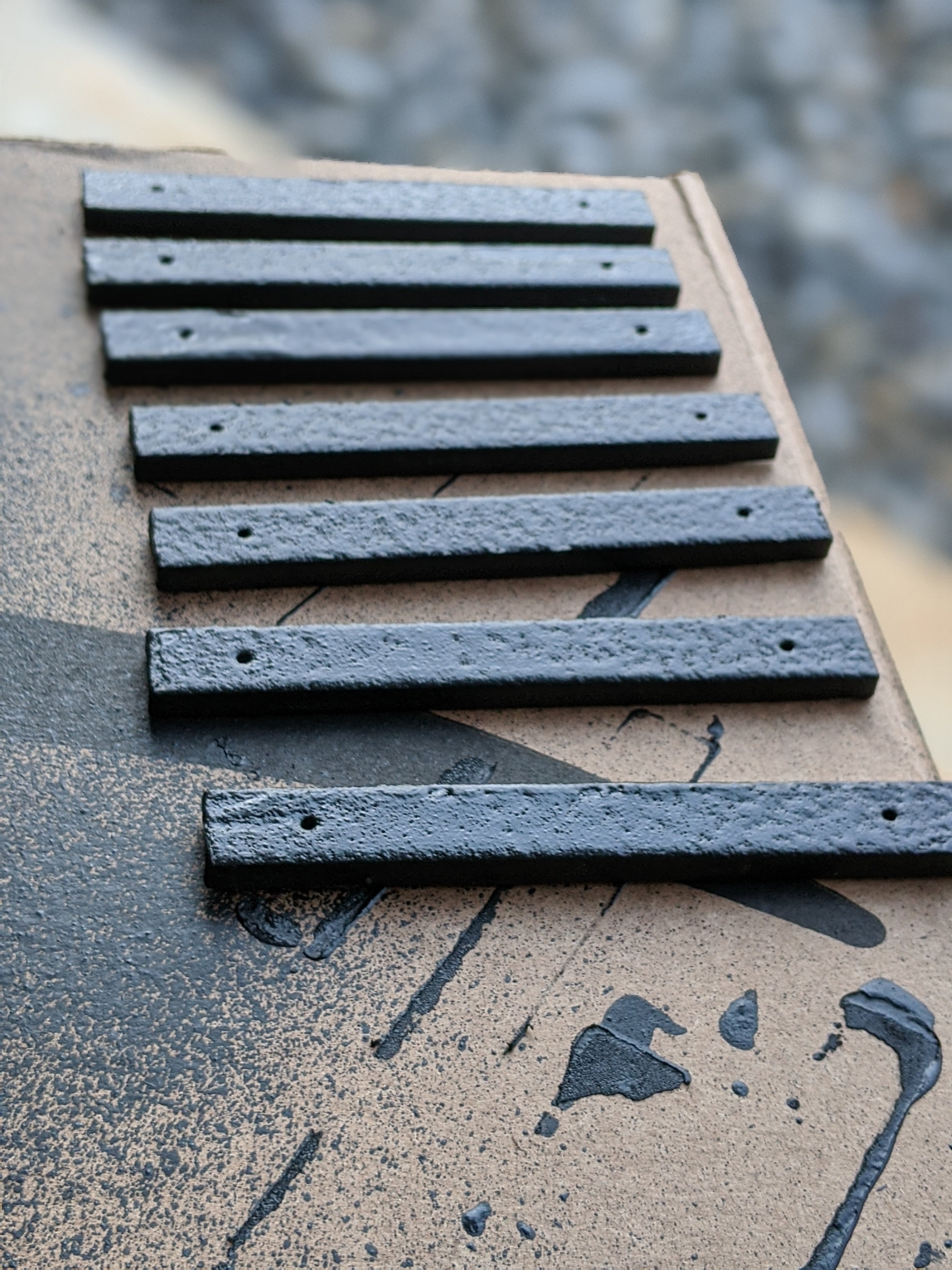 I had to play with the spacing a bit, but I found that an outer gap (outer when applied to the round tube, or flat otherwise) of 9mm got them pretty even:
Here they are held on with tape at that spacing: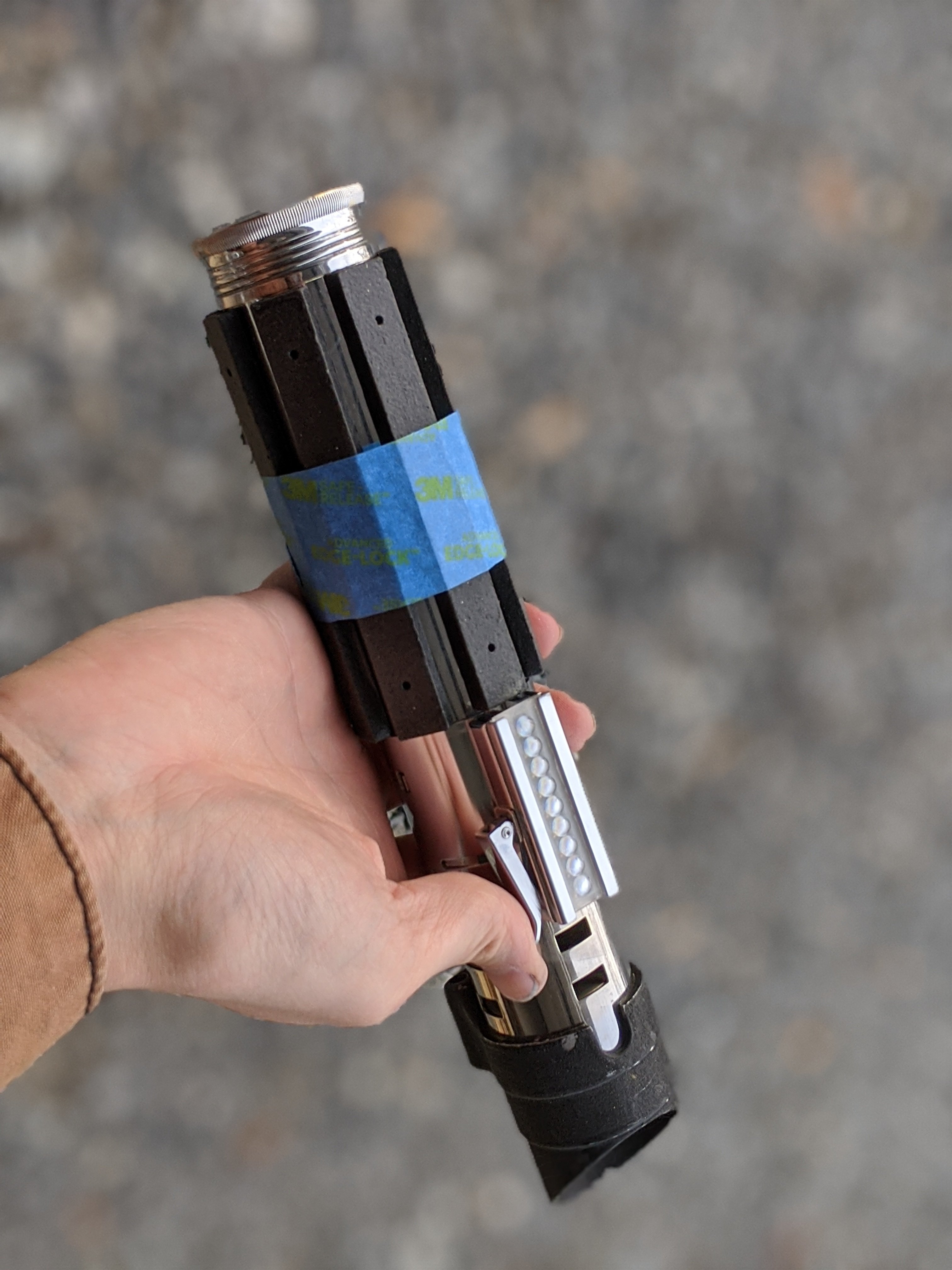 Once I had fiddled with the grips a bit, I marked the pilot holes on the flash tube, drilled 1/8" holes in both the grips and the flash tube, and tapped the holes to fit the metric screws I'd bought.
The rubber spray was easily damaged to give it a more aged look, and has unintentionally aged even more since these photos were taken.
I'm not sure it will hold up, but since everything is removable, I can easily re-finish the grips later.
To finish up this shell, I screwed on the grips, and she was done (for now).
Results: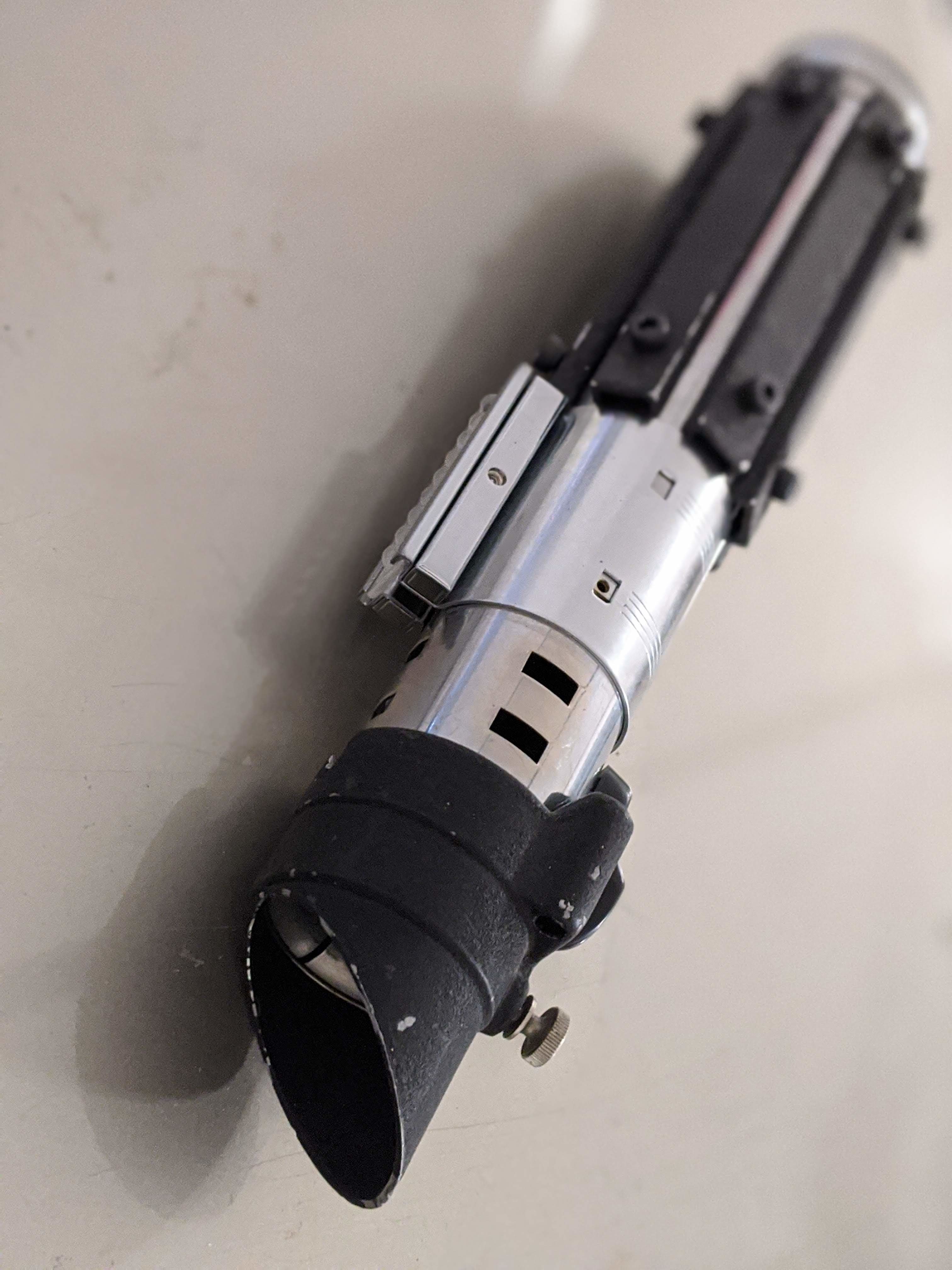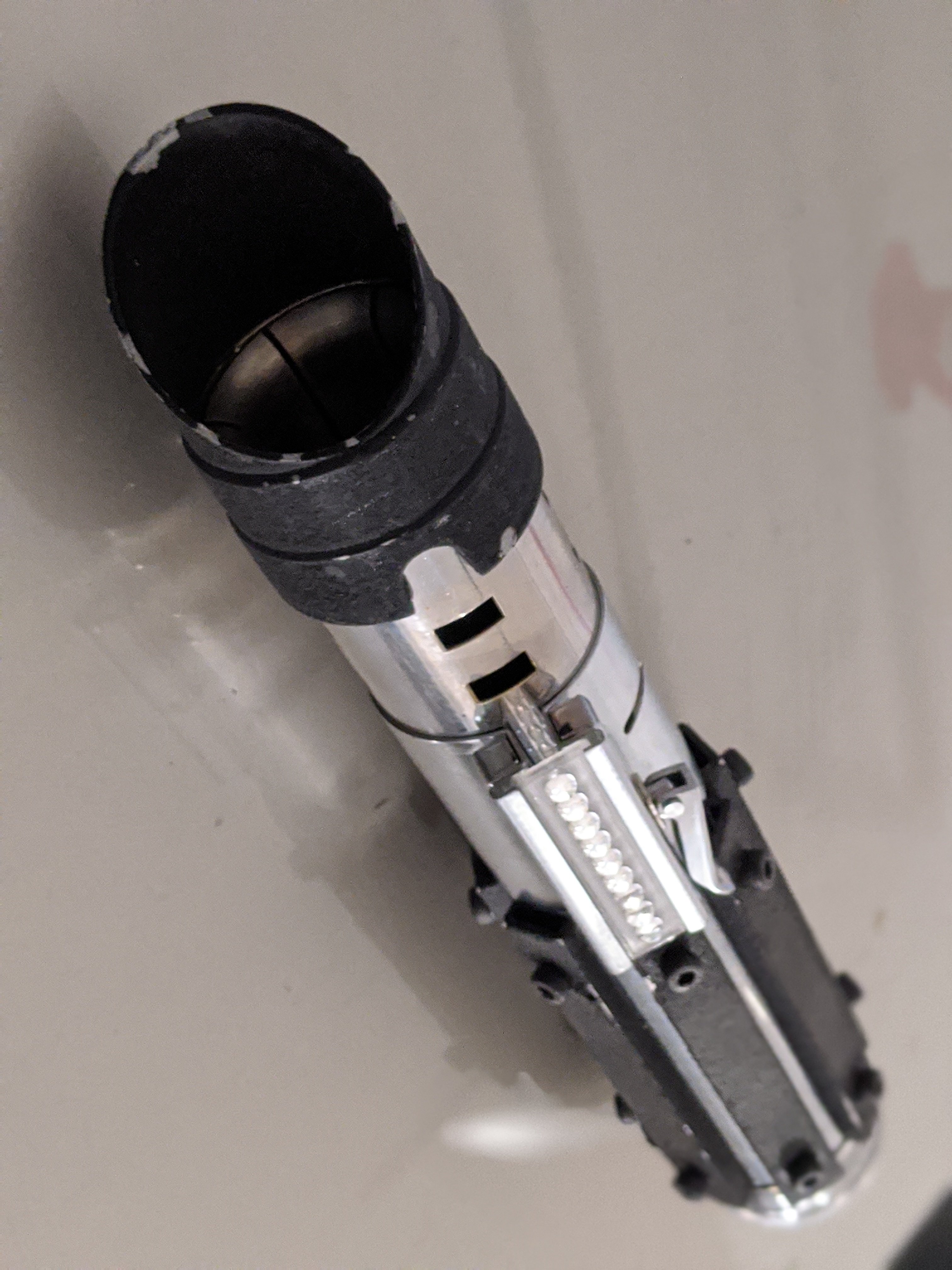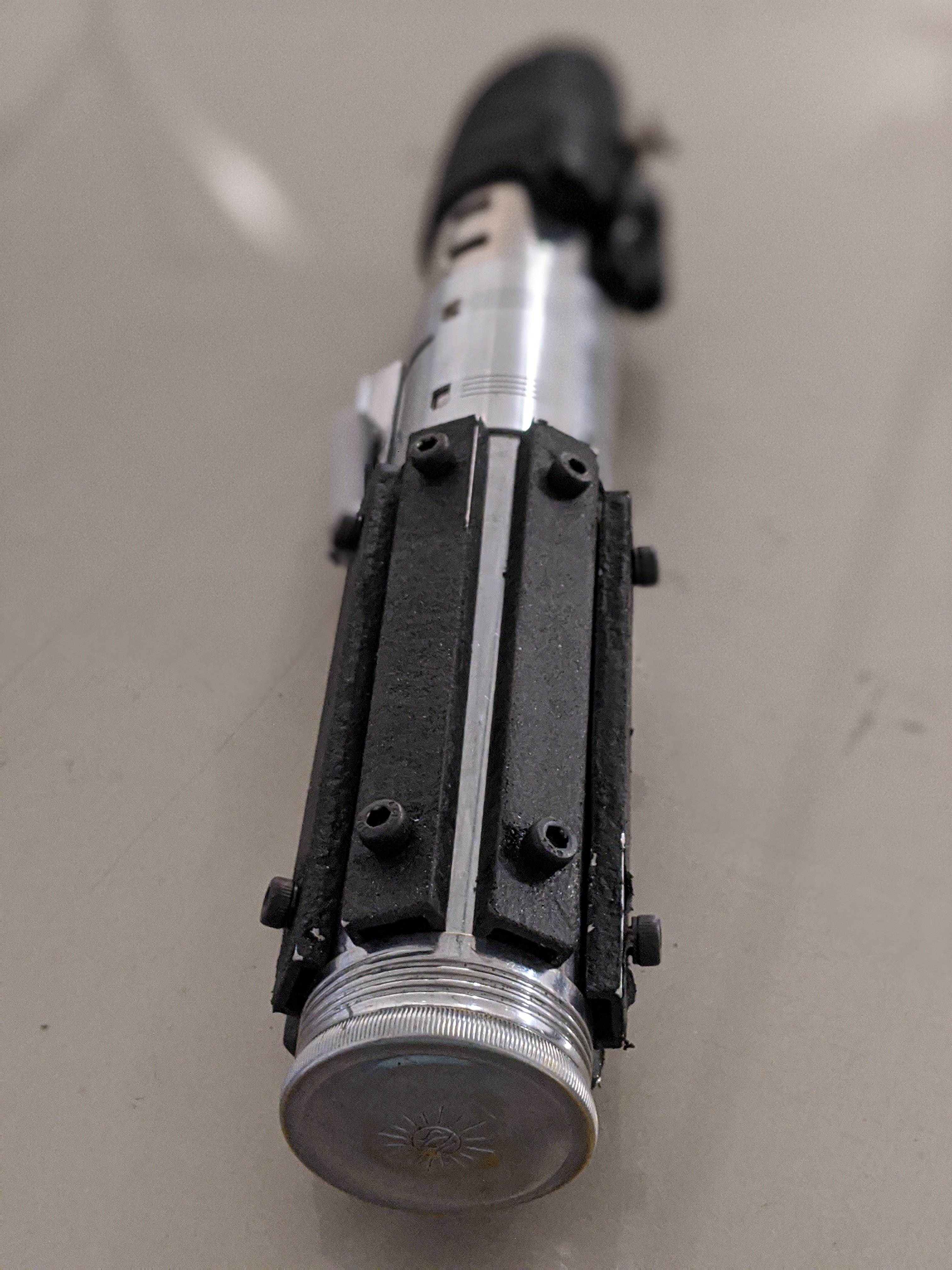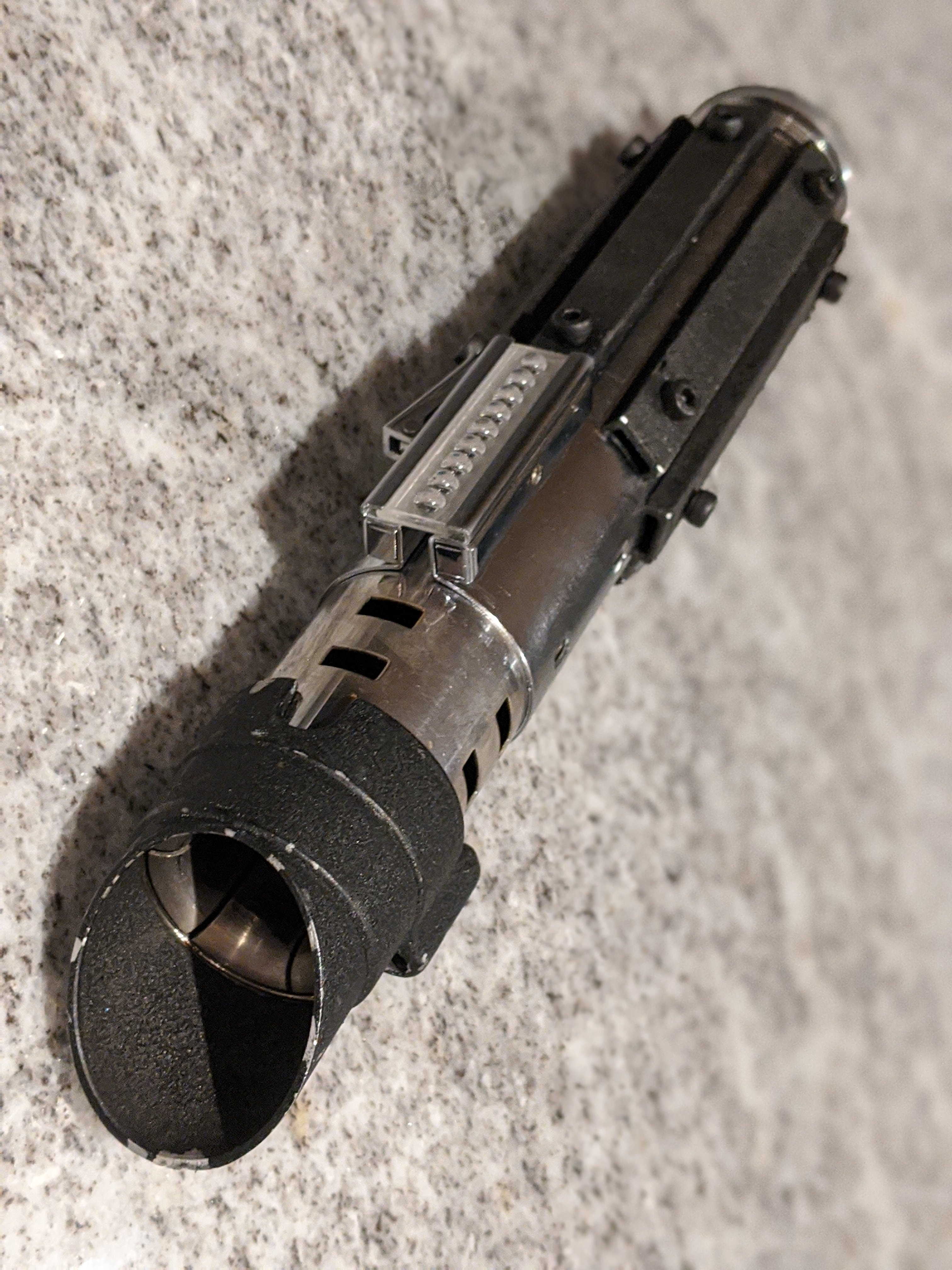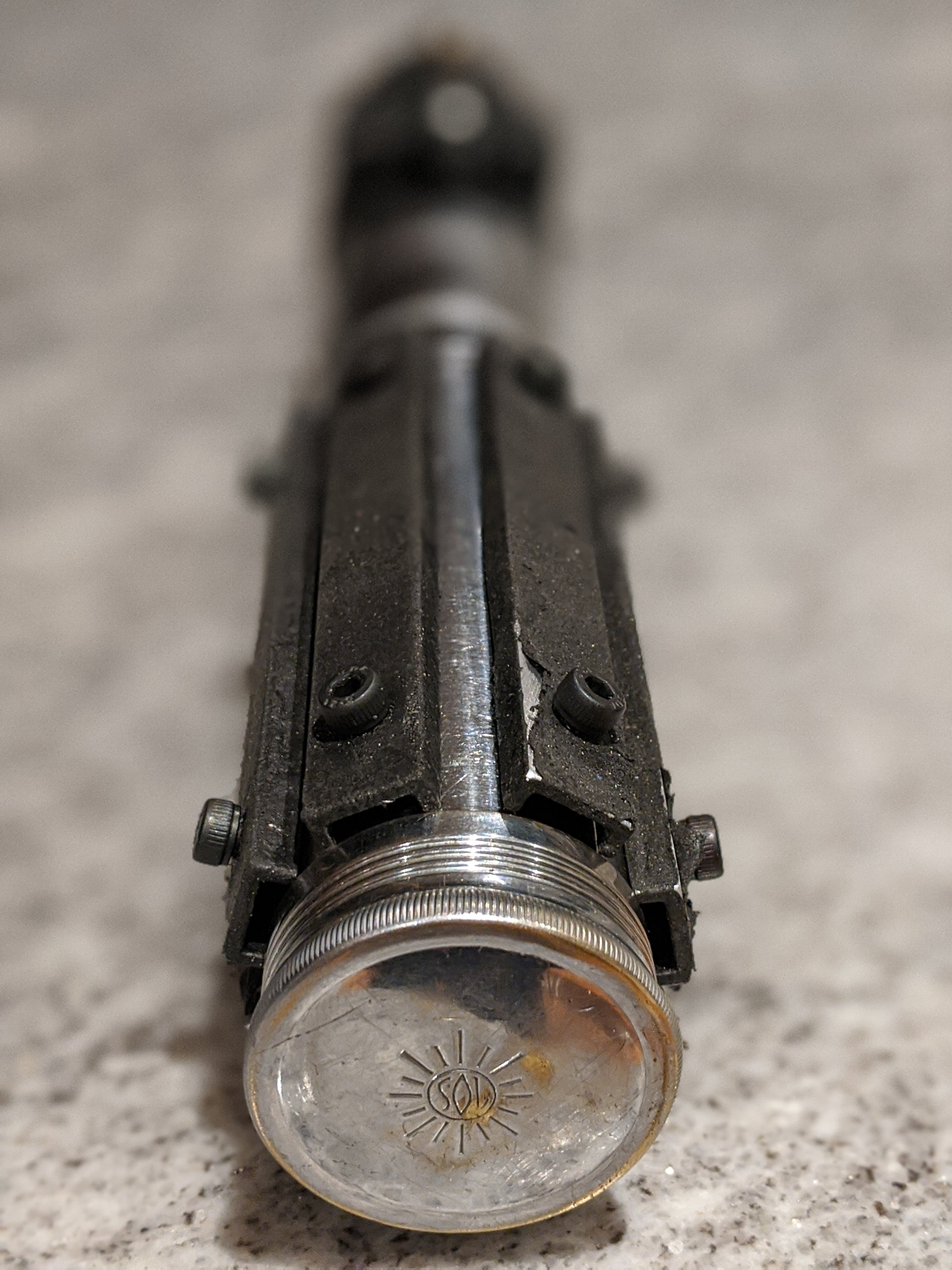 Next Steps / Questions For You Good People:
Next steps are:
- Add a D-ring
- Mount the red button that came with the flash tube
- Build a chassis for the electronics / crystal chamber, etc.
- Improve the emitter end
For the D-ring, I'm planning on making a wide, short custom piece, attached like the ANH ones.
I really like the Kobold parts, but I'm looking to differentiate this one from the actual props.
With no guts inside, the red button currently has nothing to hold it in place, so I've set it aside for now.
I've gutted a Hasbro electronic Luke ROTJ saber to re-purpose for this.
My plan is to hook up some brighter green LED's and a more powerful speaker, but to use the Hasbro sound card and gyroscope thingy.
I'm not planning on this having a blade at this time, but would like a cool looking emitter end.
What do you guys think?
I feel like the clamp needs something extra to set it apart, but I'm not sure what.
Any suggestions?
What type of emitter plug do you guys think would look good in this?
Let me know your thoughts.