Inspired by some things I saw in the Visual Dictionary for TFA, along with a persistent desire to build a denizen character of my own design, I have come up with this concept and have been building it slowly over the course of the last year.
My character is a desert dweller... the sort you might find lurking in a cantina or around Niima outpost. I envision this as a human character who hides behind a subterfuge of alien technology, sort of like Leia did with Boushh, or Enfys Nest--in that i can remove my helmet and wear the costume with my face exposed if I wish, but the primary intent of the outfit is to conceal the wearer's identity and species.
I took initial inspiration for the overall look from a character called Sarco Plank, who was a background character in TFA. I spotted him in the Visual Dictionary, and was taken by the striking maroon robes and the almost buglike look of his head.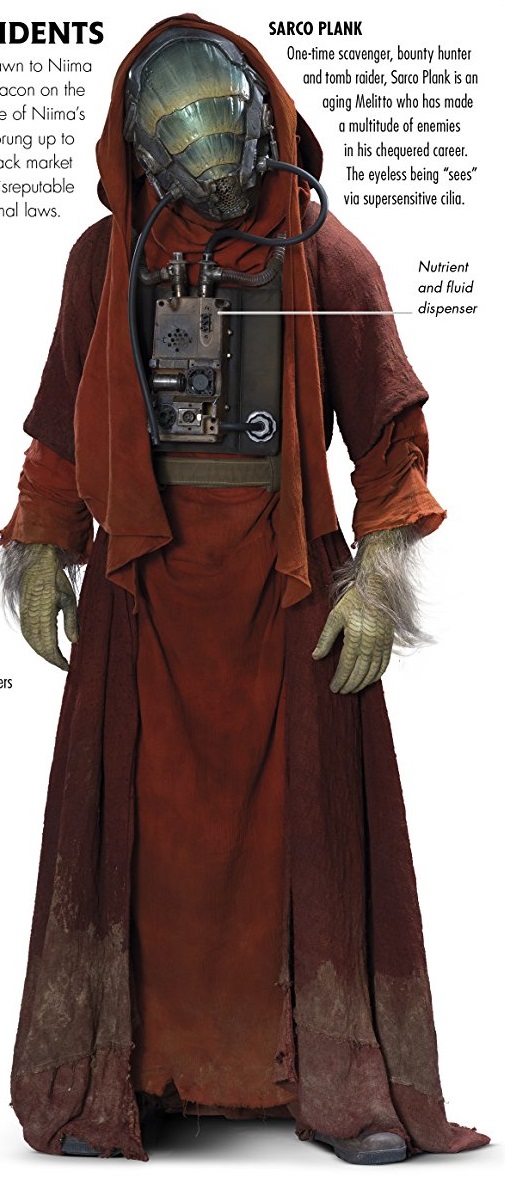 Working from this inspiration, I started in on a wearable helmet that i thought evoked the look of Sarco Plank's, but with my own flavour. I started with 4 smoked face shields from MSA civilian gas masks, cut them and scratched their surfaces with a dremel and glued them together to form the "face" of my helmet, and then built the shell from scraps of saddle hide that i had lying around. I designed it rather like a fencing helmet, and then adorned it with various greeblies that i found lying about in the Star Wars time-honoured tradition: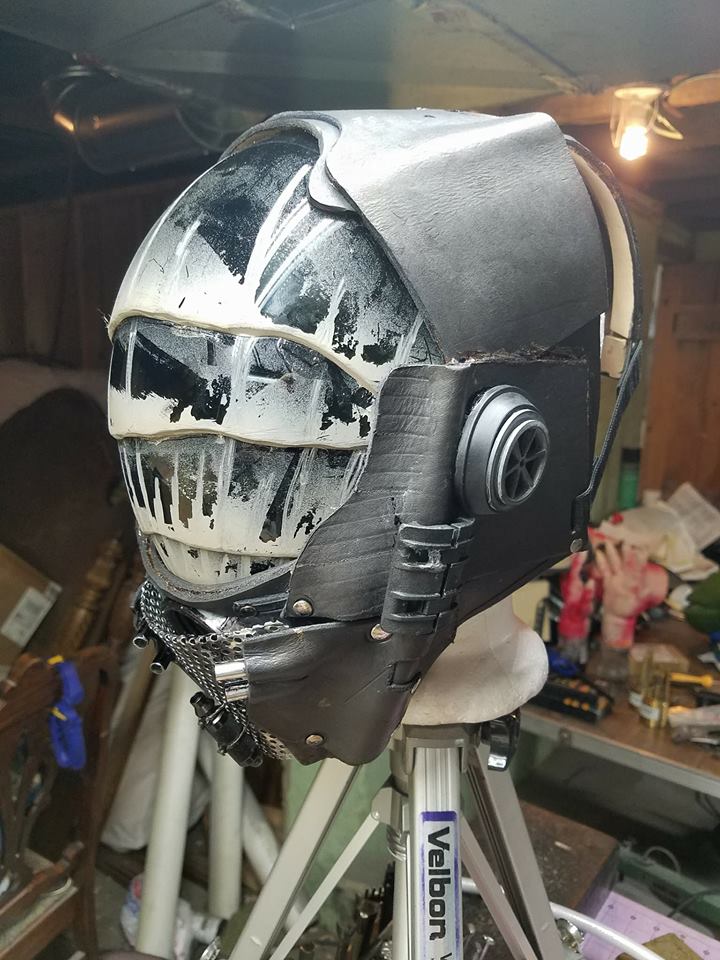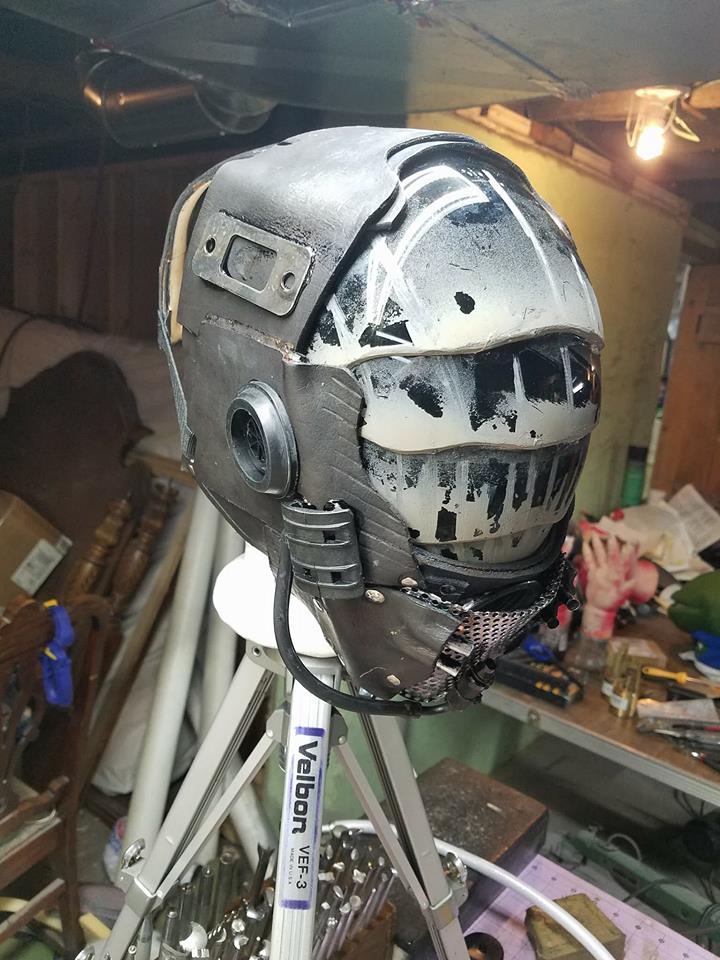 Next, I decided to work on a blaster rifle concept for this character, wanting it to be sort of a cross between an e-11 and a tusken raider rifle. This was my rough concept, made from an old Kodiak pump action paintball gun, some stunt pegs from my son's bicycle, an old scope, a thread tree from my sewing machine and a hunk of 2x6 lumber
I refined the pair of them, and landed with this: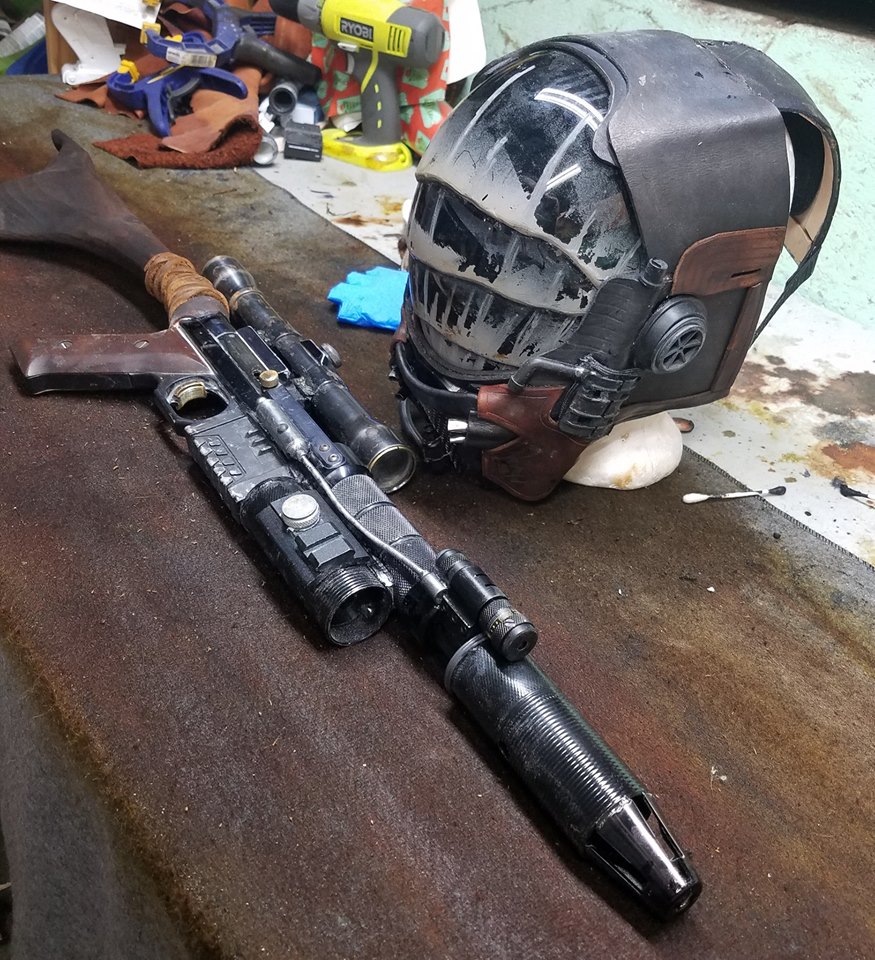 Next, I thought about what my character would wear. I knew that liked the long crimson robe look, and I knew that i wanted a sort of cowl or hood to partially cover the helmet. But I didn't yet have a clear vision for what i wanted, so i turned instead to figuring out what sort of ammo rig I might have. I drew inspiration again from the tusken raider, as well as Boba Fett's ammo belt, and initially thought to use a Swedish Mauser ammo belt around my waist, with a Sam Browne style strap across my shoulder, rather like The Mandalorian:
After assembling and trying in on however, I decided the Mauser bandoleer made me look too bulky in the center, so I went with this instead:
I also wanted a sidearm, so i found an old pellet pistol and designed an optic for it, and incorporated a drop holster for it:
Here's a look at the pistol out of the holster. it still needs some refining and weathering, but it's a start:
Having gotten those items mostly worked out, i went back to thinking about the soft parts. still stuck on the crimson robe idea, i got some coarse hand woven natural fabric and constructed a simple surcoat not unlike Kylo Ren's. I made a tube cowl as well which would cover the back of the helmet and my shoulders, and concealed a magnet in the top to keep it attached to the helmet. I thought sleeves of a different sort would look cool, and thought about possibly a flight jacket similar to Poe/Finn's from TFA. But as a placeholder I put a leather moto jacket on underneath to see what it looked like. this was my first try on of everything together: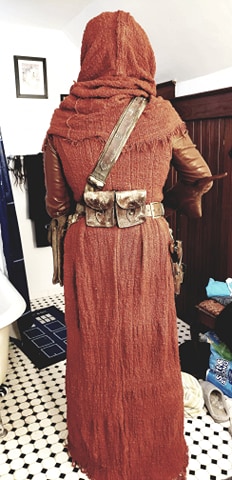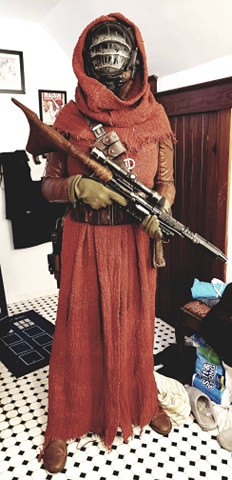 I was happy with the overall concept, but I wanted different sleeves and different gloves for sure, and I thought that it was too obvious that i was a human female because the surcoat doesn't hide my bust well enough and my shoulders seemed too small. So I decided to work in some armour, taking a hip plate from Din Djarin's beskar armour and scaling it way up for a chest plate and taking his shoulder pauldrons and scaling them down a bit. They still need to be painted and weathered, but the concept seems to work for masquerading my identity better. I also whipped up some quilted linen sleeves with a flight jacket stripe down the outside and left fraying edges to add visual interest. i wanted something to define the waist and give the ammo belt something to sit on, so i added a sash made from one of my Rey costumes: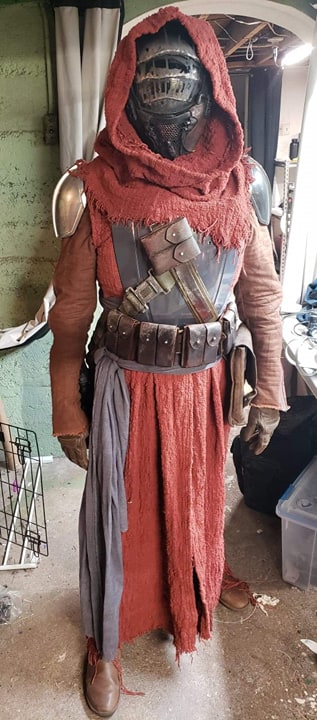 This is where I currently sit with the project. I'm working on some simple wrist vambraces (I'm thinking of possibly using a pair of Cara Dune's, or something similar) and i still have a long way to go painting and weathering the armour to my liking. once I have those done I'll post updates, and I'll get to weathering the robe as well.
So far I'm pretty excited about this, and would love some feedback and suggestions from you all.
Last edited: